One of the best things about summer, in my humble opinion, is the miracle of THE RIPE PEACH. Those cute blushing beauties that when bit into, are so juicy the peach juice rolls down your arm and you have to slurp away to avoid getting on your shirt – THOSE ARE SUMMER PEACHES!!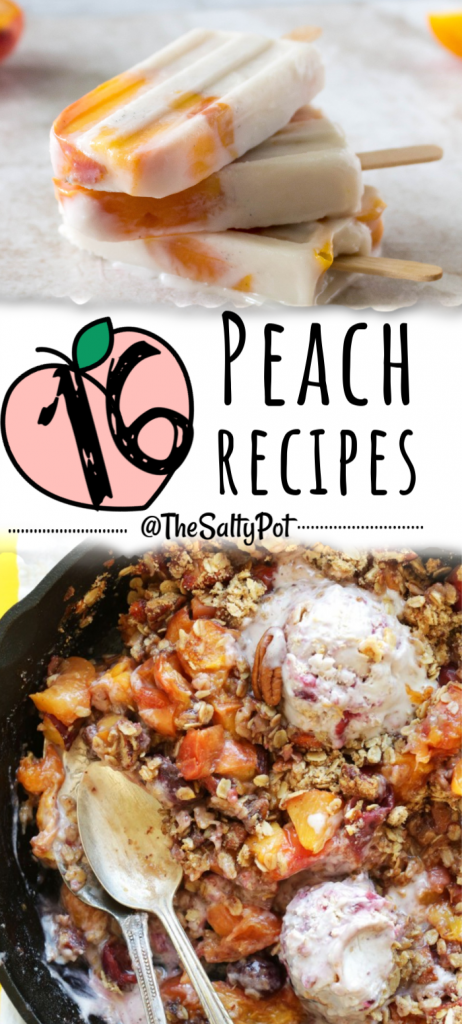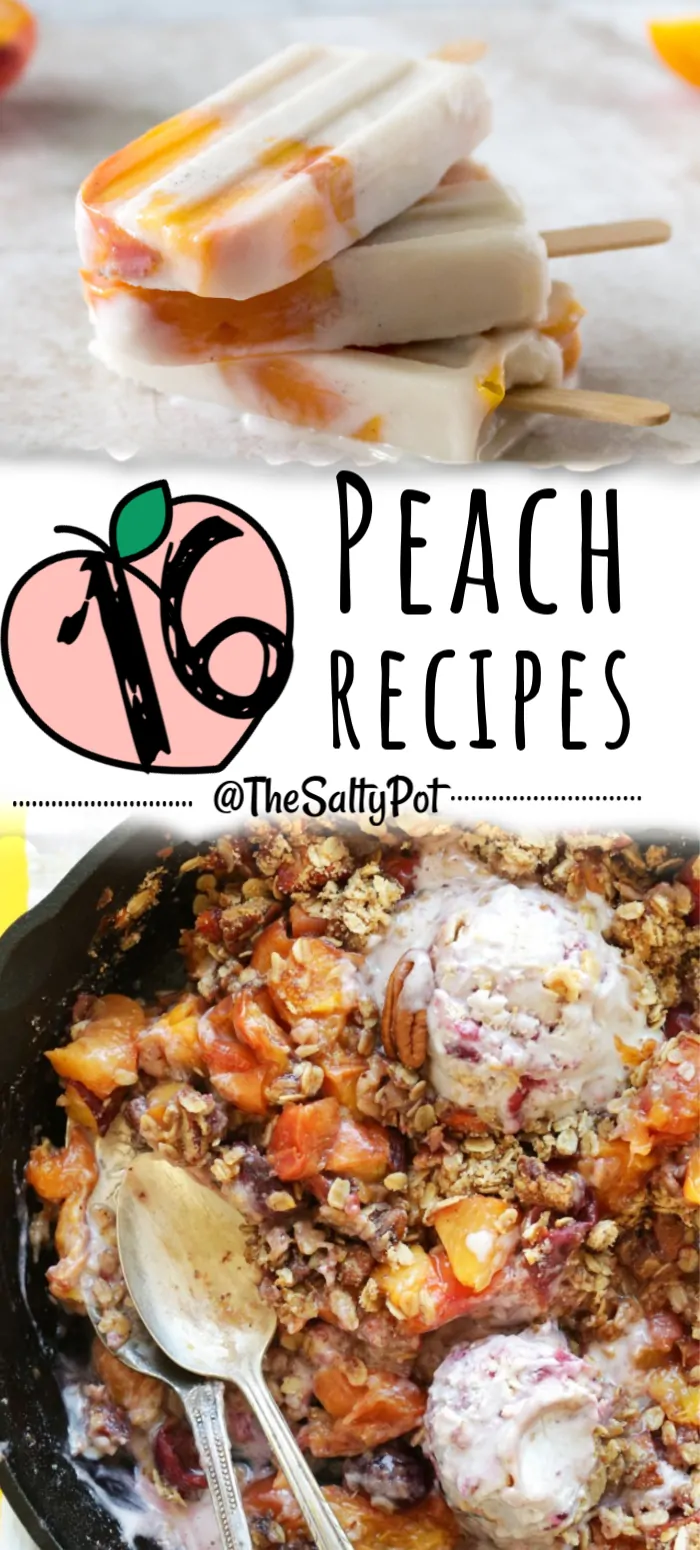 SUMMERS' RIPE PEACHES
So for the people out there who smile at the soft, but firm and fuzzy round body that looks like a blushing bum, with its flavor that has been replicated in many a candy and cocktail, I smile with you.
If you are like me, and you lose your mind buying 50lbs of ripe peaches every summer, – THIS incredible list below, .. yes, this list of amazing things to do with peaches, my dear friend, is for YOU.
Whether it's baking, roasting, grilling, or just plain eating, ripe peaches are the epitome of summer! I love the versatility of them as they go great with anything sweet or savory!
PPssttt… btw, if you're making any of these amazing desserts, and you want to Peel The Peaches first, I have a super-easy way to get that fuzzy coating off those gorgeous juicy fruits!!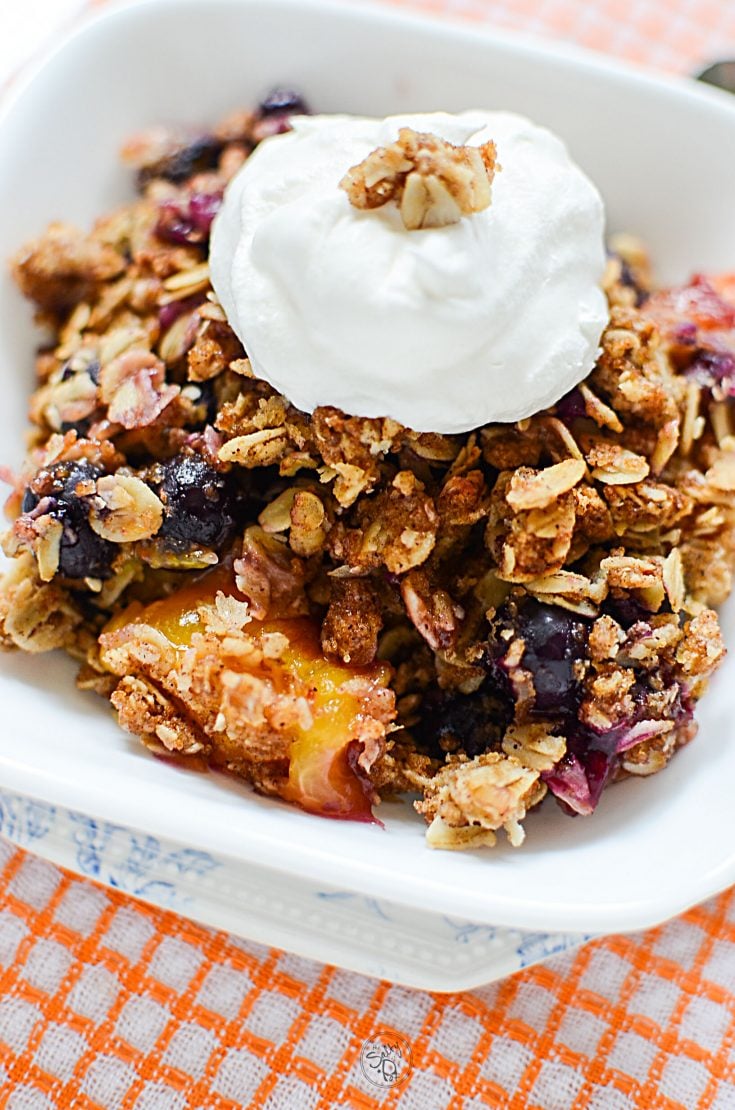 Have ALL the flavors of summer in a warm comforting dessert with this
Peach Blueberry Crisp – The Salty Pot
Take a peek at these gorgeous Peach Rose Tarts – Home.Made.Interest
How Can I Tell When A Peach Is Ripe?
There are a few telltale signs. The peach should feel a bit soft in your hand when you lightly squeeze it. DON'T squeeze too hard or you could bruise the peach. (It doesn't take much). 
There should be a nice sweet peach scent and the peach should be round in shape, not oblong. There should be a nice blush on the peach peel as well. 
For more, really good info on peaches, take a peek at this article on peaches from Parlee Farms.
The simplicity of Grilled Peaches –  from The Primal Desire is one of the most perfect desserts!
Warm peaches with yummy vanilla icecream!! Get the recipe for
these Biscoff Pecan Baked Peaches – from a Pumpkin and a Princess
I don't know about you, but when that perfectly ripe peach tastes honey-sweet, and it literally drips peachy juices down your hand as you eat it, the experience can almost make me shed tears of reverence for Mother Earth's creations. I'm not joking.
One perfect lunch idea for using peaches is this
Summer Kale Salad with Peaches and Candied Pecans – A Calculated Whisk
How Do I Keep A Peach From Turning Brown Before I Freeze It?
Simple. Cut the peaches into sections and put them into a bowl of acidulated water. (About 4 cups of water with ½c lemon juice). Leave them for about 2 minutes.
This hampers the oxidization process that makes them turn brown. Proceed as normal with the freezing process!
These Grilled Lemon Thyme Pork Chops with Peaches –  from Fake Ginger
should be on the regular menu rotation! It's a perfect pairing!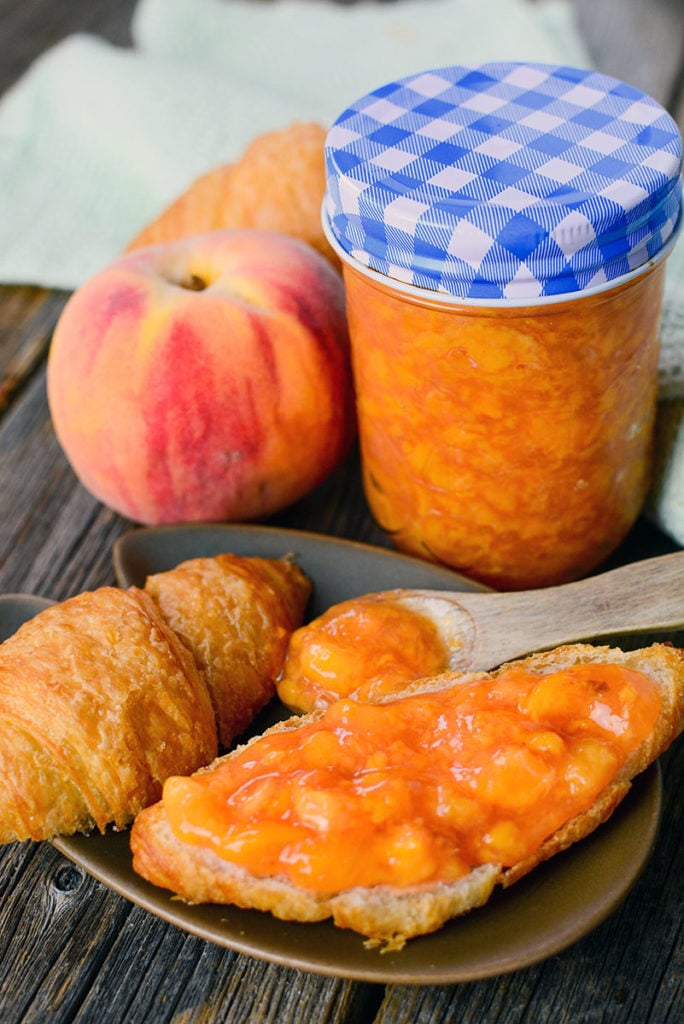 This No Added Sugar Freezer Jam is the perfect way to enjoy that fresh peach flavor anytime!
How Do I Freeze Peaches?
Easy!! Simply cut them in sections, off the pit. Lay them on a parchment-lined baking sheet and pop them in the freezer until they are completely frozen, then gather them into a freezer bag in the freezer! Voila!
You don't want to freeze them whole as they will be too difficult to work with while thawing, and to freeze them in a big bag without freezing them individually will result in a big clump of peaches which makes them impossible to work with for any recipes.
How can you resist an easy peach crisp like this one from Easy Peach Crisp Vegan/GF – Minimalist Baker
Peaches. Cream. Doughnuts. Everything a girl could ask for
– Vegan Peaches and Cream Doughnuts – A Cookie Named Desire
How Long Will Frozen Peaches Stay Good For?
As long as the peaches were prepared properly before freezing, and they are in freezer-safe containers (or bags), they should last at least 10 – 12 months. That is for optimum freshness, but again, if everything was prepared properly, they could last double that time.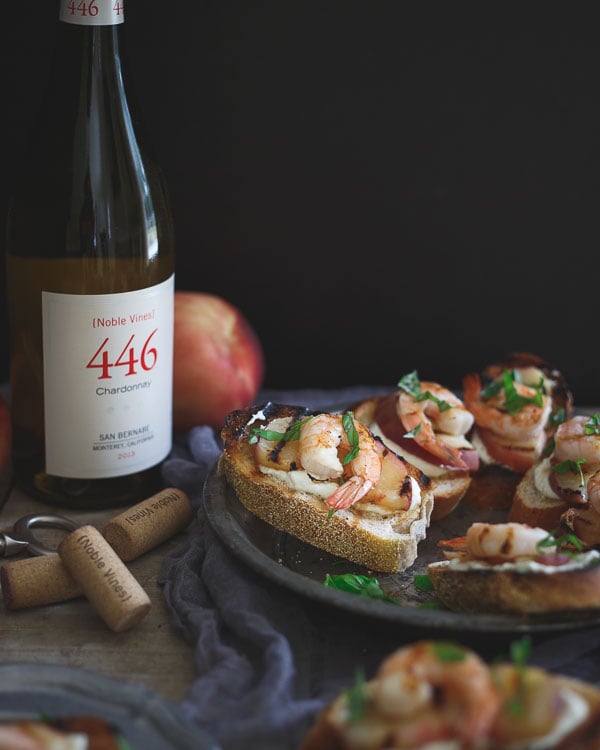 It's perfection on a savory plate with these
 Whipped Lemon Burrata Crostini with Grilled Shrimp and Peaches – Running to the Kitchen
Nothing like the classic pound cake amazed up with fresh peaches! –
 Peach Pound Cake – Cookie Dough and Oven Mitt
If you have an abundance of peaches, try making this Crockpot Peach Butter and spread that on your morning toast! YUMMY!
On a hot day, NOTHING is going to be better to cool you down than these
Peaches & Coconut Cream Popsicles – Yes to Yolks
Excuse me, I just need a moment here. This Grilled Peach and Berry Summer Salad – Home.Made.Interest
is.. well.. you know…. SPECTACULAR.
By the way, see those berries in that salad above? I love berries, don't you? If you're looking for more recipes with all kinds of berries, check out our Summer Berry Recipe Collection!!
A cup of tea and these Peaches and Cream Crumble Bars –
from Pretty Simple Sweet is a delectable afternoon snack!
Peaches aren't just for afternoon snacks and salads. You can prepare peaches for any meals, be it breakfast, lunch or in a savory application for dinners! They would also be fantastic on a charcuterie board as an appetizer!
How about Peaches for breakfast with this
Slow Cooker Coconut Peach Steel Cut Oats recipe! – The Salty Pot
This Peach Arugula Salad –
from Paleo Scaleo is a healthy and yummy light lunch!
 Can You Peel Peaches?
Peeling peaches is a simple process!! Taking the peel off of peaches allows you to use them in jams, jellies, sauces, and purees. (and other desserts where you don't want to skin to interfere with the dish). 

Getting the skins off of peaches is described in this How To Peel A Peach tutorial. You'll be amazed at just how simple it is! 
Like Grandma's pie, but On-The-Go handy!
Peach Hand Pies – Goodie Godmother
The perfect comfort muffin. Check out these
Moist Delicious Peach Muffins – from Jenn's Blah Blah Blog
What more could you want with this
Summer Grilled Peach Salad – from Happy Kitchen, Rocks.
Incidentally, if you're interested in more fantastic summer salad recipes, take a peek at this 20 Best Salad Recipes for Summer Collection!
Pretty amazing isn't it? Sweet Ripe Peaches are the winners of the summer fruit contest. Well… ok, nectarines are pretty darn close.. they're the runner ups.
If you make one of those dishes in the list (sweet or savory – or both!)  please let me know what you thought? THAT would be the peachiest friendship thing to do, next to braiding bracelets.
Thanks for stopping by The Salty Pot today, and I hope you have a fantastic day!!
** DON'T FORGET TO PIN THIS RIPE PEACH RECIPE COLLECTION PIN TO YOUR FAVORITE PINTEREST BOARD TO USE FOR LATER!!**