One of the best things about summer, in my humble opinion, is the miracle of THE RIPE PEACH. When you get the timing right with a perfectly ripe peach, there's nothing quite like it. Come on now, wouldn't you agree?

I don't know about you, but when that perfectly ripe peach tastes honey sweet, and it literally drips peachy juices down your hand as you eat it, the experience can almost make me shed tears of reverence for Mother Earth's creations. I'm not joking. When it comes to fruit, next to watermelon, peaches are the almighty summer fruit for me. Watermelon is King. Peaches are Queen…. and if you don't agree with me, then we can't be friends anymore.
Well, we can be KINDA friends. Like, the kind that go for coffee once in a while and talk about summer fruit all casually and stuff. But if we agree on the watermelon and peach thing???? Well…. lets start braiding our friendship bracelets now because I will completely and totally relate with your fruity passions regarding the lovely peach.
Peaches are so versatile. They can be used in recipes both savory or sweet. They can be eaten ripe, right off the tree. You could even grill them, or brulee them with a scoop of ice cream for a heavenly dessert. Peaches with pork chops?? AMAZING!
So for the people out there who smile at the soft, but firm and fuzzy round body that looks like a blushing bum, with it's flavour that has been replicated in many a candy and cocktail, I smile with you. If you are like me, and you lose your mind buying 50lbs of ripe peaches every summer, – THIS incredible list below, .. yes, this list of 16 amazing things to do with peaches, my dear friend, is for YOU.
How can you resist an easy peach crisp like this one from Easy Peach Crisp Vegan/GF – Minimalist Baker

The perfect lunch using peaches like this Summer Kale Salad with Peaches and Candied Pecans – A Calculated Whisk

Or how about making up these gorgeous Peach Rose Tarts – Home.Made.Interest
Peaches. Cream. Doughnuts. Everything a girl could ask for – Vegan Peaches and Cream Doughnuts – A Cookie Named Desire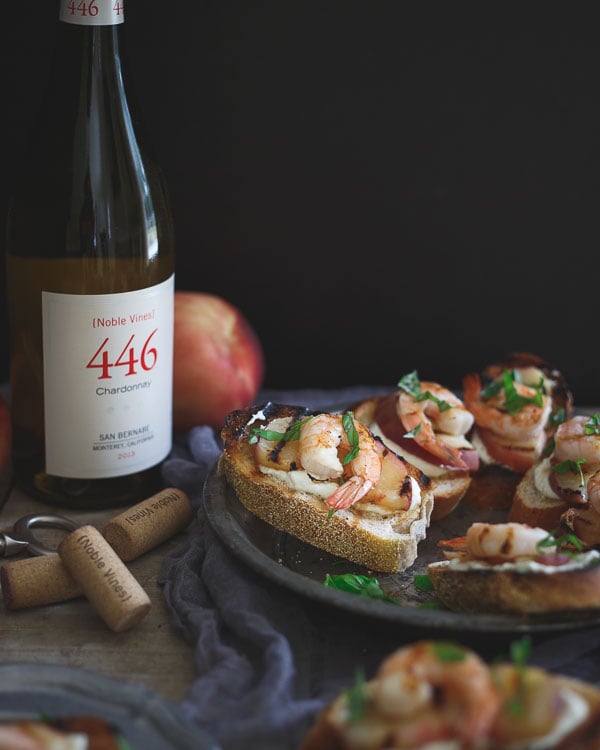 It's perfection on a savory plate with these Whipped Lemon Burrata Crostini with Grilled Shrimp and Peaches – Running to the Kitchen
Nothing like the classic pound cake amazed up with fresh peaches! – Peach Pound Cake – Cookie Dough and Oven Mitt

The simplicity of Grilled Peaches –  from The Primal Desire is one of the most perfect desserts!
On a hot day, NOTHING is going to bed these Peaches & Coconut Cream Popsicles – Yes to Yolks
A cup of tea and these Peaches and Cream Crumble Bars – from Pretty Simple Sweet is a delectable afternoon snack!
This Peach Arugula Salad – from Paleo Scaleo is a healthy and yummy light lunch!
Like Grandma's pie, but On-The-Go handy! Peach Hand Pies – Goodie Godmother

These Grilled Lemon Thyme Pork Chops with Peaches –  from Fake Ginger should be on the regular menu rotation! It's a perfect pairing!
The perfect comfort muffin. Check out these Moist Delicious Peach Muffins –  from Jenn's Blah Blah Blog
This spells everything happy about life right here. I mean come on!! Get happy and get the recipe for these Biscoff Pecan Baked Peaches –  from a Pumpkin and a Princess
What more could you want with this Summer Grilled Peach Salad – from Happy Kitchen, Rocks.

Excuse me, I just need a moment here. This Grilled Peach and Berry Summer Salad – Home.Made.Interest is.. well.. you know…. SPECTACULAR.
Pretty amazing isn't it? Sweet Peaches are the beauty queens of the fruit beauty pageant. Well… ok, nectarines are pretty damn close.. they're the runner ups. Oh, and yes, don't think I've forgotten about the similar in look, yet not in taste, The Apricot – Peaches' cousin. They come third place I guess. If there was a homecoming queen and king of the fruit prom – It would be peaches and watermelon. They could wear cute little pomegranate crowns. Watermelon could give peaches his jacket if she got cold. OKokok.. I'm taking it too far, I know. How about you make one of those dishes in the list (sweet or savory – or both!)  and then let me know what you thought? THAT would be the peachiest friendship thing to do, next to braiding bracelets. I suck at braiding anyway.