'Tis the season for apples, yes? Sweet apples, warm, comforting spices, and a homey crunchy topping that will bring you back to grandma's kitchen. Make sure to have ice cream on hand!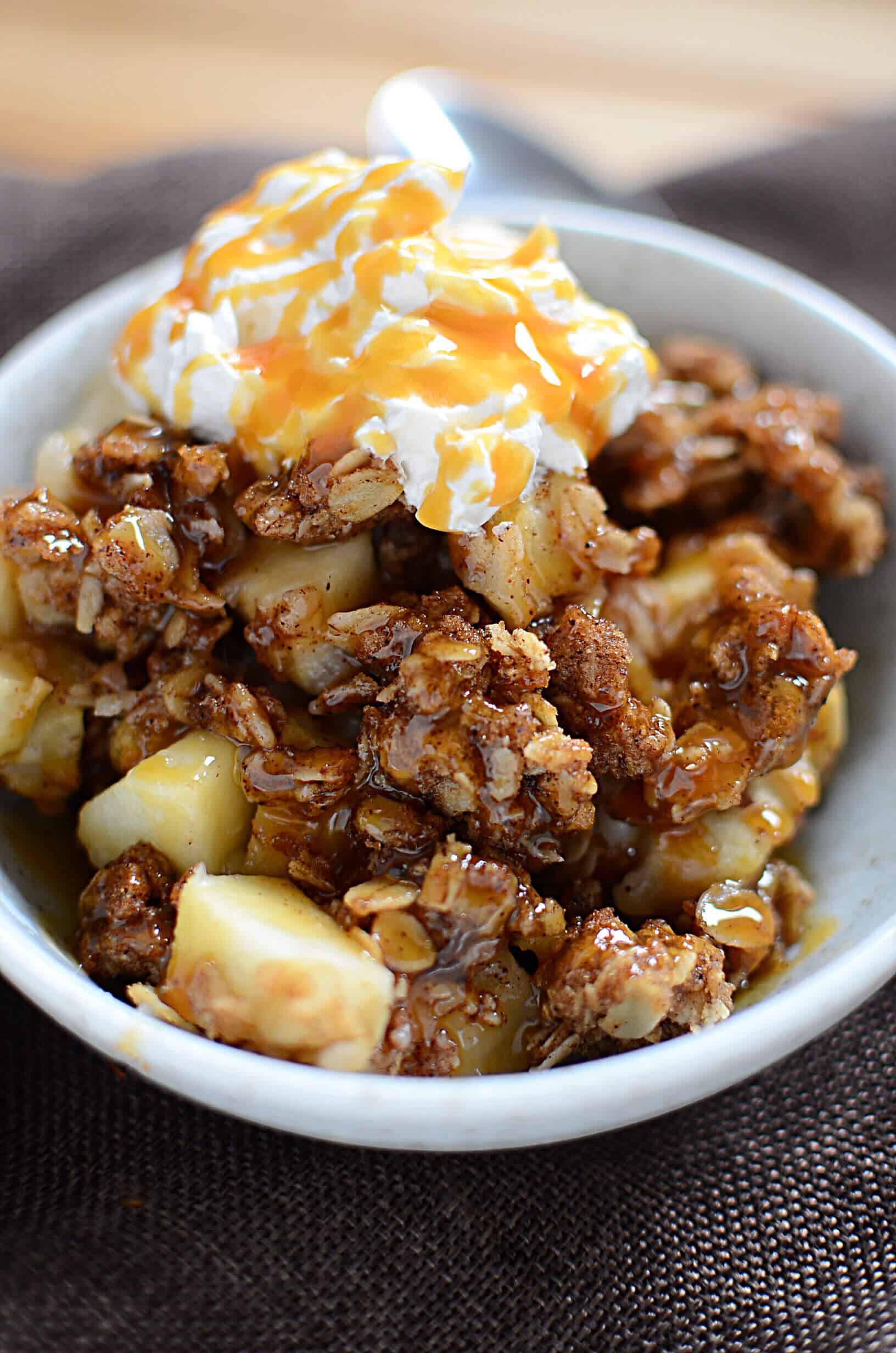 CRAZY EASY SPICED CARAMEL APPLE CRISP

You can have this caramel apple crisp dessert done and out of the oven in no time. The longest thing will be peeling and coring the apples but once you get that done, you're on the fast track to caramel apple crisp heaven!
Don't roll your eyes at me and mutter under your breath until you try it, my lovely reader!! I'm pretty sure that once the first bite goes in your mouth, you'll be like.. "ohhhhh… I get it now!".
Incidentally, if you're not 100% sure on the differences between different baked fruit desserts like crisps, crumbles, cobblers, pandowdy's and buckles, take a peek at this short cool article that explains it plain as day! Easy peasy!
Any apples that you have on hand will do with this recipe. I happened to have some Honeycrisp apples, so I used them.
The only differences you might encounter is that some apples break down or get softer than others, but really, even if the apples are on the softer side, or still have a firmer (but not crunchy) texture,.. it's all passing over the taste buds and will be amazing!!
So just how easy is this spiced caramel apple crisp to make?
It's really simple. In fact, once the apples are cut and cored, you could even involve your little ones in on this recipe to help! They'd love the mushing of the butter into the oats part!
Ok.. here we go, I'll explain it.. and you'll see!
The APPLES part of the Spiced Caramel Apple Crisp:
So of course, you'll want to core and cube the apples after peeling. Place them in a bowl and drizzle a little lemon juice over them if you don't want them browning, but really, it's not imperative.
Also if your apples are a bit on the tart side, you can also add an extra tablespoon of sugar. Sprinkle the flour over the top of the apples and set aside for now.
Now the TOPPING part of the Spiced Caramel Apple Crisp:
In a different bowl, combine all the dry ingredients and mix them well.
Add the cold, cubed butter and using two knives, or a pastry cutter, or (the best tools) your hands, cut the butter into the oat mixture. You want it to look like the size of peas roughly.
Cooking This Baked Apple Dessert
So grease or spray with non-stick cooking spray, (or line with parchment) an 8 x 8 baking dish. Transfer the apples to the bottom of the baking dish.
Sprinkle the oat mixture over top evenly and pop the dish in the oven.
Bake for 25 – 35 minutes or until it's nicely golden brown on top.
Take it out to let it cool a bit, but be careful!
That dish and filling are hot as hades!!
So now here's the best part!!!……
How To Serve This Apple Crisp Dessert
When this easy apple crisp cools to the temp you want to serve it (keep in mind, it's pretty darn awesome cold, as well!), when you're dolloping the ice cream or whipped cream on top, that's when the CARAMEL SAUCE comes to the party!
When you drizzle that heavenly stuff over the entire thing, it will take it to the next delicious level!!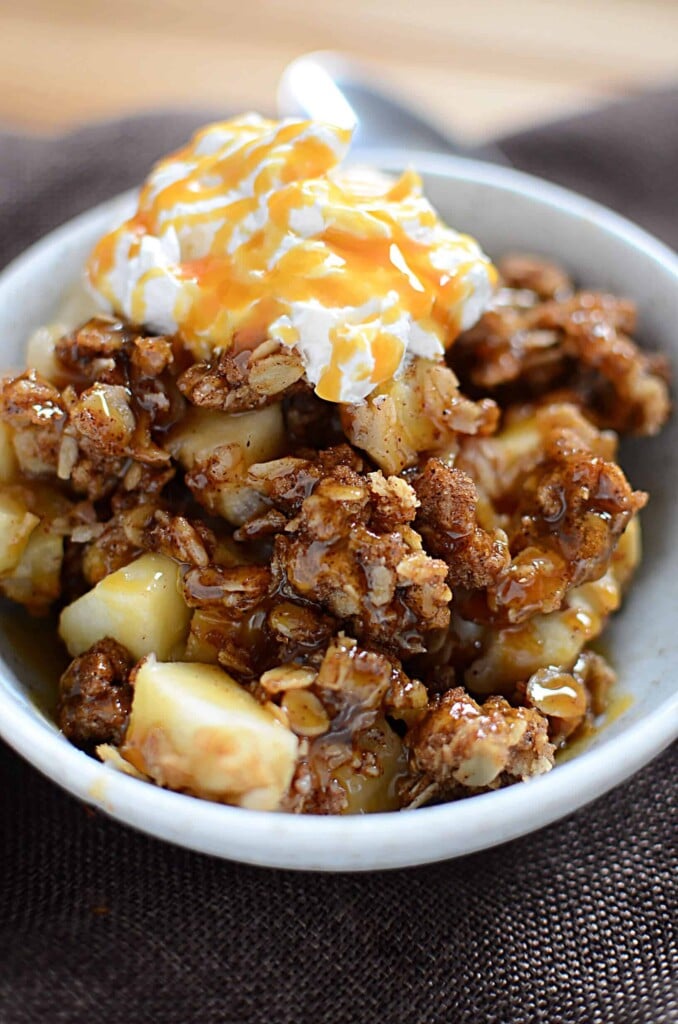 So you can see how easy this recipe is to make, but when people at the potluck office party get a taste of your epic Spiced Caramel Apple Crisp – they won't forget it!
Incidentally, seeing that it's an apple's time to shine right now, if you're looking for another apple recipe, try my Apple Pecan Croissant with Butterscotch Sauce or if you're hankering for apples in the morning, I have this KICK BUTT awesome recipe for Apple Cinnamon Steel Cut Oats done in the slow cooker!
Also, if you're running short on sauce, here's a way to make your very own caramel sauce!! So there you go, apples for breakfast and a super-easy caramel apple crisp dessert to end your day!
Thanks so much for stopping by The Salty Pot today, and I really hope you have a fantastic day!!
** DON'T FORGET TO PIN THIS INCREDIBLY DELICIOUS SPICED CARAMEL APPLE CRISP TO YOUR FAVORITE PINTEREST BOARD TO SAVE AND USE LATER!!**
Yield: 6 people
SPICED APPLE CARAMEL CRISP
Ingredients
5 apples, (peeled, cored and cubed)
2 tsp cinnamon
1/8 tsp nutmeg
1 tbsp flour
1 tbsp tbsp lemon juice
3/4 cup brown sugar
1/2 cup butter
1 cup rolled oats
1/4 cup flour
1 tbsp flour
as desired caramel sauce
Instructions
. Preheat oven to 375
In a bowl, mix the apples, lemon juice, 1 tbsp flour and optional 1 tbsp sugar.
Transfer to a parchment lined 2 quart baking dish.
In another bowl, combine the brown sugar, oats, and flour. Mix well.
Cut the butter into cubes and with a pastry cutter, or two knives, or your fingers, cut the butter into the oat mixture until it resembles coarse crumbs.
Sprinkle the oat mixture overtop the apples.
Bake for approximately 25 – 35 minutes, watching for the top to become golden brown. Remove from the oven and let cool for 20 minutes. The filling is very hot!
To serve, scoop some of the apple crisp into a bowl and drizzle with as much caramel sauce as you desire. Enjoy!