Tortellini vs Ravioli – Sometimes the differences can be confusing! They are both popular stuffed Italian pasta that makes a wonderful and flavorful addition to your meals, but which is which?
Both types of pasta can stand alone with basic sauces and make a delicious meal, or, they both can be paired with different proteins, sauces, and vegetables to make endless variations so that you'll never have the same meal twice.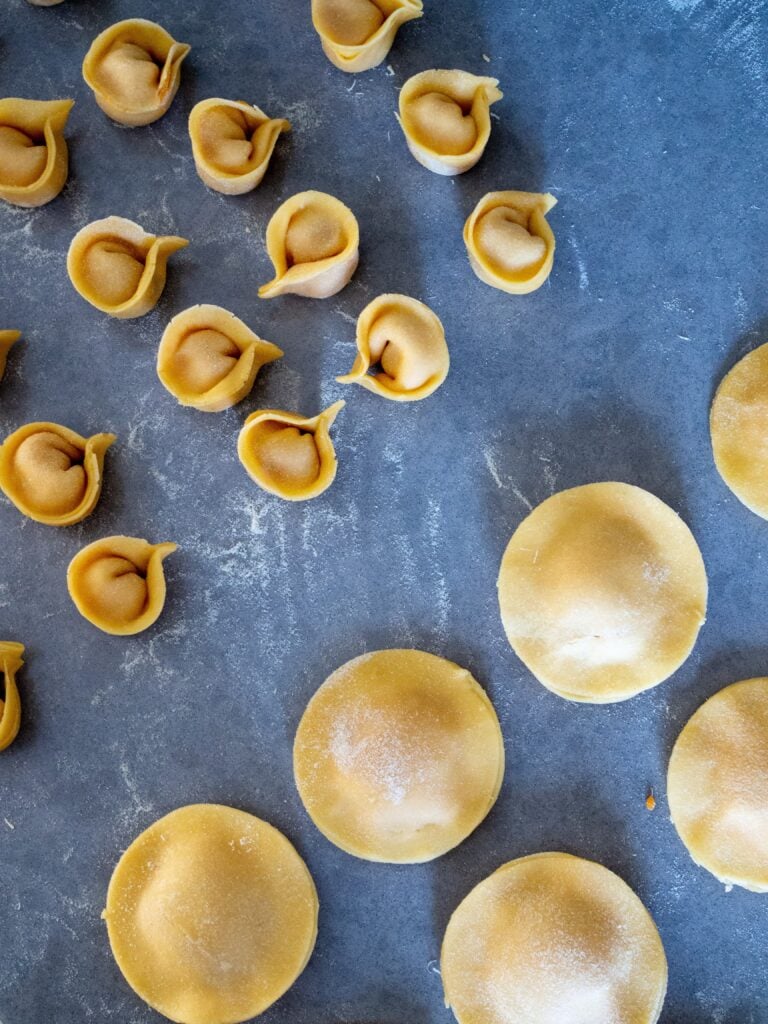 What is the difference between Ravioli and Tortellini?
Ravioli are small envelopes of pasta that are filled. Usually square or round with fluted edges, they are typically filled with meat, cheese, vegetables, or a combination of these.
Often they will be flavored with popular Italian spices like garlic, basil, and oregano to add even more flavor.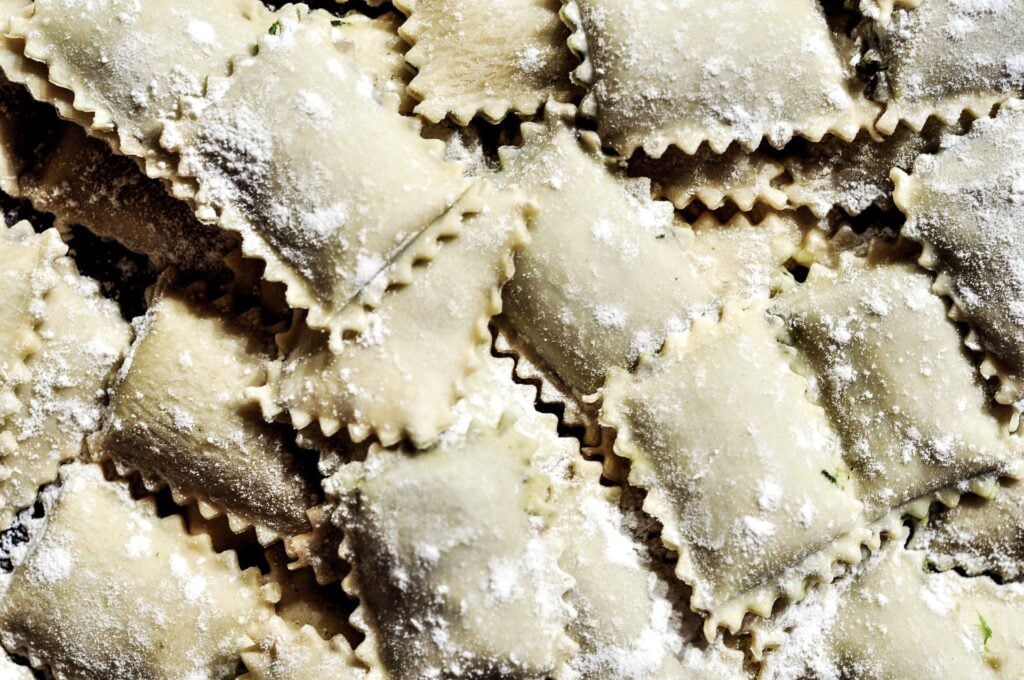 Tortellini is a pasta that is stuffed with a mixture of meat and cheese (or just cheese, like my creamy Tortellini Alla Panna recipe) and then rolled into a small ring. Traditionally you will find Ravioli is stuffed with a mixture of meat, Parmigiano Reggiano cheese, egg, and nutmeg served in a broth or sauce.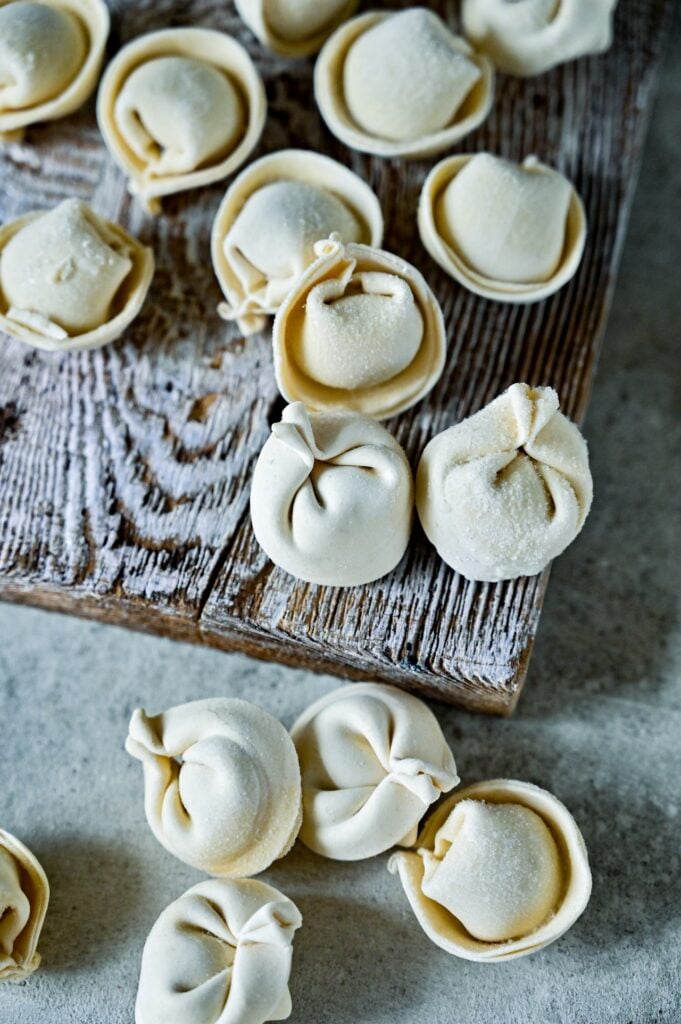 The biggest most noticeable difference between ravioli and tortellini is the shape of the pasta.
While tortellini is made into rings and often hand-folded ravioli is made into squares and you can
often find devices that make the task of stuffing them yourself a breeze.
Some ravioli will be more decorative with hand-crimped edges while others will be plain and manufactured more quickly.
Tortellini vs Ravioli – Let's talk Flavors
When it comes to tortellini vs ravioli, they both have many fillings available at the store for you to use in your meals.
Tortellini has a lot of great options including dried shelf-stable options as well as fresh
refrigerated ones. You can find this pasta in regular and colored varieties that use vegetables like
tomatoes and spinach for the coloring.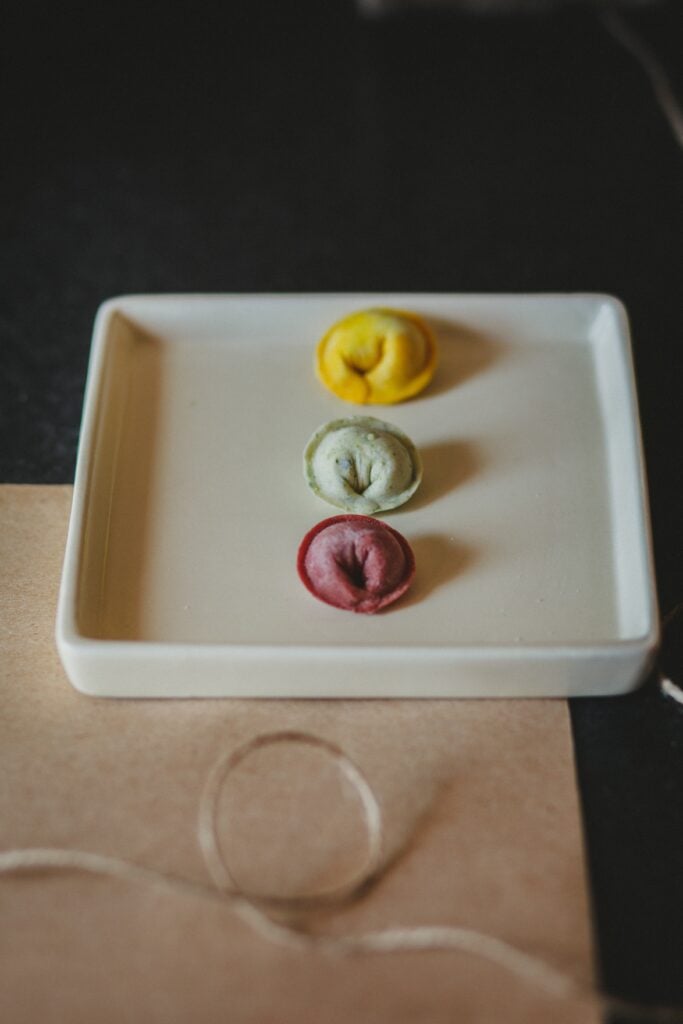 The offerings in most stores will be seasonal ranging from classic meat and cheese to wild mushroom and even pumpkin varieties. Specialty stores will offer more options than regular grocery stores.
Ravioli is easier to make at home than tortellini due to confident ravioli molds. This means you can make your own custom ravioli fairly easily. At the store you can find a variety of flavors available with popular options including meat and spices, cheese, or spiced sausage.
Seasonal offerings tend to change-making flavors like pumpkin available in the fall.

Where to buy Ravioli and Tortellini
Both ravioli and tortellini can be found in the same area of your local grocery store. Some
tortellini can be found in the main pasta aisle when it is dried and stuffed with shelf-stable ingredients.
For the most part, both will be found in the refrigerator section. Many stores have ravioli available in
the freezer section as well. Some stores with more modern layouts will have a refrigerator right
in the pasta aisle to make finding your ravioli and tortellini a breeze.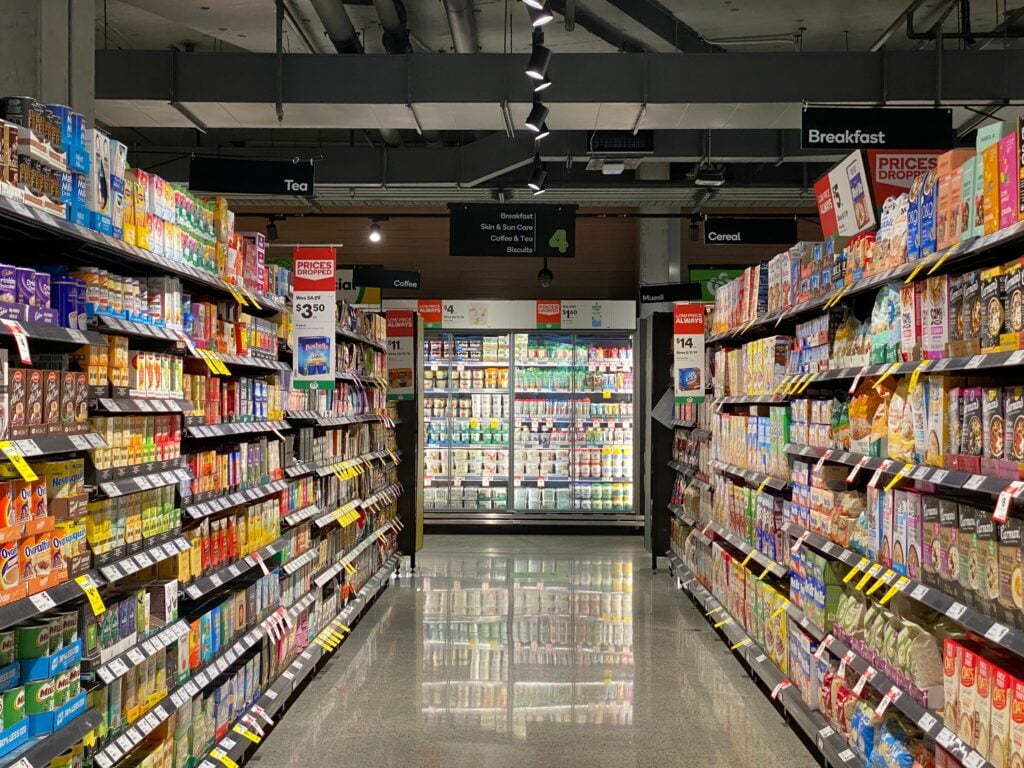 How do I make my own Ravioli and Tortellini from Scratch?
A great tutorial on making Ravioli from scratch is this one from Inside The Rustic Kitchen. As for making your own homemade tortellini, try giving this tutorial from Pies and Tacos a try!
How to tell if your ravioli or tortellini are fully cooked
When ravioli or tortellini is fully cooked and ready to eat it will float to the top of the pan. This is
great because it takes the guesswork out of ensuring that your pasta is ready.
Ravioli should be boiled for about 4 to 6 minutes to get this result. Depending on what it is stuffed with this may take just slightly longer.
For tortellini, you will find that dried pasta can take 10 to 12 minutes while refrigerated pasta will take only 2-3 minutes due to its smaller size.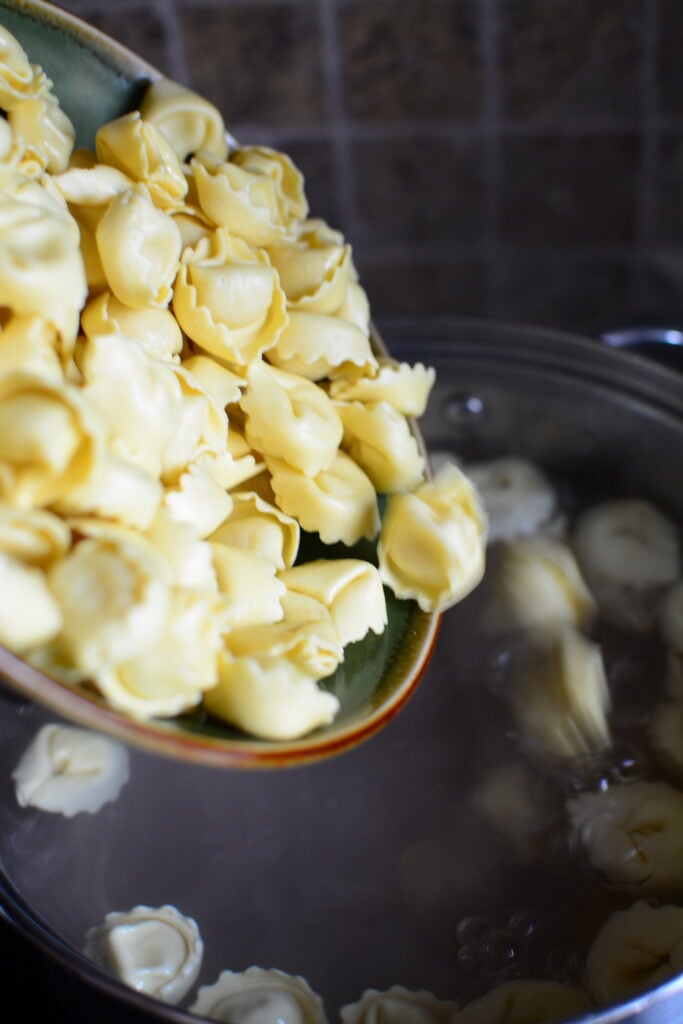 What kind of Recipes can be made with Ravioli and Tortellini?
Soups: Ravioli and tortellini soup are great options. They're easy to make and can be really filling, like this Slow Cooker Ravioli Soup Recipe.
Casseroles: The options here are ENDLESS! Everything from 4 Ingredient Cheater Lasagna that uses ravioli, Instant Pot Taco Tortellini Casserole, or you could try Baked Tortellini Casserole.
Pasta Dishes: Ravioli with Brown Butter Sage sauce would be absolutely divine as well as my Tortellini Alla Panna recipe!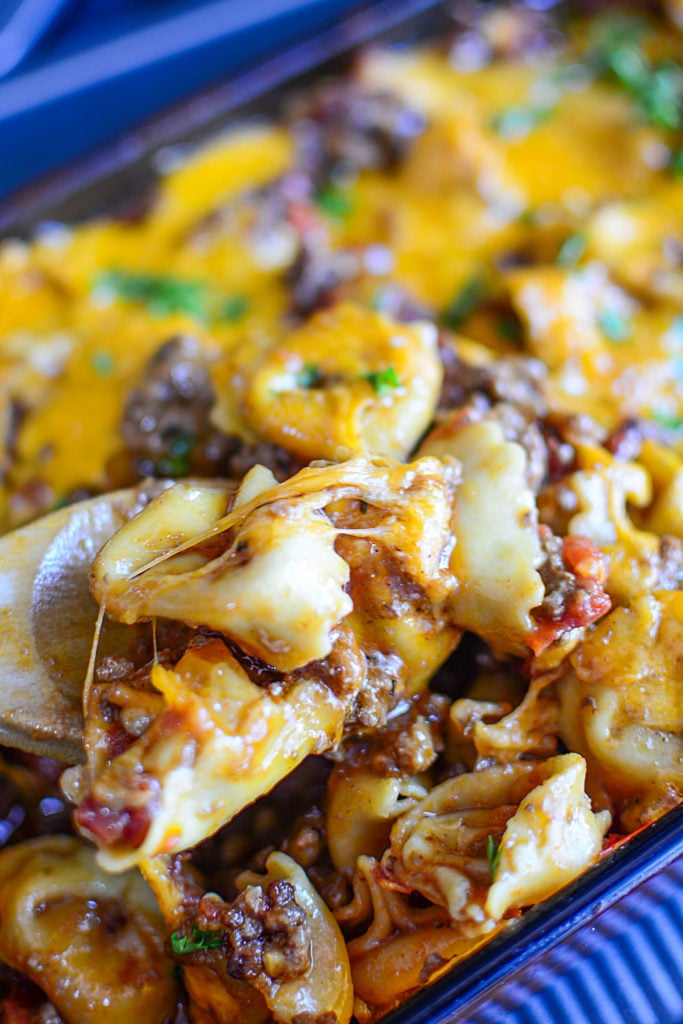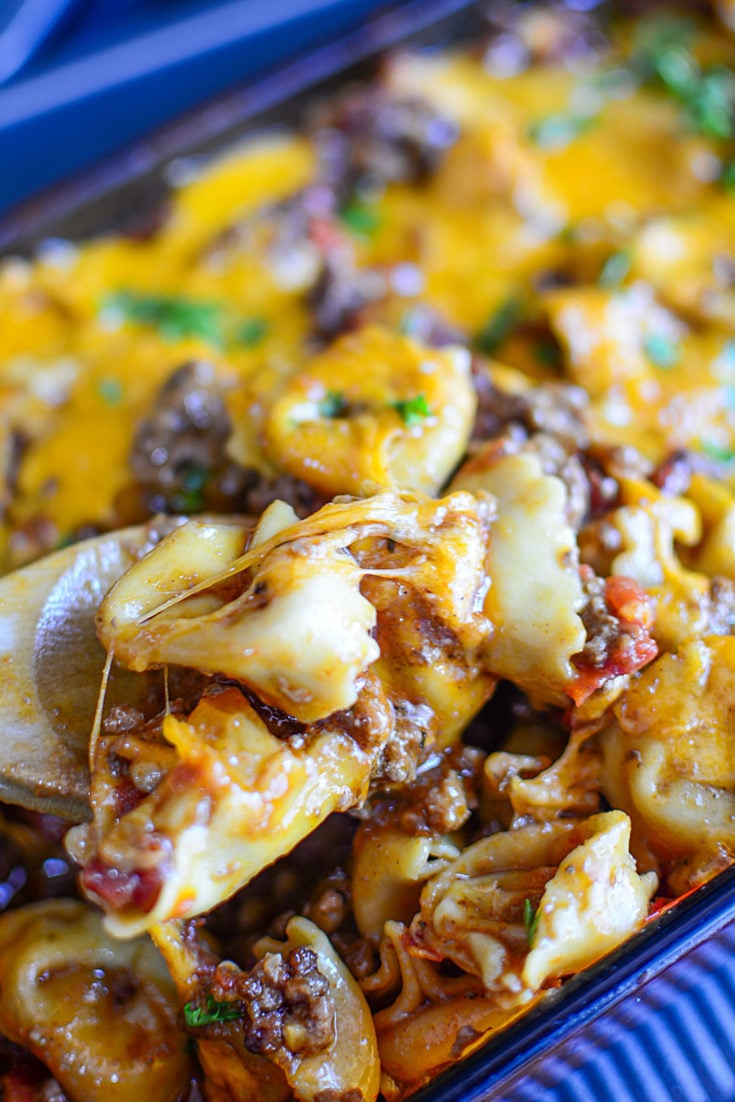 I hope I've given you some insight into the difference between Ravioli and Tortellini, as well as some ways to use them! Regardless of which you choose, both will be equally delicious!
Do you have a favorite way to prepare them? I'd love to hear about it in the comment below!