Do you love Blackberry season as much as I do? This sweet blackberry simple syrup brings the fresh flavor of blackberries to all sorts of delicious drinks, cocktails, and yummy baked items, and even some dinners!
Why You'll Love This Blackberry Syrup
With Blackberry season in full swing, this blackberry syrup makes a great way to preserve and serve these berries in everything from blackberry tea to topping your favorite waffles or pancakes.
It's a super cinch to make, (about 15 minutes!).
It's made with 3 easy ingredients!
The Ingredients Needed
Fresh or frozen blackberries
Granulated sugar
Water
Lemon juice (optional)
How to Make Homemade Blackberry Simple Syrup
Rinse the blackberries under cold water to clean them thoroughly. If you are using frozen blackberries, make sure they are thawed before starting the recipe.
Salty Pot Note: If you've picked your own berries, it's a great idea to soak the berries in a bowlful of ice-cold water with vinegar added for about ten minutes to help get any funky things off and out of the berries!
1.In a medium (heavy bottom) saucepan, combine the blackberries, granulated sugar, and water.
2. Place the saucepan on the stove over medium heat. Stir gently to dissolve the sugar and soften the blackberries.
3. Once the mixture starts to simmer, reduce the heat to low and let it cook for about 10-15 minutes. During this time, use the back of a spoon to lightly mash the blackberries to release their juices and flavors.
4. After simmering, remove the saucepan from the heat. Let the mixture cool down for a few minutes so it's not as hot as lava to work with!
5. Once the mixture has cooled down some (10 minutes or so), pour it through a fine-mesh strainer or cheesecloth-lined sieve, into a clean container. Press down on the blackberries with the back of a spoon to extract as much syrup as possible, leaving behind the pulp and seeds. If you prefer a smoother syrup, strain it one more time.
7. Add the (optional) lemon juice to the strained syrup and stir it in. The lemon juice enhances the flavors and adds a bit of brightness to the syrup.
8. Transfer the blackberry simple syrup into a clean, airtight bottle or jar. 
**The exact amounts of ingredients needed with instructions will be listed in the printable recipe card below. Also, instructions for thickening the syrup are be included.
Suggestions for Putting a Twist on It
Blackberry syrup can be varied up a bit by mixing other berries or a dash of vanilla extract to warm up the flavors.
If you want to use the syrup as a marinade or a glaze for pork, consider adding a ¼ teaspoon (depending on your heat tolerance) of dried chili flakes to the syrup for a nice sweet-heat kick!
Serving Ideas and Options
This blackberry simple syrup is great for adding to
Teas: Both hot and cold. Blackberry Iced Tea is refreshing and delicious on a hot day, and try adding a splash of it to your hot tea for some added flavor interest.
Blackberry Warm Milk: This is a win for the littles. Especially before bedtime, a tablespoon or two added to a warm cup of milk not only colors the milk but adds that berry goodness to the milk. Add a cookie and you have the perfect bedtime snack!
Mocktails and Cocktails: Again, both hot and cold. Adding a shot of the syrup to make fruity beer (it's delicious believe me!), add it to spiked (or not spiked!) lemonades or try this Blackberry Whisky Lemonade recipe!
Ice Cubes: Freeze the syrup in ice cube trays and use them to add to any drink you might want to give a pop of berry flavor to.
Soda Waters: Add a shot or two of the simple syrup to your favorite flavored sodas and/or add some of the ice cubes mentioned above to add even more delicious flavor to your flavored soda!
Waffles and Pancakes: We can thicken the simple syrup and it becomes a gorgeous blackberry pancake syrup to drizzle over for a fruity breakfast like IHOP!
Muffins & Cupcakes: Simply replace some of the milk/liquid used in the recipe with this fruity syrup to add pretty color and flavor.
Glazes for Roasts: Pork, Chicken, venison, and Bison roasts/steaks are super delicious using blackberry syrup as part of the glaze on the roasted meat. Reduce some of the syrup in a pot and add other ingredients to make a thicker syrup consistency to brush over the top.
Salad Vinaigrette: Blackberry simple syrup mixed with other ingredients makes a wonderful vinaigrette for your salad.
Storing Leftovers
Store your leftover seedless blackberry syrup in the refrigerator for up to two weeks. Freezing the berry syrup in ice trays is a great idea to add to beverages, so they double as ice cubes without watering down the flavor of your drink.
Long-Term Storage (Canning the Syrup)
If you'd like to store your homemade blackberry syrup for a longer term, water bath canning is a fantastic option. You can process the jars just as you would in a water bath for 15 minutes the same way you would juices, jams, and jellies. This will store for up to 18 months depending on the seal of your canning jars.
It's such a great way to preserve the fresh flavor of your blackberry syrup from the season to enjoy over the long cold winter and can free up some space in the freezer. ** Check the recipe card below for the tutorial link on exactly how to jar up your own blackberry simple syrup.
Questions You Might Have
Do I really have to strain the seeds out?
Technically, you don't have to, but I highly recommend you do. Leaving the seeds in will interfere with drinking/eating whatever beverages or dishes you make with it. Having to stop and remove the seeds from your mouth isn't a fun experience.
Can I keep the simple syrup at room temperature on the counter?
Not a good idea. Keeping the fruit syrup on the counter will hasten its spoiling window. It could grow mold and/or ferment, spoiling all your hard work.
How can I make this a sugar free blackberry syrup?
Instead of adding the sugar called for in the recipe, you can replace it with alternative sugars like erythritol, monk fruit, stevia, or allulose. Depending on which sugar replacement you use will depend on how much you add to the recipe as each one will say on the package how much is the equivalent to one cup of sugar. Keep in mind, even with using alternative sugars, the blackberry sugar won't be actually sugar-free because of the naturally occurring sugars in the fruit.
Did you make this blackberry simple syrup recipe? What did you use it with? I'd love to hear about it in the comments below and please don't forget to leave a ***STAR*** rating in the recipe card! Thank you for stopping by The Salty Pot today and I hope you have a wonderful day!
~Joanne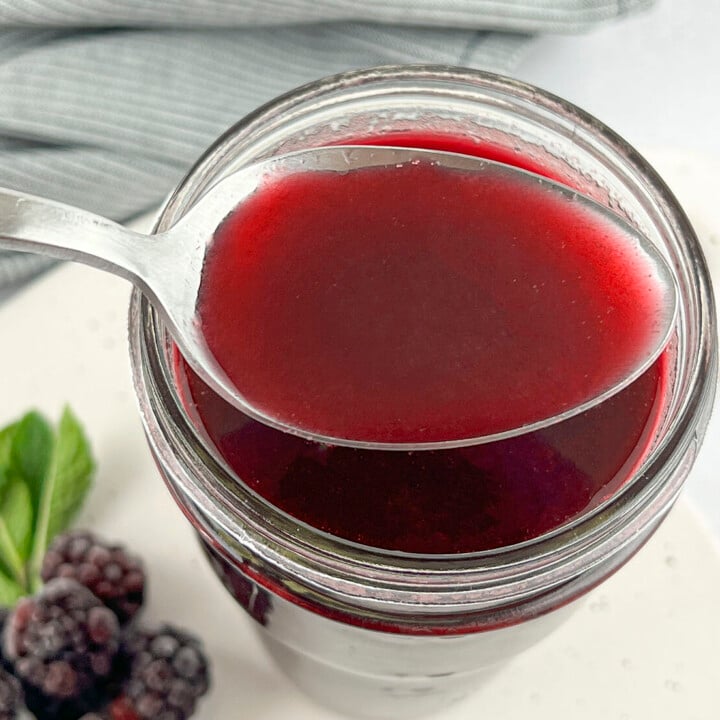 Blackberry Simple Syrup Recipe
Additional Time:
10 minutes
This Blackberry Simple Syrup recipe is a sweet, fruity, and light syrup that is perfect in cocktails, fruit sodas, baking, and meat glazes.
Ingredients
3 cups fresh or frozen blackberries
1 cup sugar
1 cup water
1 tablespoon Lemon Juice (Bottled) **Optional
Instructions
In a saucepan over medium-high heat combine the blackberries, sugar, and water.
Bring the mixture to a boil then reduce heat to low and simmer for 15 minutes, stirring often.
Remove from heat and cool for 10 minutes.
Strain the mixture into a glass container and cool it completely.
Use and enjoy!




Notes
It's a good idea to press the berries in the sieve when straining in order to get more blackberry essence into the syrup.
Using fresh or frozen blackberries is fine.
You can also add other berries along with the blackberries to make this a fruity, berry simple syrup.
For canning the syrup, follow this recipe to preserve the simple syrup.
If you want to thicken the syrup so drizzle over waffles and pancakes, heat the simple syrup to almost a boil. Add a slurry of ½ tablespoon of cornstarch with ½ tablespoon of water. Add it to the syrup and it should thicken almost immediately.
Nutrition Information:
Yield:

32
Serving Size:

1 tablespoon
Amount Per Serving:
Calories:

30
Total Fat:

0g
Saturated Fat:

0g
Trans Fat:

0g
Unsaturated Fat:

0g
Cholesterol:

0mg
Sodium:

1mg
Carbohydrates:

8g
Fiber:

1g
Sugar:

7g
Protein:

0g
All nutritional information is based on third-party calculations and is only an estimate. Each recipe and nutritional value will vary depending on the brands you use, measuring methods, and portion sizes per household.