These Cherry Chocolate Brownies are packed with chocolate cherry flavors while still being decadent and moist. I love the unique spin on these dessert brownies!
These luscious cherry brownies are made the easy way by adding just a few ingredients to your favorite brownie mix.
This post may contain affiliate links. If you make a purchase after clicking a link, I may earn a small commission AT NO COST TO YOU. As an Amazon Affiliate, I earn from qualifying purchases.
Why You'll Love These Black Forest Brownies
From a Valentine's treat to mixing things up at the Christmas cookie exchange you can do so much with these easy-to-make brownies and no one will ever guess that you started with a boxed brownie mix.
Groceries Needed
Box of brownie mix (and the ingredients listed on the back) – Use a brand-name cake mix that you like the flavor of.
Cella's chocolate candy – I find this is the best one to use and they're inexpensive. They're not cloying sweet and I usually buy TWO boxes because I end up eating half of the first box!
Maraschino cherries – There are two kinds you can buy in a jar, be sure to get the type that has no stems.
White chocolate chips – For drizzling over the brownies at the end!
Baking and Decorating These Chocolate Cherry Brownies
1. Preheat your oven to 350°F (180°C) and grease a 9×13 inch baking pan.
2. Prepare the brownie mix according to the package instructions.
3. Drain and dry half a bottle of maraschino cherries and chop them into small pieces.
4. After pouring the batter into the pan, place the chocolate cherry candy and chopped maraschino cherries into the brownie batter.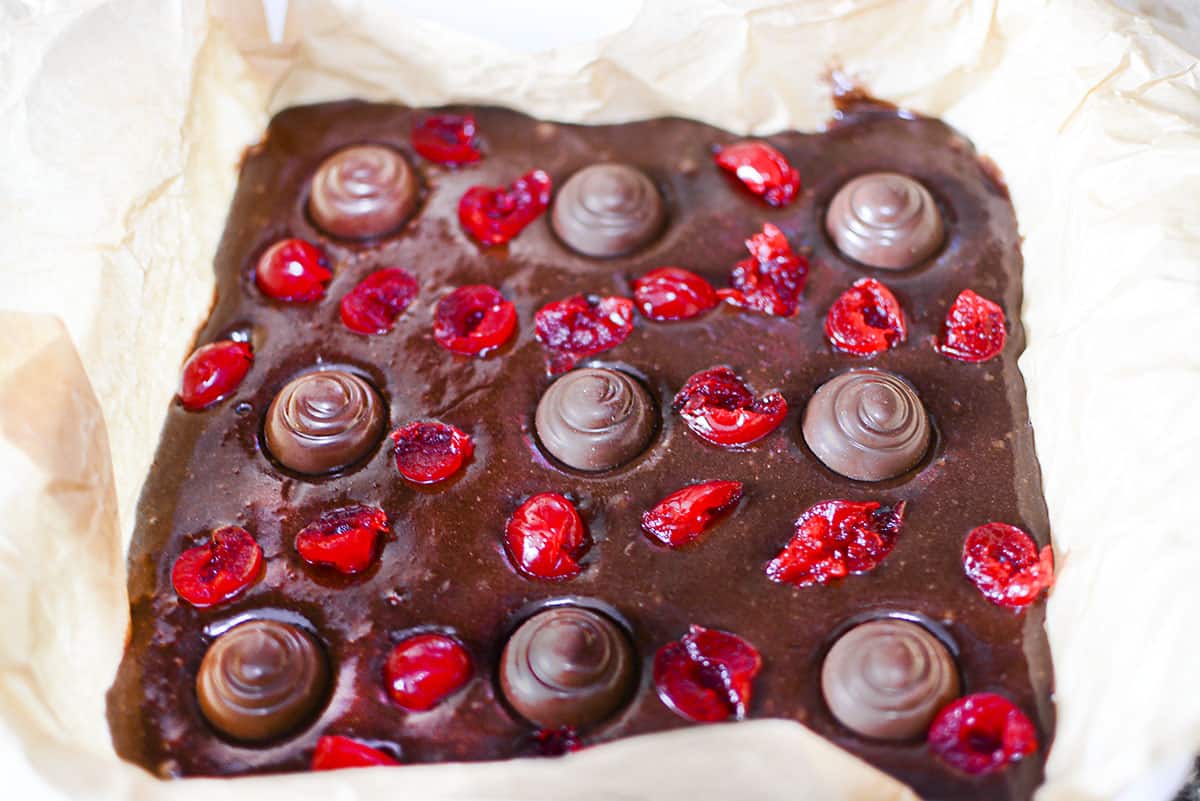 5. Bake for 20-25 minutes or until a toothpick inserted into the center comes out clean.
6. Once done, allow the brownies to cool in the pan for 10 minutes before removing them from the pan and transferring them to a wire rack to cool completely.
7. After the brownies are cool, chop the remaining maraschino cherries and sprinkle them on top of the brownies.
8. Melt the white chocolate chips in the microwave for 30 seconds at a time, stirring in between, until fully melted.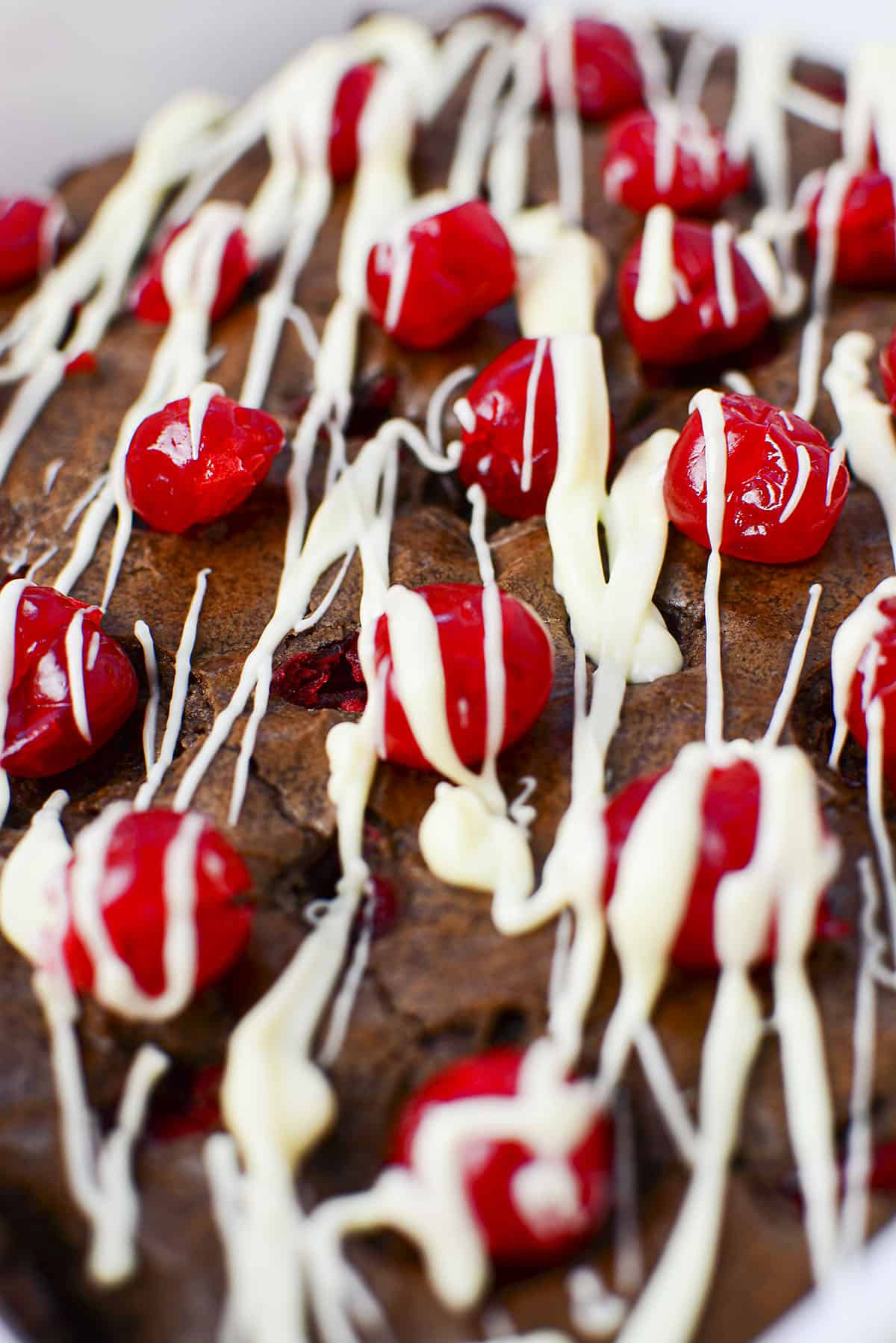 9. Drizzle the melted white chocolate over the brownies and cherries.
10. Let the chocolate harden before cutting the brownies into squares.
A fully detailed and printable recipe is available at the bottom of this post for you.
Suggestions for Putting a Twist on It
You can mix chopped nuts into the brownie batter or use them as a topping to add some crunch.
For a stronger cherry flavor, you can mix a teaspoon of cherry or almond extract into your batter. Almond extract is often used to give a stronger cherry flavor to other baked goods such as pies.
Do you want to add a kick of spice? You can add a pinch of red pepper flakes or a tiny bit of cayenne pepper to give your cherry chocolate brownies a bit of a bite.
If you really love chocolate you can mix extra chocolate chips or white chocolate chips into your brownie batter to add a bit of a decadent touch. If you're not too much of a sweet fan, try adding some dark chocolate chips into the batter to give that slight bitterness that contrasts the sweetness.
What Can I Serve this With?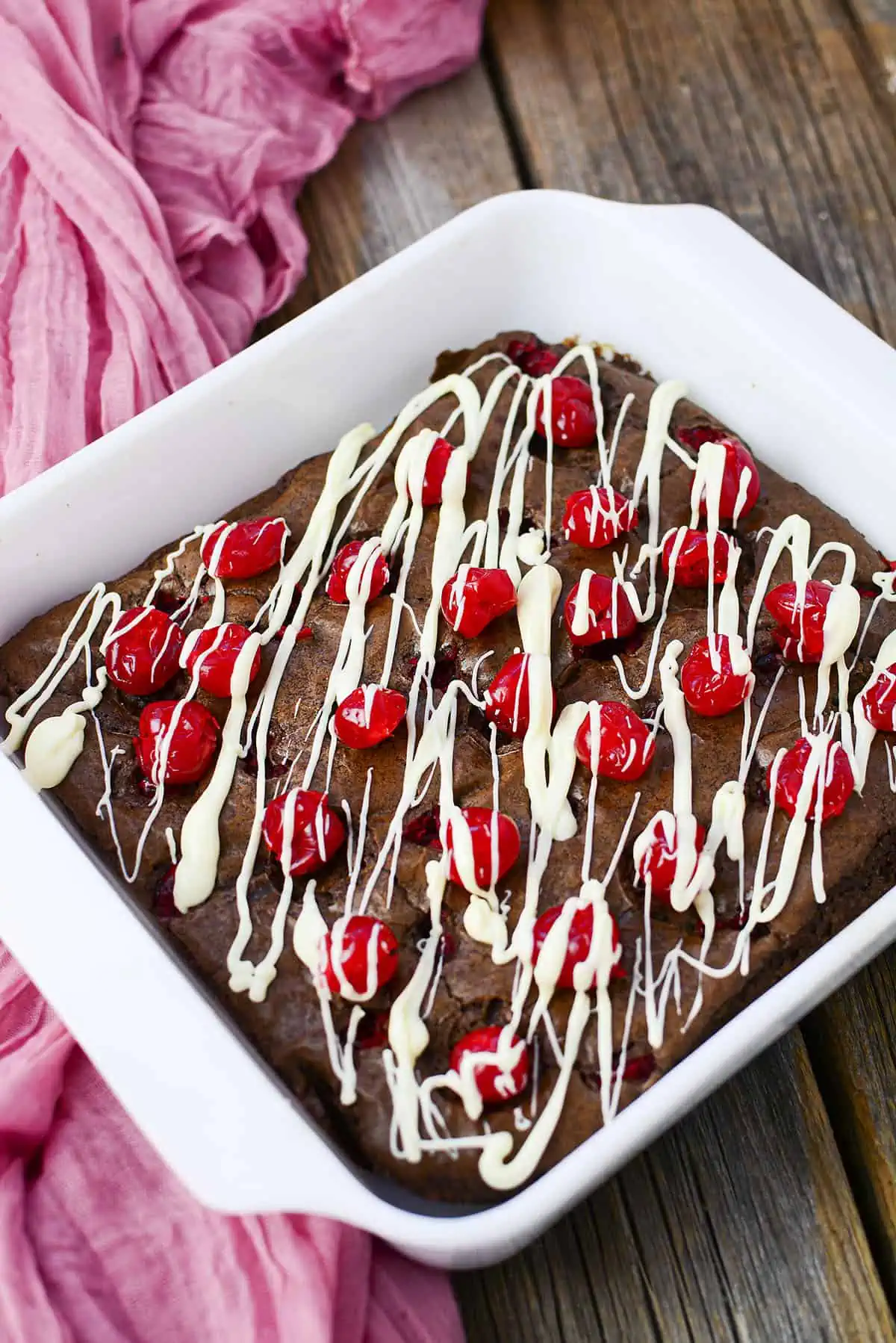 These cherry brownies are best friends with practically any flavor of ice cream. You can even use them as part of the best hot fudge sundae you have ever had! The trick is to serve them piping hot (you can microwave them) right under your ice cream and hot fudge.
Try serving these with a dollop of whipped cream and a few fresh cherries. These also go great with a simple cup of cold milk or a hot cup of coffee or tea.
Try serving them on a small dessert table with other cherry recipes like these Sour Cherry Handpies, or another fruity dessert like my Mom's infamous Rhubarb Crumb Bars recipe.
If you wanted to follow the chocolate route, these decadent Nutella Cupcakes will fit the bill!
Storing Leftovers
Store leftover brownies in an air-tight container to keep them moist for up to 3 to 4 days.
If you want these brownies to last longer you can freeze them either whole or cut. Either way you choose to freeze them, be sure to let them cool completely and wrap them tightly with plastic wrap, then place them in an airtight container or sealable freezer bag. These cherry chocolate brownies will last for up to 3 months in the freezer.
To thaw, remove them from the freezer and let them thaw overnight in the fridge, or gently warm them in the microwave on 50 percent power. Alternatively, you can leave them on the counter for a few hours to come to room temp.
They will thaw faster as individual pieces rather than the whole dessert still in one piece.
Can I use my own brownie recipe for these dessert squares?
Yes, absolutely you can. As long as your recipe doesn't have the brownies cooking hotter than 350F, you're good to go!
Is it better to undercook or overcook brownies?
Well, you really don't want to overcook brownies. They'll dry out and not have that scrumptious, decadent center. However, undercooking them will leave them too soft and raw tasting. It's best to cook them according to the directions of the recipe, at least the first time. This way, you can judge your own preference to either cook a bit longer, or a bit shorter for the texture you're looking for.
Cherry Chocolate Brownies
Cherry chocolate brownies are intensely fudgy with that scrumptious cherry flavor all throughout. You can call them black forest brownies as well because they have that same flavor as the cake, but in brownie form!
Ingredients
1 box of brownie mix (prepared)
1 Bottle of maraschino cherries, 12 oz, drained
12 chocolate covered cherries
⅓ cup melted white chocolate chips
Instructions
Preheat the oven according to the box mix directions.
Prepare the brownie mix according to the back of the box.
Pour the brownie mix into an 8x8 or 9x9 lined with parchment, baking pan.
Place the chocolate covered cherries into the batter, evenly spacing them through the dish.
Drain the cherries and empty onto paper towel.
Pat dry the cherries as much as possible. Remove 12 cherries from the bunch and cut them in half.
Add the cut cherries to the batter, scattering them around the chocolate cherries.
Bake in the oven according to the baking time on the box.
Remove from the oven when the cooking time is done and let cool completely.
When cooled, sprinkle the remaining whole cherries over the top of the brownies.
Melt the white chocolate and drizzle it over the top of the brownies.
Enjoy!
Notes
1. It's really important to dry the cherries on the paper towel as much as possible as you don't want the extra liquid making the batter runny.
2. When the brownies are ready to eat, you'll notice that the shell of the chocolate candy has melted into the batter and added a decadent, even chocolatlier flavor, while leave the juicy cherry behind, nestled in the brownie. DELISH!
Nutrition Information:
Yield:

16
Serving Size:

1 piece
Amount Per Serving:
Calories:

110
Total Fat:

4g
Saturated Fat:

2g
Trans Fat:

0g
Unsaturated Fat:

1g
Cholesterol:

2mg
Sodium:

14mg
Carbohydrates:

21g
Fiber:

1g
Sugar:

18g
Protein:

1g
All nutritional information is based on third-party calculations and is only an estimate. Each recipe and nutritional value will vary depending on the brands you use, measuring methods, and portion sizes per household.