Air Fryer Chicken Sausages are a fantastic, easy, and delicious air fryer recipe. Making them in the air fryer creates a juicy center and crispy outer skin, cooked to perfection every time.
Whipping them up as breakfast sausages with eggs, or with onions and bell peppers for a hearty dinner meal, chicken sausages make a great meal option any time of the day.
This post may contain affiliate links. If you make a purchase after clicking a link, I may earn a small commission AT NO COST TO YOU. As an Amazon Affiliate, I earn from qualifying purchases.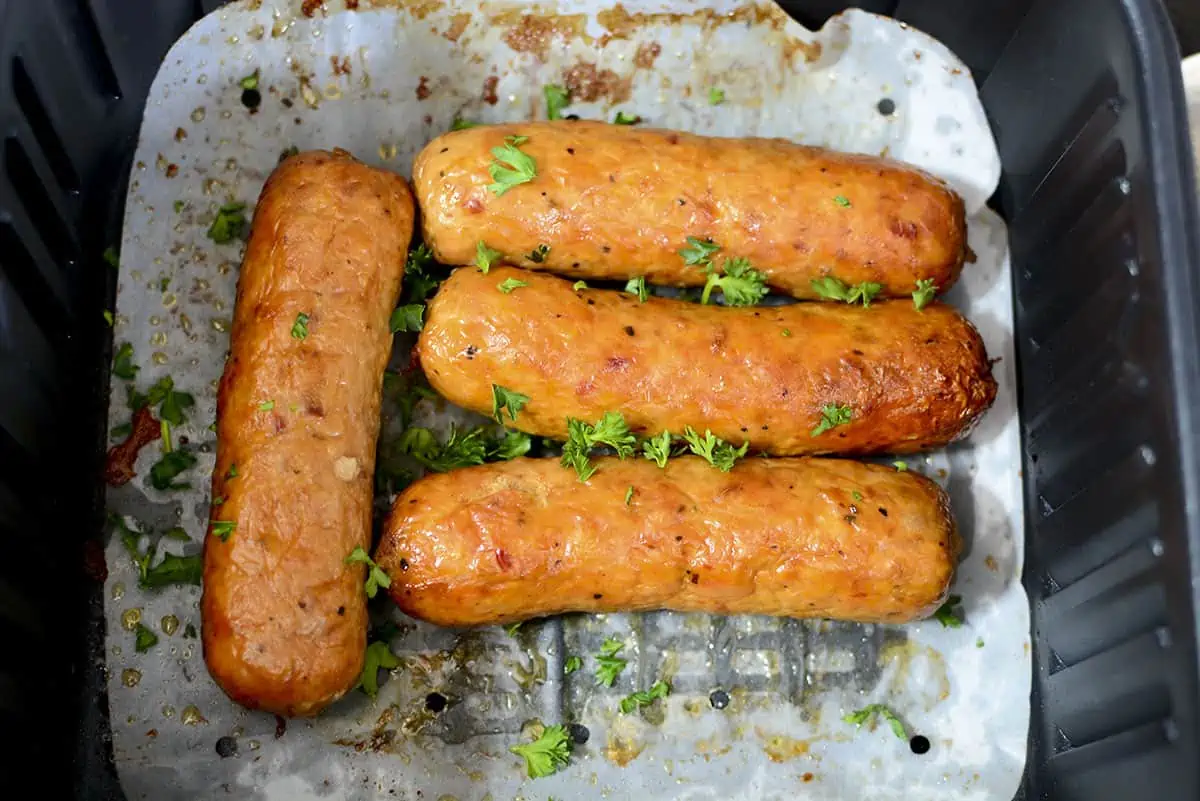 What's to Love about Making Chicken Sausage in the Air Fryer
Chicken sausages are great for making in the air fryer when you want a quick and easy option that allows you to focus on other parts of your meal and not have to worry about keeping a constant eye on the main protein part of the meal.
15 to 18 minutes is all you need to get them on the table!
Easy cleanup and no stovetop splatters to clean up.
Choosing the Right Kind of Sausage
Most grocery stores will carry a few varieties of sausages in the meat department that you can use in your air fryer. Any variety of flavor of chicken sausage you decide to air fry will be perfect for this chicken air fry recipe, as long as your brand of air fryer reaches around 400 degrees.
Now, this air fryer chicken sausage recipe will work for any type of sausage you purchase. (Or even make homemade for that matter!). The only difference will be the cooking times. The cooking time will be dependent on the thickness of the sausages (a turkey or chicken breakfast link vs thicker sausages) and if they are precooked or not.
The fully cooked sausages only need heating through and crisping up. The raw chicken sausages will need to be cooked thoroughly with the correct internal temperature and may take a bit longer in the air fryer, so choose according to the amount of time you have available.
Look below at the bottom of this post for a fully printable recipe giving you directions for making these sausages perfect every time.
How to Cook Chicken Sausages in the Air Fryer
If your sausages are frozen, please thaw them first. Starting with frozen rather than thawed sausage of almost any kind has an increased cooking time to fully cook and will most likely burn the outer casing of the sausage before the inside can be thoroughly heated through.
Even if it doesn't burn, this can leave the outer skin of your chicken sausages hard and leathery.
The only kind of sausage that wouldn't need to be thawed first would be Frozen Sausage Patties which are quick and convenient to cook in the air fryer because they're thinner with a larger surface area and thaw super quick under the heat.
Start by preheating your air fryer. Much like an oven, it's always a nice idea to get the air fryer basket up to temperature before placing the sausages into it. Also, the added heating time during the preheat cycle can help with fully cooking your sausages more evenly.
Place the links in a single layer at the bottom of the air fryer basket with room in between the sausages for good airflow. This particular step is optional.
I only did 4 because that's all that was needed that day, but you can do more if you wish. But just know that the places where the sausages touch each other may not get as crispy as you'd like, even if you shake them halfway through. Shaking the air fryer basket will help, but getting an overall EVEN crisp on every single chicken sausage may be difficult.
If this even crispiness doesn't matter to you, then stack 'em up!
I've made Hot Dogs in the Air Fryer that were delicious and the texture was so much better than boiling them! Also, one of my favorite ways to cook chicken thighs now is in the air fryer. The crispy skin is second to none done any other way!
I gave the sausages that I air-fried a quick spritz of light vegetable oil (avocado oil to be exact). This was to help get a head start on the browning and crisping facet of the air fryer sausages.
If you don't have the shake function, then simply flip your sausages about halfway through to ensure that they get fully cooked evenly. This is much easier than the multiple flips needed in a pan on the stove to prevent burning.
Try not to pierce the casing with a fork while flipping them. The casing will help retain the internal juices of the sausage and breaking the surface area could cause the moisture to ooze out and become dry.
Another great point to air fry sausage links is for easy cleanup. Frying sausages in a skillet on the stovetop usually leaves you with a messy, oily stove surface. Most air fryers have baskets that are dishwasher safe, and for added help in the cleanup department, you can always use parchment paper cutouts or liners that make clean-up a breeze.
Sausage Air Fryer Cooking Time and Temperature
The size and diameter of the sausages will dictate the amount of time in the air fryer needed to ensure that they are fully cooked through. For these I did today, I cooked them at 325 for 18 minutes.
This allowed for a nice crispy outer layer while ensuring that the center of the sausages is fully cooked and reached a safe internal temperature.
It's important to remember that any type of sausage, (even air fryer sausage patties) when made in the air fryer always should have an internal final temperature of 165 degrees Fahrenheit.
Serving undercooked sausage could expose your family to food poisoning, so always use a meat thermometer for accuracy.
Dealing with Leftovers
Your leftover sausages can be stored in an airtight container in the refrigerator for up to 3 days. When reheating, for best results, you may want to opt for using your microwave to avoid making the outer layer of your chicken sausages too hard by air frying them again.
You can also freeze cooked chicken sausage. Store them in an air-tight freezer container or bag, and they'll stay perfect for up to 1-2 months. Thaw them in the fridge overnight for best results for reheating.
By the way, this also goes for pork sausages and even turkey sausages.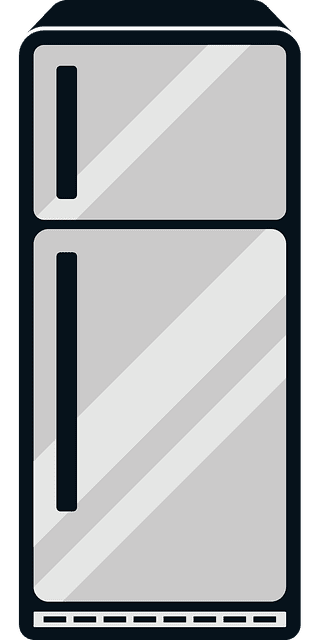 What to Serve with Air Fryer Sausages
This is easy. If you're cooking chicken breakfast links, then some great ideas to serve with these tasty sausages are eggs, hash browns, toast, and other usual breakfast fares. Another great idea is to air fry the sausages ahead of time and then cut them up to use in omelets or frittatas.
If the chicken sausages are the thicker variety and cooked for easy dinners, sauteed peppers and onions to serve on top is a yummy idea. Also, try steamed broccoli florets, easy 3 Ingredient Mac and Cheese, or green beans as sides.
Thank you so much for stopping by The Salty Pot today! If you've made this recipe, please leave a comment and a rating below, I'd love to hear from you! Have a fantastic day 🙂
~ Joanne
Air Fryer Chicken Sausages
Super crispy outside and incredibly juicy inside, Chicken Sausages in the Air Fryer are the best way to get tasty, quick meals on the table.
Ingredients
4 Italian Chicken Sausages
a few spritz of avocado oil (optional)
Instructions
Start by preheating the air fryer to 400 or as hot as it will go. Use the standard preset setting if it comes with one, or preheat for 5 minutes.
Line the air fryer basket with parchment paper liners for easy clean-up. This is optional of course, but makes life easier!
Place the chicken sausages into the air fryer basket. Give them a light spritzing of vegetable oil. **see notes
Air fry for 15 to 18 minutes or until the outside is crispy and the internal temperature reaches 165 degrees Fahrenheit.
When the cooking time is complete, using tongs, remove the sausages from the air fryer basket and serve immediately. Be careful as the inside of the sausages will be very hot!
Notes
The spritzing step is optional but I find it really helps in the crisping process.
The best way to ensure that an uncooked chicken sausage is completely cooked is by using a digital thermometer. I highly recommend getting one if you don't have it. They are so handy for so many applications in the kitchen.
Always start with thawed sausage unless they are breakfast sausage patties.
Nutrition Information:
Yield:

4
Serving Size:

1 sausage
Amount Per Serving:
Calories:

178
Total Fat:

11g
Saturated Fat:

2g
Trans Fat:

0g
Unsaturated Fat:

7g
Cholesterol:

69mg
Sodium:

499mg
Carbohydrates:

0g
Fiber:

0g
Sugar:

0g
Protein:

18g
All nutritional information is based on third-party calculations and is only an estimate. Each recipe and nutritional value will vary depending on the brands you use, measuring methods, and portion sizes per household.