Air Fryer Breakfast Sausage has to be one of my most favorite ways to cook breakfast sausage for so many reasons. Using an air fryer to cook breakfast sausages (and Sausage Patties!) is a great way to get juicy sausages with a crispy outside while having time to do other things.
Just like my air fryer chicken sausages, I love it because everything from frozen precooked sausages to fresh, uncooked ones, your breakfast sausage links can be cooked to perfection easily and with little mess compared to frying them on the stovetop.
This post may contain affiliate links. If you make a purchase after clicking a link, I may earn a small commission AT NO COST TO YOU. As an Amazon Affiliate, I earn from qualifying purchases.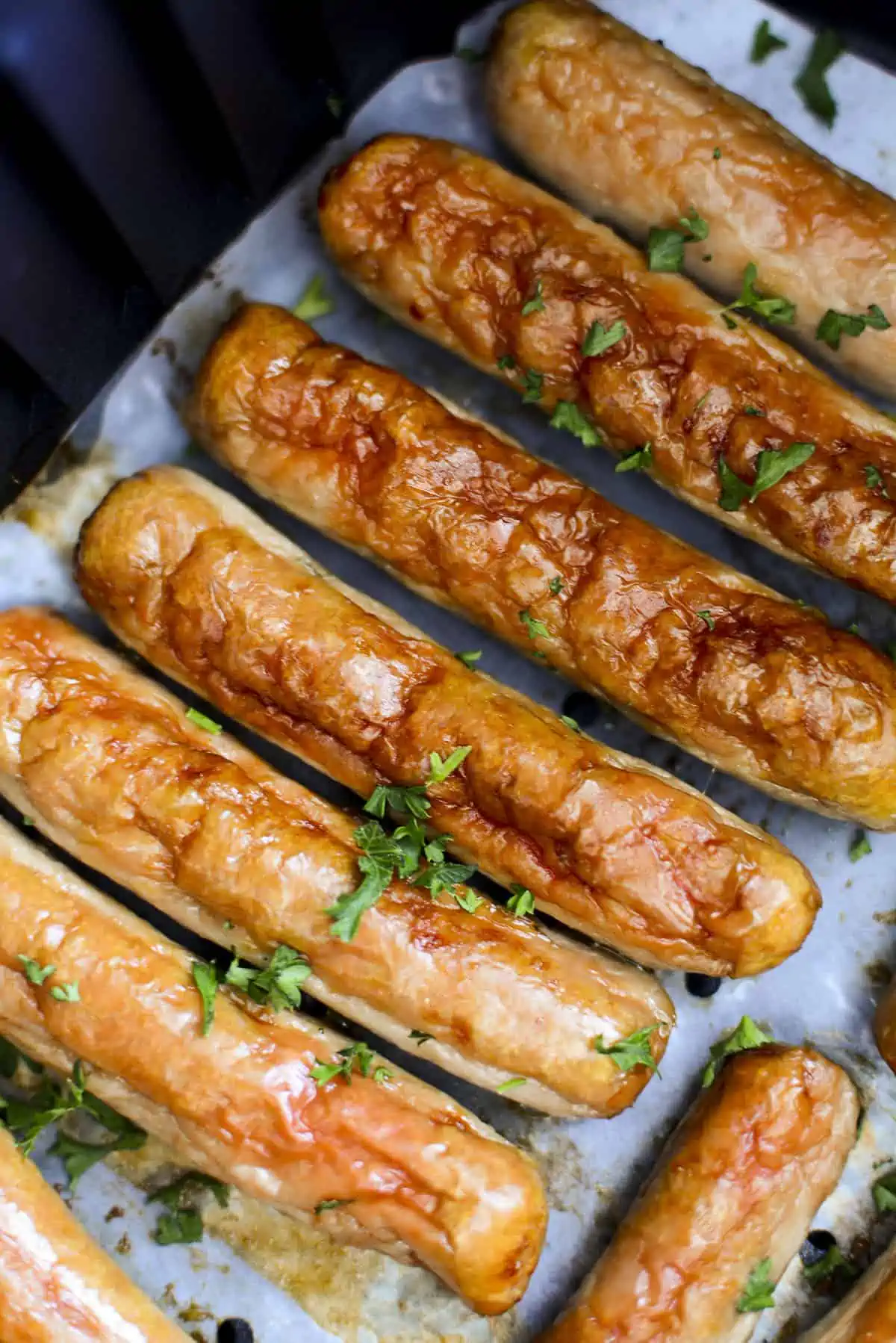 How to Air Fry Breakfast Sausage Links
Cooking your breakfast sausages in the air fryer is easy to do and a great way to get the perfect juicy sausages without having to spend time babysitting your sausage links while they cook. When cooking a large meal this can be a great tool for making things way easier for you.
You'll want to start by preheating the air fryer to 400 degrees.
Remember that preheating helps to give you a more even cook and the perfect crisp every time with your air fryer. Some air fryers automatically do this when you kick it on and then tell you when to add your food. Others need to be manually preheated for the best crisp. Either way is fine.
Place your sausages in a single layer inside your air fryer. I like to keep space between them to help encourage even browning.
If even browning/crisping isn't a big deal and you just want them cooked in the quickest time possible, you can add them stacked on top of each other. Just remember to shake them around a few times throughout the air frying process to get good heat exposure to each link.
You can also add a double layer rack to add more sausages if you are cooking for more people if your air fryer comes equipped with that accessory.
Cook them for 8 to 10 minutes flipping them over or shaking the air fryer basket about halfway through to ensure the best result.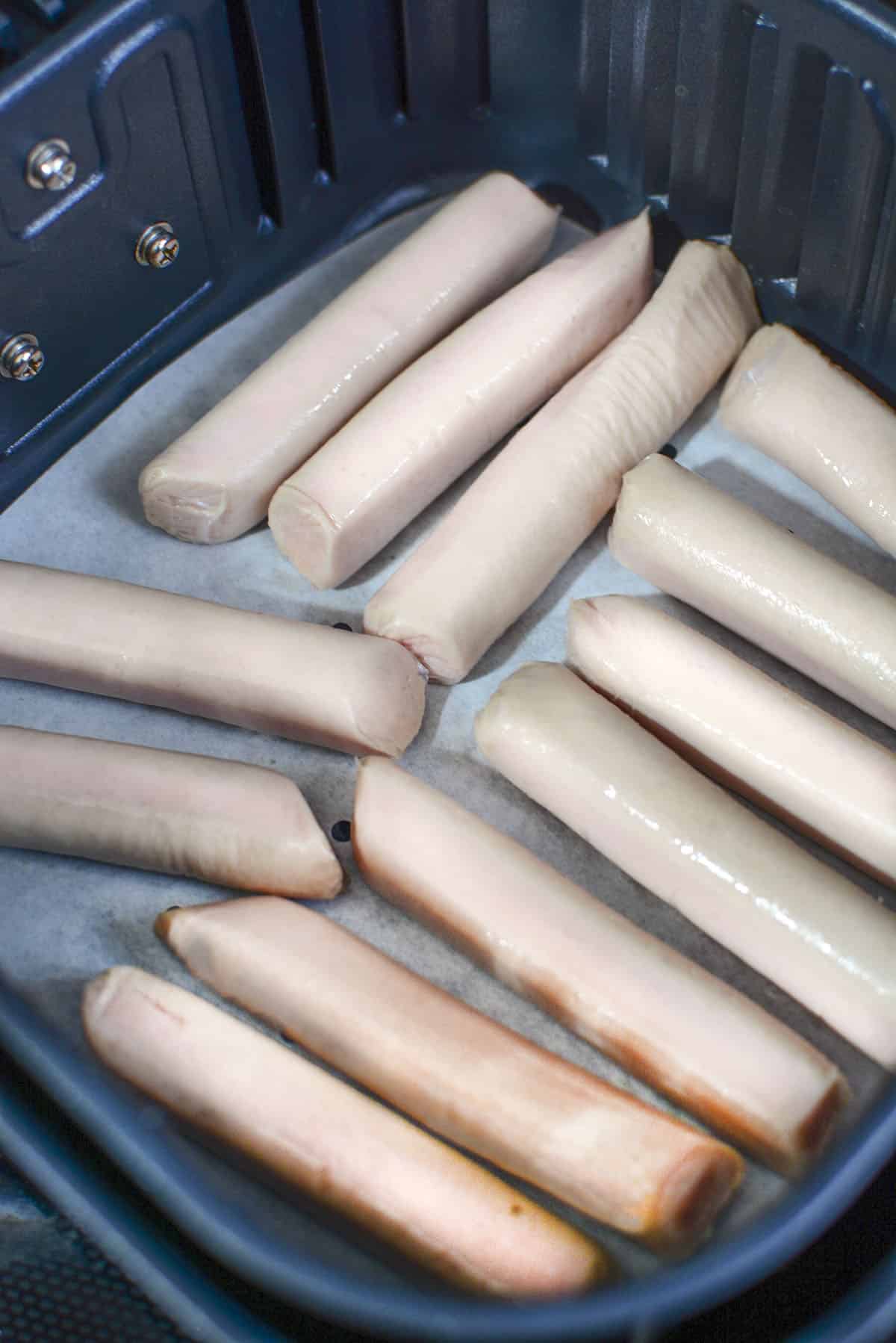 MAKE YOUR LIFE EASIER: For easy cleanup, line the air fryer basket with parchment paper liners. This way, bits of food won't get stuck on, and it just makes for an easier overall cleanup for the basket.
Cooking Frozen Breakfast Sausage Links in your Air Fryer
If your breakfast sausages are frozen before cooking them you have a couple of simple options to begin with for cooking them in the air fryer.
THAWING: Take them out the night before and thaw them in the fridge overnight. This goes for both fresh (uncooked) and fully cooked sausages. This way, you can proceed as usual in whipping up a perfect sausage link.
COOKING FROM FROZEN: The other option is to go ahead and cook them from frozen. To do this, simply add 2-3 minutes to your cooking time and be sure to flip them a few extra times while cooking to help ensure that they thaw and then cook fully. This option will give you a better crisp but takes a few more minutes.
Cooking Tip: Remember, the safe way to cook any breakfast sausage is to have it register at least 160 Fahrenheit on the inside. Using a digital meat thermometer makes this easy.
Air Frying Fully Cooked Sausage Links
If you are heating fully cooked sausage links, you can opt to use your air fryer to do this quickly and easily. The results are just as delicious as when cooking them from a fully raw state! You can reheat them in the microwave for super-quick results, but honestly, the finished product kind of sucks. No crispy deliciousness when made in the microwave.
Using the air fryer to cook them will give you results more like your stovetop than the microwave. Simply preheat your air fryer and place the sausages in for 5 to 6 minutes. Like with other sausages if you want an even crisp you should flip them about halfway through though.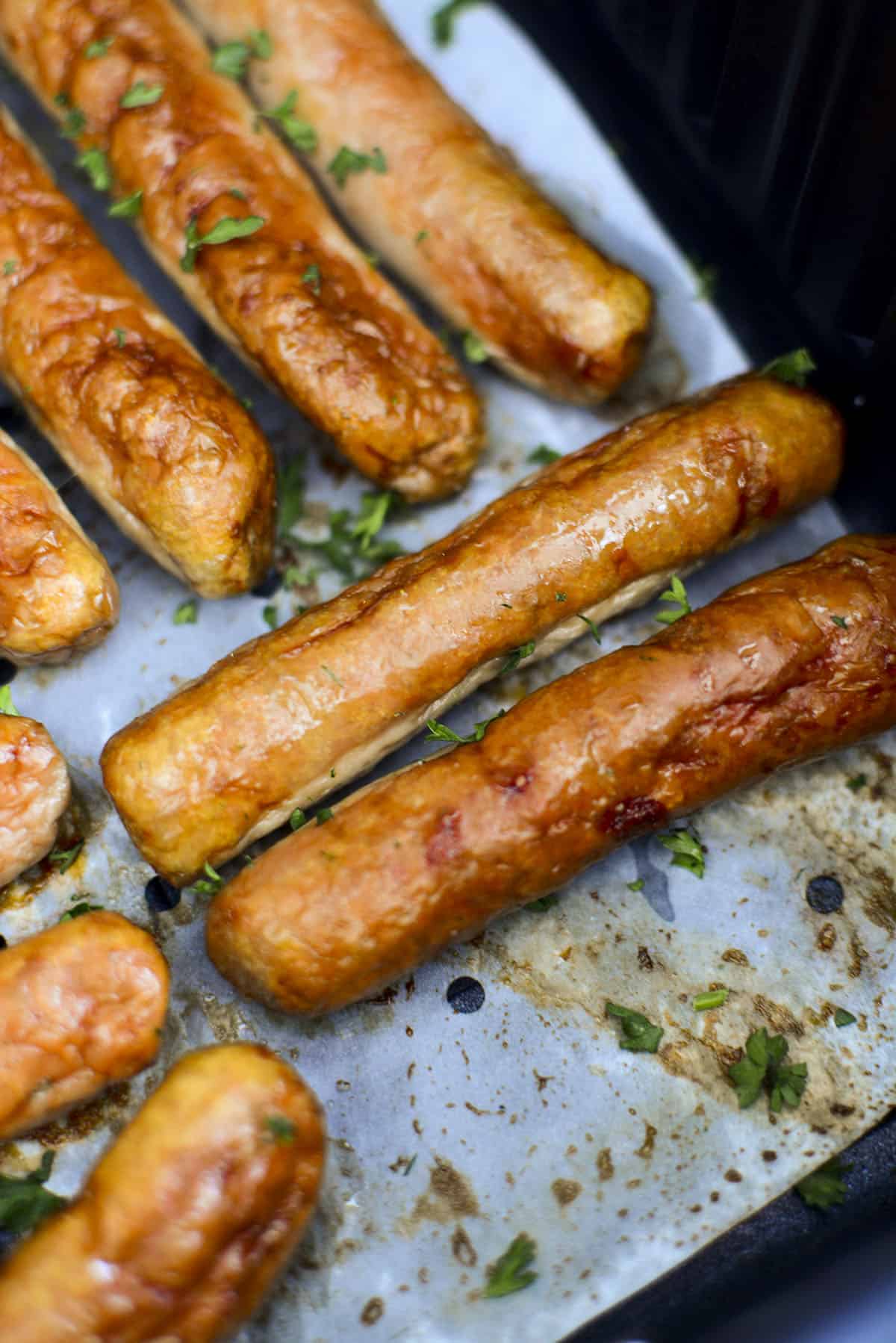 Storing your air fried breakfast sausage links
Remember, after you cook your breakfast links in the air fryer they will be crispy from the casing that often surrounds the meat that is a delight to bite into.
Keep in mind that this texture will change when you place them into the refrigerator or freeze them. Keep them in an air-tight lidded container in the fridge for up to 4 days. To freeze them, keep them in a freezer-friendly container for up to a month.
To reheat your breakfast sausage links you can run them through your air fryer again the original way you cooked them but lower the temperature and don't air fry them for as long. This MAY cause them to slightly dry out so keep an eye out for that.

Check out the recipe card below for more specific times and temps.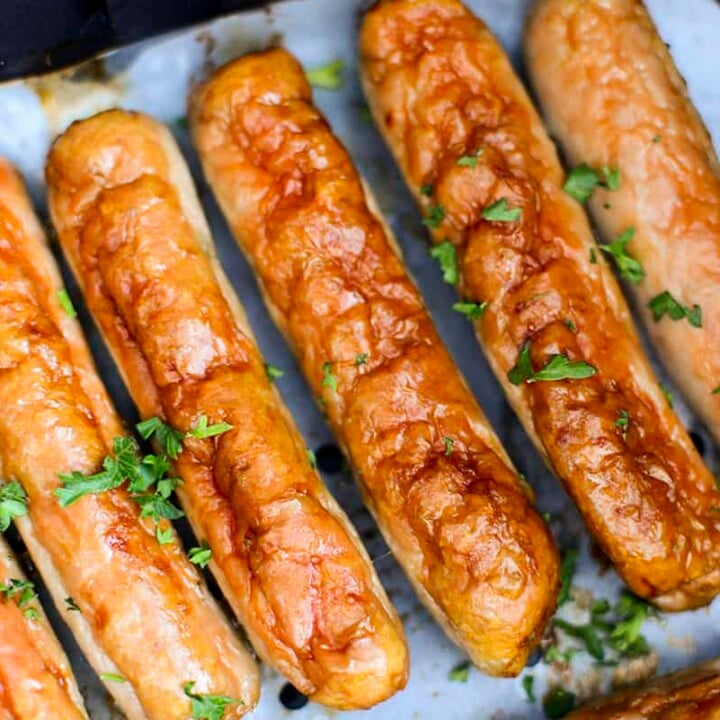 Air Fryer Breakfast Sausage
Air Fryer Breakfast Sausage is a great breakfast staple! Using the air fryer to cook breakfast sausage creates a crispy outside and a juicy inside - less mess and less hassle!
Ingredients
12 breakfast sausage links.
Instructions
Begin by preheating the air fryer to 400 degrees.
Place the sausages in the air fryer basket in a single layer.
Air fry the breakfast sausage for 10 - 12 minutes or until the internal temperature reads 160 degrees Fahrenheit on a digital thermometer.
Halfway through cooking, give the sausages a flip or shake the air fryer basket to ensure even cooking.
Remove the sausages and let rest 2 - 3 minutes before serving. Enjoy!
Nutrition Information:
Yield:

6
Serving Size:

2 sausages
Amount Per Serving:
Calories:

150
Total Fat:

13g
Saturated Fat:

4g
Trans Fat:

0g
Unsaturated Fat:

8g
Cholesterol:

40mg
Sodium:

374mg
Carbohydrates:

1g
Fiber:

0g
Sugar:

1g
Protein:

9g
All nutritional information is based on third-party calculations and is only an estimate. Each recipe and nutritional value will vary depending on the brands you use, measuring methods, and portion sizes per household.