Are you trying to get your kidlets to eat more veggies and be happy about it?? I have your solution right here: Sweet potato fries. But not just ANY sweet potato fries my friend. Honey Butter Cinnamon Sweet Potato Fries!! And best idea yet?? – SERVE THEM FOR BREAKFAST!!!! I know, crazy right??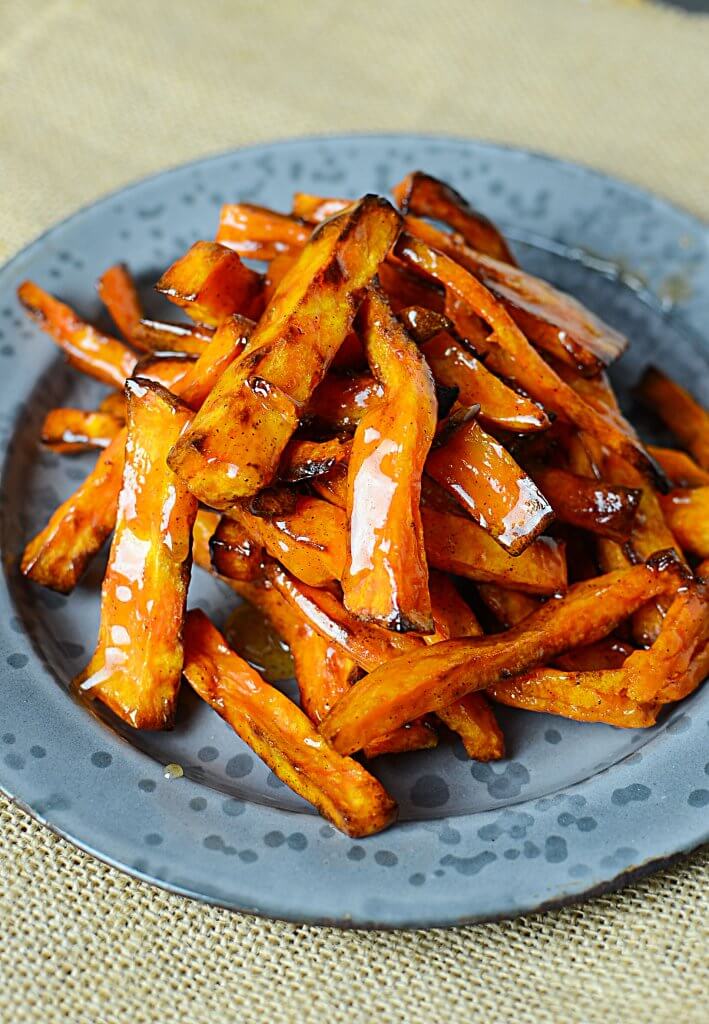 HONEY BUTTER CINNAMON SWEET POTATO FRIES
This recipe is relatively easy to make and you're littles (and biggies for that matter! lol) will LOVE this recipe. AND – the best thing about this is that it's done all in one pot – The Foodi. However, you can make them in the instant pot, or even just in your oven! (Instructions below)
They're so versatile and packed with nutrition, I'd almost say they're a super food! AND what's great about super foods? You can serve them for breakfast!! Yes, I know the idea of serving these yummy fries for breakfast sounds nutso, but think about it. They're PACKED with nutrition, they're super yummy, and the kids won't know what hit them when you give them FRIES FOR BREAKFAST!!!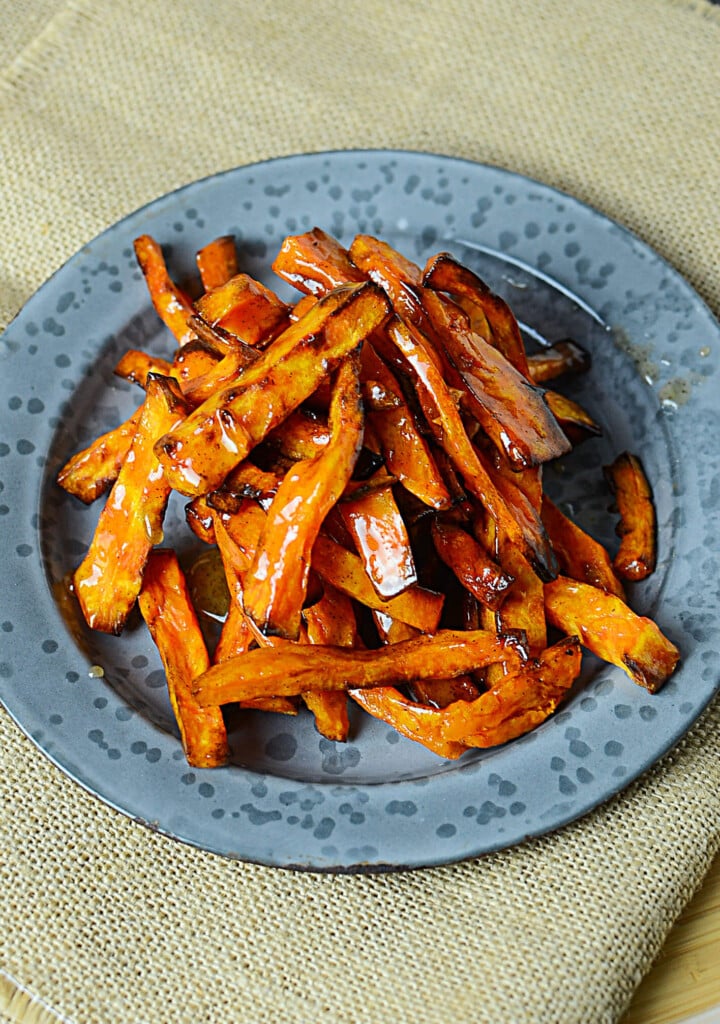 Sweet Potato Fries Nutrition
So, in case you weren't brushed up on the latest nutritional information on just how good sweet potatoes are for you.. lemme get you up to speed a bit. Here's some awesome info about them:
They contains 215% of your daily vitamin A requirement!!
50% of your vitamin C daily requirement
Vitamins B1, B2, B3, B6
4 grams of fiber in every cup
They're slightly sweet, making them excellent choices for getting children to eat them!
We all know that honey (in small amounts) is also good for us, as well as cinnamon. The amount I added today to the recipe was small enough that when divided, it's not that big a deal. And if it helps make your little one eat more fiber, vitamin A and so many B's.. why not right?
General directions for prepping the Sweet Potato Fries for all methods of cooking: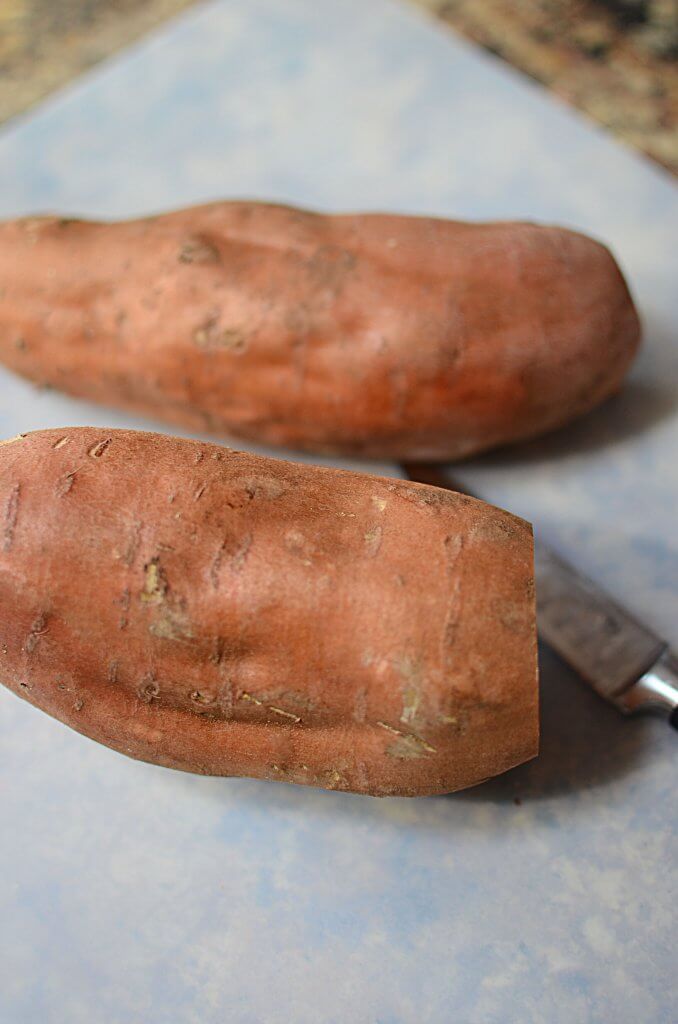 Start out by peeling the potato. Now, this is an optional step. Feel free to leave the skins on as they add extra nutrition and character to the fries. I just happened to peel them before I thought about leaving them on. SIGH *eyeroll*. See what happens when you get old? lol
Cut the sweet potato (and by the way, these can also be called yams, but not technically. Long story, but the government gave permission to call orange fleshed tubers sweet potatoes or yams, interchangeably, believe it or not. So you could also call these delicious babies Yam Fries!).. ok,.. so yes, cut the sweet potato into about a ¼″ stick shapes. You could also make these steak fries as well, but I preferred the regular fry shape for these sweet potato fries (or yam fries..haha).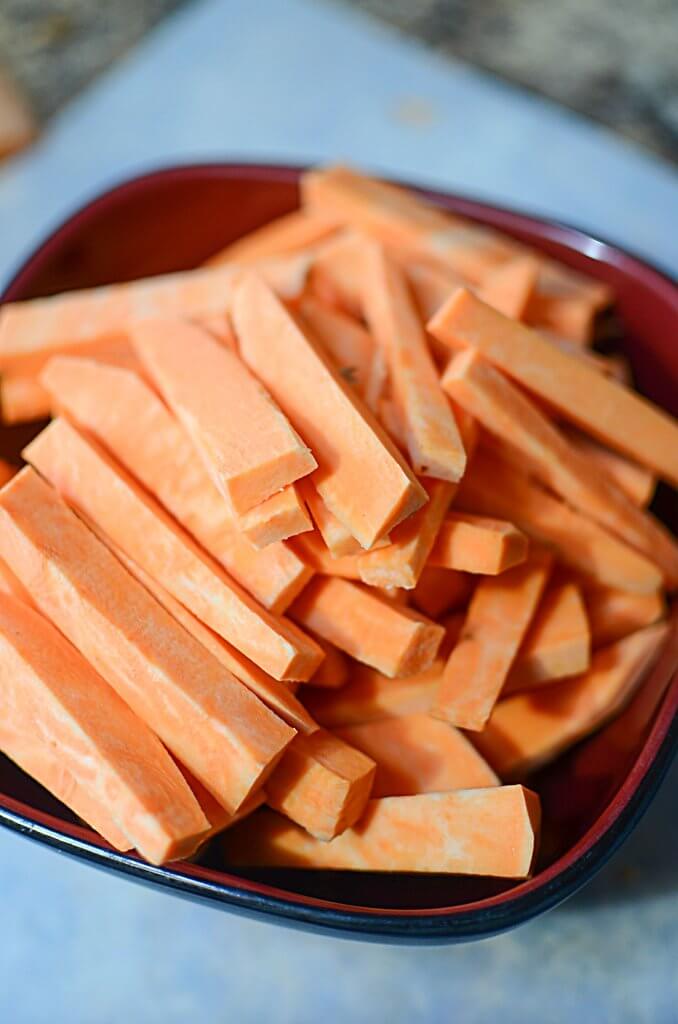 Put them into a bowl, add oil and salt. Mix them up to coat.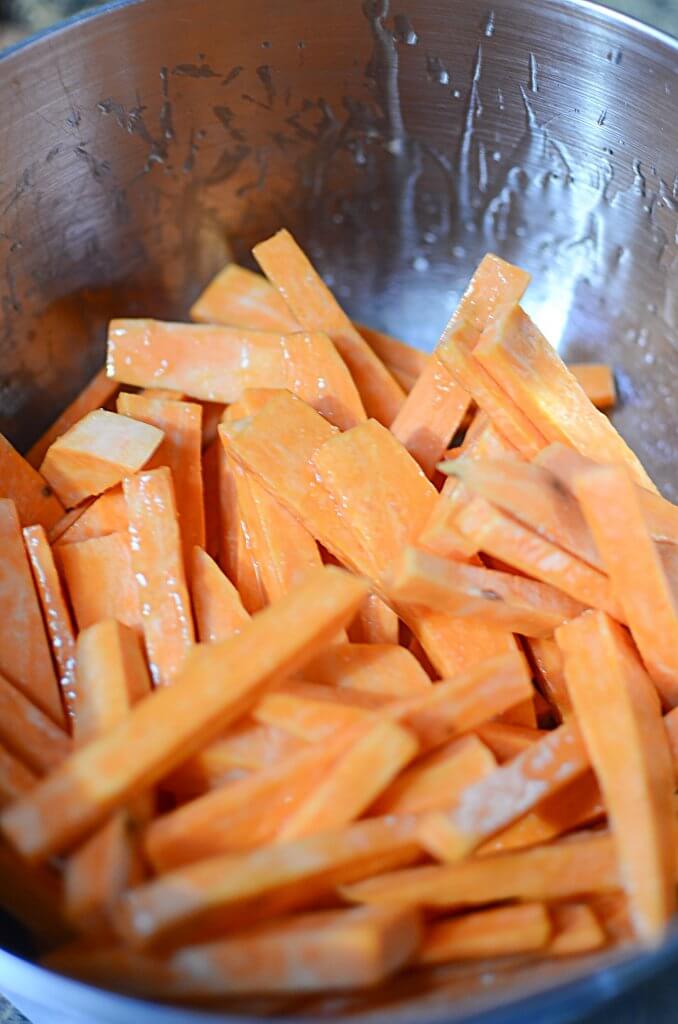 To make the Honey Butter Cinnamon sauce: Simply put the butter, honey and cinnamon in a glass bowl and heat it in the microwave for 30 seconds until everything melts well together. Give it a good whisk and you're good to go! Be careful as that mixture will be CRAZY hot!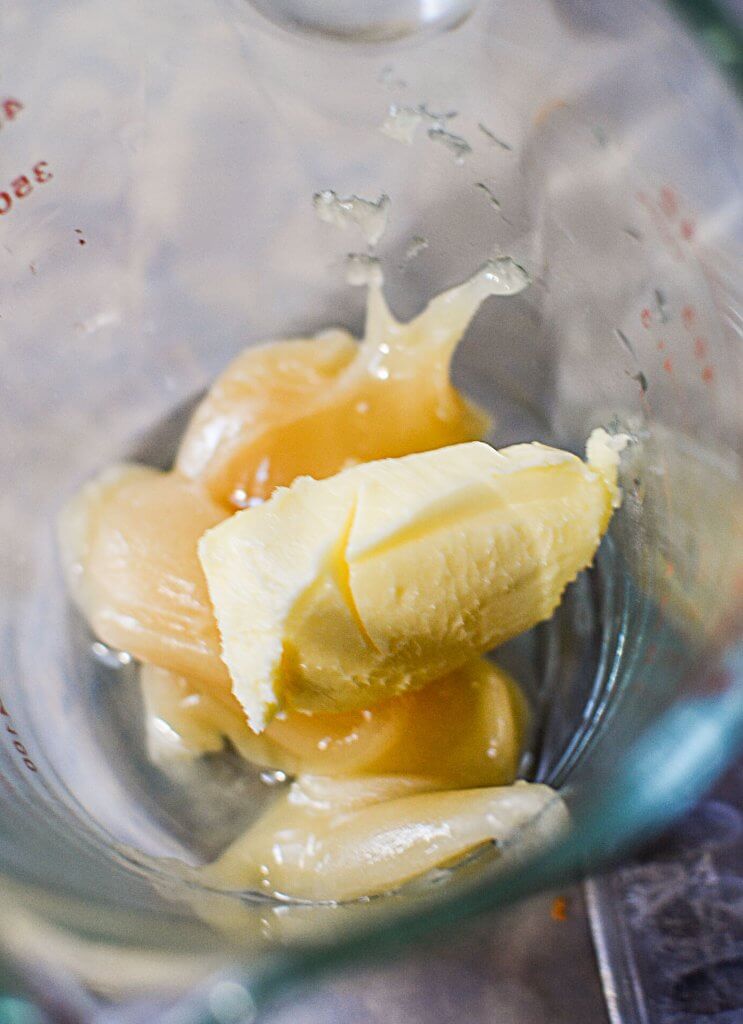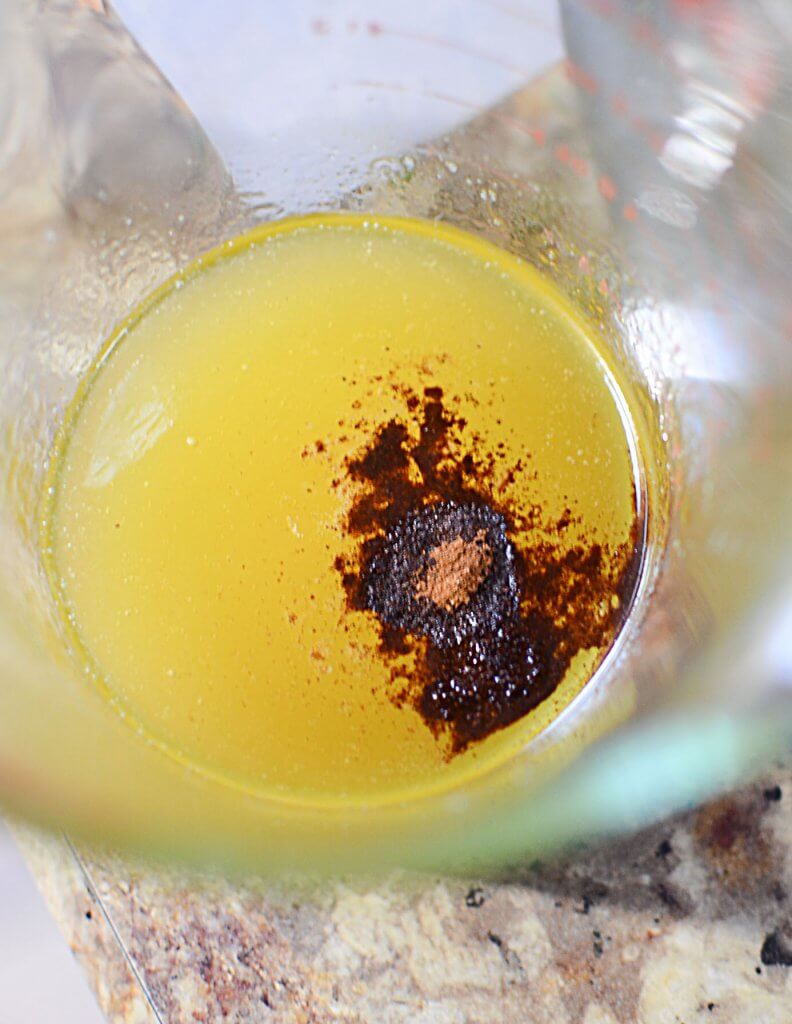 Now according to your roasting method, follow the applicable instructions:
Directions for Honey Butter Cinnamon Sweet Potato Fries in the NINJA FOODI:
Place the water into the main pot of the Foodi. Add the basket, and then transfer the fries to the basket.
Pressure cook on high for 4 minutes. When the time is up, do a quick release, remove the air fry basket & drain the water in the main pot. Replace the basket.
Then change lids and begin to air fry at 400 degrees for 20 minutes. However, I was constantly peeking at them as they were crisping up and I gently mixed up the fries at the 8 minute mark. I would suggest doing this when you see them starting to get some color.
When they're done crisping, carefully take them from the pot and add the Honey Butter Cinnamon sauce. Mix well and serve!
Directions for Honey Butter Cinnamon Sweet Potato Fries in the Instant Pot
Cut the fries up as I mentioned earlier. Add some butter or oil to the Instant Pot bowl and press saute. Fry them, stirring occasionally, to get some color on them. Add ½ cup of water, place the lid on, and pressure cook them on high pressure for 3 minutes. Do a quick release, and then drain the water. Add the honey cinnamon sauce and serve. If you find you don't have enough color as you prefer, you can throw them onto a baking sheet lined with parchment and broil them quickly. KEEP AN EYE ON THEM AS THEY CAN BURN QUICKLY!!
Remove them from the oven and drizzle the honey butter cinnamon sauce and serve!
Directions for Honey Butter Cinnamon Sweet Potato Fries in the oven:
Cut the fries up as I mentioned earlier. In a bowl, put some oil and salt on them. Give them a good mix. Empty them onto a greased or parchment-lined baking sheet and roast them for  30 minutes at a temp of 425. Remember to flip them from time to time for even cooking and browning. When they are nicely browned, again, drizzle the hone butter cinnamon sauce on them, and serve!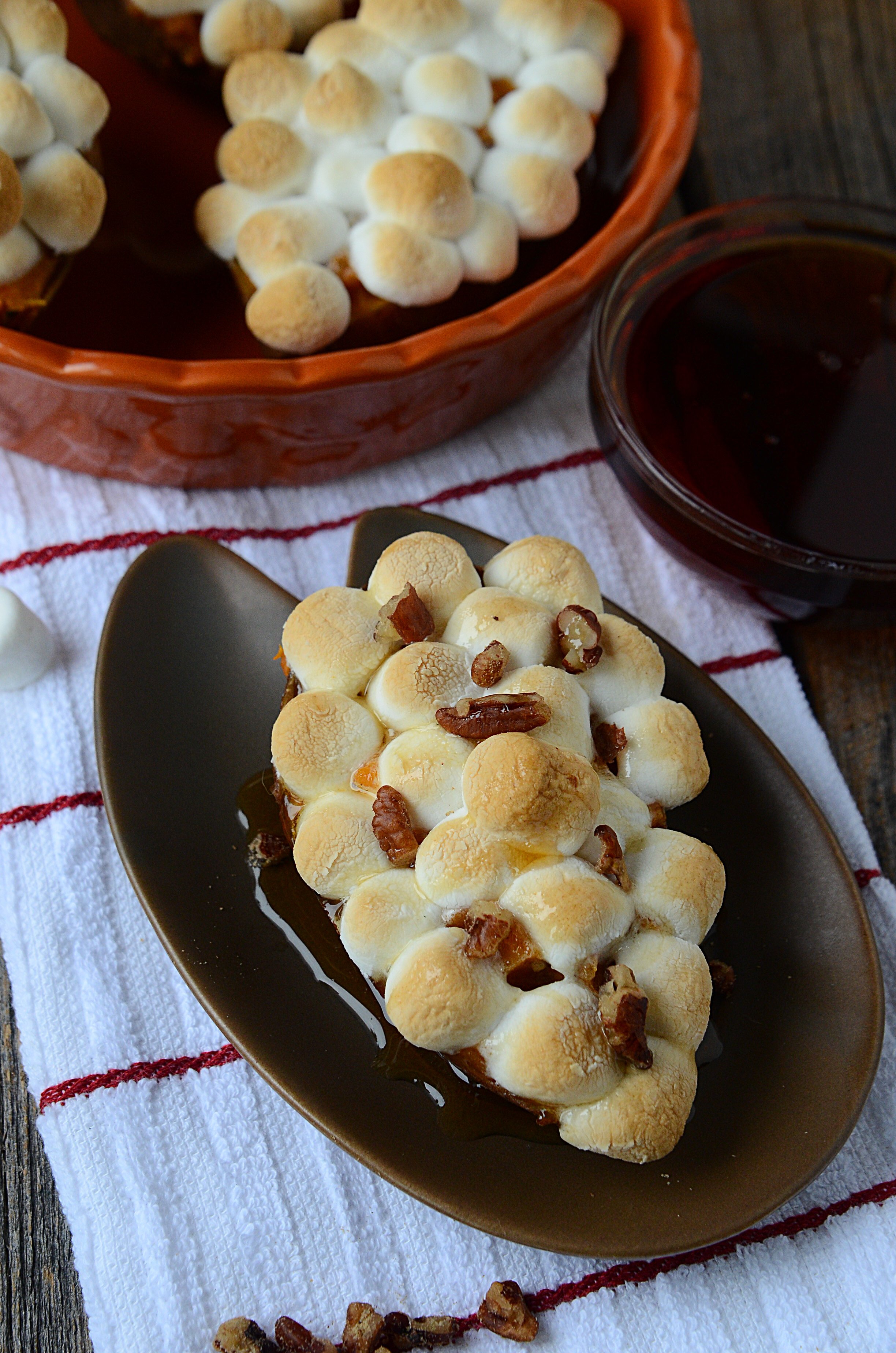 Also, if you have more sweet potatoes and want another super cute recipe to serve that's unique, try these Maple Bacon Sweet Potato Boats!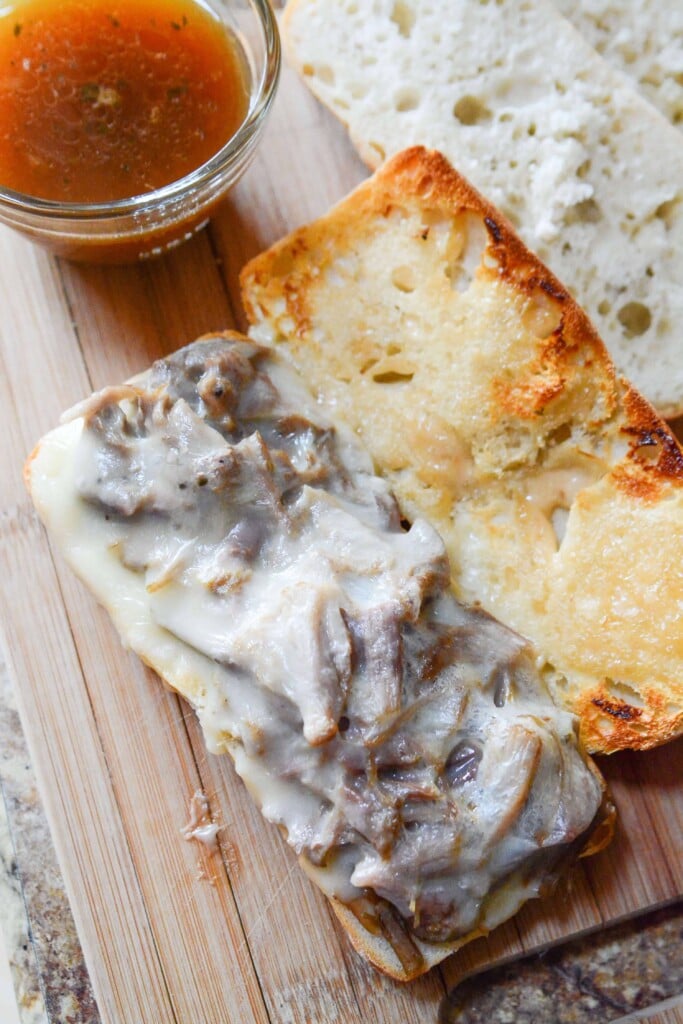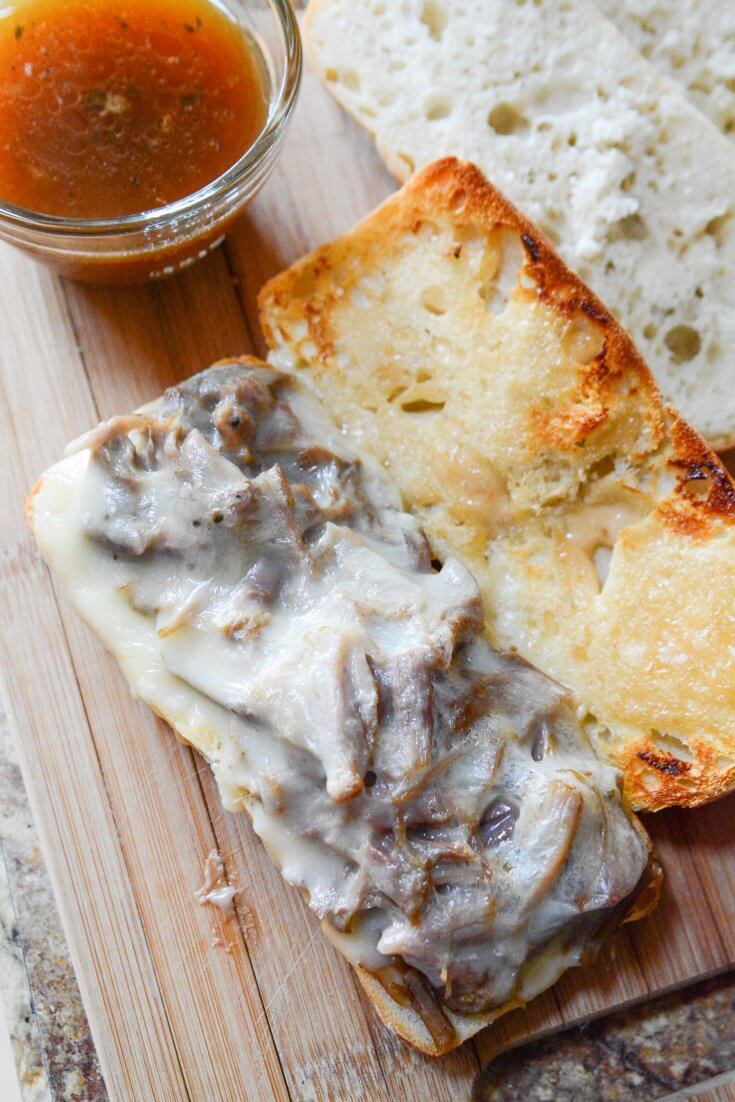 Wondering what to serve with these sweet yam fries? Check out these Instant Pot Mississippi Beef Dips!!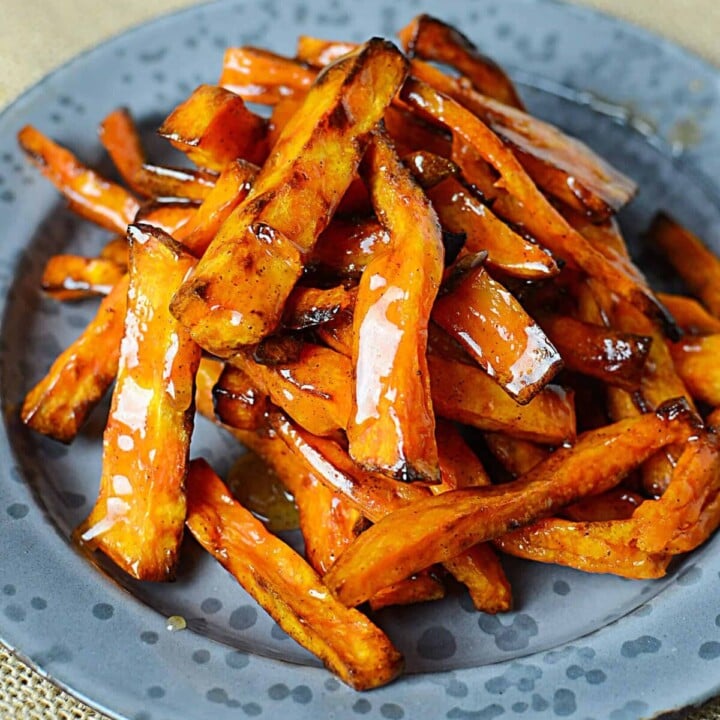 NINJA FOODI: Honey Butter Cinnamon Sweet Potatoes
Are you looking to get your little ones to eat more vegetables? Try sweet potatoes! This fun way of making them into sweet potato fries will get them eating them in no time. These are made in the Ninja Foodi, but I give instructions on how to make them in the Instant Pot AND the oven!
Ingredients
2 sweet potatoes, (large)
2 tablespoon honey, (I used creamed honey, but you can use whatever kind you prefer)
1 teaspoon cinnamon
1 tablespoon butter
1 tablespoon oil
½ teaspoon salt
1 cup water
Instructions
Peel sweet potatoes and cut into ¼ inch stick shapes.
Place in a bowl and drizzle the oil and salt over them. Mix well to coat.
Add water to the Ninja Foodi pressure cooking bowl. Place the potatoes in the Foodi crisp basket and place inside the pressure cooking bowl.
Pressure cook on high for 4 minutes. When complete, do a quick release and remove the basket to set aside. With pot handles, remove the pressure cooking bowl and dump the water. Replace the bowl in the Foodi. Put the crisper basket back inside the bowl.
Choose the air fry button and close the crisping lid. Air fry the fries at 400 degrees for 20 minutes or so, checking half way through to gently move the fries for even crisping. Keep an eye on them so you can adjust the timing to your desired level of crispiness.
While the fries are cooking, in a bowl, combine the honey, butter and cinnamon. Heat to melt the butter and honey (if creamed) and mix all together.
When the fries are crisped to your liking, remove them from the crisping basket into a bowl and drizzle the sauce over the fries. Stir to coat. Serve and enjoy!
***** DON'T FORGET TO PIN THIS HONEY BUTTER CINNAMON SWEET POTATO RECIPE TO YOUR FAVORITE PINTEREST BOARD FOR SAKE KEEPING!!*****