My fabulous reader, please meet – Marshmallow Cookie Trifle Dessert!! This unique cutie will bring "ooohhs' and "aaahhs" from all the little faces who see it! (and maybe from the big faces too..lol!) It's a great alternative to the traditional birthday cake and let's be honest, way more exciting.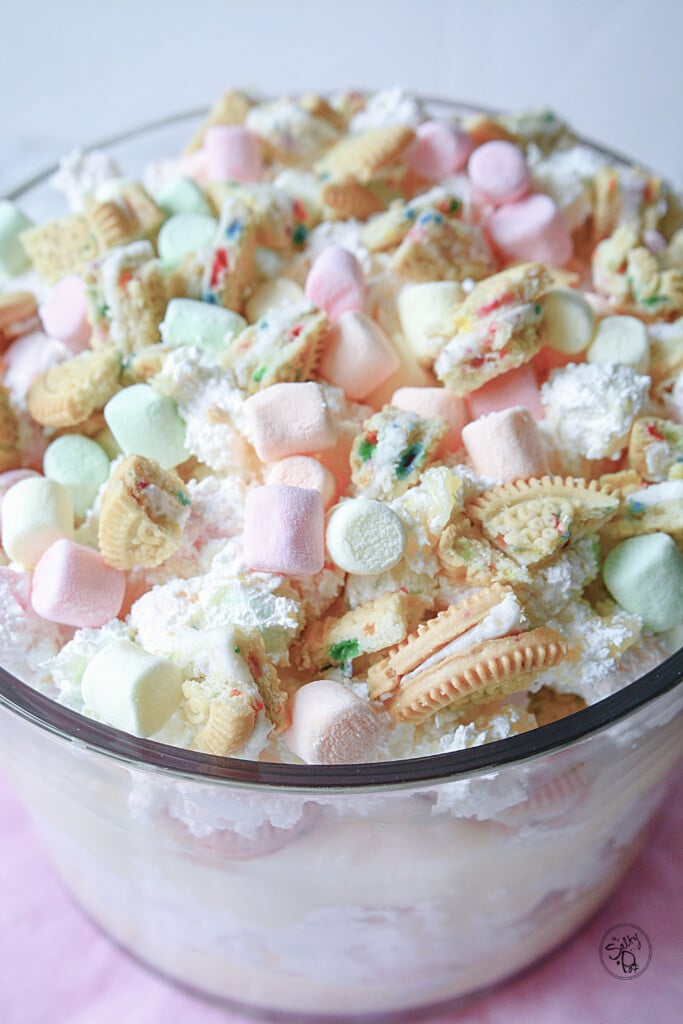 YAAAAY FOR NO BAKE!!!
This pretty little dessert can be used for any celebration actually. Birthdays, anniversaries, graduations, Christmas, cookouts, the turtle's birthday, .. heck.. did you buy a new lamp? Yaay! Time to celebrate!
A few of the best things about this marshmallow birthday cookie trifle is well, actually, I just mentioned some of them. Birthday cookies and marshmallows. Plus, it's make WAY ahead (the morning of), and it's NO BAKE! Yaaay for no oven turning "onning"!
It's pretty much just a construction type recipe. Nothing to bake or no recipe-in-the-recipe kind of things. Simple assembly is all that's required. Hint: If you get little hands to help you, they pretty much make that the most important thing of the entire event, so they can't help but LOVE. EVERYTHING. ABOUT. IT. … which of course.. makes you the hero of the day.
I made this dessert in a trifle bowl but the bottom stand is removable and I forgot to put it under the bowl when I was photographing it. So, I can't technically call it a trifle… but I'm going to! Having said that, no trifle bowl is necessary. You can make this in any vessel you'd like, as long as it can take some height with the layers of cookies, pudding and of course whipped cream and marshmallows. YOU GOTTA HAVE ALL THE WHIPPED CREAM, PEOPLE!!!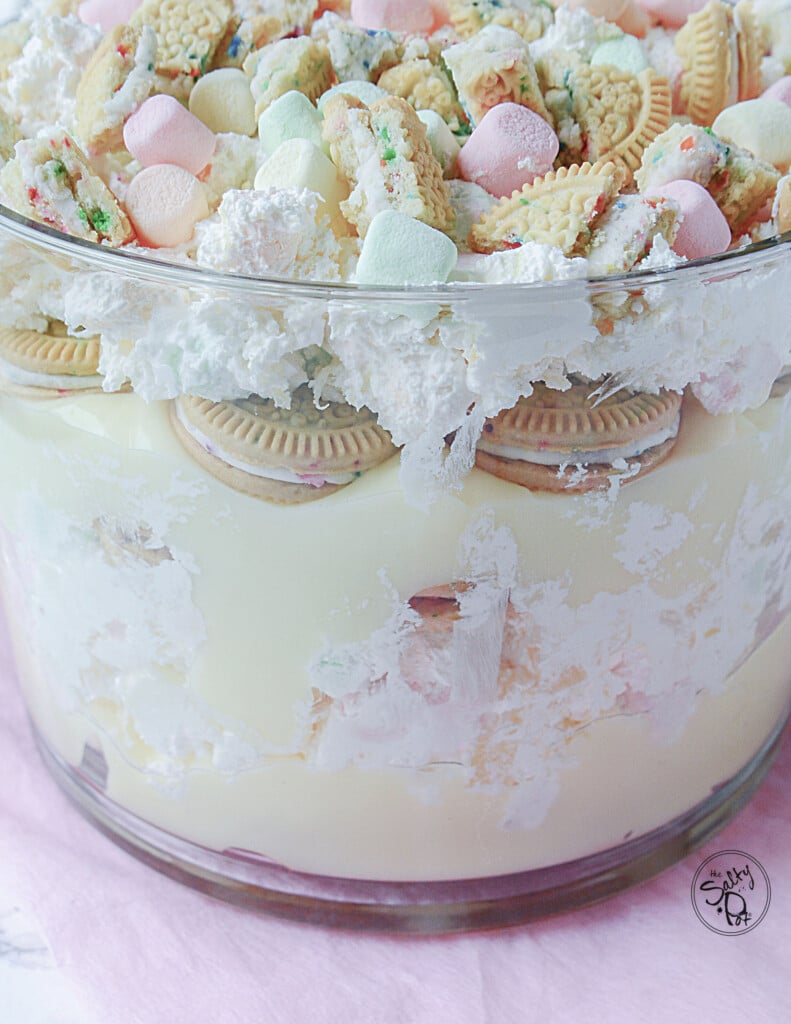 I'll write up the "recipe" below, but again, it's pretty much just an assembly type of dessert, and you can play around with it as you'd like. If you want more cookies, then instead of putting them in whole, crush them up and sprinkle them in the layers. You'd obviously have to buy more cookies, but you get what I'm saying. Maybe make the whipped cream layers thicker it that strikes your fancy… add add more pudding.. MAKE IT YOURS, my super creative reader!!
I know we all live super busy lives and that's what makes this dessert trifle (if I dare call it that) so nice. You can easily put it together first thing in the morning, and it's flavors will combine as it chills. No baking, no frosting. It's all built-in. The only thing you have to add is the candles, and this marshmallow birthday cookie trifle can handle that too! 
Birthday Cookie Marshmallow Trifle Dessert
A super easy, delicious and no bake dessert that is a fantastic alternative to a regular cake!
Ingredients
1 box birthday cake cookies
1 box instant vanilla pudding, makes 4 cups
1 tub whipped cream topping
1 bag of fruity mini marshmallows
Instructions
Make the vanilla pudding according to the box directions. Set aside
In a bowl, fold together the bag of marshmallows and the whipped topping, leaving about a cup of marshmallows aside for garnish
In the serving bowl, layer 5 -6 cookies on the bottom
Cover the cookies with approximately 2 cups of the pudding
Cover the pudding with 1/3 of the whipped topping and marshmallows
Place another layer of cookies on the marshmallows
Continue to layer the ingredients until the whipped topping is the last layer
Crumble the remaining cookies over the top along with the remaining marshmallows
Chill until serving (at least 2 hours)