Tired of pumpkin everything now?? Yeah,.. I understand. So Thanksgiving is a week and a bit away and you're dreading making ANOTHER. PUMPKIN. PIE for thanksgiving dessert. Yep, I understand that as well. Dread not, my friend. I have an alternative. Blueberry Strudel Pie. How unique is that?? It's perfect because it has the tradition of pie… the country-grandma-goodness of brown sugar and oats in the strudel topping, and there's not a hint of pumpkin anything, anywhere. It's simply all around tasty yumminess in your mouth. Win Win Win!
One of the best parts of this blueberry strudel pie dessert is that it's super easy to make. It's kind of like combining two desserts and making it into one. A fruit crumble type thing.. and well, obviously, pie. In this recipe, we use store made pie crust for the bottom, because honestly, who has time to make their own pastry?? Well.. if you do, I tip my hat to you my friend because God know's I hardly have time put on a bra in the mornings, never mind make "scratch" pastry.  So for those of us who perhaps are organized-challenged, and/or have more tasks than time, using a store-bought crust is the way to go. Easy peasy.
Then for the topping, we use a crumble/strudel type topping. I actually looked up the difference between a crumble and a strudel topping. Apparently the difference is one has more oats than the other, but they kindly left out the identifying amounts between the two. So.. hence the " / " when talking about a crumble/strudel topping. I'd call it a crumble.. but strudel sounds waaaay cooler I think.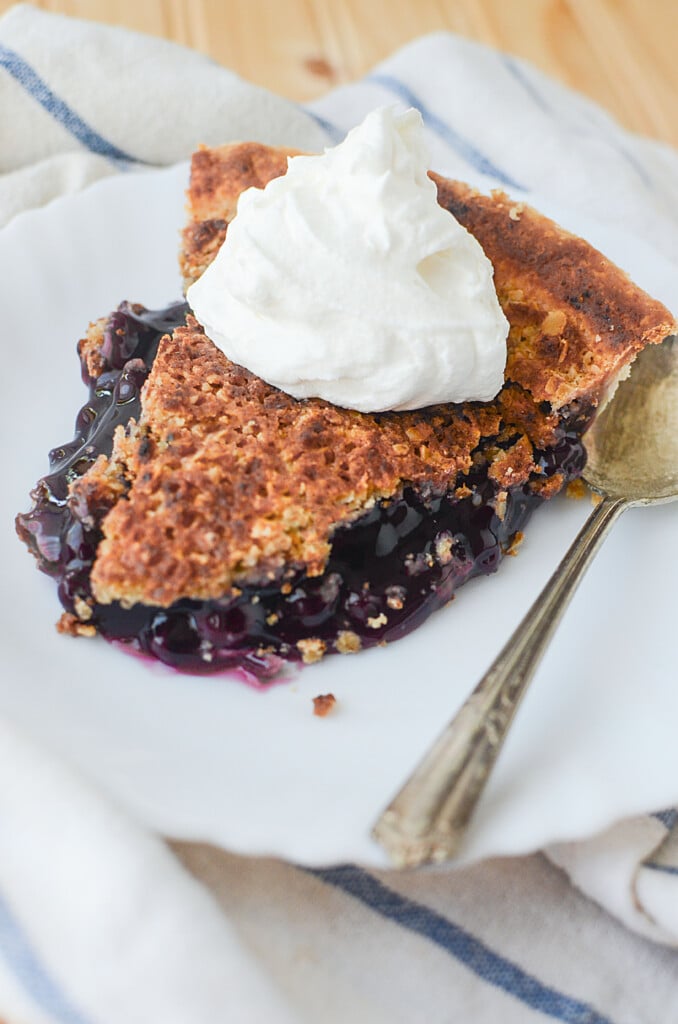 To make our lives even easier, we are using purchased pie filling in this recipe. Now, no one says it HAS to be blueberry. Use apple, strawberry, peach, whatever your beautiful heart desires. Except lemon. Don't use lemon. The strudel part just wouldn't go with lemon, I don't think. Lemon pie filling needs mounds and mounds and MOUNDS of gorgeous meringue!!. So yeah… no lemon, k?
I chose blueberry because the contrast in the taste and color of blueberry pie filling to the pumpkin pie filling is huge. And I like that not everything at the thanksgiving table is orange or brown.  Turkey? – brown.  Stuffing? – Beige/brown. Gravy? – brown. Sweet potatoes? – orange-ish/brown. Absolutely delish, yes, but brown, brown, brown. Now this pie?.. JEWEL TONE BLUE-PURPLE-ish. Doesn't that color just make your irises get huge and whisper "thank you" as you lay your eyes on that delectable filling?  I also chose blueberry because  it's clearly one of the most awesome tasting pies (next to peach) that a person invented.  Where I live, saskatoon berries are blueberry's kissing cousin. I would have made the pie from those…. but you know.. a crazy lack of time and well, I have no access to saskatoon pie filling in the beginning of winter!
In making this pie, make sure you start with cold butter. Not frozen.. just out of the fridge cold. With a sharp knife, carefully cut what you need, and then use that knife to break up the butter into chunks, this these:
Trust me when I say it will make your life easier!

Making that strudel topping on the blueberry pie brought me back to "home ec" class in high school. I loved that class. It's where I learned to use the pastry cutter to cut in the butter. All my friends and classmates, in their groups, huddled next to all the stoves, getting their apple crisps together. Cool memory, but wow, now that pastry cutter was just a pain in the ass to use! Maybe I have a bum pastry cutter, but it kept clumping up the butter in the cutter, in between the tines, making the tines bend out and expand so it couldn't even cut the butter in.

See on the left of the pastry cutter how the tines (or whatever you call them!) are separated or.. bended? 
I eventually gave up and simply used my hands to break it up because I didn't have the patience to use the "two knives" method.  If all else fails, just use your hands, right? 
So, you might want to serve this magnificently plump pie warmer than warm, but not too hot, with a luscious side of vanilla bean ice cream. Or,… whatever ice cream you have in the house. The contrast between the warmth of the pie… and the coolness of the ice cream, with the sweetness of the berries, and the butteryness of the topping and crust —— well.. wholy macaroni, .. bring out the blankies and pillows because people might just fall asleep under the table because this dessert is so comforting.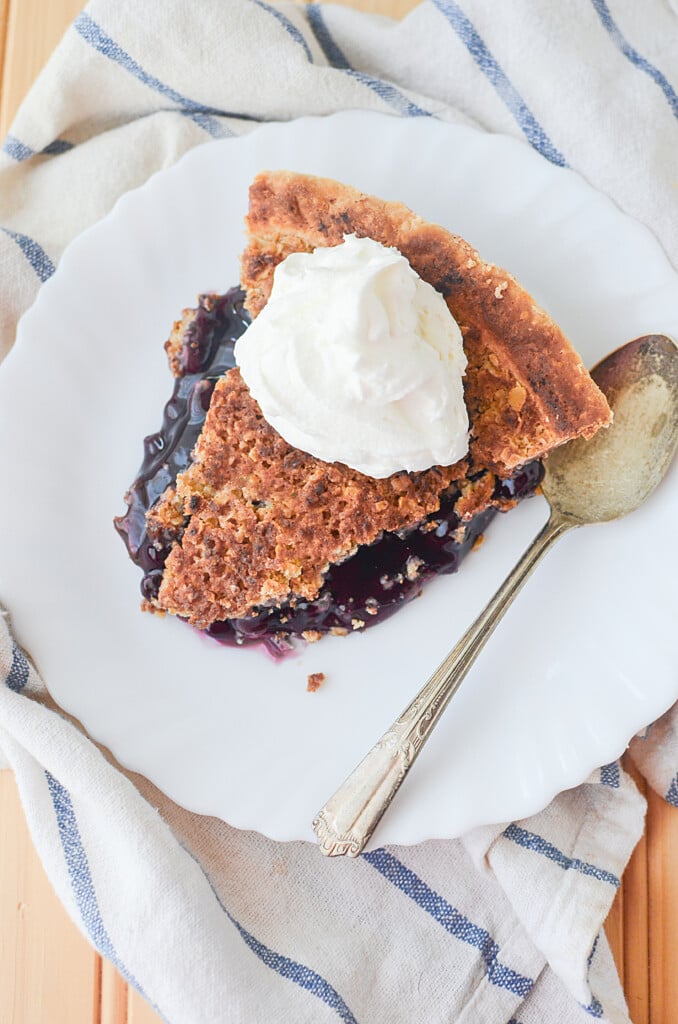 By the way. If you're not yet ready to make this fabulous pie… or you want to be an even more fantabulous holiday host and make more than one dessert, then be sure to check THIS post and THIS post for more incredible recipes!!! 
Anyway, as I was saying, you can certainly serve this pie at room temperature as well.. and it will still be amazing. This Blueberry Strudel Pie will fit any occasion you want it to.  Even if it's two am, and your standing in your pj's with a fork in hand, basking in the dim, soft light of the refrigerator. Then, just eat it cold. It will STILL be amazing. Heck, add a "shkooooosh" of whipped cream from the can on top of it while you're at it. Just 'cuz you can.
blueberry strudel pie
This Blueberry Strudel Pie is a great combination of a fruit crumble and a fruit pie! Win win!
Ingredients
1 frozen deep dish pie crust
1 can blueberry pie filling
1/2 c butter, cold
1/3 c flour
1/3 c brown sugar
1/3 c oats
sprinkle of salt
½ tsp cinnamon
Instructions
Preheat oven to 350
Transfer the pie filling into the pie crust
In a bowl, combine the flour, brown sugar, oats, salt and cinnamon into a bowl
Cut in the butter, using either a pastry cutter, two knives or simply your hands. The consistency should be of medium sized crumbs.
Sprinkle the topping over the top of the pie
Bake for 45 minutes or until the topping is golden brown.
Cool before serving.
Enjoy!