This Buttery Ranch Pork Chops recipe done in the Ninja Foodi has tender pork chops with a creamy, buttery ranch sauce. It's insanely easy to make, and just as insanely delicious, especially paired with soft, pillowy potatoes.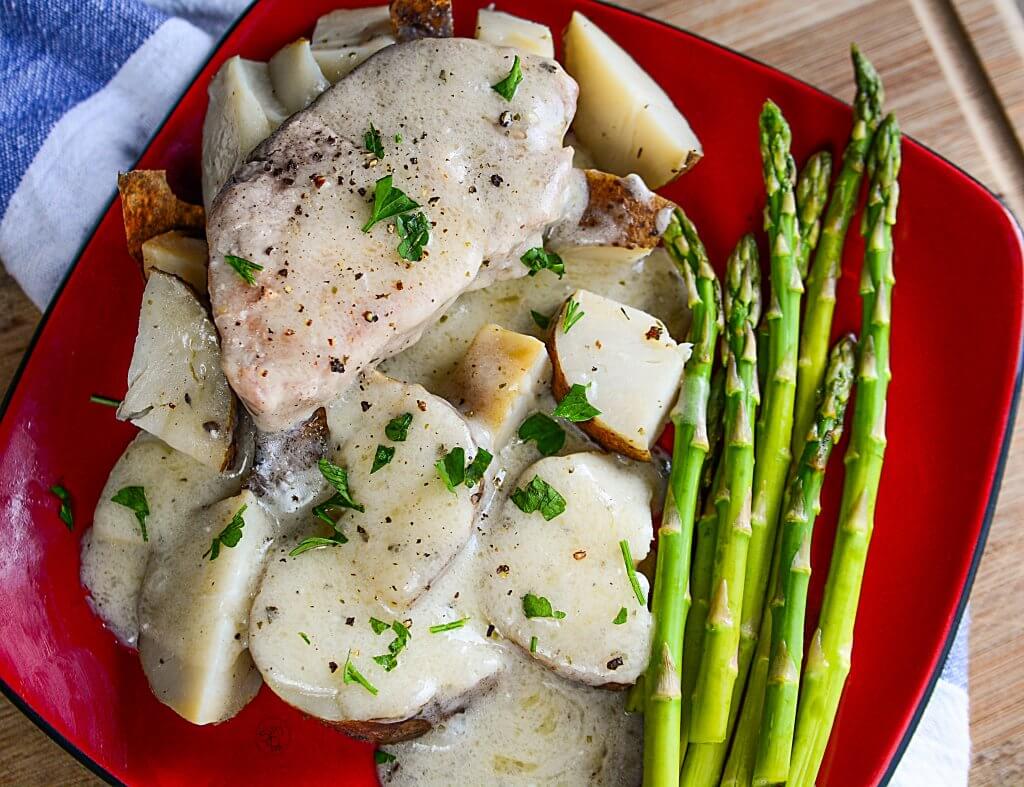 Ninja Foodi Pressure Cooker = Succulent tender meat!
FOODI BUTTERY RANCH PORK CHOPS
Awww pork. The OTHER white meat, they say. I love pork because, well, bacon… but also because of it's versatility. There's SO much you can do with pork!
Today, I"m sharing a recipe for these amazing boneless pork chops that I made in the Ninja Foodi. Did I mention I love my Foodi?? Yesss.. it's an amazing appliance, that's for sure.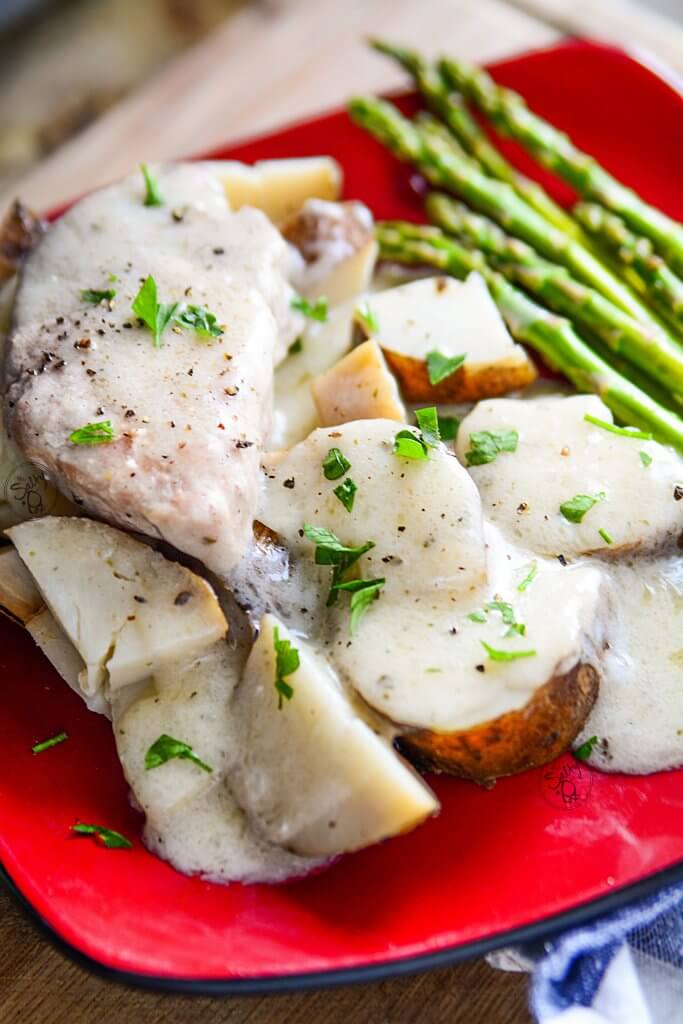 Your Ingredient List
To make this tender, creamy pork chop dish, here's what you'll need:
Pork Loin Chops
Butter
Chicken Broth (or water)
Sour Cream (optional)
Seasonings
Are you brand new to using your new Ninja Foodi?
If this is one of the first dishes you're trying in the Foodi, and you're a little hesitant about using it, take a peek at my article talking all about this fantastic appliance. You might find that you'll feel a bit comfier around using it.
What kind of pork chops are best to use?
I used boneless loin chops for this recipe. You could use bone-in chops or even pork steaks, but it's not a good idea to use a thin, fast fry type chop. They will cook too quickly in the Foodi and might taste overdone.
Can I use Margarine instead of Butter?
You absolutely can use margarine. Butter will impart a better, richer flavor, but if all you have on hand is margarine, no problem!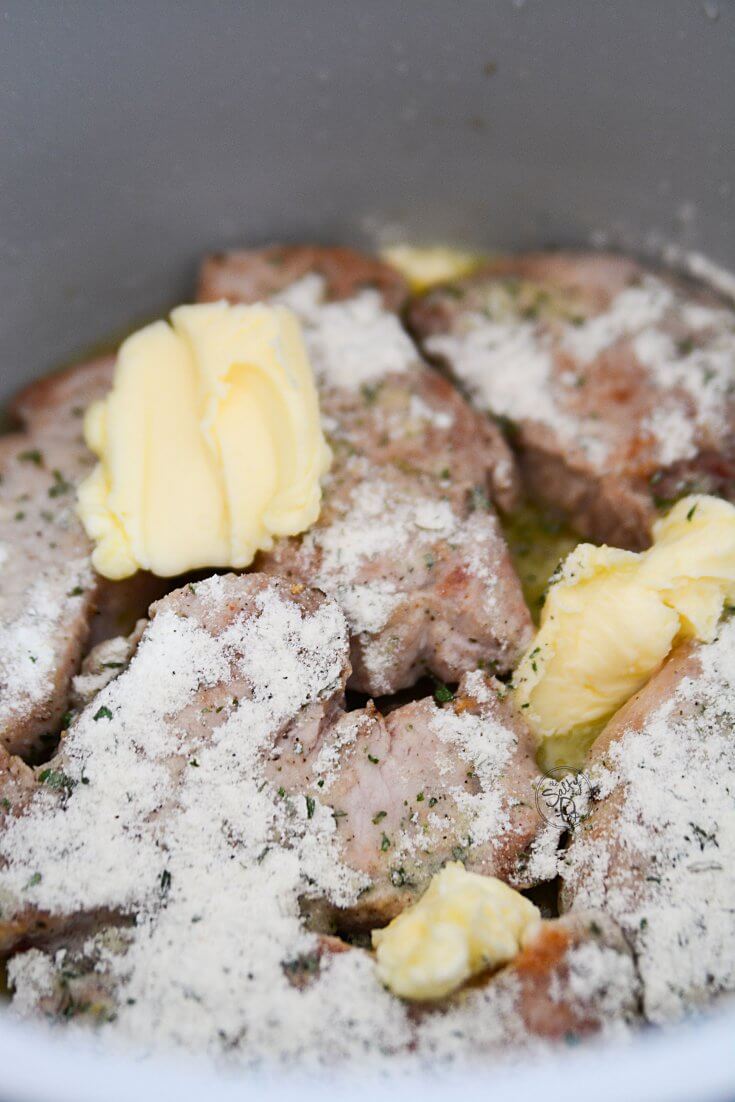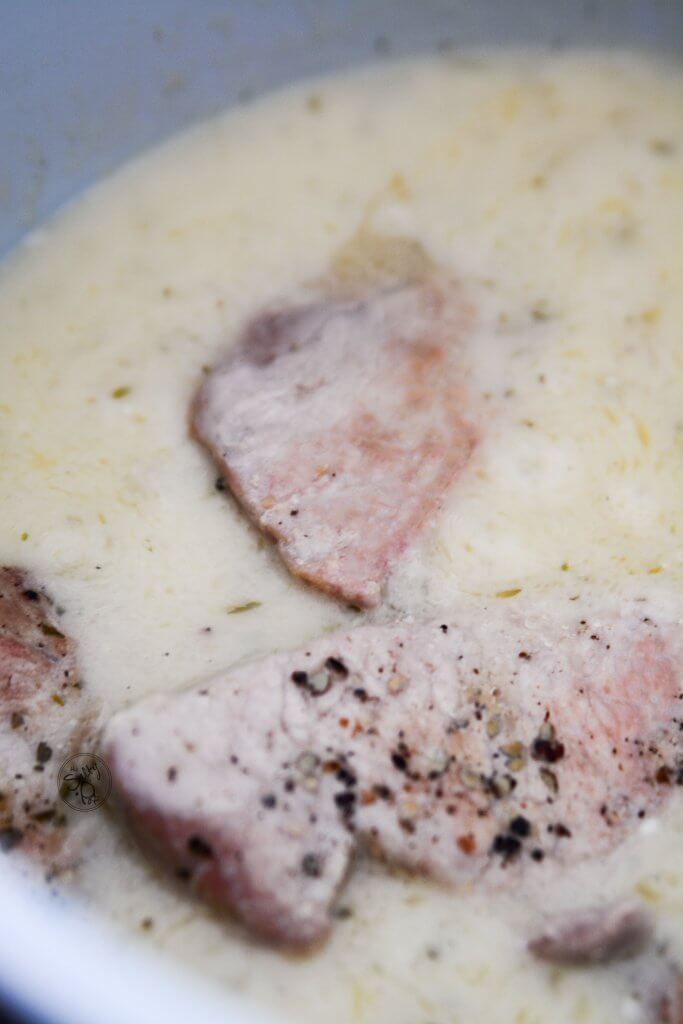 Can I use Ranch Salad Dressing instead of the powdered seasoning for these chops?
Honestly, I would say no. I've never done it BUT if you do, PLEASE let me know, I'd love to hear about it! My thoughts are that the dressing would add extra 'liquidity" to the recipe which you'd have to thicken further with more cornstarch.
I'm not saying it wouldn't work, and I may try it in the future to test it, but let me know if it worked for you!
What should I serve these pork chops with?
Whatever you fancy, really. Some suggestions would be:
Potatoes – Any style you prefer, but I like garlic mashed potatoes.
Rice
Baked potatoes (Use a jacket potato and simply serve the pork chops on the side with the buttery ranch sauce on top of the potato! YUM!!)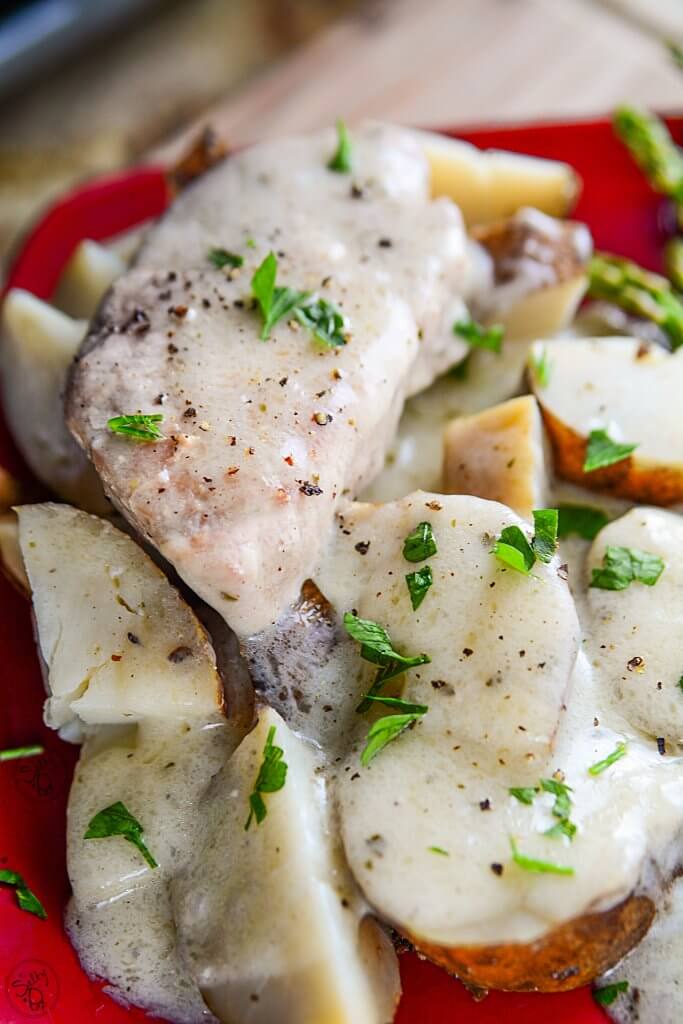 Will this recipe work in my Instant Pot?
Yes, it will. The timing and instructions are the same. Just like my recipe for Instant Pot Smothered Pork Chops, the meat will turn out tender just like it does in the Ninja Foodi.
Tips for making these delicious Buttery Ranch Pork Chops:
Be sure to pat dry the pork chops after washing them. The seasoning will stick to them much better.
If your chops are on the thinner side, then only pressure cook for 8 minutes. If they do not reach 145 degrees, then leave them in the ranch sauce a bit longer to cook through after the sauce has thickened.
You don't need to thicken the sauce if you prefer it thinner, but I find it's much nicer if it's thicker, so then it sticks to the pork chops and sides that you're serving it with.
I hope that you enjoy today's recipe for these super yummy pork chops! I'd love to hear what you thought of them if you make them yourself in your Foodi! Thanks so much for stopping by The Salty Pot today!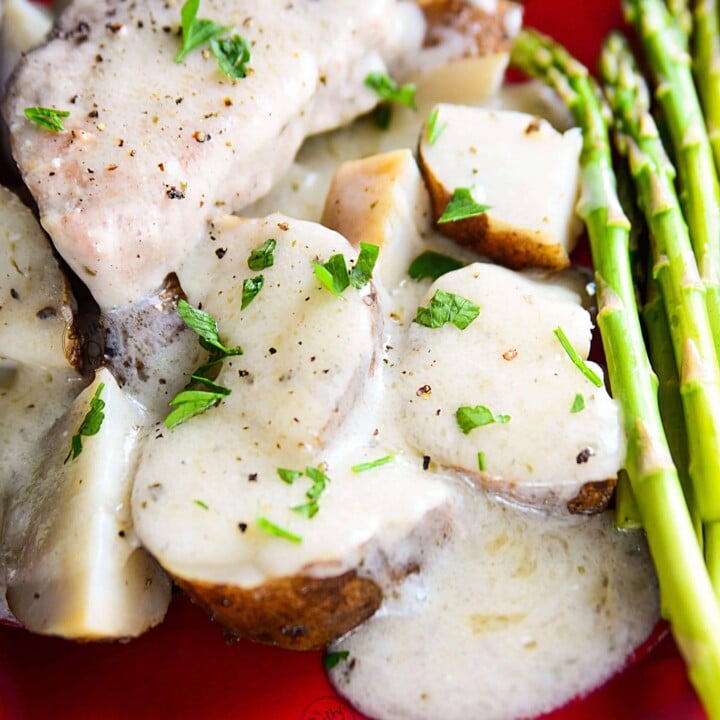 Foodi Buttery Ranch Pork Chops
Additional Time:
15 minutes
Buttery, ranch-y, zesty and succulent Foodi Buttery Ranch Pork Chops are one of the tastiest yet easiest meals EVER! Make these on a busy weeknight in NO time at all!
Ingredients
8 porkchops
⅓ c butter
1 cup chicken broth
1 packet Hidden Valley Ranch Dressing
as desired, salt and pepper
1 tablespoon cornstarch
2 tablespoon water
¼ cup sour cream (optional)
Instructions
Wash and pat dry the pork chops.
Season with salt and pepper
Turn the Foodi onto 'saute' and add 1 tablespoon butter to melt.
Saute the chops 3 - 4 minutes per side until they have a nice golden caramelization on each side.
Add the chicken broth in the bottom of the bowl
Sprinkle the ranch seasoning over the chops
Dot the butter in various places over and around the chops.
Manual pressure on high for 10 minutes. Be sure to turn the toggle on the pressure lid to 'sealing'
When time is complete, Do a natural release for 15 minutes. QR the rest of the pressure after time is up. Carefully remove the lid after the silver pin drops.
Remove the chops and tent with foil to keep warm. Make the slurry of cornstarch and water, and pour it into the Foodi bowl. Turn the machine onto Saute.
Add the sour cream now, if you are including it in the recipe. Stir until the sauce thickens.
Place chops back into the sauce for a minute or two and then serve them over rice or potatoes, etc. Enjoy!
**DON'T FORGET TO PIN THIS NINJA FOODI BUTTERY RANCH PORK CHOPS RECIPE TO YOUR FAVORITE PINTEREST PIN TO USE FOR LATER! **