What did Homer Simpson say? Mmmmmmm butter…….. mmmmmm raaaanch…. Ok, so he might not have said 'mmm ranch'.. but I knew he had a true affinity for butter when I saw him wrap a waffle around a stick of butter and eat it. While that kind of butter eatin' is just plain gross – this recipe for buttery ranch pork chops done in the Ninja Foodi will bring the same love for food that Homer has – but not so gross. lol. Behold my lovely readers, NINJA FOODI BUTTERY RANCH PORK CHOPS!
FOODI BUTTERY RANCH PORK CHOPS
Awww pork. The OTHER white meat, they say. I love pork because, well, bacon… but also because of it's versatility. There's SO much you can do with pork!
Roast Pork
Fried Pork
Jerk Pork
Smoked Pork
Pulled Pork
Kaluah (traditionally cooked in the ground) Pork
Curry Pork
Carnitas
Pork pies
Etc etc
Today, I"m sharing a recipe for these amazing buttery ranch pork chops that I made in the Ninja Foodi. Did I mention I love my Foodi?? Yaaasss!!!! It's one of the best cooking appliances I've cooked with so far!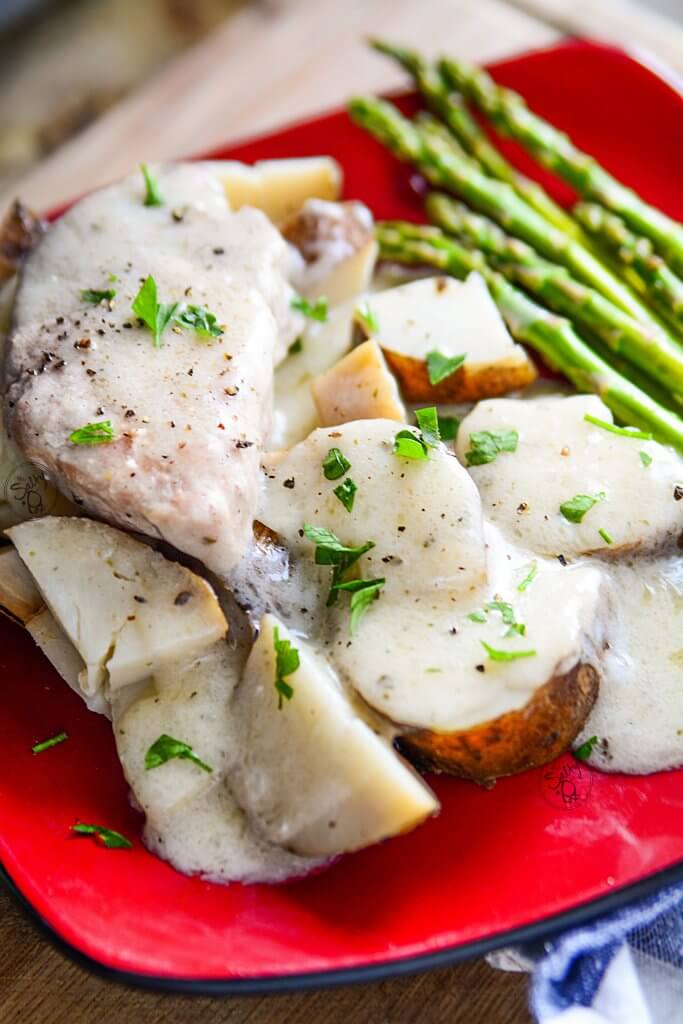 What kind of pork chop should I use:
I used boneless chops for this recipe. You could use boneless pork loin chops or even bone-in chops, but it's not a good idea to use a thin, fast fry type chop. They will cook too quickly in the foodi and might taste overdone.
Can I use Margarine instead of Butter?
For the love of everything good, PLEASE, USE BUTTER!! Do NOT use margarine!! Butter is better!! Plus.. honestly, butter is just SO much tastier!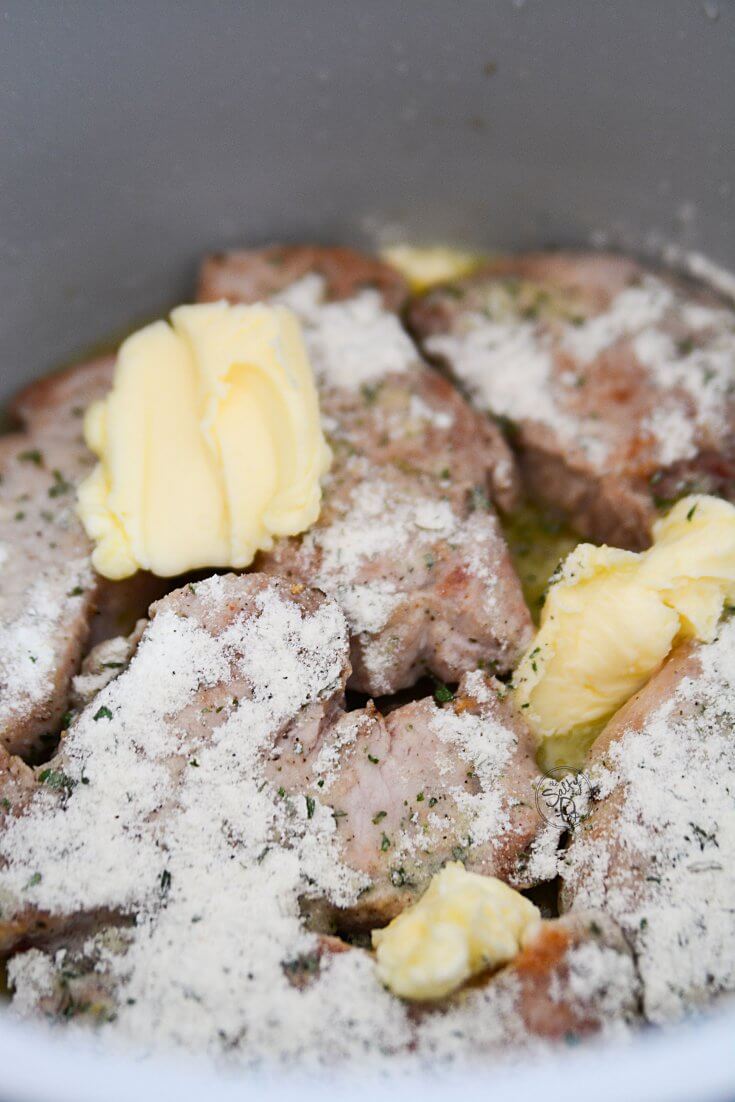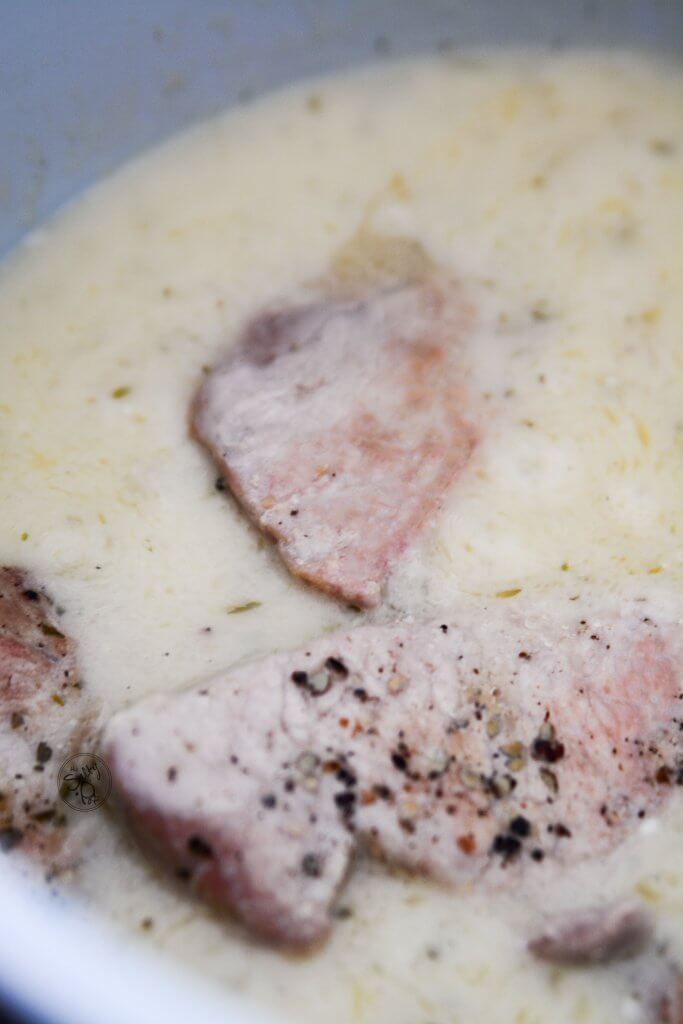 What do I need to make these Buttery Ranch Pork Chops?
Nothing fancy, nothing outrageous. You'll be able to find all these ingredients at your major chain grocery store.
Pork chops (boneless or bone-in. Choose your preference or buy what is on special!)
Chicken broth
Hidden Valley Ranch Dressing
Butter
Salt n Pepper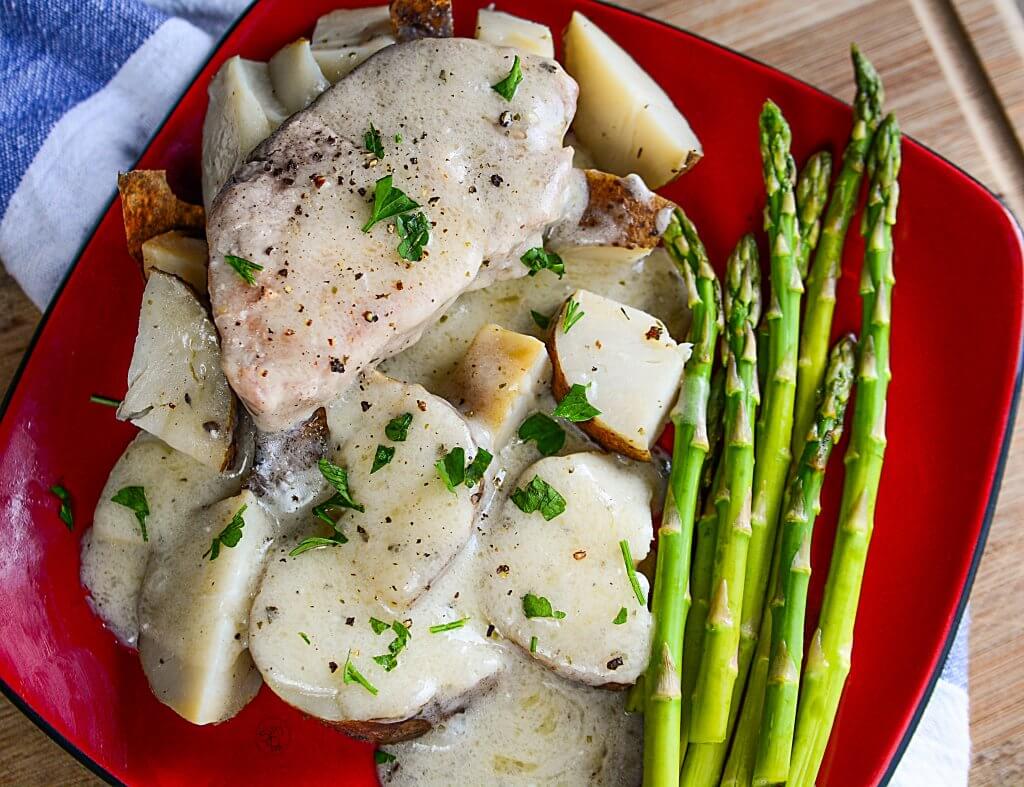 What should I serve these pork chops on?
Whatever you fancy, really. Some suggestions would be:
Potatoes – Any style you prefer, but I garlic mashed potatoes
Mashed Cauliflower (I have a super easy recipe linked here that can be done in the Foodi or the Instant pot)
Rice
Baked potatoes (Use a jacket potato and simply serve the pork chops on the side with the buttery ranch sauce on top of the potato! YUM!!)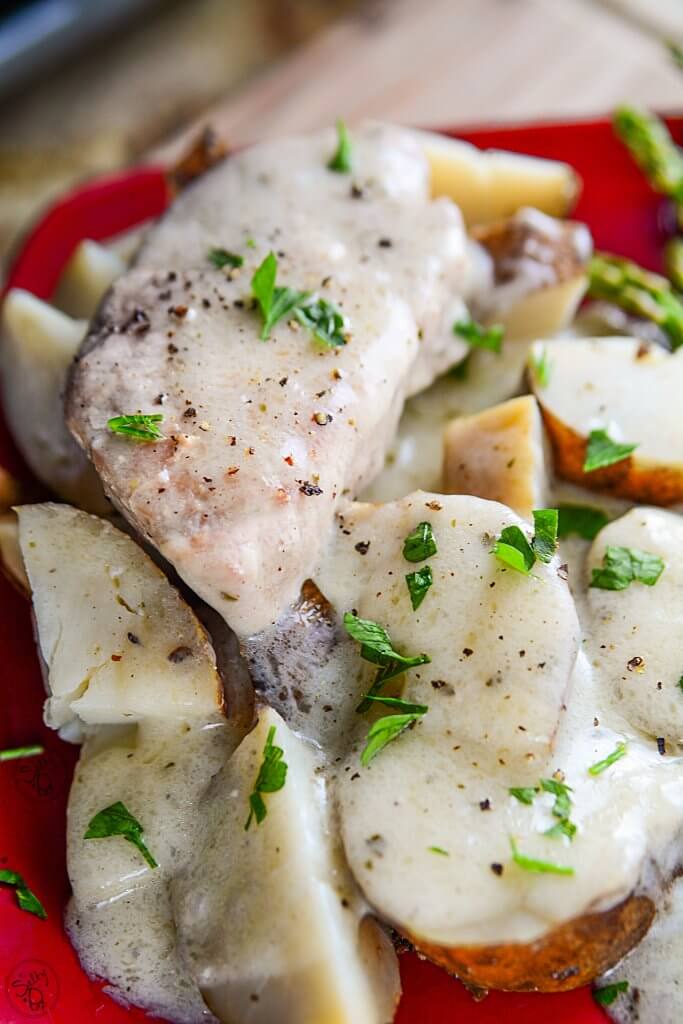 Tips for making these delicious Buttery Ranch Pork Chops:
Be sure to pat dry the pork chops after washing them. The seasoning will stick to them much better.
If your chops are on the thinner side, then only pressure cook for 8 minutes. If they do not reach 145 degrees, then leave them in the ranch sauce a bit longer to cook through after the sauce has thickened.
You don't need to thicken the sauce if you prefer it thinner, but I find it's much nicer if it's thicker, so then it sticks to the pork chops and sides that you're serving it with.
I hope that you enjoy today's recipe for these super yummy pork chops! I'd love to hear what you thought of them if you make them yourself in your Foodi! Thanks so much for stopping by The Salty Pot today!
**DON'T FORGET TO PIN THIS NINJA FOODI BUTTERY RANCH PORK CHOPS RECIPE TO YOUR FAVORITE PINTEREST PIN TO USE FOR LATER! **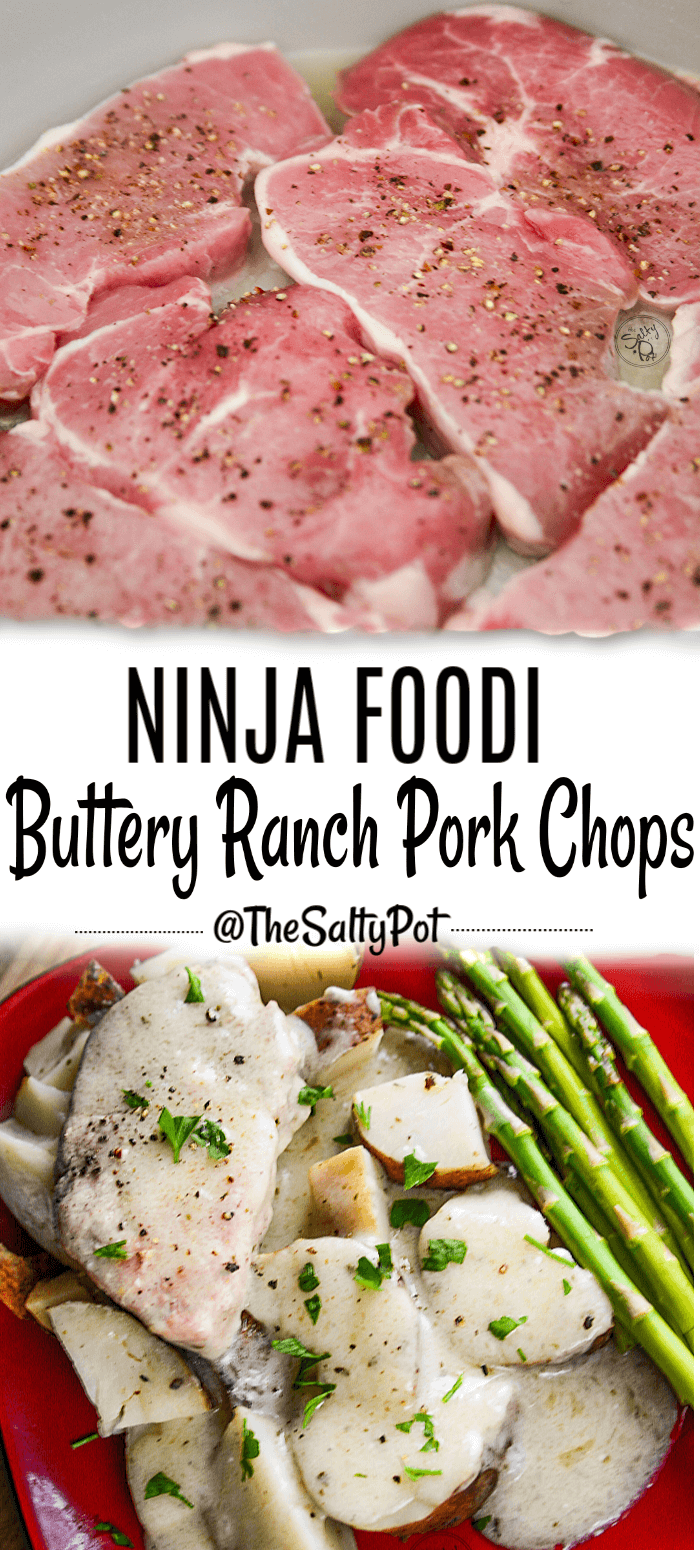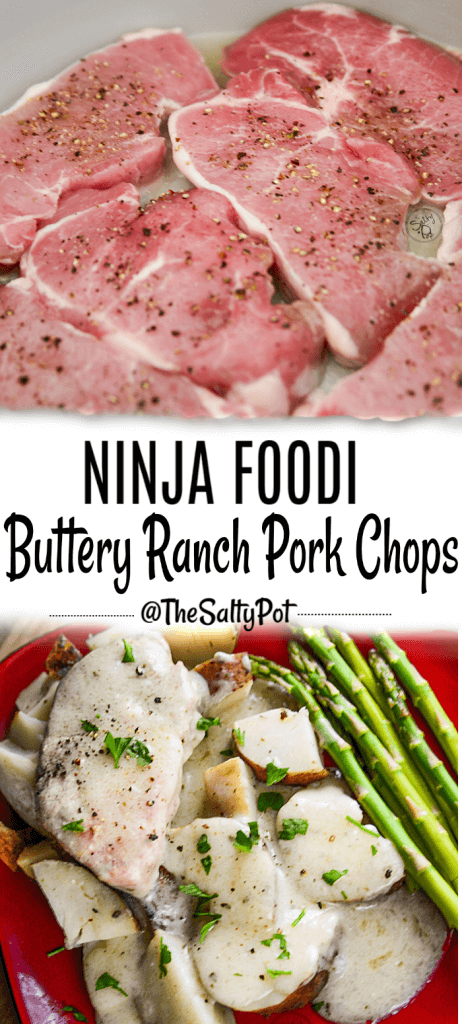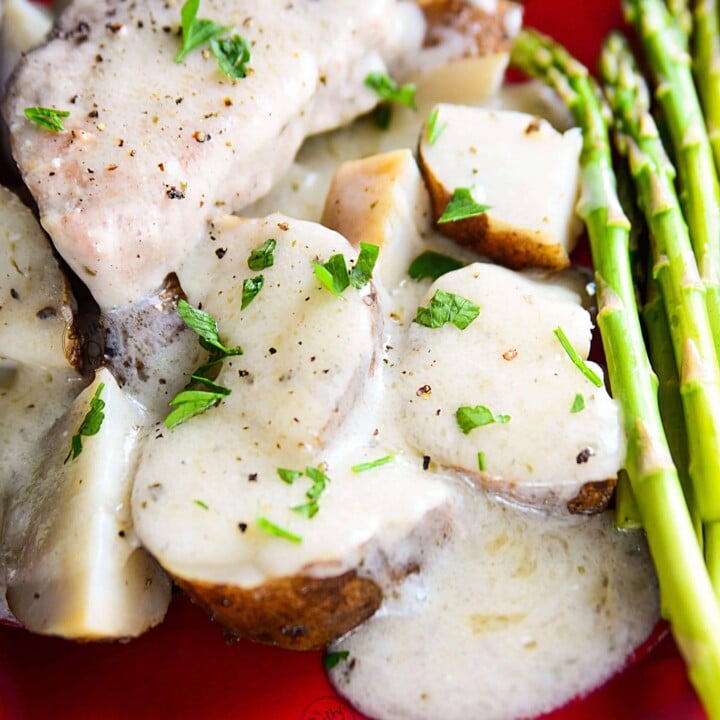 FOODI BUTTERY RANCH PORK CHOPS
Additional Time:
15 minutes
Buttery, ranch-y, zesty and succulent Foodi Buttery Ranch Pork Chops are one of the tastiest yet easiest meals EVER! Make these on a busy weeknight in NO time at all!
Ingredients
8 porkchops
1/3 c butter
1 cup chicken broth
1 packet Hidden Valley Ranch Dressing
as desired, salt and pepper
1 tbsp cornstarch
2 tbsp water
1/4 cup sour cream (optional)
Instructions
Wash and pat dry the pork chops.
Season with salt and pepper
Turn the Foodi onto 'saute' and add 1 tbsp butter to melt.
Saute the chops 3 - 4 minutes per side until they have a nice golden caramelization on each side.
Add the chicken broth in the bottom of the bowl
Sprinkle the ranch seasoning over the chops
Dot the butter in various places over and around the chops.
Manual pressure on high for 10 minutes. Be sure to turn the toggle on the pressure lid to 'sealing'
When time is complete, Do a natural release for 15 minutes. QR the rest of the pressure after time is up. Carefully remove the lid after the silver pin drops.
Remove the chops and tent with foil to keep warm. Make the slurry of cornstarch and water, and pour it into the Foodi bowl. Turn the machine onto Saute.
Add the sour cream now, if you are including it in the recipe. Stir until the sauce thickens.
Place chops back into the sauce for a minute or two and then serve them over rice or potatoes, etc. Enjoy!