These Italian Sausage Meatball Sliders have zesty marinara sauce, salty parmesan and creamy, melty mozzarella cheese all wrapped up in a toasty warm fresh bun. Make these and they'll be gone in a flash for any occasion, especially game day!
Readers love this recipe because it's insanely delicious, it's easy to make, and it feeds a crowd!
This post may contain affiliate links. If you make a purchase after clicking a link, I may earn a small commission AT NO COST TO YOU. As an Amazon Affiliate, I earn from qualifying purchases.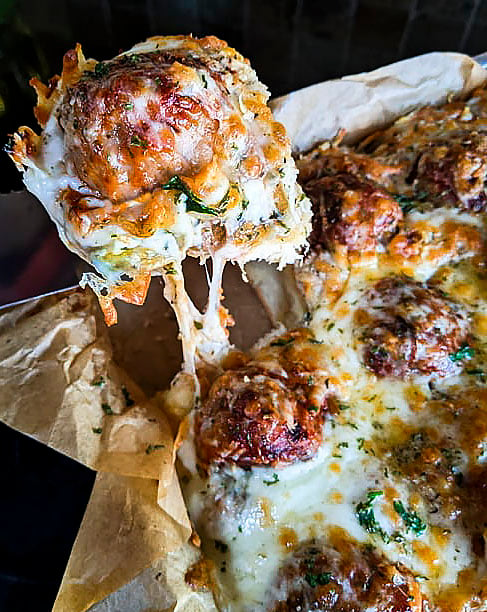 Italian Sausage Meatball Sliders
Meatball sliders are a classic game-day food. These sausage meatball sliders are a great way to bring a flavorful twist to your next hang-out. It is easy to whip up a large batch of these simple sliders to feed a crowd or just a couple for when you are home alone and want something tasty.
I had the idea to do a fun twist to the traditional meatball sliders by placing a hole inside each roll and nesting the sausage meatballs into the buns rather than making a classic mini sandwich. That makes these a fun option but also a bit less messy to eat and easier to serve.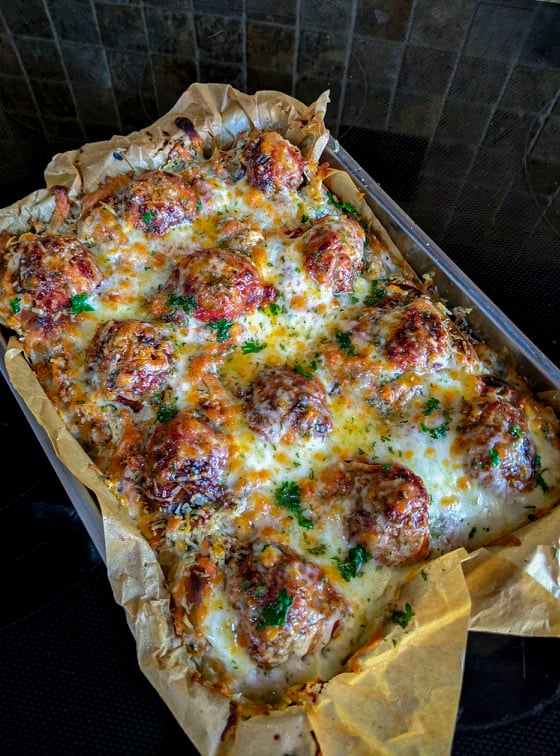 Ingredients Needed
Tray buns: I used a regular dozen buns from the bakery, but you can also use the Hawaiian buns if that's what you prefer. I have used those buns before and they work well.
Meatballs: I bought a store-bought package of sausage meatballs. If you can't find those, buying loose sausage and forming them into meatballs will work great or if you'd like to make your own sausage meatballs, check out Rock Recipe's version of yummy meatballs!
Marinara sauce: Buy your favorite brand.
Parmesan cheese: I recommend buying a chunk of parm and grating it yourself. You can buy pre-shredded, there's nothing wrong with it but I find freshly shredded tastes so much better.
Mozzarella cheese: Same as above.
Italian seasoning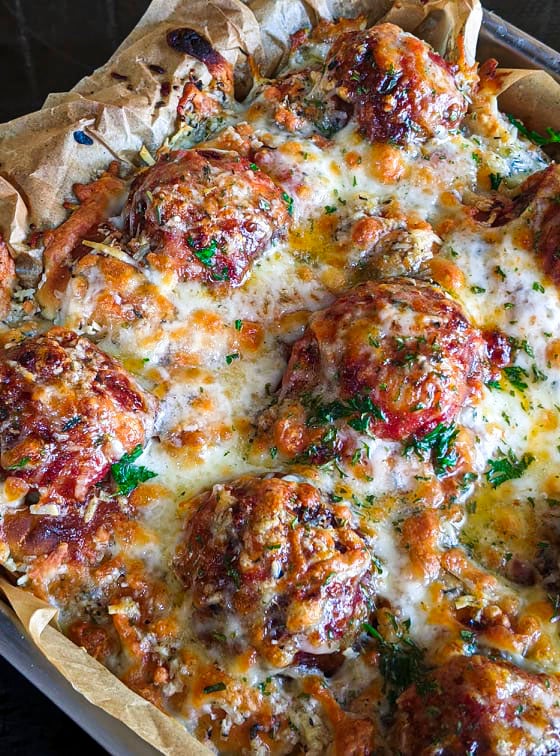 How to Prepare the Sausage for the Sliders
One thing many people do not realize is that before you can make meatball sandwiches or even cook meatballs in a sauce, they need to be browned on the outside to ensure that they keep their shape and texture. To do this you need to sear them in a hot skillet with a bit of oil.
This goes for both packaged and homemade meatballs.
If your meatballs started raw you will want to cook them longer so they can come out fully cooked without burning the bread. For pre-cooked meatballs, you can sear until the outside is golden brown. For store-bought raw meatballs, cook them according to the package directions.
But for homemade meatballs, check the internal temperature with a thermometer aiming for a temp of 165 degrees or well done.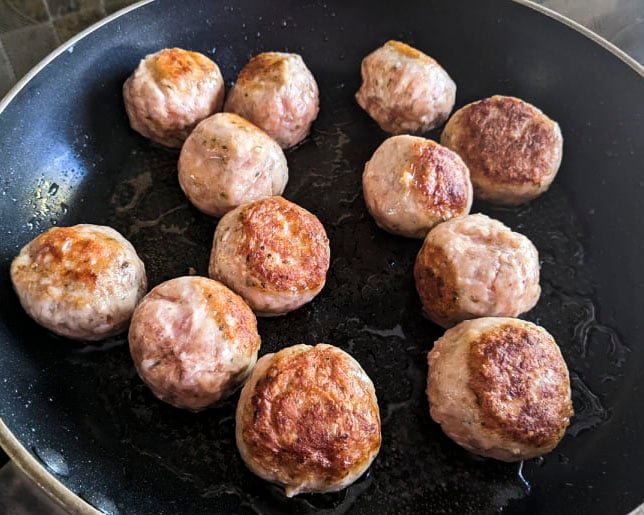 How to make Meatball Sliders.
Classic meatball sliders place the meatballs between two cut layers of the buns. With this twist, you will take a carving knife and cut round holes into the tops of the buns. Push the bread inside the hole down, squishing that extra bread to make a 'bed' for the meatball to sit in.
Add your parmesan cheese and the marinara sauce to give you that classic Italian flavor.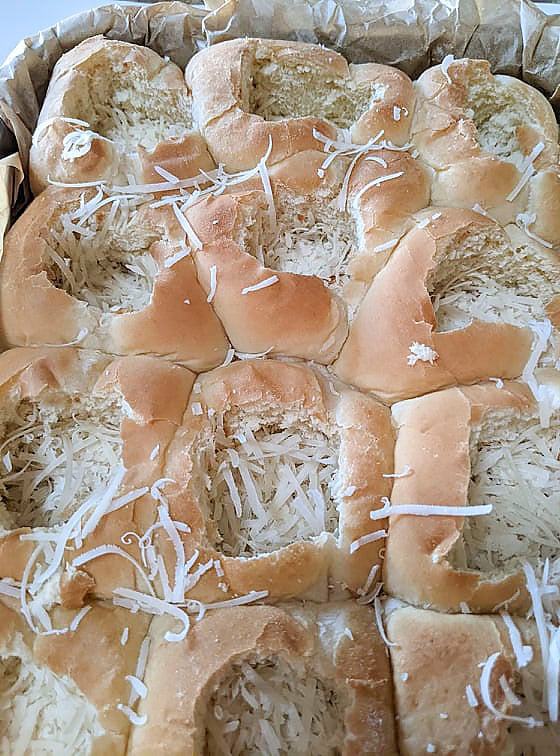 Once your meatballs are ready, place one meatball in the center of each of your buns. Avoid pushing the sides down around the meatballs. If your holes are too small you can make them slightly bigger with the knife to avoid this.
Brush over top of your meatballs with some marinara sauce using a silicone basting brush. In a bowl mix together parmesan cheese, shredded mozzarella, and Italian seasoning and sprinkle over top.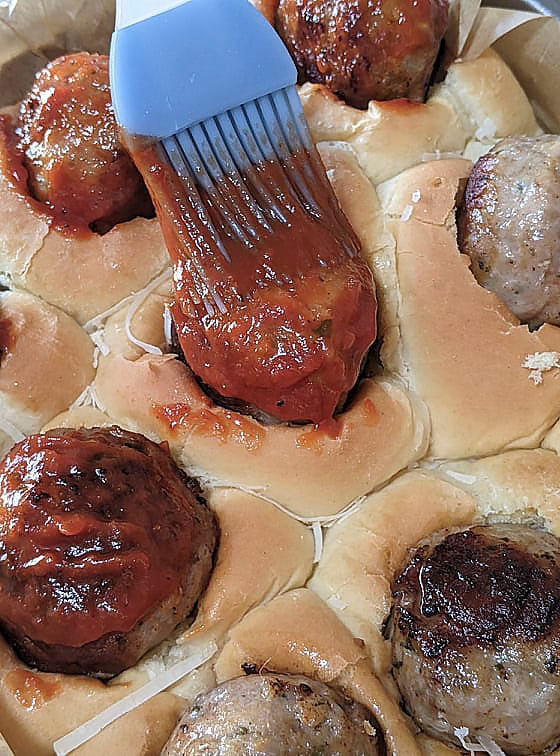 Bake in the oven at 350 degrees for 15 to 18 minutes to heat the buns through and melt the cheese into a gooey golden brown. Allow them to rest for a few minutes after pulling them from the oven and serving. 
Putting your own Twist on these Sliders
I love recipes that are versatile and that lend themselves well to customizing. You twist up this recipe by using chicken, turkey, or beef meatballs instead of sausage ones. Change up the cheeses if you prefer with something like grated provolone or gruyere which are nice melting cheeses.
Take them in a whole new direction and make a breakfast version by swapping out cheese and marinara sauces for some sausage gravy or maple syrup. If you want further inspiration, my Easy Italian Sliders and Chicken Cordon Bleu sliders are some of the blog's most popular recipes!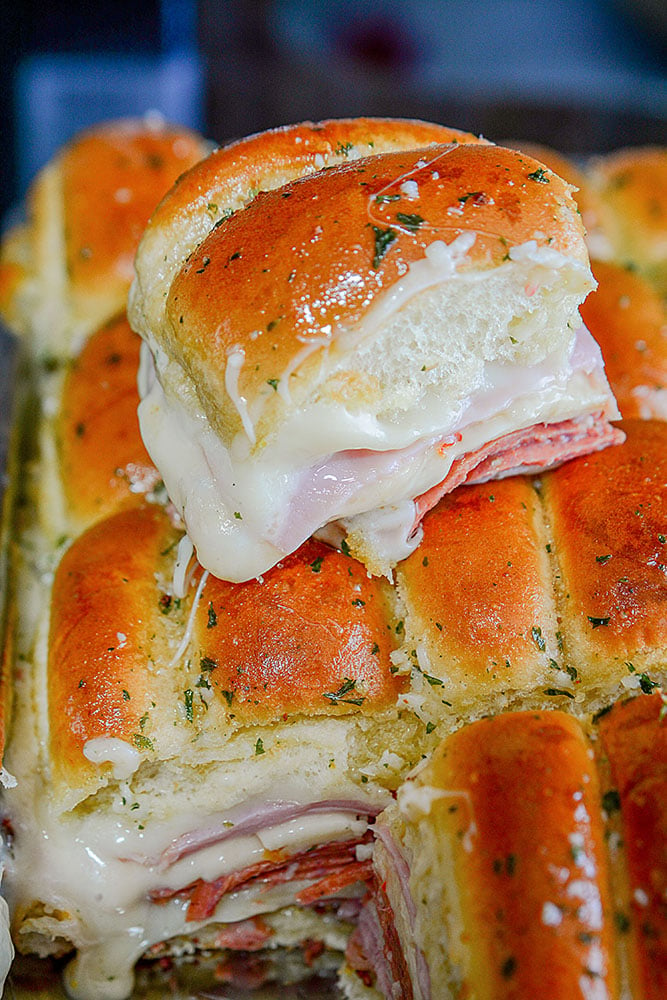 Questions You Might Have
Can I freeze these sliders?
Honestly, these are best made and consumed fresh. They won't come out well when thawed as the texture will be totally weird.
Can I make them ahead of time?
I would do the steps ahead of time so that it's basic assembly when you want to serve them. You can pre-sear the meatballs, and cut the holes on the tops of the tray buns ahead of time as well. (No more than a day ahead of time). However, with the buns, after you cut the holes, be sure to wrap them really well so they don't dry out waiting for you to assemble the rest of the slider.
I hope that you give this recipe a try and when you do, please let me know what you think by leaving a ***STAR RATING*** and comment below, or shoot me an email at Joanne@thesaltypot.com. Have a fantastic day!
~Joanne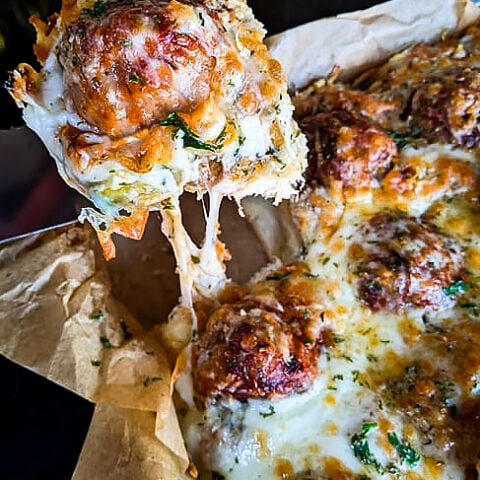 Italian Sausage Meatball Sliders
Italian Sausage Meatball Sliders have flavors of zesty marinara, yummy parmesan, and mozzarella cheeses all wrapped up in a toasty warm bun.
Ingredients
1 package of tray buns
12 Italian sausage meatballs
1 cup of marinara sauce
1 ½ cups of parmesan cheese
1 ½ cups of mozzarella cheese
1 teaspoon Italian seasoning
Instructions
Preheat the oven to 350
Sear the meatballs you plan on using according to what type you have. Refer to the body of the post regarding the preparation.
With a sharp paring knife, cut holes in the top of the tray bun big enough to fit the meatball. One hole per bun. Then with your finger, push down the center, squishing the bread, making a 'bed' for the meatball to sit on.
Sprinkle the parmesan cheese evenly into each hole of each bun.
With a small spoon, dollop the marinara sauce into each hole, on top of the cheese.
Place one meatball into the hole of each bun.
Baste each meatball with more marinara sauce.
In a small bowl, combine the mozzarella cheese and the remaining parmesan cheese, along with the Italian seasoning. Sprinkle this mixture over the top of the meatballs.
Bake for 15 - 18 minutes or until the cheese is melty and gooey and the buns are heated through.
Remove from the oven and let rest a few minutes before serving.
Nutrition Information:
Yield:

12
Serving Size:

1 slider
Amount Per Serving:
Calories:

401
Total Fat:

30g
Saturated Fat:

12g
Trans Fat:

0g
Unsaturated Fat:

19g
Cholesterol:

71mg
Sodium:

1048mg
Carbohydrates:

10g
Fiber:

1g
Sugar:

3g
Protein:

23g
All nutritional information is based on third-party calculations and is only an estimate. Each recipe and nutritional value will vary depending on the brands you use, measuring methods, and portion sizes per household.