This two-layer peppermint bark fudge is just perfect for the holiday season. It's incredibly easy to put together and makes a wonderful present for gift-giving.
This peppermint candy is always a hit at the holidays, much like my eggnog walnut fudge (Everyone loves this fudge!), and my wacky 2 ingredient nutty chocolate fudge.
Remember that this makes a great treat for New Year's Eve and you can find the candy canes to make it for next to nothing during the Christmas clearance sales. I like to pick some up just for this fuge on New Year's. It goes great on the dessert table with these Butterscotch Confetti Squares.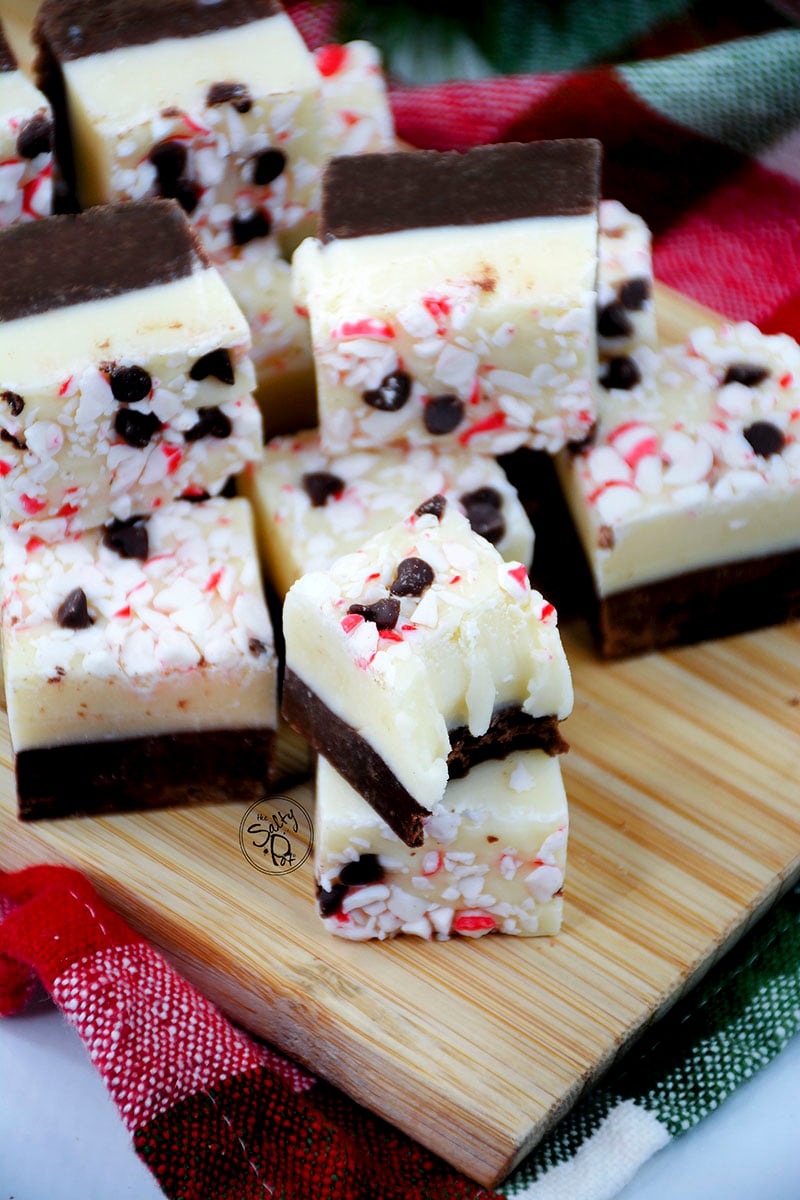 Peppermint bark and a chocolate fudge combination make the perfect sweet treat!
Peppermint bark is a popular holiday candy that makes a great homemade gift, as an addition to your next Christmas cookie exchange (though this may count as bending the rules a bit) or added to the snack table at your next holiday gathering.
Making your own peppermint bark fudge allows you to control just how much peppermint and chocolate are included and you can easily adjust this recipe for a thicker or thinner chocolate layer to fit your preferences.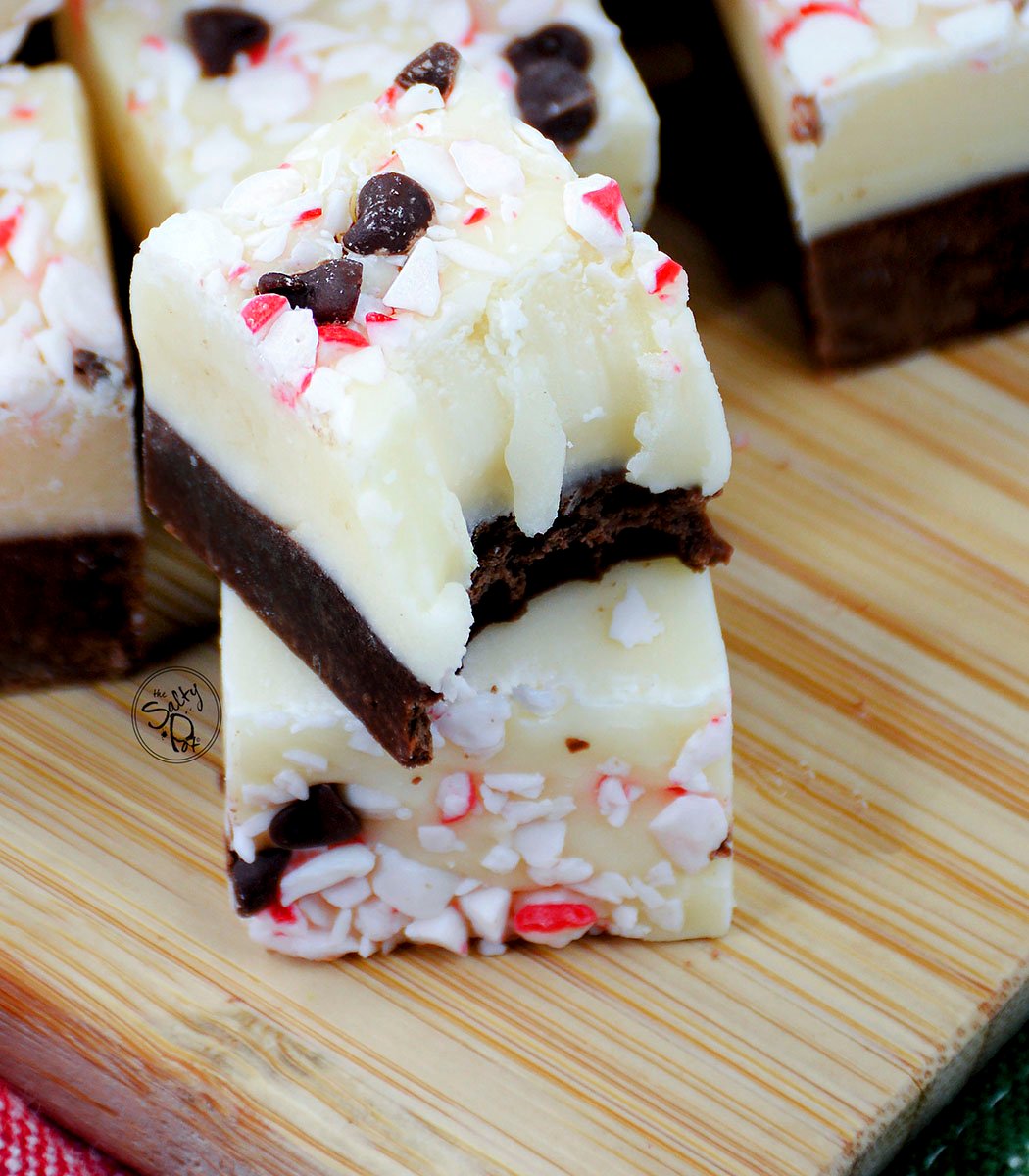 How to make peppermint bark fudge.
Making your own peppermint bark fudge is very easy. Start by lining an 8×8 inch (or a 7×9 inch) pan with parchment paper. This will make it easier to get the fudge out without misshaping it or leaving a mess in the pan.
Start by mixing together your chocolate layer so it can solidify before adding the peppermint layer. In a medium saucepan over low heat mix together the chocolate chips, milk, and butter until fully melted and smooth. Pour into your pan in an even layer across the bottom.
Put the pan in the refrigerator for about 30 minutes to solidify a bit while you clean up and work on the next layer.
After your chocolate layer has had time to cool you can begin the peppermint layer. For this one mix together the white chocolate chips, milk, butter, and peppermint extract until smooth and creamy like the chocolate layer.
Gently pour over top of your cold chocolate layer to prevent melting the two layers together too much beyond what is needed to hold the fudge together.
While still warm and melty top off with chocolate chips and crushed candy canes to give a classic peppermint bark look and allow to chill completely or for at least 1 hour (or overnight) before cutting.
To cut, remove the peppermint bark fudge from the pan using the parchment paper to make the removal easy then slice into 1-inch squares.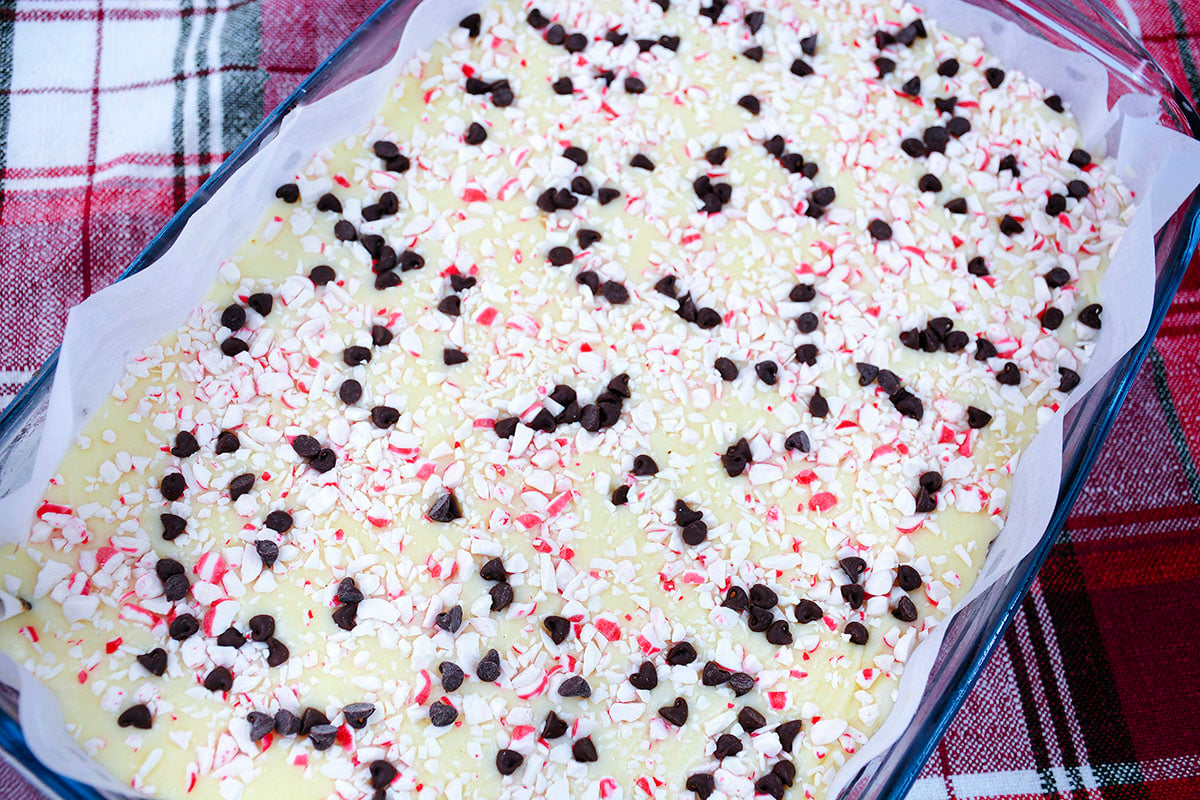 Gift-giving fudge for holiday gifts
To give this peppermint bark fudge as a gift you have a few simple options for packaging.
You can go with a classic yet simple mason jar with a decorative ribbon for a low waste option that can be reused by the gift receiver or opt for a disposable paper gift box and decorate with wrapping paper or ribbon.
For either option, you want to add some parchment paper to avoid the layers combining back together if your fudge gets a bit warm.
Mix it up and make it your own
While I just sprinkled the chocolate chips over the top of the fudge with the crushed candy canes, you want to make it look a bit fancier.
You can do this by melting both chocolate chips and white chocolate chips and then drizzling them over the pan of fudge and candy canes.
Also, using a bit of green food coloring in the white layer of fudge will help really make it look "pepperminty" and festive like in these Minty Brownie Bars. For that matter, you can also swap out the chocolate chips for mint chocolate chips for a deeper mint flavor.
If you like to have a bit of crunch inside your fudge you can mix crushed candy canes directly into either layer of the fudge before it sets.
For a more chewy but taller fudge, you can fold a cup of marshmallows to the fudge as you melt pour each layer down.
How long does fudge last?
Refrigerated: If wrapped tightly without oxygen getting at it, this fudge will last about two weeks.
In the Freezer: Again, placed in a freezer-friendly container, this fudge will last up to six months. The most important thing is that freezer odors are not allowed to get into it.
I hope that you give this recipe a try and when you do, please let me know what you think by leaving a *****STAR RATING***** and comment below, or shoot me an email at Joanne@thesaltypot.com.
Peppermint Bark Fudge
This Peppermint Bark Fudge is rich, creamy, sweet, and incredibly delicious. Rich dark chocolate and bright peppermint flavors make this easy fudge recipe a winner for any occasion!
Ingredients
For the Chocolate Layer:
3 cups chocolate chips *see notes
1 can sweetened condensed milk, 14 ounces
4 tablespoons butter
For the Peppermint Fudge Portion:
3 cups white chocolate chips
1 can sweetened condensed milk, 14 ounces
4 Tablespoons butter
1 teaspoon peppermint extract
1x8oz crushed candy canes
1 cup mini chocolate chips
Instructions
Using an 8x8 or 7x9 baking pan, spray with nonstick spray or line with parchment paper.
Add the chocolate chips, sweetened condensed milk, and butter into a medium-sized pot and begin to heat all the ingredients over low-medium heat. Continue stirring until the mixture is fully melted.
Pour the fudge into the prepared pan. Chill in the fridge for about 30 minutes, allowing this layer to harden.
Continue on using a medium-sized pot. Heat the white chocolate chips, sweetened condensed milk, and butter until fully melted and combined.
Add the peppermint extract.
Carefully pour the mixture over top the chocolate fudge.
Sprinkle the crushed candy canes and mini chocolate chips over the top of the peppermint bark portion and chill overnight to harden.
Notes
For the chocolate chips, you can use semi sweet or dark chocolate chips. I would advise against using milk chocolate chips because they are typically sweeter than the others, and with the sweetened condensed milk and other ingredients, it could make the fudge even sweeter.
This fudge is rich and sweet, so only a small amount is very satisfying.
Nutrition Information:
Yield:

64
Serving Size:

1" square piece
Amount Per Serving:
Calories:

164
Total Fat:

9g
Saturated Fat:

5g
Trans Fat:

0g
Unsaturated Fat:

3g
Cholesterol:

11mg
Sodium:

41mg
Carbohydrates:

21g
Fiber:

1g
Sugar:

20g
Protein:

2g
All nutritional information is based on third-party calculations and is only an estimate. Each recipe and nutritional value will vary depending on the brands you use, measuring methods, and portion sizes per household.