I cannot tell you how much I love this Eggnog Walnut Fudge. Seriously, if I was to rate this against all the other fudge flavors in the world, this one would come out simply #1. It's truly…. well, fudgalicious. If you eat it, you better sit down, because it very well could "nog" you off your feet!! haha!
Eggnog Walnut Fudge: A Blissful Marriage of Eggnog and Fudge
I actually love almost any flavor of fudge really. Honestly I do. But don't get me wrong… I'm picky about the TYPE of fudge I love. I don't care for the kind that is super sugary and a bit crumbly. Call it traditional? Yeah, that's it. The kind where you have to babysit the pot with a super accurate candy thermometer, timer in hand, lab coat on, safety glasses in place to protect you from the science of cooking sugar that gets hotter than HADES when making it.
NO thanks.
THIS version of yummy eggnog walnut fudge is much simpler and ohhhhhhhhhhhhhh sweet baby Jesus is it ever good! Creamy, not crazy sweet like traditional fudge, and no thermometer or science class paraphernalia required.
Furthermore – let me say this again….. this recipe is for EGGNOG WALNUT FUDGE. Not just ANY fudge. Yes my friends… that festive flavor that knocks you right into the Christmas Spirit in a creamy square that you can wrap up and take with you! There's no putting regular eggnog in your purse, now is there?…….
Unless that one time, you had too much of it and the rum was kicking in and you were at the annual office party and Herb, the guy from shipping who spittles A LOT when he talks, was coming towards you and you tried to spin around too quick to run walk away gracefully but spilled your 'nog in your purse by accident… I'm not saying that happened to me or anything…. I was just.. umm… telling a story that happened to someone I know… yeah, that's it………… ahem.
Anyway. Moving on.
Oh! and by the way. If you're looking for another super easy, SUPER delicious Christmas treat, check out my post about my love affair with butterscotch confetti squares. Seriously.. it's one of my most favorite no bake treats for the holidays! (next to this eggnog walnut fudge, of course!)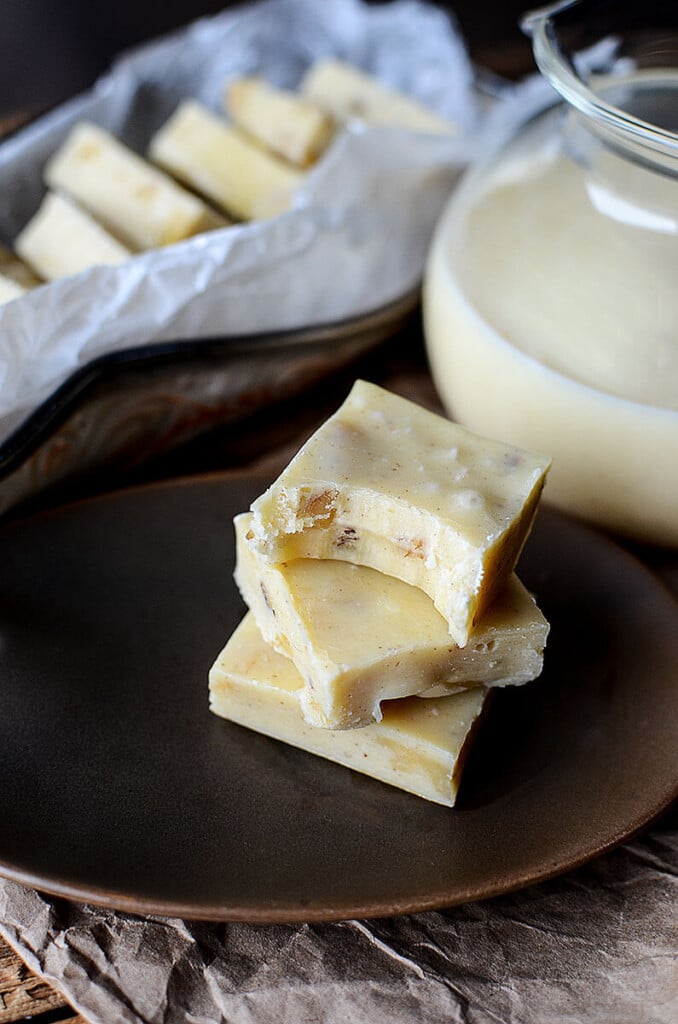 This pretty eggnog fudge is creamy and not crazy sweet , has a delectable crunch from the walnuts and is spiced so perfectly it will have you wishing you were under the mistletoe, all rosy cheeked, wantin' to get funky with Boney M's version of Jingle Bells. Trust me when I say this fudge is a great stand in for the real eggnog.
Especially at the office party.
Eggnog Walnut Fudge
This walnut eggnog fudge is the epitome of a holiday treat! Sweet, creamy, and has that eggnog flavor that we all love during Christmas!
Ingredients
¾ c Sweetened condensed milk
1.5 c White chocolate chips
2 tbsp Butter
¼ c Walnuts, roughly chopped
1 Tsp Ground Nutmeg
¼ Tsp Ground Cinnamon
Instructions
In a microwave safe bowl, add the chocolate chips and butter together.
Heat in the microwave at 30 second intervals, mixing after each interval, until the mixture is melted together and smooth. Add the sweetened condensed milk, nutmeg and cinnamon and mix well.
Add the chopped walnuts and heat in the microwave again for another 30 seconds until everything is completely mixed and the fudge is smooth.
Pour into a greased/sprayed 8 x 8 (or smaller if you want them thicker) pan and let cool to set. Cut into 1 inch pieces and enjoy!
Nutrition Information:
Yield:

20
Serving Size:

1
Amount Per Serving:
Calories:

124
Total Fat:

7g
Saturated Fat:

4g
Trans Fat:

0g
Unsaturated Fat:

3g
Cholesterol:

10mg
Sodium:

35mg
Carbohydrates:

14g
Fiber:

0g
Sugar:

14g
Protein:

2g
All nutritional information is based on third-party calculations and is only an estimate. Each recipe and nutritional value will vary depending on the brands you use, measuring methods, and portion sizes per household.
********** PIN THIS EGGNOG WALNUT FUDGE RECIPE TO YOUR FAVORITE BOARD FOR LATER!!! **********

****OR.. IF YOU LIKE THE PIN BELOW BETTER, PIN THAT ONE!! THE CHOICE IS YOURS, MY DEAR READER!****