Included in this strawberry granola bowl are things like nuts, seeds, nutritious fruits like strawberries and bananas, all rounded out with creamy yogurt to make this morning breakfast the most perfectly delicious way to start your day.
Granola bowls are delicious and nutritious!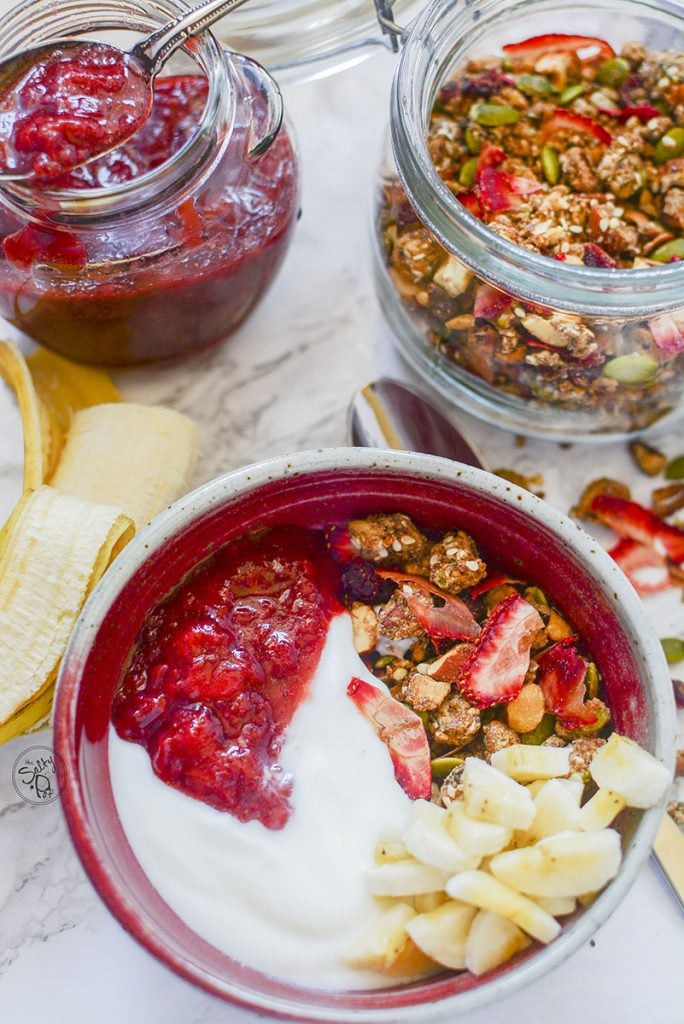 STRAWBERRY GRANOLA BOWL
If you remember, I recently posted a recipe on how to make your own Strawberry Grain-Free Granola. Well, this is one of the many things you can use that granola for!
This strawberry granola bowl is so incredibly delicious, it almost tastes like dessert. It reminds me of another dish ~ Cherry Chia Seed Parfait that's actually a breakfast item but tastes like dessert as well!
Okay, I want to say that checking out this recipe is definitely going to be worth your time because this strawberry granola bowl is just the perfect balance of health and flavor!
And best of all, if you don't have strawberries, you can use practically any other berries you have and whip this one up in the same way!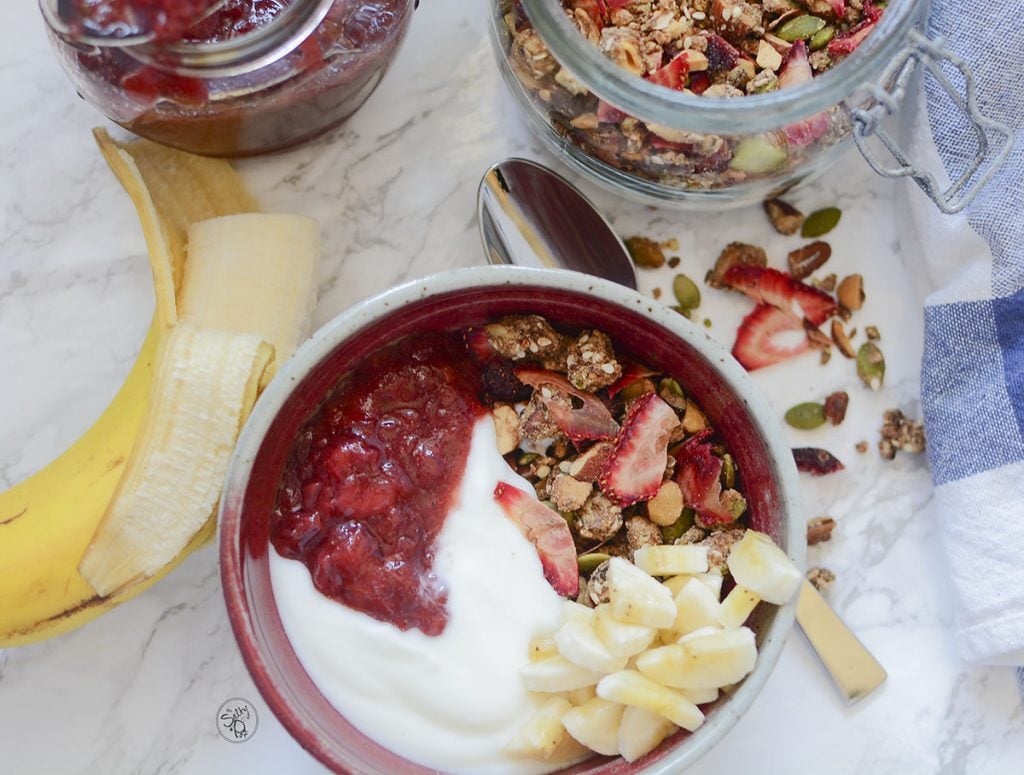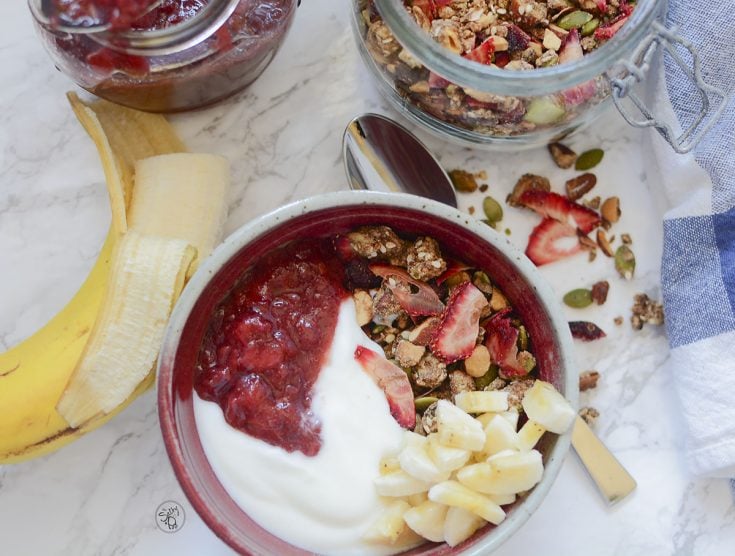 Ingredients for the Strawberry Granola Bowl
Granola: My Strawberry Grain-free Granola Recipe is one to make up in a big batch and lasts a super long time in an air-tight container. It's low sugar and delicious, but if you prefer, you can purchase low sugar granola from your grocer.
Strawberries: You can opt for fresh or frozen strawberries- whatever you have!
Yogurt: Packaged plain or vanilla yogurt works well, but if you're extra health-conscious, look for a low sugar variety too. Regular yogurt will work fine, but I like to use a nice thick Greek yogurt for extra creaminess!
Banana: A fresh banana to slice on top of the granola bowl and for an extra healthy punch.
Sweetener: You can use any natural sweetener you prefer. Honey is great, but if you're in the mood to experiment, you can also opt for coconut sugar, maple syrup, date sugar or even no-calorie sweeteners like monk fruit and stevia.
How to Make it Right
The Saucy Strawberries (compote):
Start off by prepping your strawberries to make the strawberry sauce/compote. If you have the frozen ones on hand, no need to thaw them first, just put them in a saucepot.
If you're using fresh strawberries, you might want to add a bit of water into the mix to help the strawberries break down easily.
Set the pot on low heat and cook for as long as it takes for them to break down and have this saucy consistency.
Don't attempt to completely smash the strawberries. Let those chunks remain- they'll add a nice element of texture to the granola bowl.
Once you feel like the consistency is perfect and jam-like, (you may have to simmer it for a bit to reduce the liquid) take the pot off the heat and allow it to cool down a bit.
Add in the sweetener if you want and give it a mix. And that's it.
Also, a quick work around of making the fresh fruit compote, you can always use a low sugar jam or jelly in place of the strawberry compote!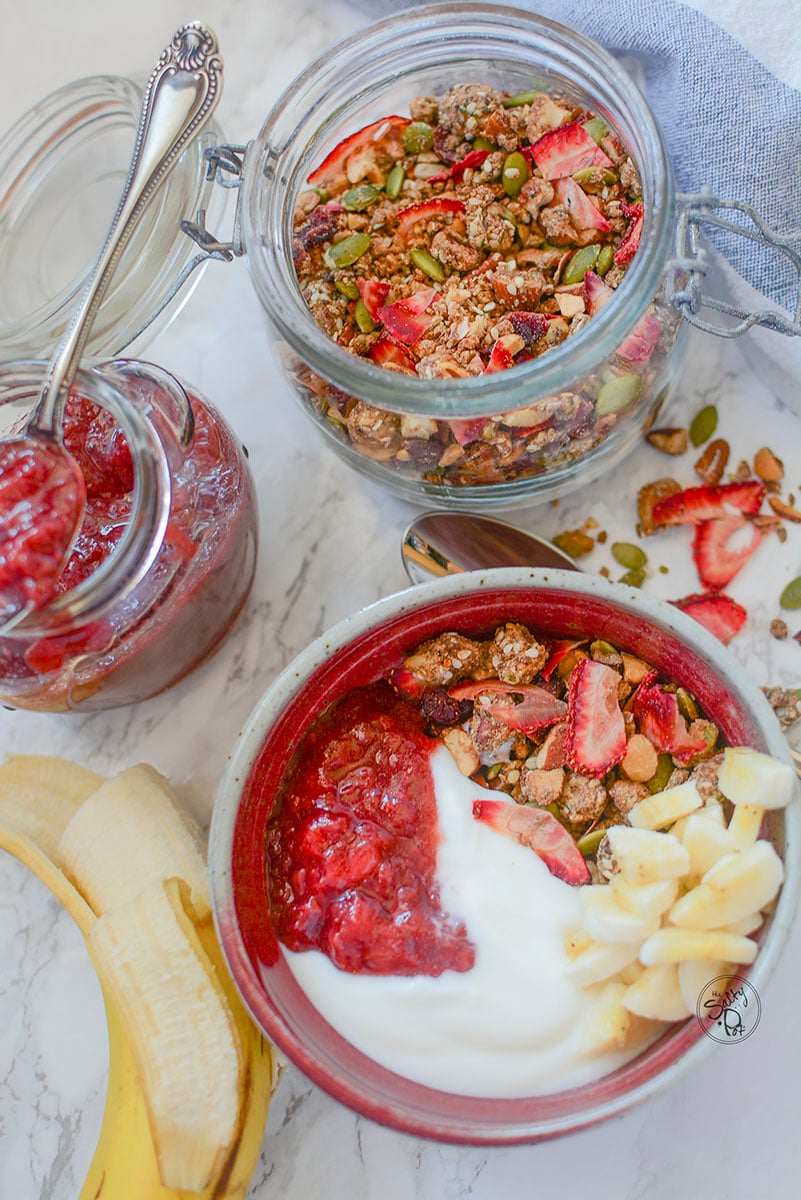 Putting it all together:
Now, all you need to do is place the granola in the bowl. Add the yogurt on top, and then top that with the strawberry compote and a sliced banana (or literally any other fresh fruit you have like raspberries, kiwi and even mangoes).
If you want to add extra sweetness besides what's in the fruit compote (or store-bought jam), then after the bowl is assembled, I would lightly drizzle a tiny bit of natural (local if you have it!) honey over the top.
For extra vitamins and minerals, you try that same drizzle in molasses which would be super delicious! (If you are watching your sugar intake but still want something sweet, check out Yacon Syrup. It's close to molasses and is good for blood sugar levels. Or if you're feeling super ambitious, try making my Pomegranate Honey Sauce – it's spectacular on so many things!).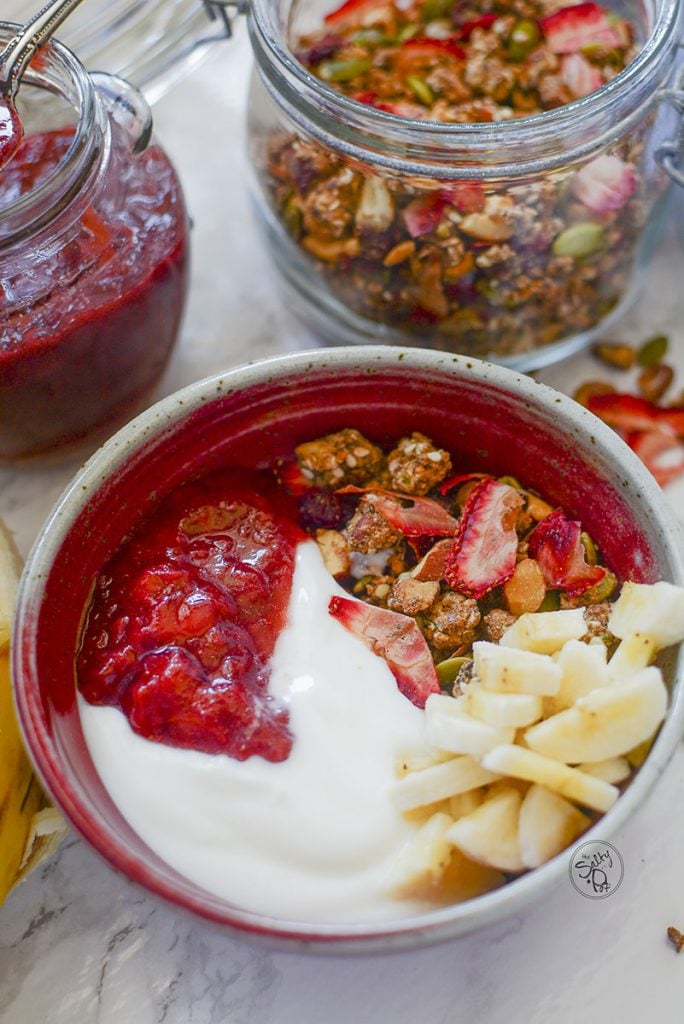 What Other Berries/Fruit Can I Use In This Granola Bowl?
If you don't have strawberries, you can opt for
Raspberries
Blueberries
Blackberries
Honey Berries (Haskaps)
and even peaches or nectarines if you're feeling like it.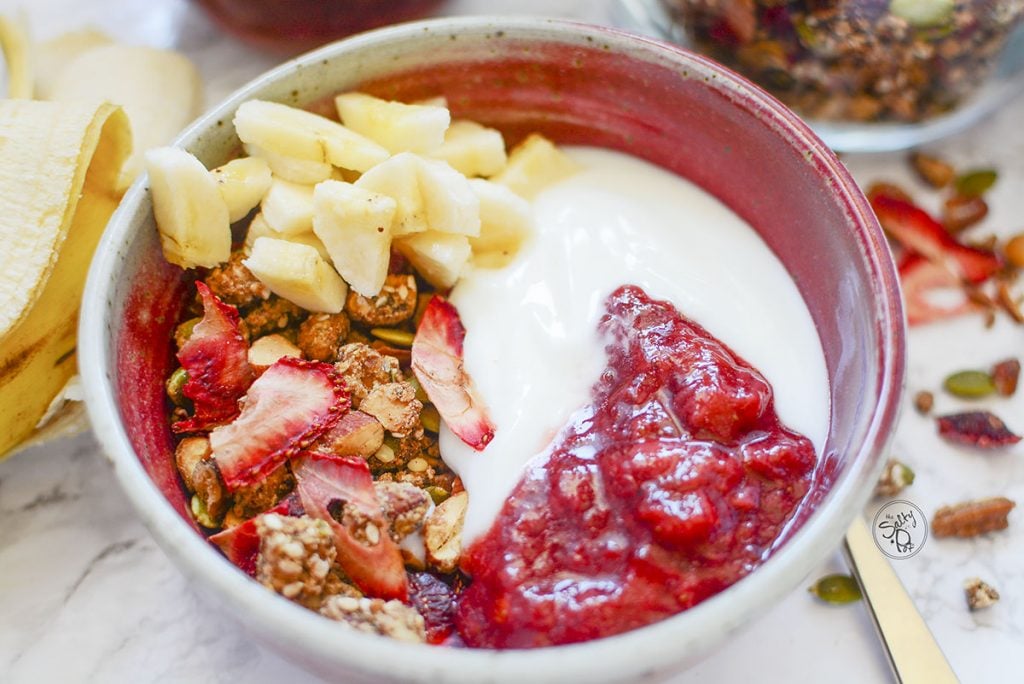 How Can I Make This Ahead Of Time?
And if you're planning on eating this later, just combine the compote and the yogurt, and add in the granola and the toppings when you're ready to eat.
Storing and Freezing
If you're like me, you'll probably end up making this in a larger quantity, and if that's the case, it's actually awesome, because you can totally store it for later. Infact, it also means you'll be able to quickly whip up breakfast on a super busy day!
Just like with most other homemade jams, you'll need to pour this into a clean, airtight jar and place it in your refrigerator. It should stay good there for upto a week.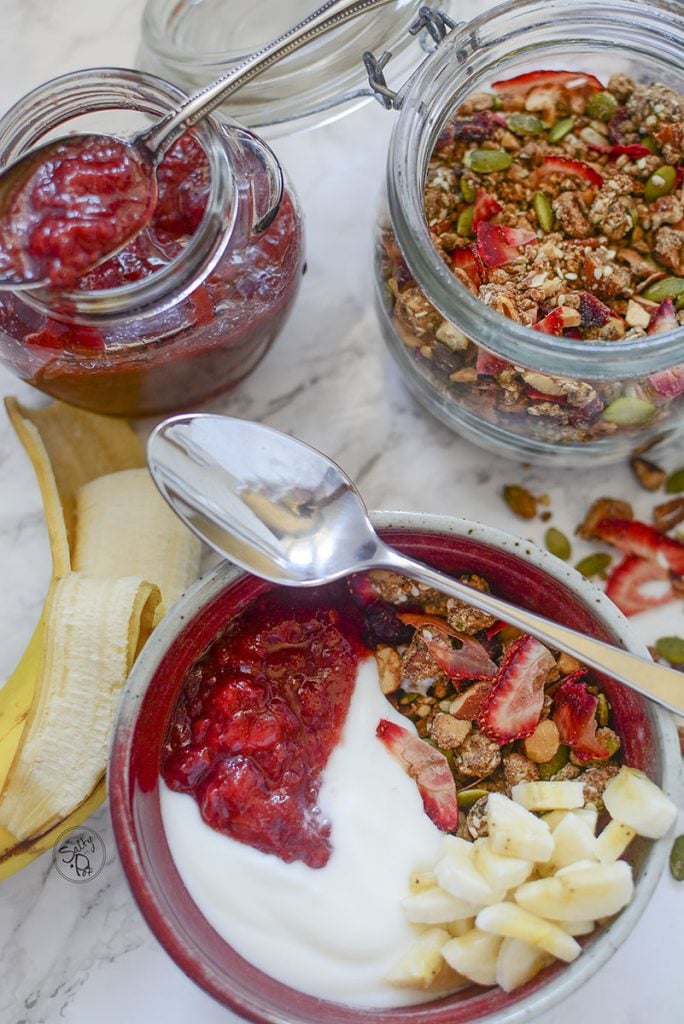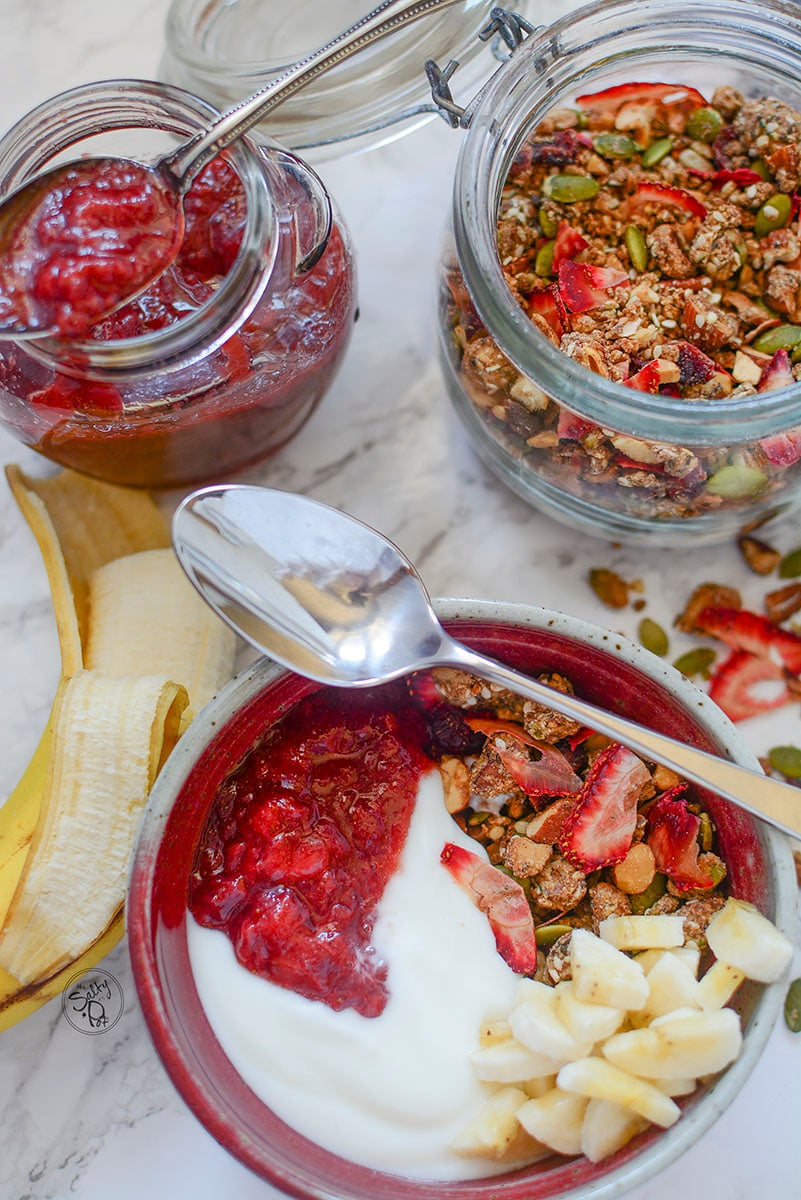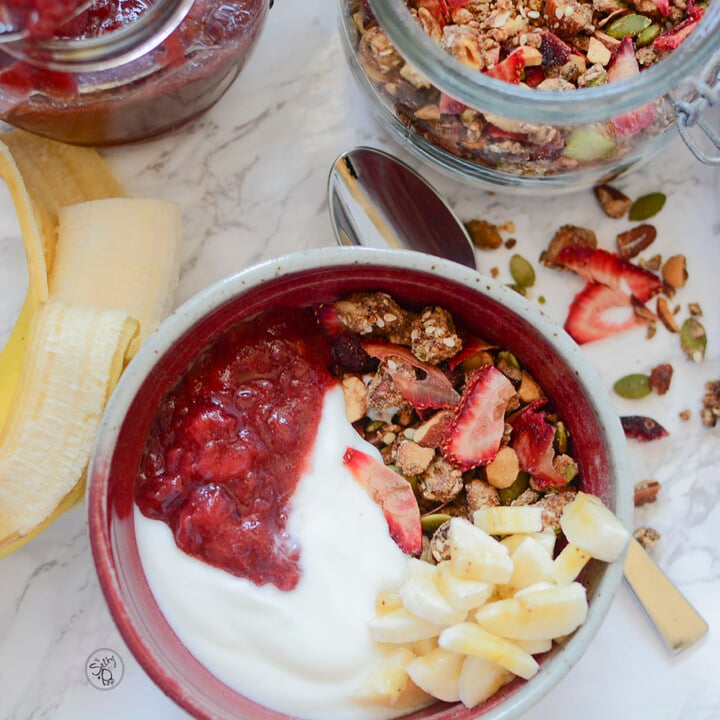 Delicious Strawberry Granola Bowl
These granola bowls are so delicious and deceptively healthy, they'll taste like a dessert! Yum!
Ingredients
2c strawberries, fresh or frozen (see notes)
1c of strawberry granola (see notes)
1c vanilla low sugar yogurt
1 banana
2 tablespoon honey
½ water
Instructions
In a saucepan place the frozen strawberries. If you're using fresh, slice them up and add the water to the pan. If you're using the frozen strawberries, you shouldn't have to add as much water, probably a ¼ cup.
Heat the strawberries in the water until they begin to break down and create a 'sauce' of sorts. The berries will start to get soft and break apart. If you're using fresh berries, you may have to help mush them up a bit with a masher.
Once the berries have broken up and a sauce has formed, you can add the honey to dissolve into the hot mixture. If you're not using honey, you would still add your favorite sweetener at this stage.
Use the masher (or a large fork) to mash everything together. Leave some bits of the strawberries in chunks for some textural interest during eating.
Let cool.
To assemble:
In two bowls, divide and place the strawberry granola (or granola of your choice) on the bottom of the bowl.
Add the yogurt on top (or to the side) of the granola.
Add the cooled strawberry compote on top of the granola and then garnish with half a banana for each bowl.
Garnish the very top with a drizzle of honey, molasses or even some extra granola if you wish.
Notes
If you're using fresh strawberries, be sure to use the ripest you can find and slice them up to help assist in the break down of the berry as you cook them.
I used my Strawberry Chia Seed Granola for this recipe, but you can use whatever granola you prefer. I just like how the granola I made also has the extra flavor of the strawberries for this bowl.

Nutrition Information:
Yield:

2
Serving Size:

1 bowl
Amount Per Serving:
Calories:

707
Total Fat:

10g
Saturated Fat:

2g
Trans Fat:

0g
Unsaturated Fat:

7g
Cholesterol:

5mg
Sodium:

83mg
Carbohydrates:

88g
Fiber:

10g
Sugar:

64g
Protein:

11g
All nutritional information is based on third-party calculations and is only an estimate. Each recipe and nutritional value will vary depending on the brands you use, measuring methods, and portion sizes per household.