Crockpot pierogies are not only easy to make, this dish is filling, easy on the grocery budget, but mainly, CRAZY delicious!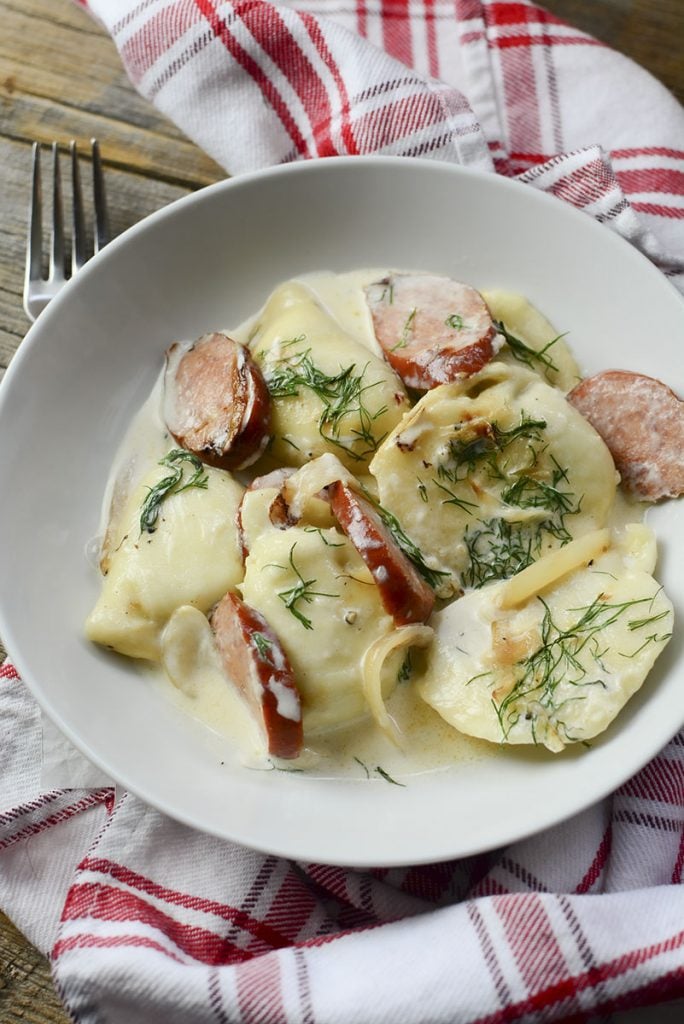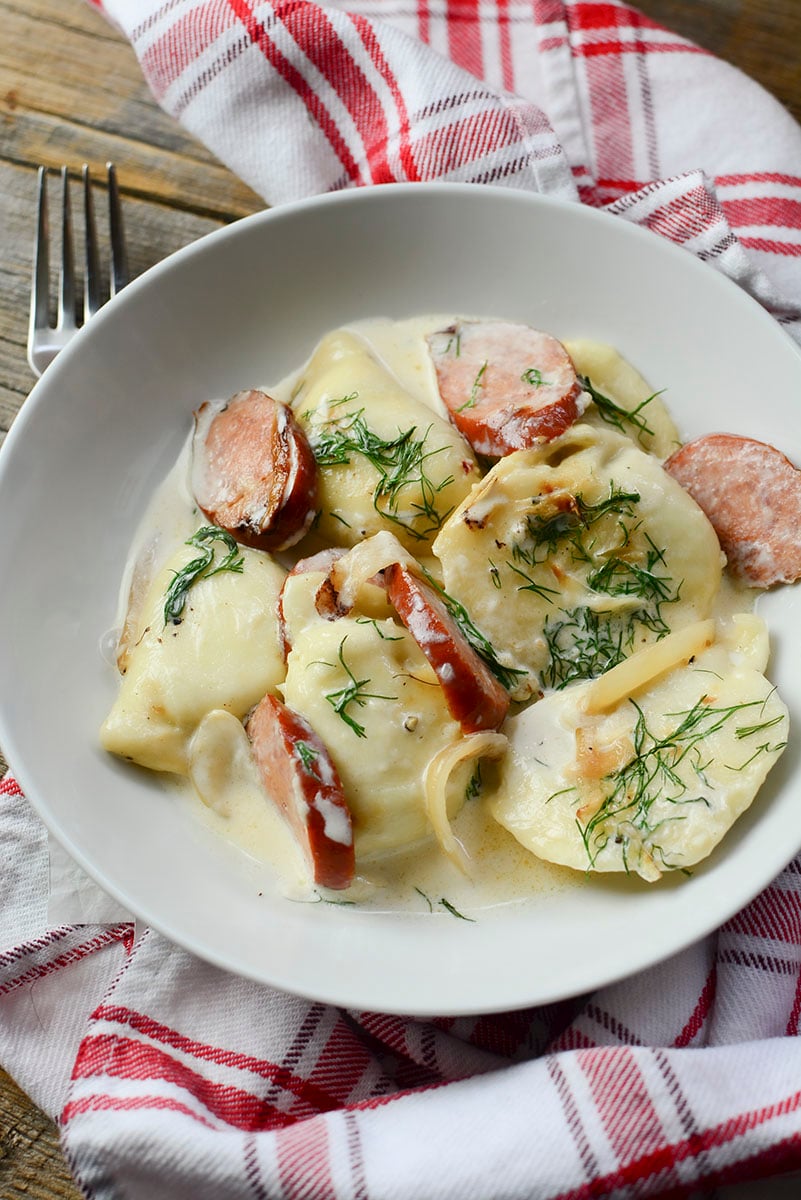 Pierogies in the slow cooker = Easy Deliciousness!!
What is a Pierogi?
Pierogi, dumpling, gyozas, etc, etc, there's a lot of different definitions of these tasty morsels. Basically, to me, a perfect pierogi has the most perfect, tender, malleable dough stuffed with different delectable fillings, boiled and slathered in butter. Many people choose to fry them after boiling to give them a richer flavor and a crispy outer texture.
See, my grandmother was from Ukraine and brought over a lot of traditional recipes that have been passed down to me.
One of those recipes was her pierogi recipe. My favorite was the dry cottage cheese mixed with sour cream and dill! YUM!
Top them off with a dollop of sour cream, fried onions, and bacon and you have a dinner that pretty much wraps its arms around you like a flannel blanket and tucks you in, snug as a bug.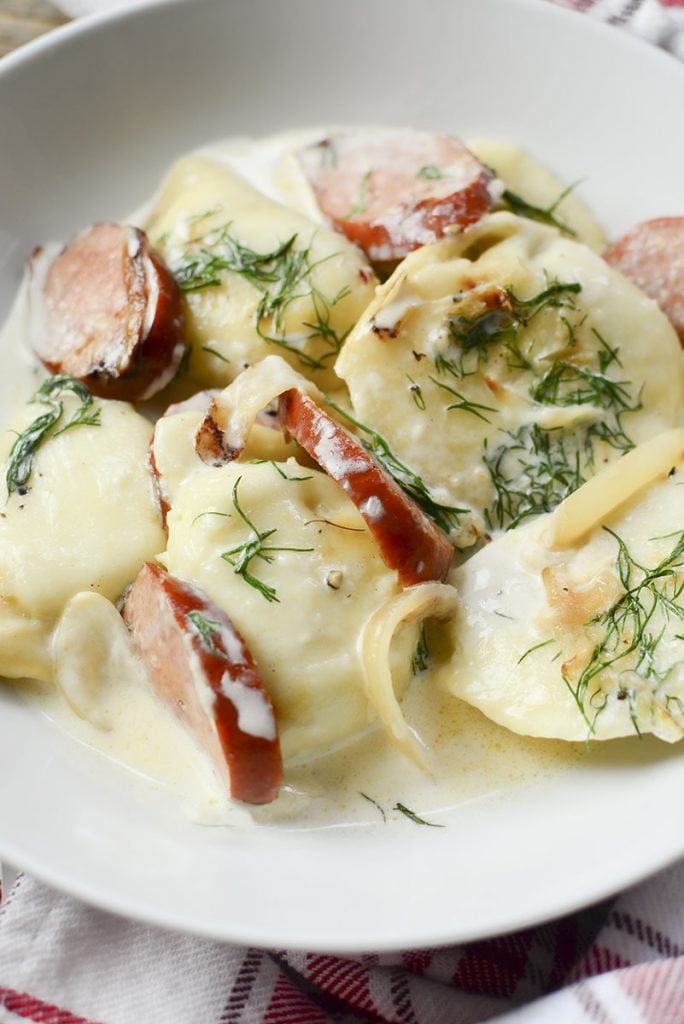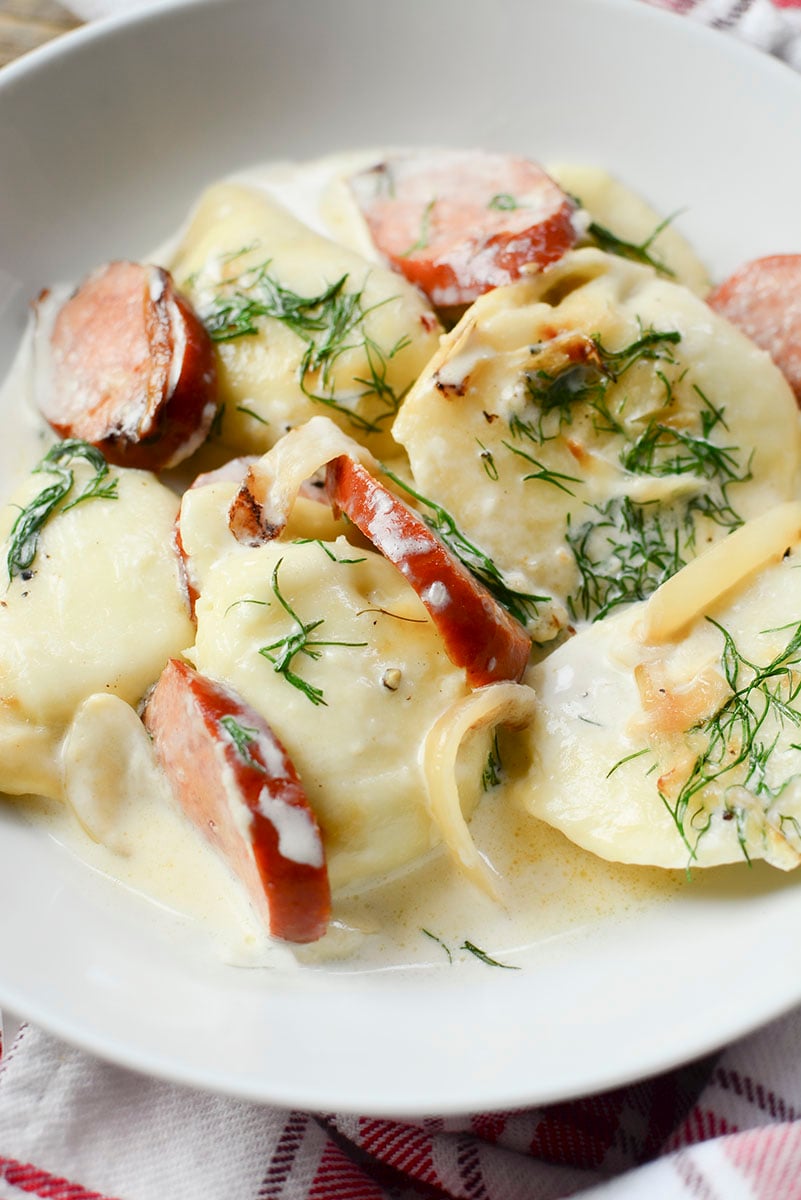 Crockpot Pierogies
Sometimes you just don't have time to make them from scratch so store-bought pierogies are the next best option to make this dish. Nothing wrong with a little help, right?!?
So, this recipe makes a great side dish, but I often use it for a full meal. It's not traditionally cooked in a crockpot, but it's just so great in the slow cooker because you will still get the same amazing flavor just like you were making this dish stove-top, but you have the luxury to go get other things done!
Creamy, tender, cheesy perogies with delicious flavor mixed in with smoky, caramelized sausage and onions. All mixed in with a dill flavored creamy sauce that next level tasty!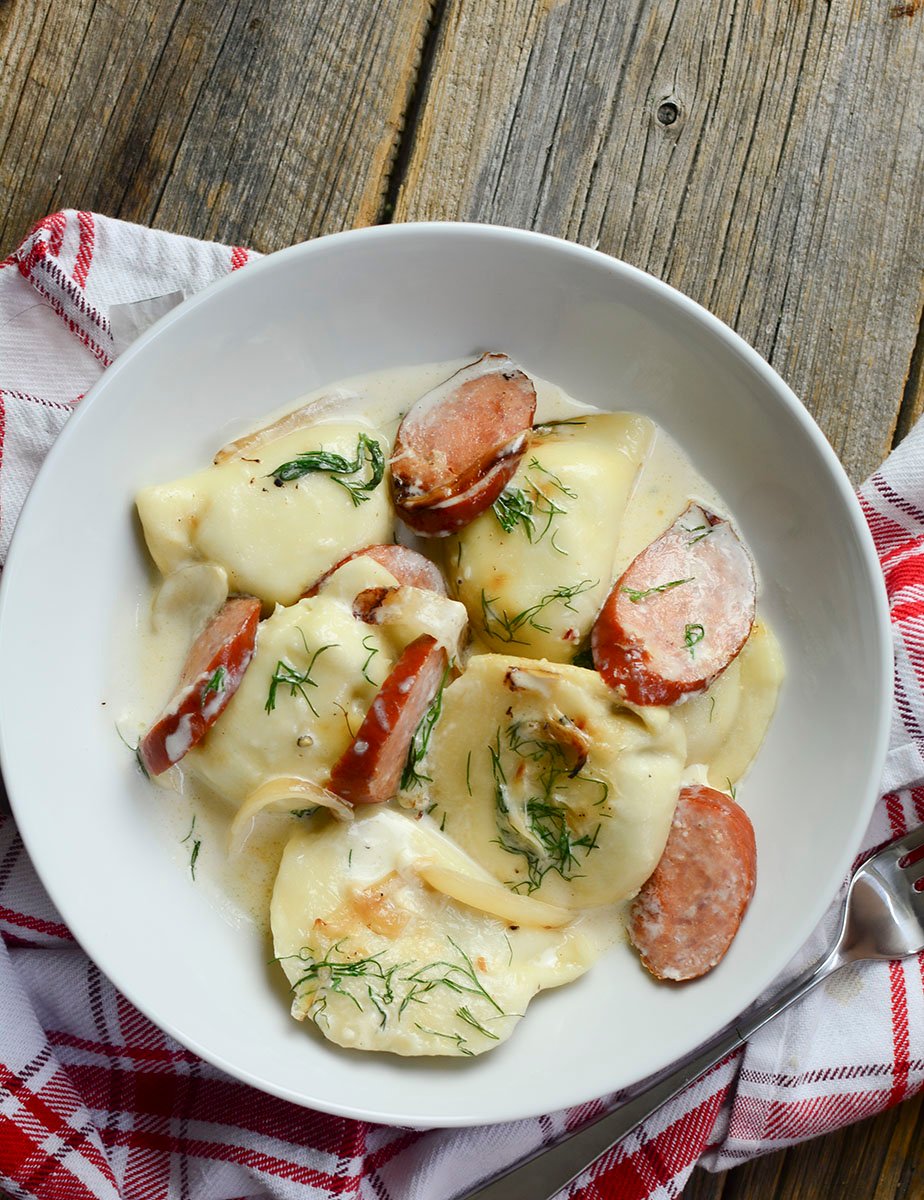 The one thing I caution you for is over cooking the pierogies in the sauce and them making them "gummy".
The key here is timing.
Even though the pierogies in a slow cooker is pretty much hands off, you'll still want to stir them from time to time. A gentle stir will give you an idea of how they are coming along. You want them to be firm and of course, no longer frozen, but not cooked so much that they are jagged and falling apart at the seams. Refer to the recipe card below for timing instructions.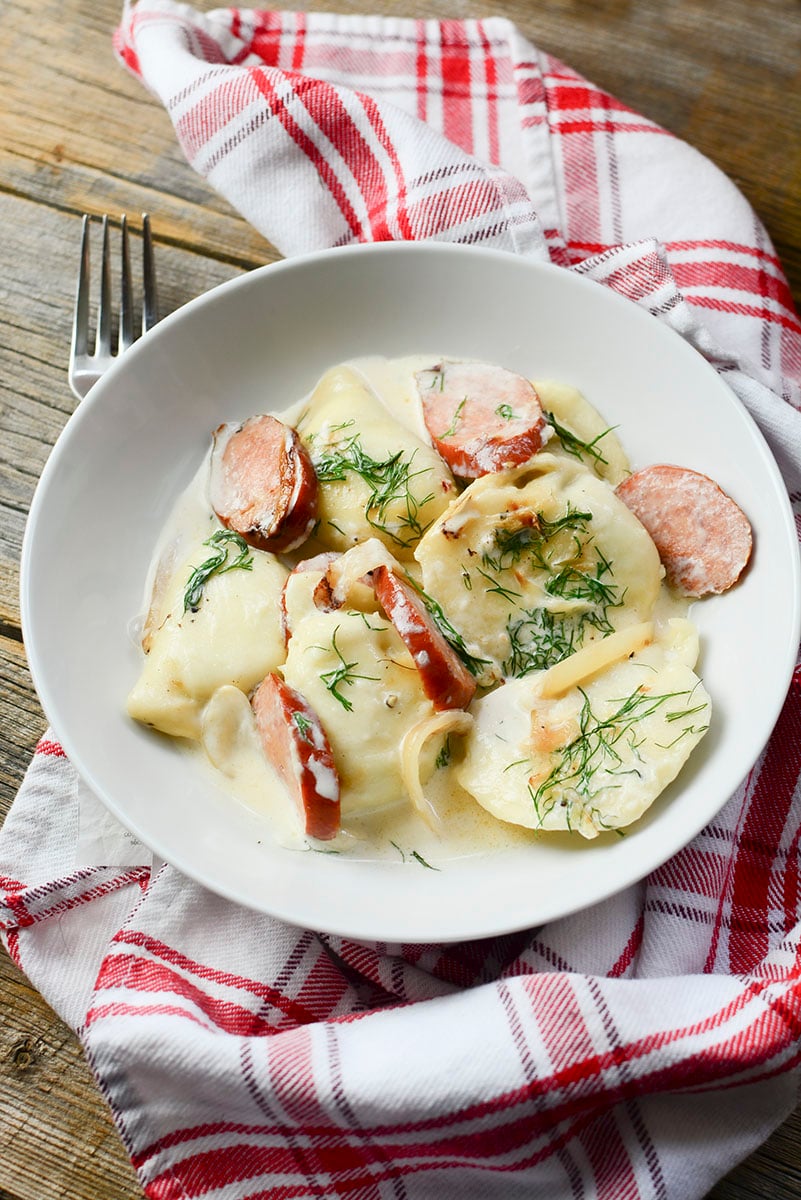 Easy Ingredients for Crockpot Pierogies
Pierogies – Buy your favorite brand and type. I usually prefer the cottage cheese and dill stuffed perogies, but cheddar/bacon and sauerkraut are big favorites as well.
Onions – Your typical yellow onion will do, or really, whatever you have on hand is great. Just don't use red onions.
Kielbasa – Usually you can use cooked bacon in this recipe, but I like to use a double-smoked farmers sausage. But again, you should use your favorite type of Kielbasa.
Heavy Whipping Cream – if you try to cut back on the calories and use a light cream here, you can, but the sauce won't thicken as much.
Seasonings – Salt and pepper are great and not much more is needed unless you wanted to add garlic. I didn't because the kielbasa has garlic, so I didn't want it to overwhelm the dish.
Dill – To me, this is one of the most important ingredients. Dill really just puts the cherry on the top for this dish. I used fresh, but in a pinch, you can use dried.
Getting This Dish On The Go
This step is optional but HIGHLY recommended. I fried both the sausage and the onions together in a bit of butter.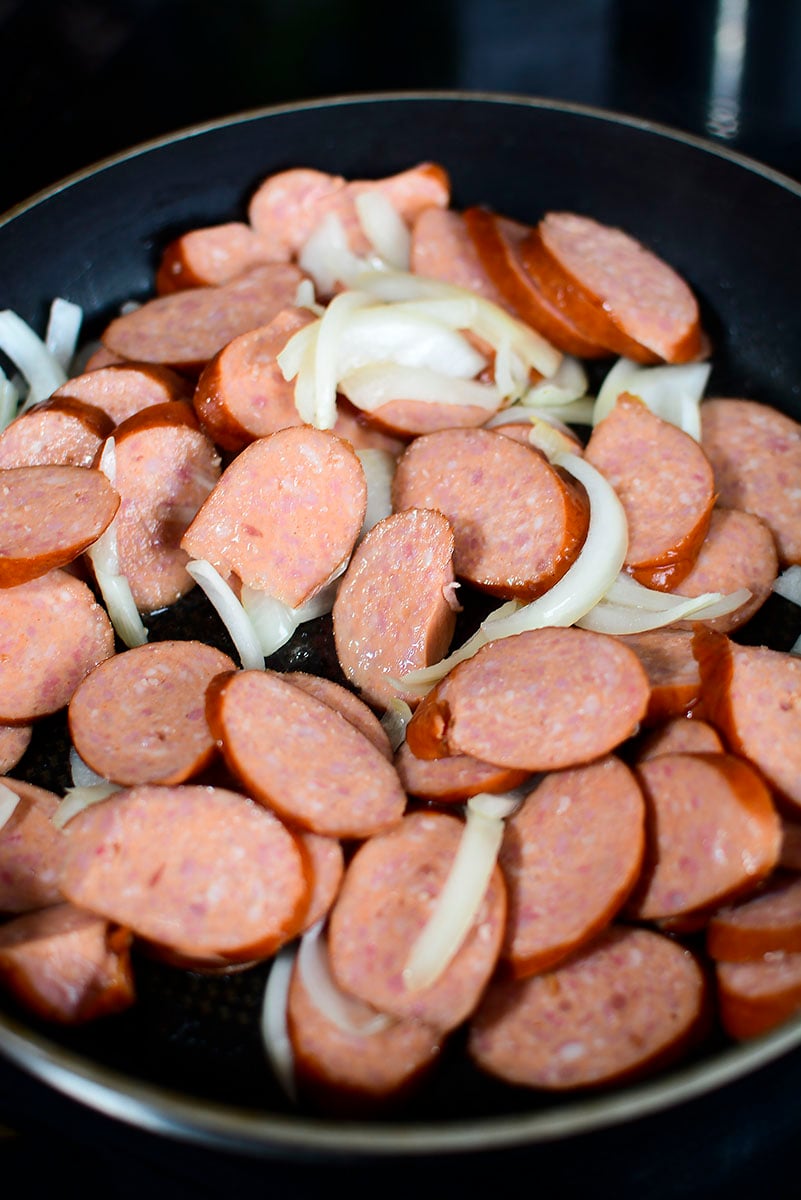 Frying the sausage gives it some caramelization around the edges that add a depth of flavor that's totally yummy! Also, frying the onions with the sausage helps meld all those flavors together, and gets rid of that raw onion taste. Salt and pepper to taste to bring out the flavors of the sausage and onions.
After frying, add the contents to the slow cooker bowl. Dump in your frozen pierogies and add the cream. Add the fresh dill weed, give a mix, put on the lid, and you're off to the races!
Don't you just love minimal effort meals with HUGE flavor payoff??? Me too!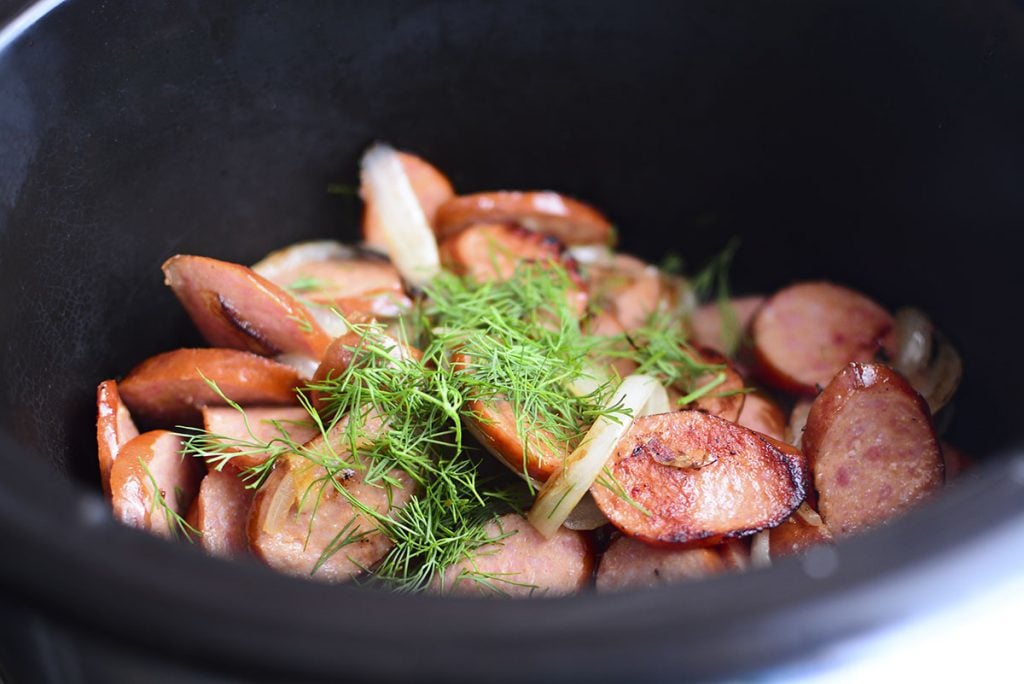 Cook for 2-3 hours with, like I said, occasional gentle stirring. If your sauce is too thin for your linking turn the lid or prop it up with a spoon for the last hour of cooking to allow more moisture to escape your crockpot pierogies.
You'll want to serve them hot right out of the slow cooker. Don't let them sit for too long.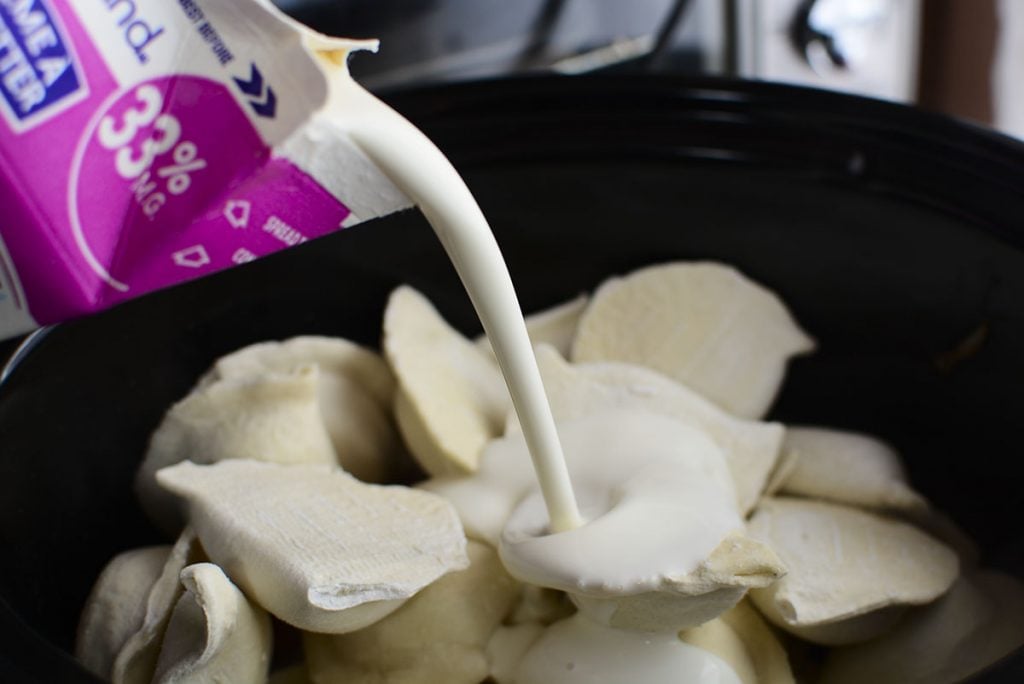 What To Serve Along Side The Pierogies?
If I don't make these slow cooker pierogies as a main meal, I like to serve them with another traditional dish (with a twist) – My Instant Pot Lazy Cabbage Rolls! Omg, the combo of those two dishes on your plate are simply divine!!
Another idea would be something more on the veggie side like my 3 Minute Instant Pot Maple Butter Carrots. Now, if you are so inclined.. try making these homemade Nalysnyky – (cheese crepes). A comfort food meal can't get ANY better with these two dishes on the table!!!!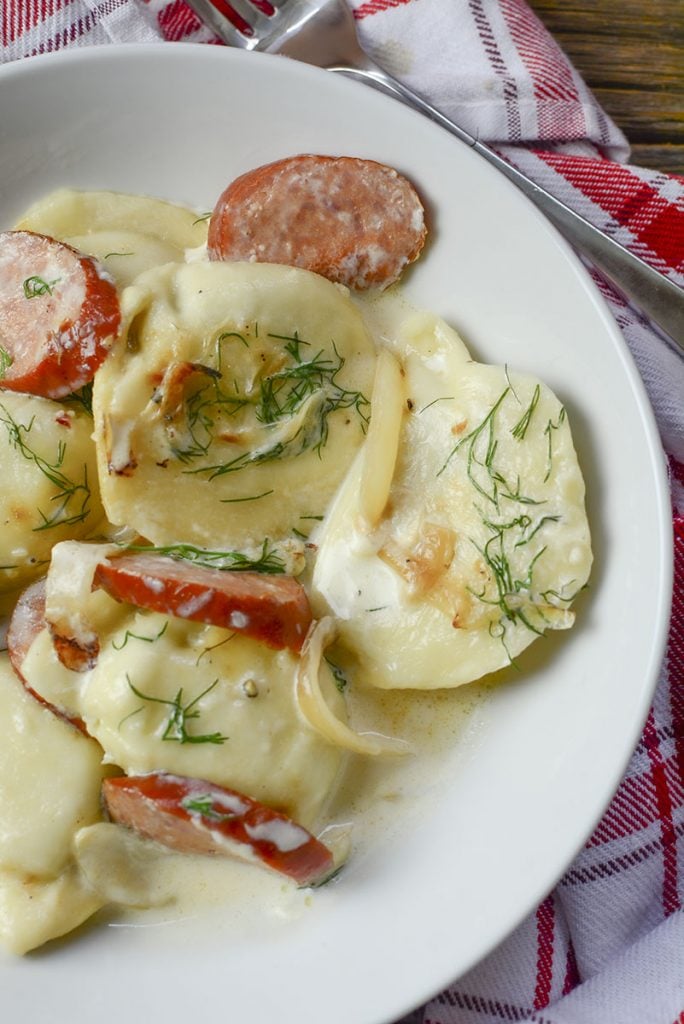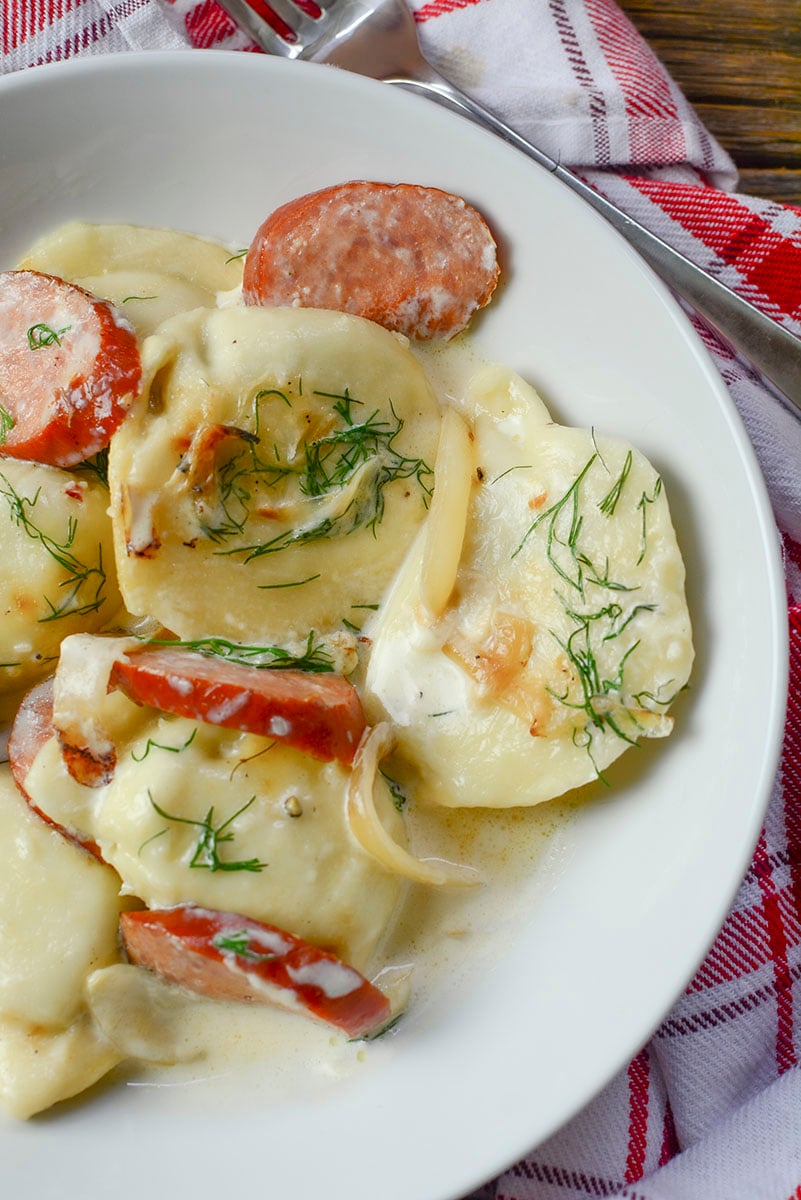 How Do I Reheat the Leftovers?
Aaaaahhh! This is one of my favorite dishes for leftovers! (If there are any!). So when you wrap up the leftover pierogies, keep any cream sauce separate if possible.
When reheating, place a little butter in a fry pan and fry the peirogies so they get a nice golden brown outside (both sides), along with any extra sausage. Then heat up the leftover cream sauce and pour that over the fried pierogies – omgoshhhh… talk about heaven on a plate!!!!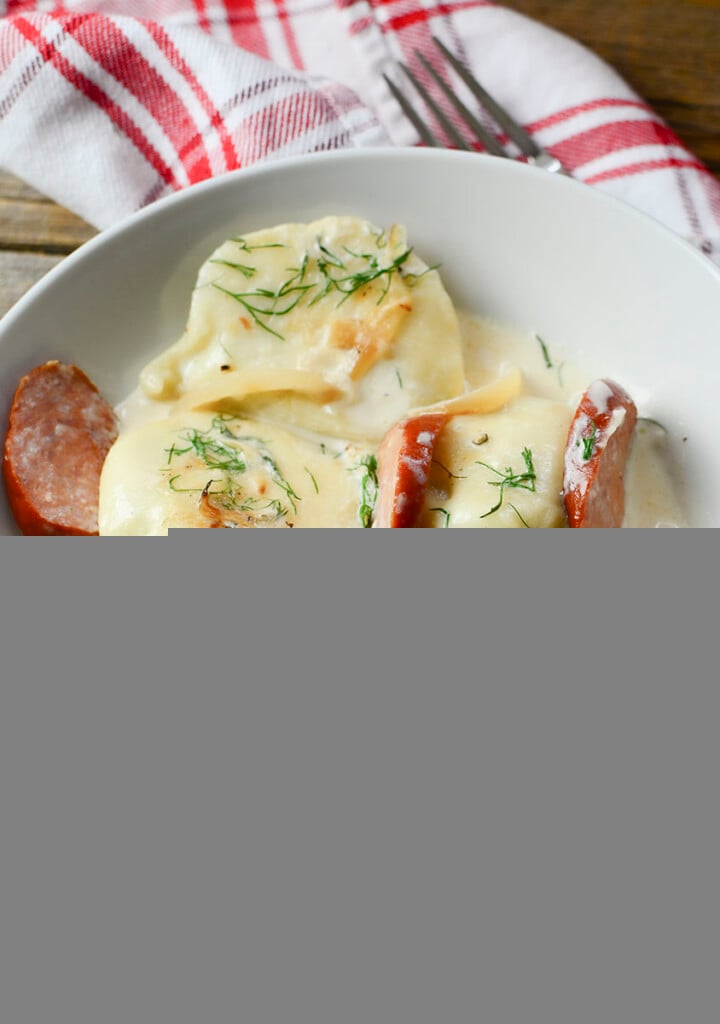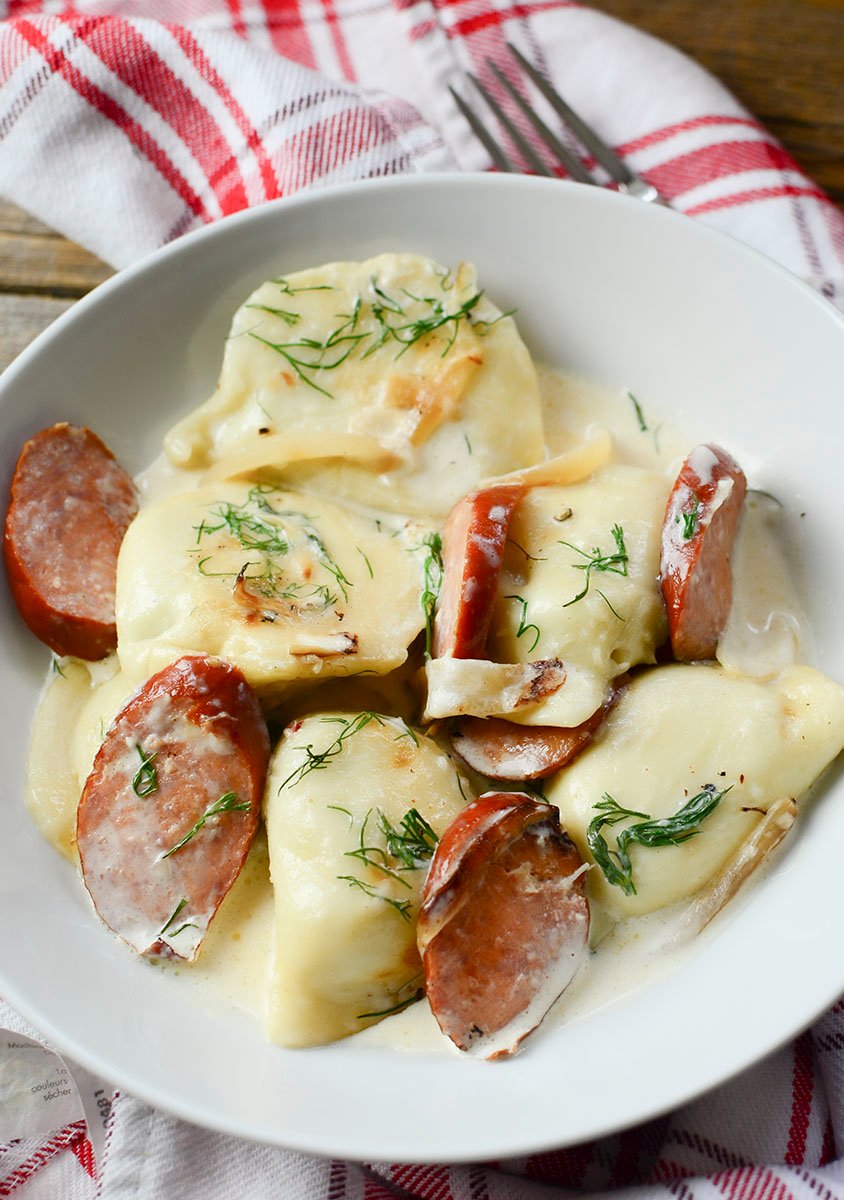 I'd love to hear what you think about this dish when you make it! Did you use sausage or bacon? What flavor of were the peirogies that you chose?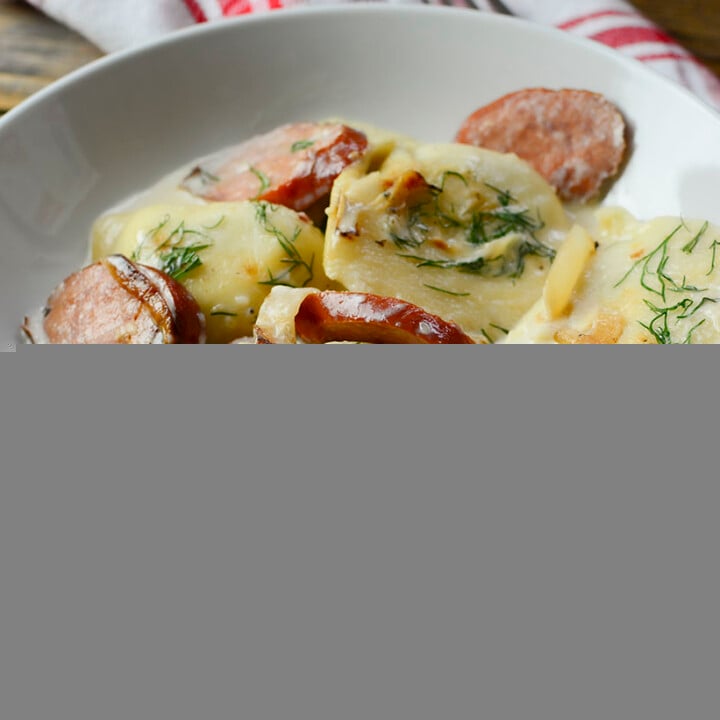 Crockpot Pierogies
Yield:
Approx 24 perogies with sausage
Total Time:
3 hours
15 minutes
Tender pierogies with onions and kielbasa slow-cooked in a cream sauce. One of the best comfort food dinners there is!
Ingredients
28 ounces Pierogies, frozen
12 - 13 ounces Kielbasa, sliced.
1/2 medium onion, sliced
2c heavy whipping cream
2 tbsp butter
2-3 tbsp fresh dill, roughly chopped
as desired, salt and pepper
Instructions
In a frying pan, melt the butter and add the sliced kielbasa and onions. Fry until the sausage has some caramelization and the onions are translucent.
Add that mixture to the crockpot. Add in the frozen perogies and fresh dill.
Add the cream. Carefully give it all a good mix.
Cover and cook on high for approximately 2- 3 hours, stirring a few times during that time.
The dish is done when the perogies are heated through completely and tender.
Notes
Be careful not to overcook the pierogies. Start checking them at the two hour mark. They should be well-formed and not mushy. Cut one if half and test the temperature. If they are hot all the way through, they are ready to serve.

Every crockpot works differently in terms of time to get to full heat so that's the reason to watch them so they don't get mushy.

You can replace the sausage with cooked bacon if you prefer. The bacon may get a little soft so I would reserve half of the cooked bacon to sprinkle on top of each serving.