Yeeesss my friends!! I finally got a craft up on this here blog! And it's the most stinkin' adorable DIY Christmas gift! Reindeer DIY Hot Chocolate Gift! It has the hot cocoa flavors, mixed with a touch of peanut butter chips and marshmallows, all wrapped up in an adorable little reindeer decorated mason jar!! Eeeeek!! I just love how cute this homemade Christmas food gift is!!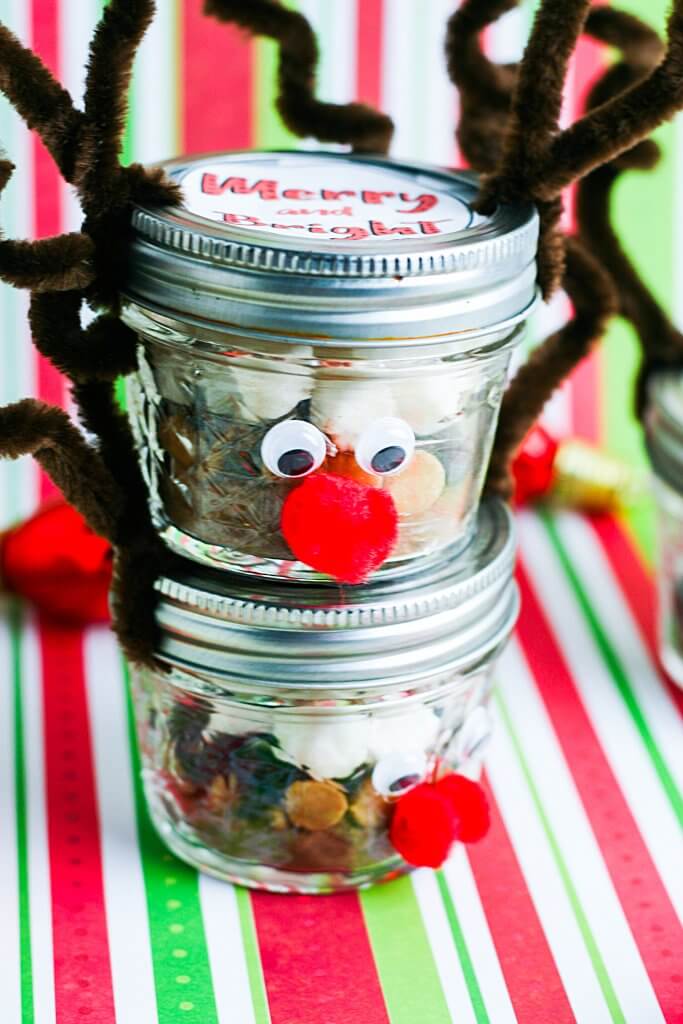 These are absolutely perfect for handing out at school parties or get-togethers. You can even set up a table for building these for kids to do it themselves and make things even easier on you. Try serving these reindeer cookies on the side for an unforgettable experience the kids will be talking about for years.
While the kids sip on their peanut butter hot chocolate you should give this delicious spiced rum hot chocolate a try for the adults.
REINDEER DIY HOT CHOCOLATE GIFT IDEA
Maybe you've seen this type of DIY Christmas gift idea around, but I've, personally, not seen it done in a mason jar. I've seen it with the cellophane piping bag type thing. That's cute in its own right for sure, but I ADORE the fact that after they have their cozy cup of yummy peanut butter hot chocolate, the container is still useful!!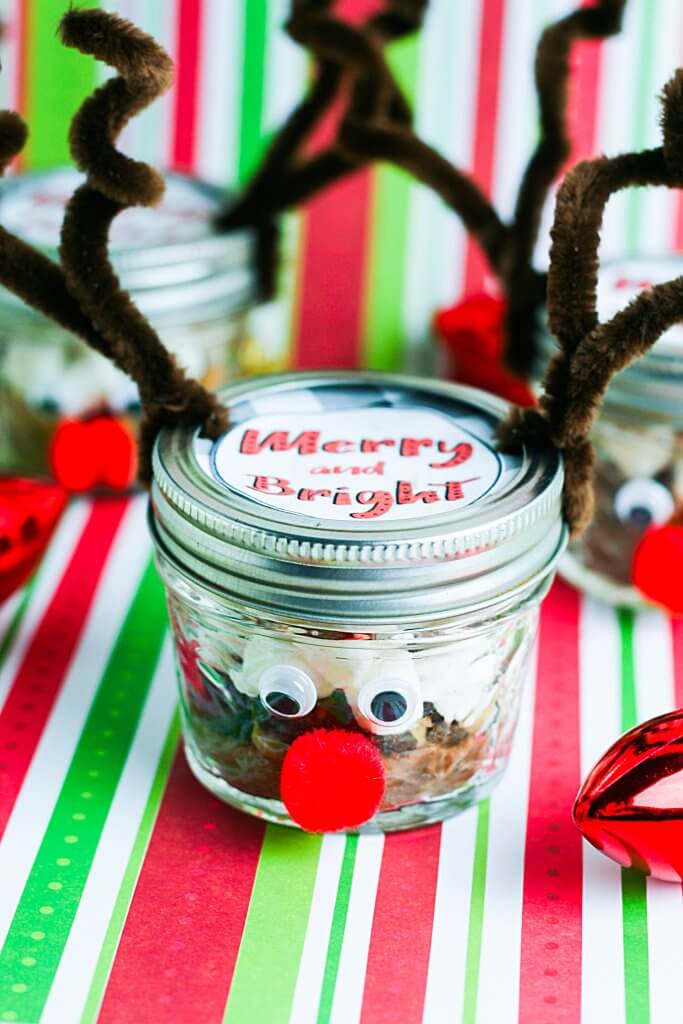 So the ingredients are super easy to get – in fact, you might even have them on hand in the pantry. This mason jar gift recipe is a cute twist on just gifting hot chocolate. The peanut butter and chocolate chips just add a super richness to the drink. You can leave them out, and the cocoa drink will be just fine. Add them if you're feeling fancy!
What do I need to make these cutie patootie reindeer diy hot chocolate gifts???
Super simple, my friend. The ingredient list is below, but feel free to mix things up. If you don't have the ingredients to make the hot chocolate, you can simply use a commercially made hot chocolate mix. Keep in mind though, that to make these Christmas mason jar gifts taste properly, you'll have to add to the jar the amount that the manufacturer calls for on the directions.
Ingredients:
1 cup sugar
⅓ cup baking cocoa
¼ cup powdered milk
One pinch of salt
½ cup peanut butter chips
½ cup semi-sweet chocolate chips
1 cup miniature marshmallows
Supplies:
Directions To Make Your Reindeer DIY Hot Chocolate Gifts: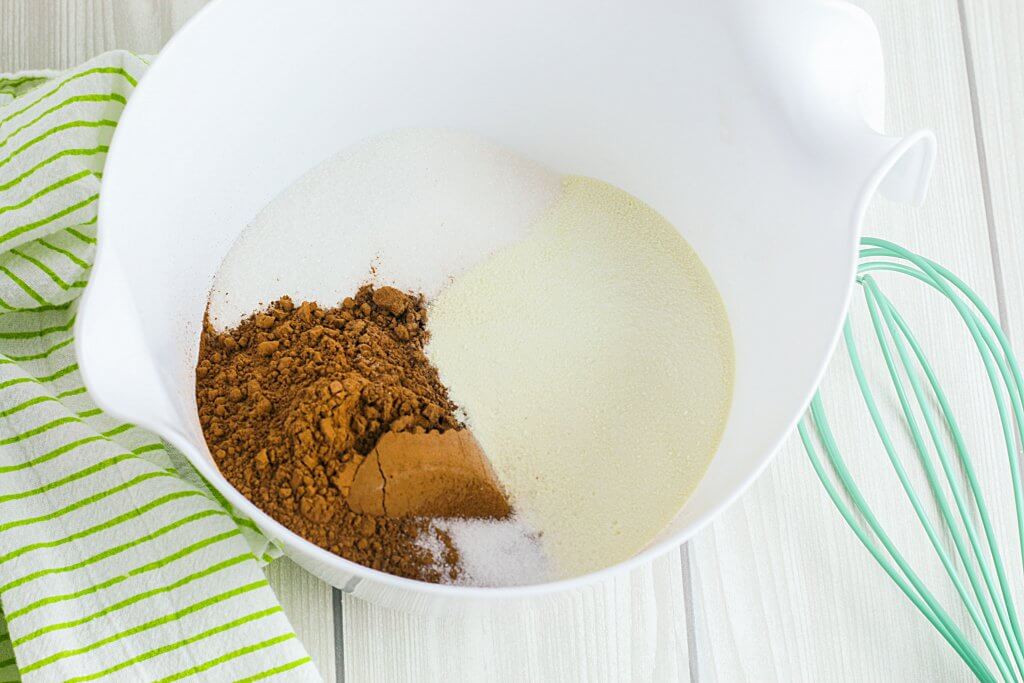 Mix sugar, baking cocoa, powdered milk, and salt in a medium bowl until combined.

Using a canning funnel, pour two tablespoons of dry mixture into each jelly jar.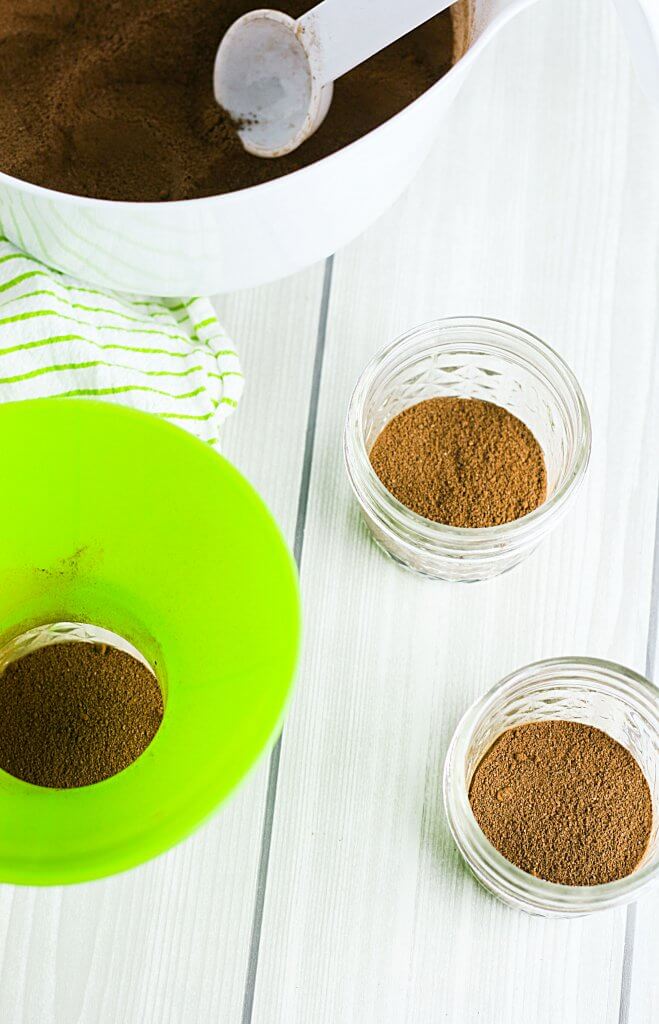 Top the cocoa mixture with a handful of peanut butter chips and a handful of chocolate chips.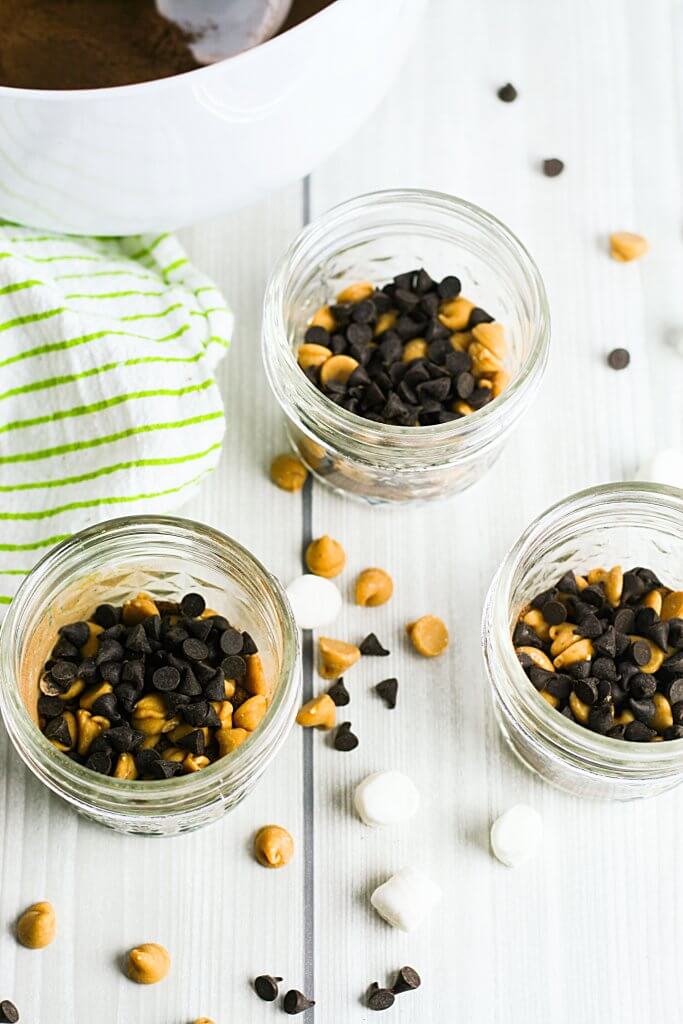 Top the chips with a handful of miniature marshmallows.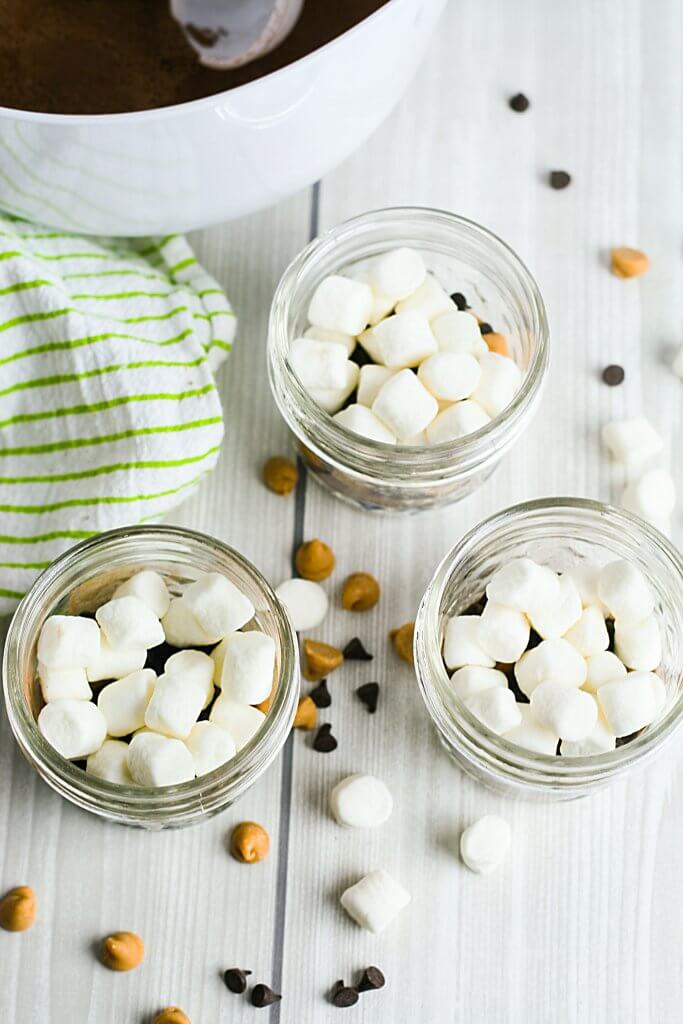 Remove the metal lid from the jar ring and trace 10 circles on the back of your patterned cardstock.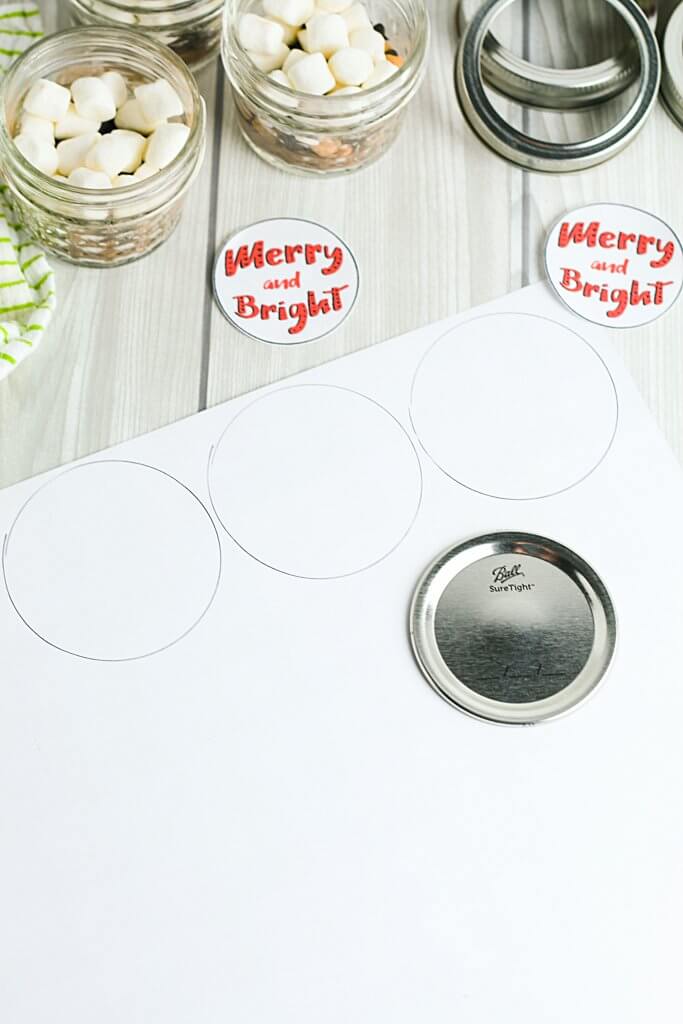 Cut the cardstock circles and printable jar toppers.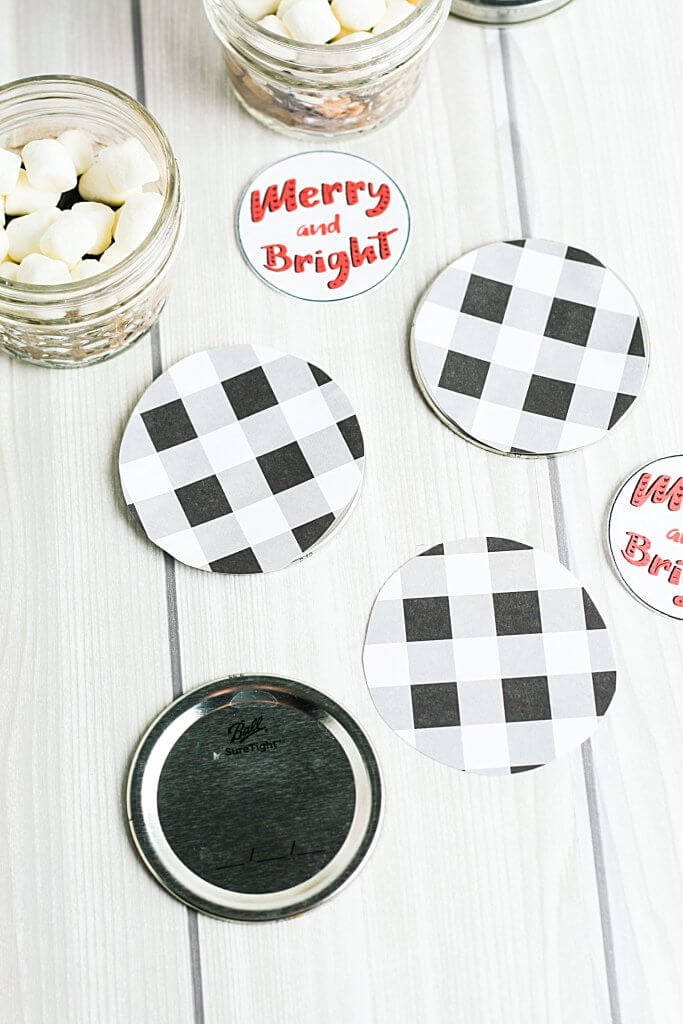 Glue the card stock to the top of the metal lid, then glue the printable jar topper on top of the card stock.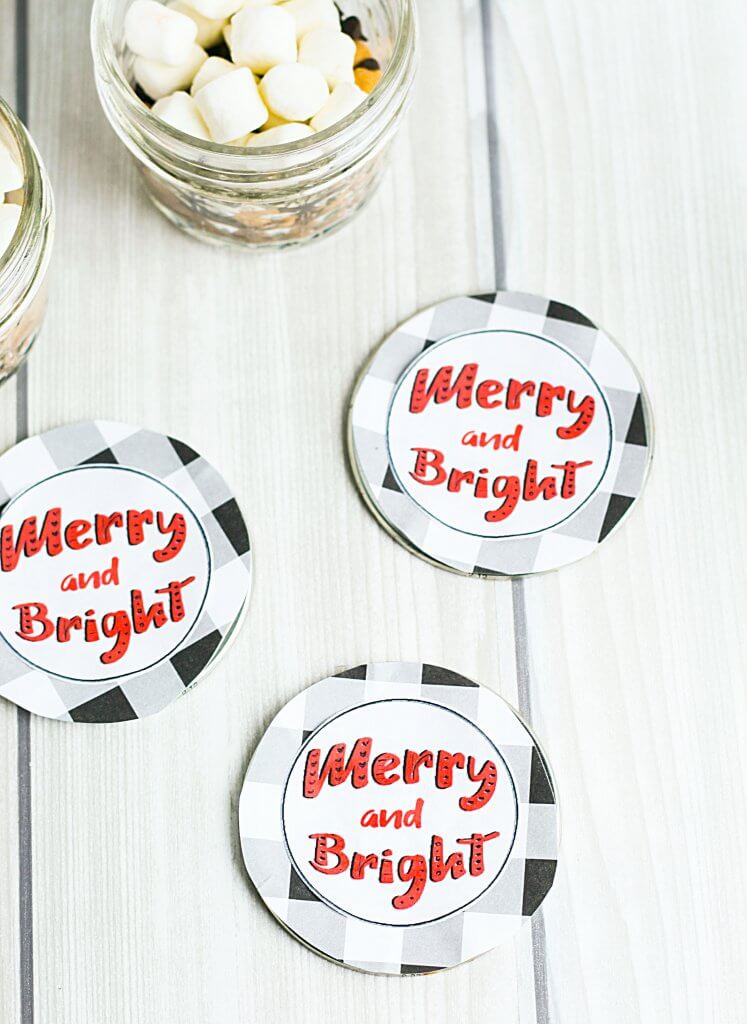 Twist a brown pipe cleaner onto each side of the metal ring. Use a pen or pencil to curl the ends of each pipe cleaner.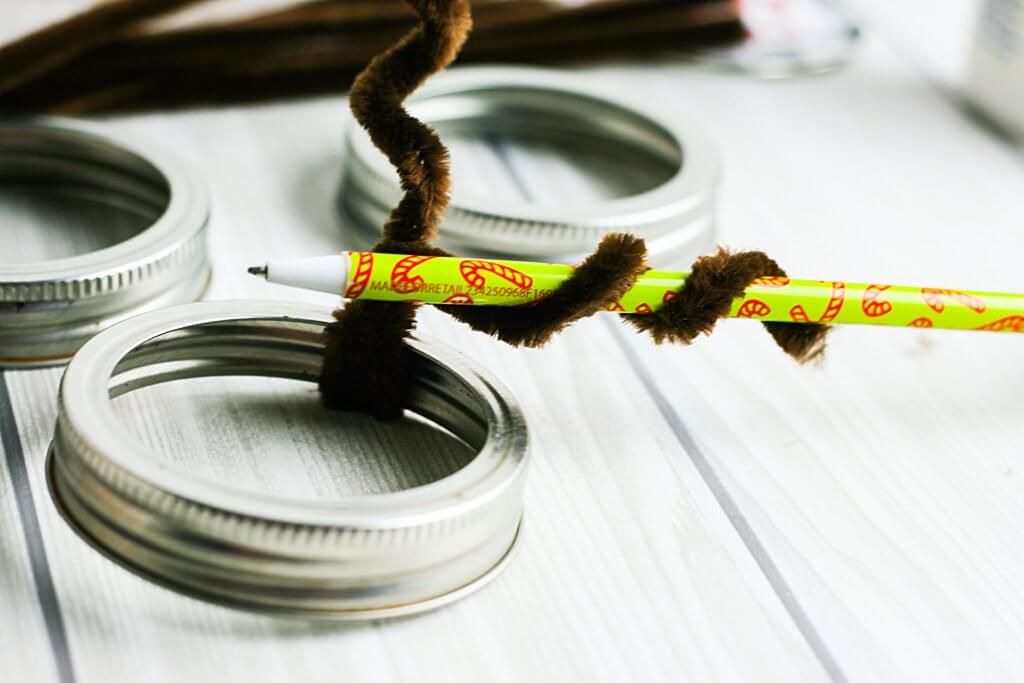 Place the metal lid back inside the lid ring, then twist the lid back onto the jar. To keep the pipe cleaner antlers in place, hold each antler with your fingers as you twist.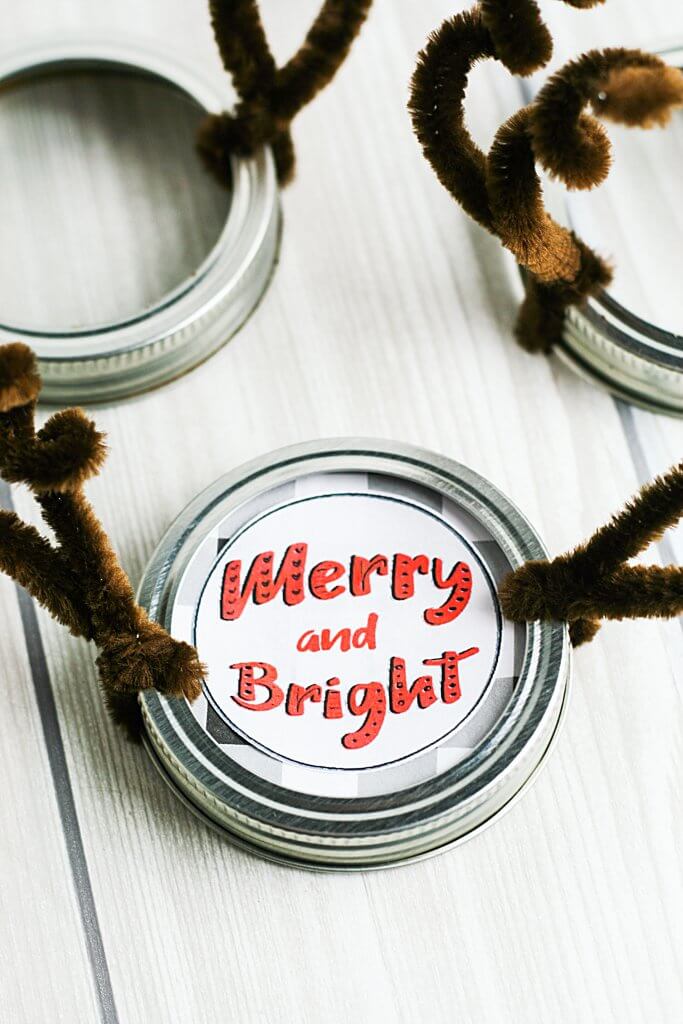 Glue two eyes and a red puff ball as a nose on the front of each jar using a hot glue gun.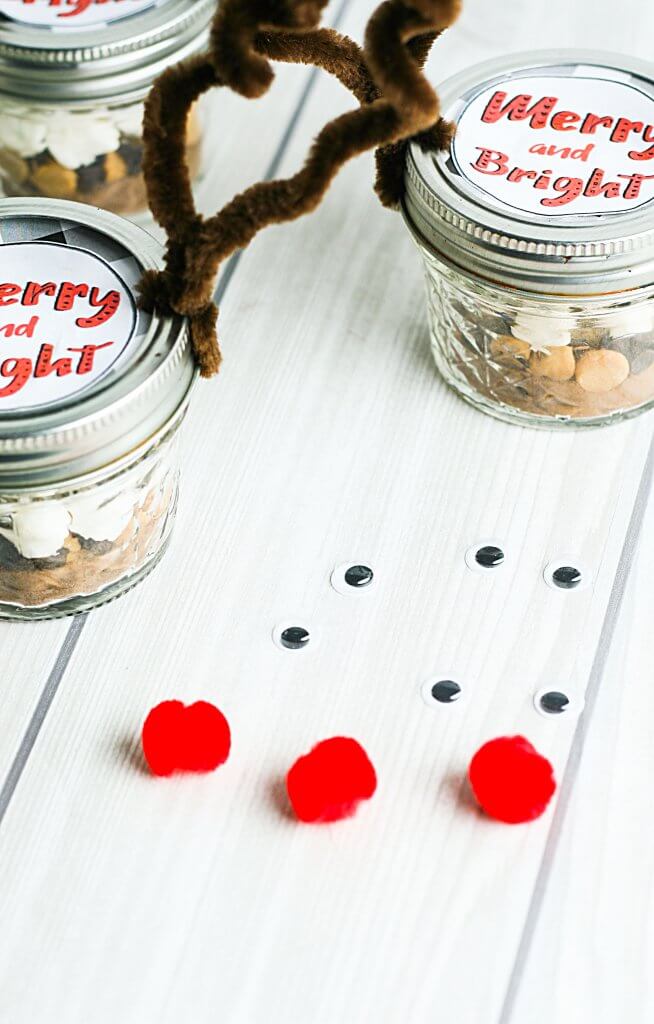 And VOILA!! Reindeer DIY Hot Chocolate Gifts – See?.. soo adorable!!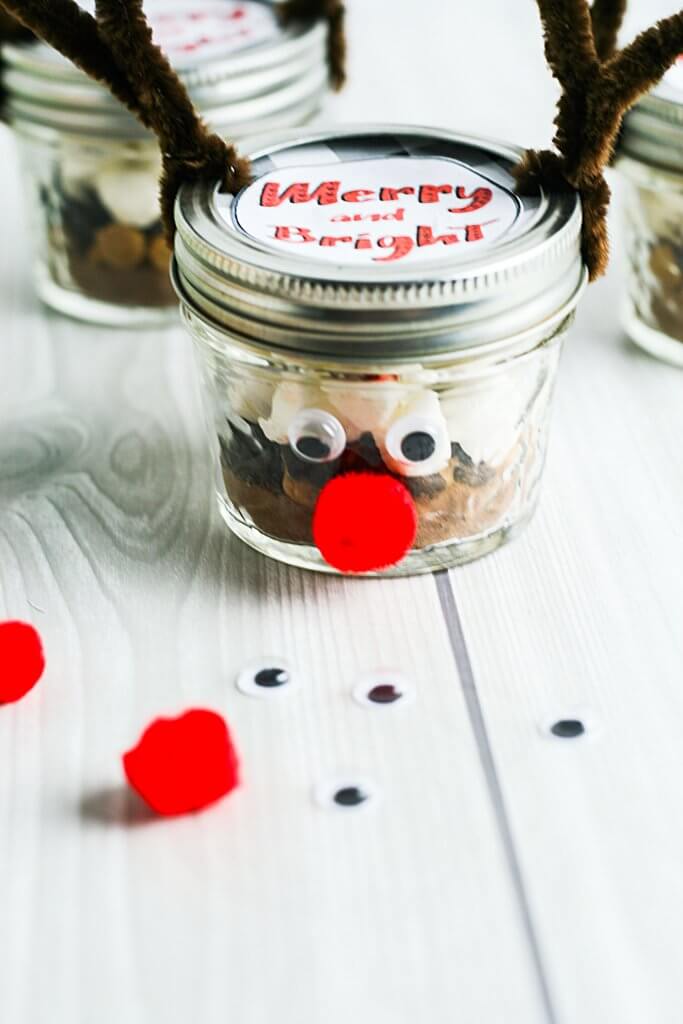 Again, after they're done, they can keep the mason jar and store other things in them like little odds and ends or even tiny game pieces)!
These little reindeer diy hot chocolate gift ideas would be perfect for stocking stuffers!
Or holiday gifts for teachers or your mailman! (Just leave a little hot chocolate Christmas food gift in your mailbox with a pretty tag with their name on it!)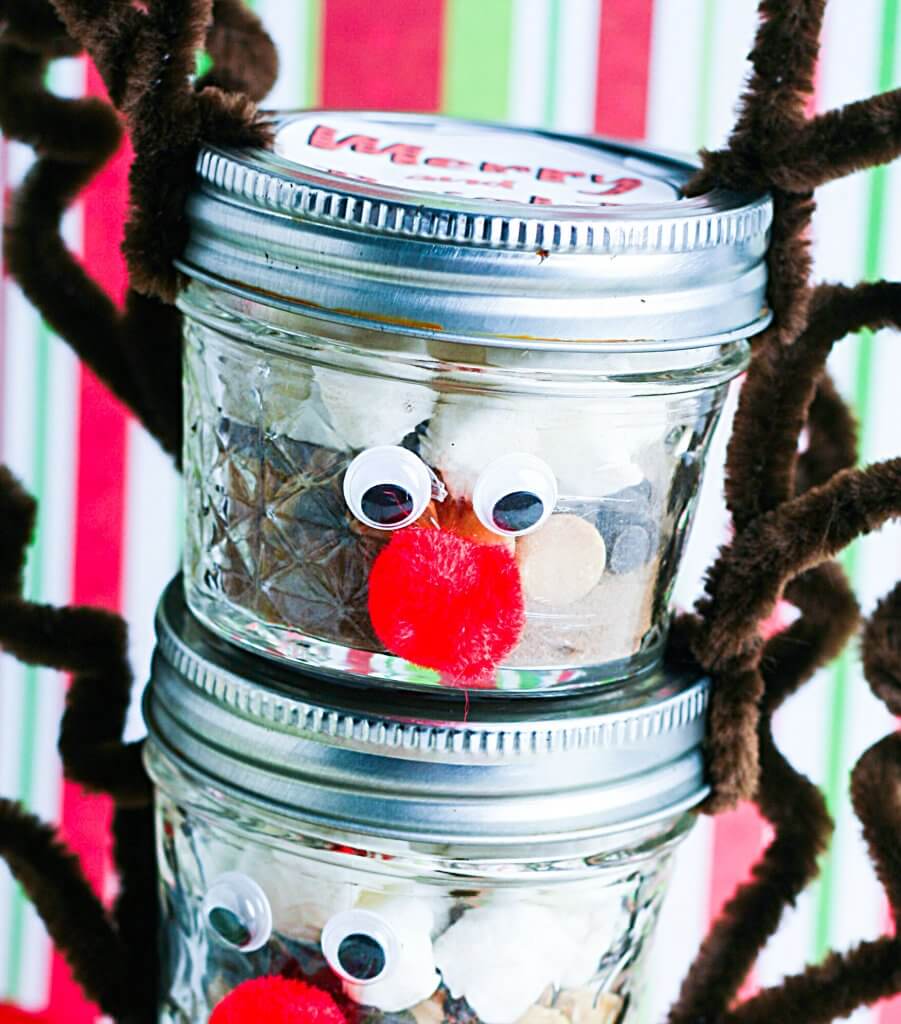 This DIY christmas gift idea is IDEAL for getting little hands to help! They'll love that they make their own gifts to give to their friends!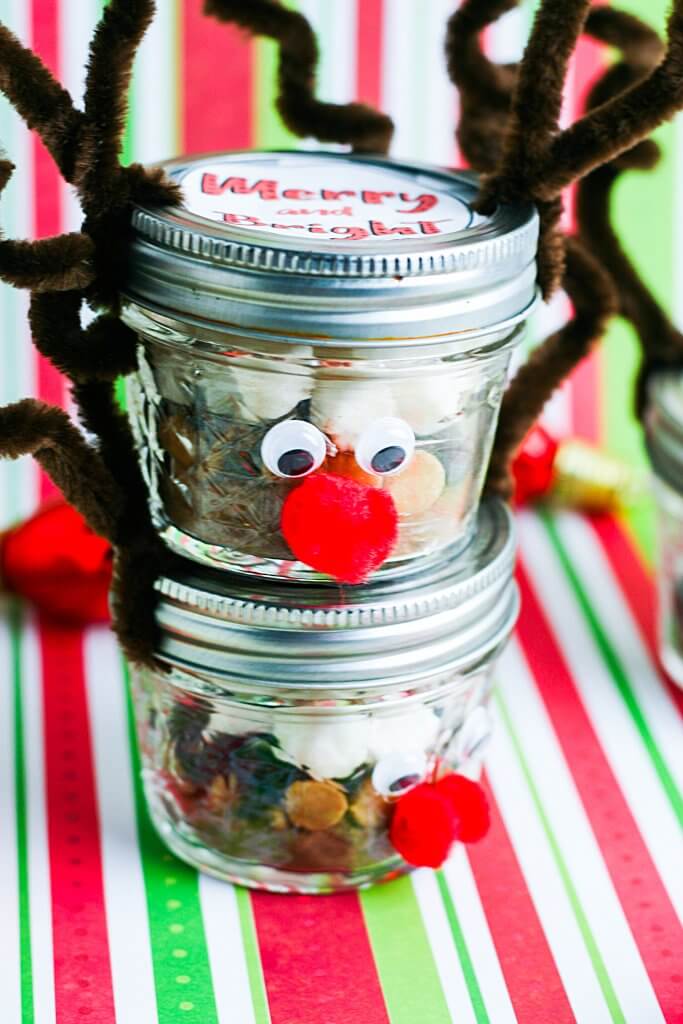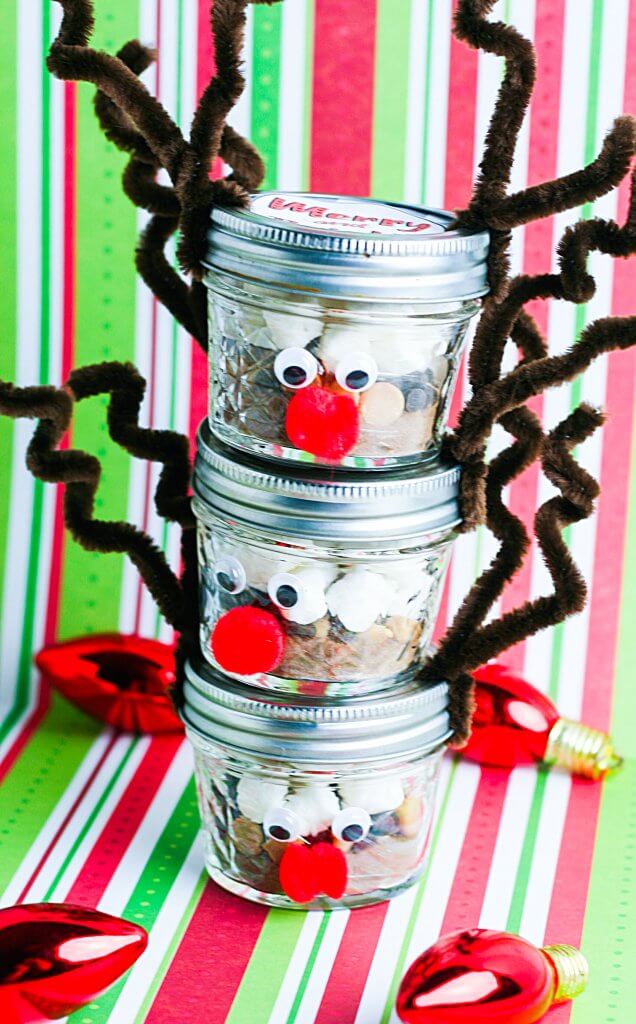 Here is the link for the FREE label printable. Click on the link and just print it out!
CLICK HERE!!! ——–> Reindeer Hot Chocolate Label Printable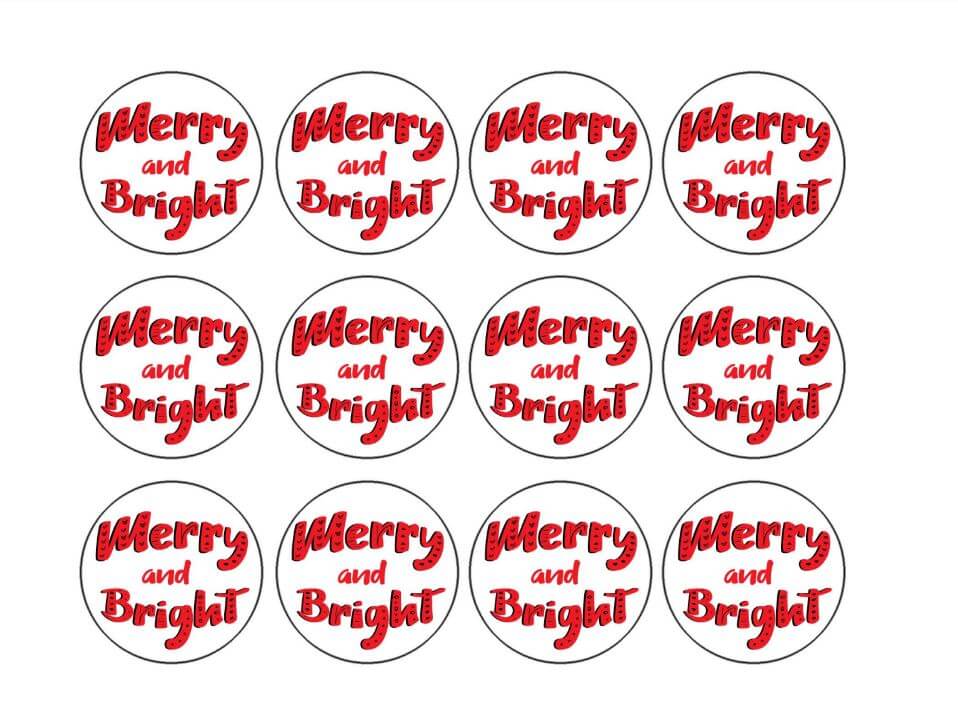 If you loved this sweet reindeer hot chocolate gift idea (and really, how could you not?? lol), and want a few more, check out this round up for easy DIY EDIBLE GIFT IDEAS! I hope you have a wonderful, warm and celebratory holiday season!! Thanks for stopping by The Salty Pot!
******* DON'T FORGET TO PIN THIS REINDEER DIY HOT CHOCOLATE GIFT IDEA TO YOUR FAVORITE PINTEREST BOARD FOR LATER!!*******