If you're wondering how to peel a beet, you've come to the right place. That rough and sometimes hairy outer peel on a beet needs to come off before you can eat it, and I'll tell you today how to do it.
Peeling Beets = Here's a simple way how to do it!
This post may contain affiliate links. If you make a purchase after clicking a link, I may earn a small commission AT NO COST TO YOU. As an Amazon Affiliate, I earn from qualifying purchases.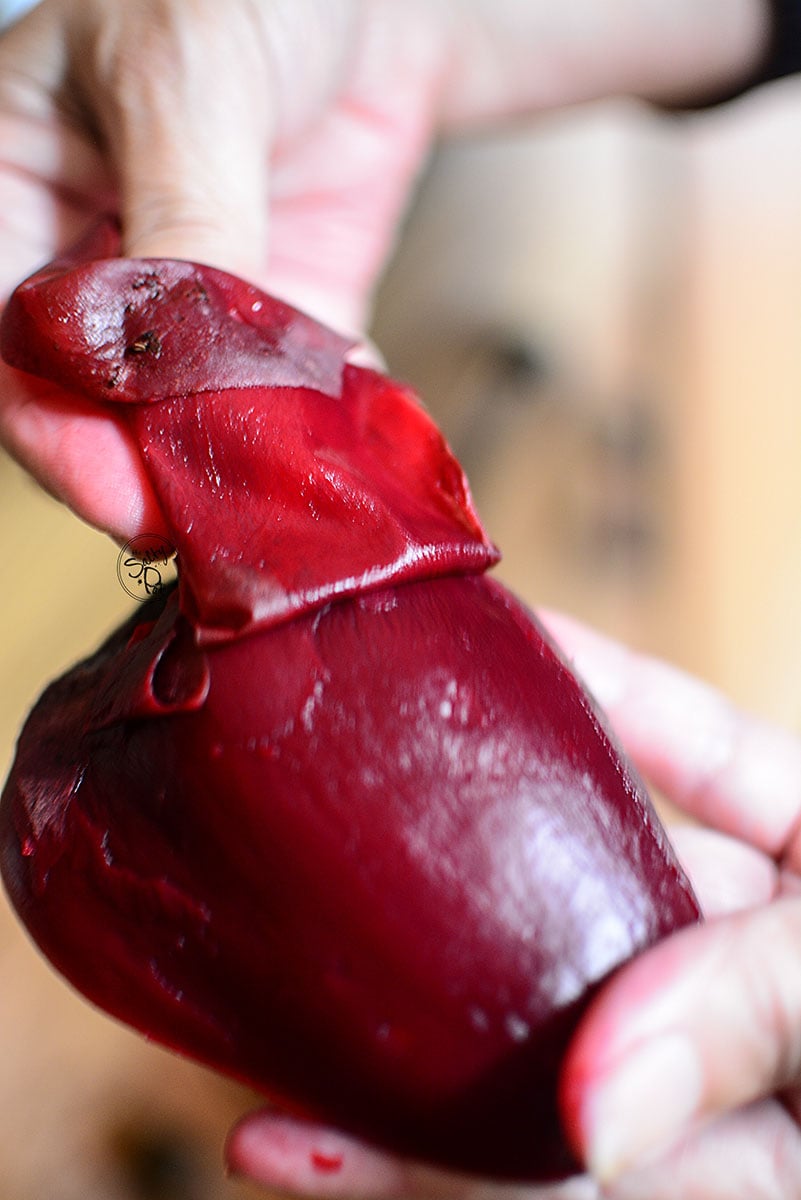 Getting the Peel off of Beets
There are so many ways to eat beets, but we first have to get the skin or peel off the vegetable which can sometimes be a hassle. Depending on what you plan to do with them will depend on the way you peel them.
Ready to put them to use? Here's a quick little guide on peeling beets the right way!
PRO TIP: Make sure to wear some protective gloves. Beets are notorious for staining hands red with their deep scarlet-colored juice!
Peeling Raw Beets
Sometimes the peel on raw beets can be tough and woody to try and remove. You could use a sharp knife to peel it like an apple, and while effective, it might be difficult to do if the beet is too large to fit comfortably in your hand. (Not to mention that peeling a beet this way can be dangerous to your hands if it slips!)
So if you're finding it tough to peel raw beets using a knife, a super easy trick is to just use your potato peeler! A potato or vegetable peeler is a much safer alternative and an added bonus is that it will remove very thin layers of the beet, so you don't waste much.
Wash the beets thoroughly and get off all the dirt or grime that might be on the surface. This way, the peeler will glide over the vegetable, peeling more efficiently.
Cut the taproot and the green leafy ends off. Start to peel the raw beet using the peeler much in the same way you'd use it to peel potatoes. The peel will come off nice and thin. Still, be mindful of your hands as the peelers are sharp too!
Peeling Boiled Beets
You'll be surprised at how easy peeling this stubborn vegetable can become by simply boiling it. Plus, you won't need exceptional knife skills or any crazy or special kitchen tool to get perfectly peeled beets.
Cut the beets in half or quarters, depending on the size of the beet. Again, a sharp knife will make the job easier here, but be careful as beets are like balls, they roll around! It's a good idea to rest the beet on a damp paper towel to prevent it from slipping around.
After cutting, steam or boil the beet until you have the doneness you prefer. The skin on the beet will peel away easily now. Just remember to allow the beets to cool down completely before you start to peel them unless you want scalded hands of course!
The EASIEST Way To Peel Beets
In my opinion, the easiest way to peel a cooked beet is to roast them, WHOLE, covered, in the oven. Wrap them like a present with foil and set them on a baking tray, or put them in a covered baking dish. Roast them until they are cooked and let them cool.
Now, the peels will literally slide right off. It's just the easiest way to get that tough peel off the beet!
How Can I Tell When a Beet is Cooked?
Beets are cooked when you can easily insert a fork into the beet. If there is a lot of resistance and you have to push the fork, then the beet still needs more time to cook.
Tips & Tricks to Remember While Peeling Beets
And here are some cool little tips and tricks to keep in mind while you're peeling beets.
When you're boiling the beets, remember to choose beets that are roughly the same size. This will ensure that all of them are cooked to perfection.
To check if the beets are cooked properly, poke them with a fork to see if they pierce easily.
Ended up with pinkish stains all over your cutting board? Sprinkle a bit of table salt on the board and let it sit for a few minutes before washing it off with some soap and water.
Another cool trick to prevent any stains getting on your cutting board is to cover it with some waxed paper and then get started with peeling the beets.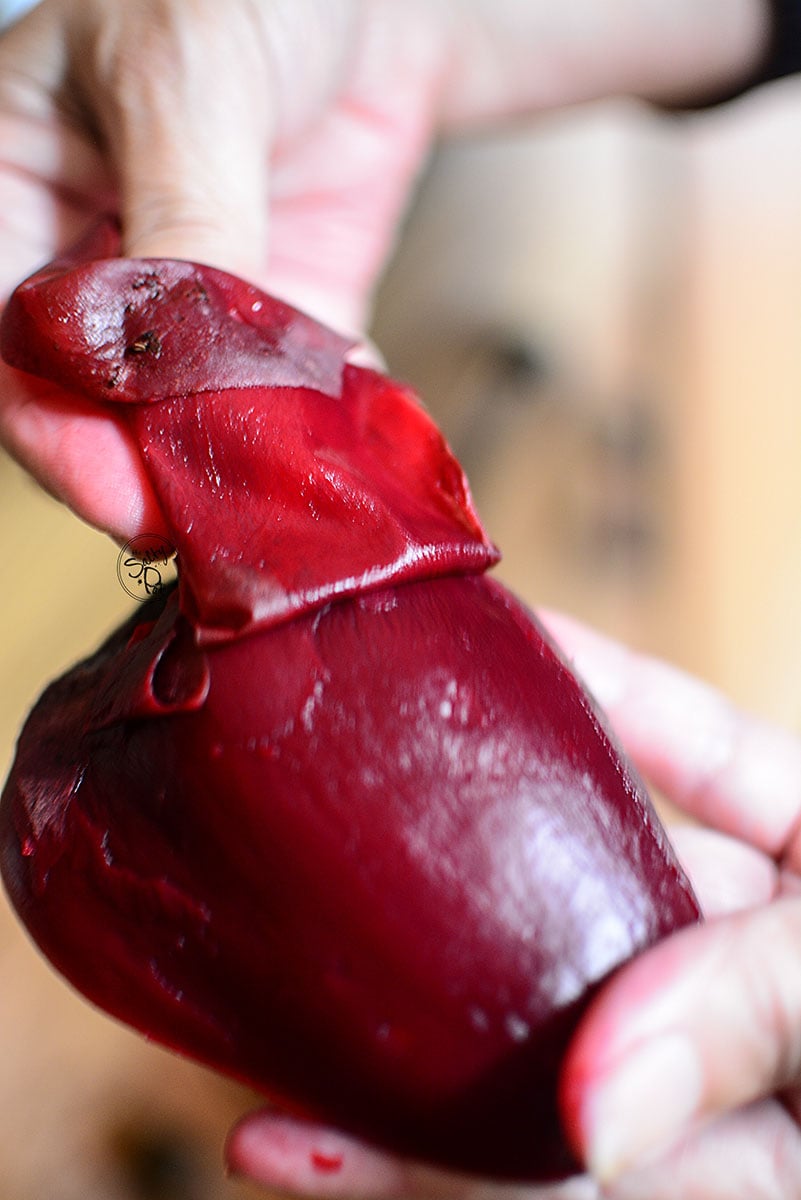 Storing Peeled Beets
Storing your peeled beets is pretty easy.
You can store them peeled in an airtight container and pop them in the refrigerator for about4 days.
Freezing beets is also a great option. Cooked or raw, wrap them tightly with plastic wrap and then in an airtight freezer-friendly container for up to 3 months.
In fact, you can also store the water that the beets were boiled in and use them for your smoothies, curries, soups, and stews.
What Can I Do With Beet Peels?
Don't throw away those beet peels just yet- you'd be amazed at what you can do with them! After scrubbing and peeling the beets, place them on a lined baking tray, drizzle a bit of olive oil on them and sprinkle some salt and bake them until they're nice and crisp to make quick and easy beet chips.
And of course, you can always dehydrate the peels and turn them into a nice beet powder.

Why not try a craft? Dyeing fabric with beets is a great project to do with your little ones!
Well, my lovely readers, I hope I was able to show you different ways on how to peel a beet. I personally love beets and they are such an amazing vegetable! If you're looking for more information, why not check out my article on Easy Beet Recipes!
What is your favorite way to eat beets? Let me know below, I'd love to hear! Thank you for stopping by The Salty Pot today and I hope you have a fantastic day!