Lilac sugar may not be the first thing that comes to mind when you think of these fragrant
flowers but this flavored sugar will add a floral sweetness to everything from shortbread cookies to a glass of delicious iced tea.
This post may contain affiliate links. If you make a purchase after clicking a link, I may earn a small commission AT NO COST TO YOU. As an Amazon Affiliate, I earn from qualifying purchases.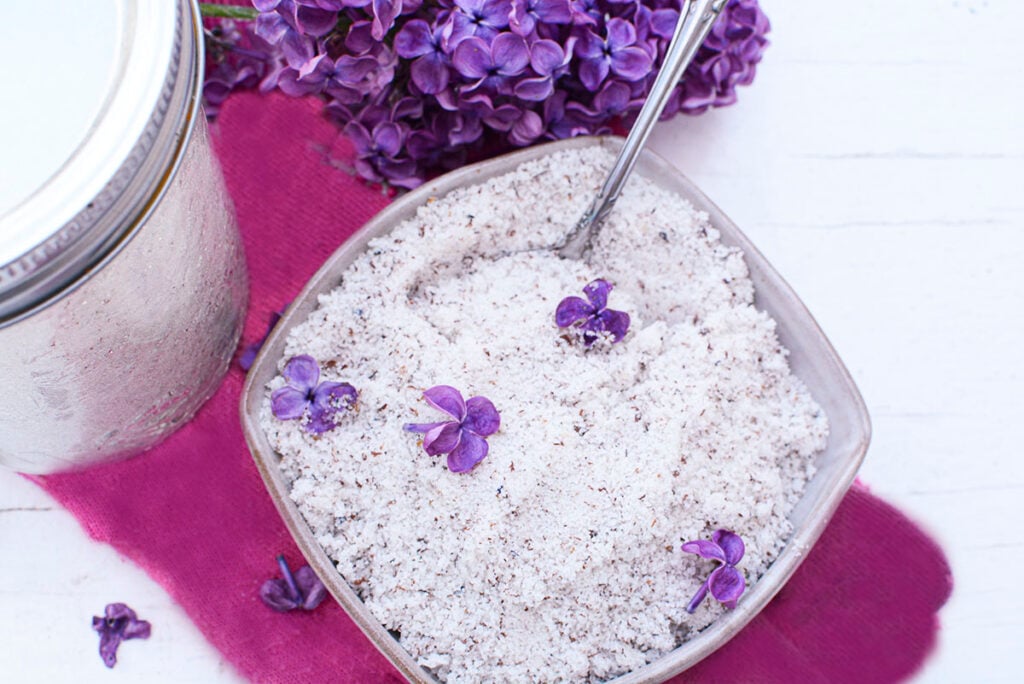 Why You Will Love Lilac Sugar

I'd say most people won't make a connection between beautifully scented lilac flowers and regular castor sugar. But, the truth is this can be an amazing addition to your kitchen.
This unconventional sugar is excellent for things like adding a hint of sweetness to topping muffins, cookies, and cakes.
It's a great addition to your herbal teas or to use as sprinkles for ice cream sundaes or adding a bit of sparkle when frosting a cake.
Having a special condiment in your pantry as well as making use of plants in your backyard is always a wonderful thing!
A Special Mention about Lilac Trees
I have a massive lilac tree in my backyard and recently discovered that these flowers are edible! They can
be used for things like lilac sugar and even homemade jelly. (I will be trying that this year!)
One very important thing to keep in mind, if you are foraging for lilacs for making your own lilac sugar, you want to be very careful because there is a species of Lilacs that are called Chinese Tree Lilacs that are
highly toxic.
Be very careful to properly identify your flowers if you did not plant the tree yourself. There are a number of plant/tree identifier websites and apps, like PlantNet.Identify that allows you to upload a photo of your plants and it can help identify the species through some research, you can find out anything about the plant you're dealing with.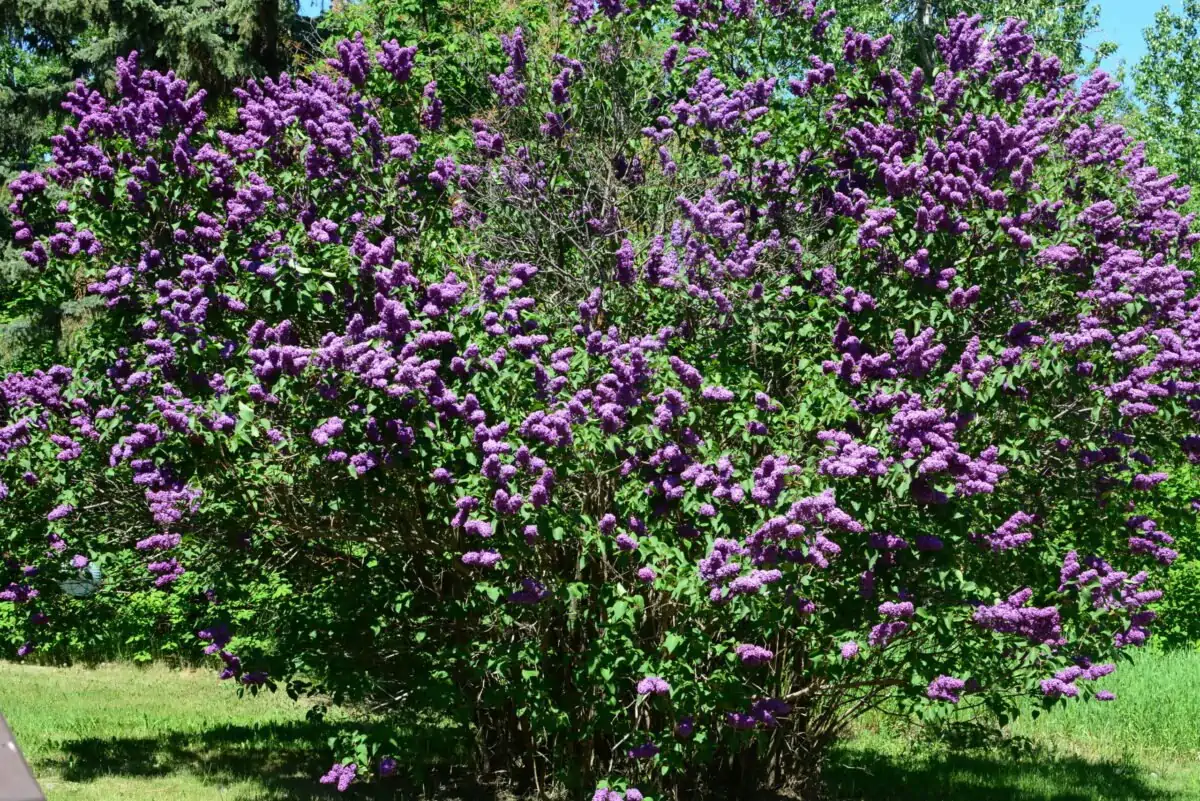 How To Make Lilac Sugar

After picking the lilac bloom stems, you'll want to sort your flowers making sure to remove all of your green stems. Even the smallest amount of these green stems can leave your lilac sugar tasting bitter.
To make sure all bugs and debris are removed from your flowers after picking you can submerge them in a sink of water for a few minutes. This will make bugs rise to the surface to be strained away, then gently remove all the water using a salad spinner, or clean tea towel.
Allow the flowers to completely dry before moving on. (I left mine a few hours. It's important to have no remaining water in the blooms).
Pick all the petals off the stems into a bowl. (The petals may be a bit wilty at this point, but that's totally fine.) Combine the flower petals with the sugar and mix well. Transfer the contents to a large jar with enough room to give the sugar a good shake from time to time.
I highly recommend shaking the jar couple of times a day for about a week. To make this easy place your jar somewhere you pass often in a highly visible space. On the kitchen counter is usually a great
option but you could also leave it on your coffee table where the sugar is seen every time you sit
down and gives a nice decorative flair to the space.
Shake very hard to help break up any clumps that form due to the moisture in the lilacs. After a week if your jar still contains a lot of moisture pour your lilac sugar out onto a silicone sheet or parchment paper-lined baking dish and leave to air dry. To hasten the process, place the sugar in your dehydrator or place it on a lined baking sheet, and at the lowest temperature your oven will go (not over 200 degrees F) for about 10 minutes to help remove the moisture without melting the sugar.
After your sugar is dry, run it through your food processor to break up any clumps and reduce the flowers
to dust.
How to Store Lilac Sugar
If your homemade lilac sugar is properly dried it will store well. The flowers will change color and that's ok. The fragrance will be transferred to the sugar and I recommend keeping them in a jar/container with an air-tight lid. until the flowers lose their color and
fragrance.
Store in a cool, dry, dark place for the longest lifespan. Lilac sugar should store wonderfully for at least 6
months.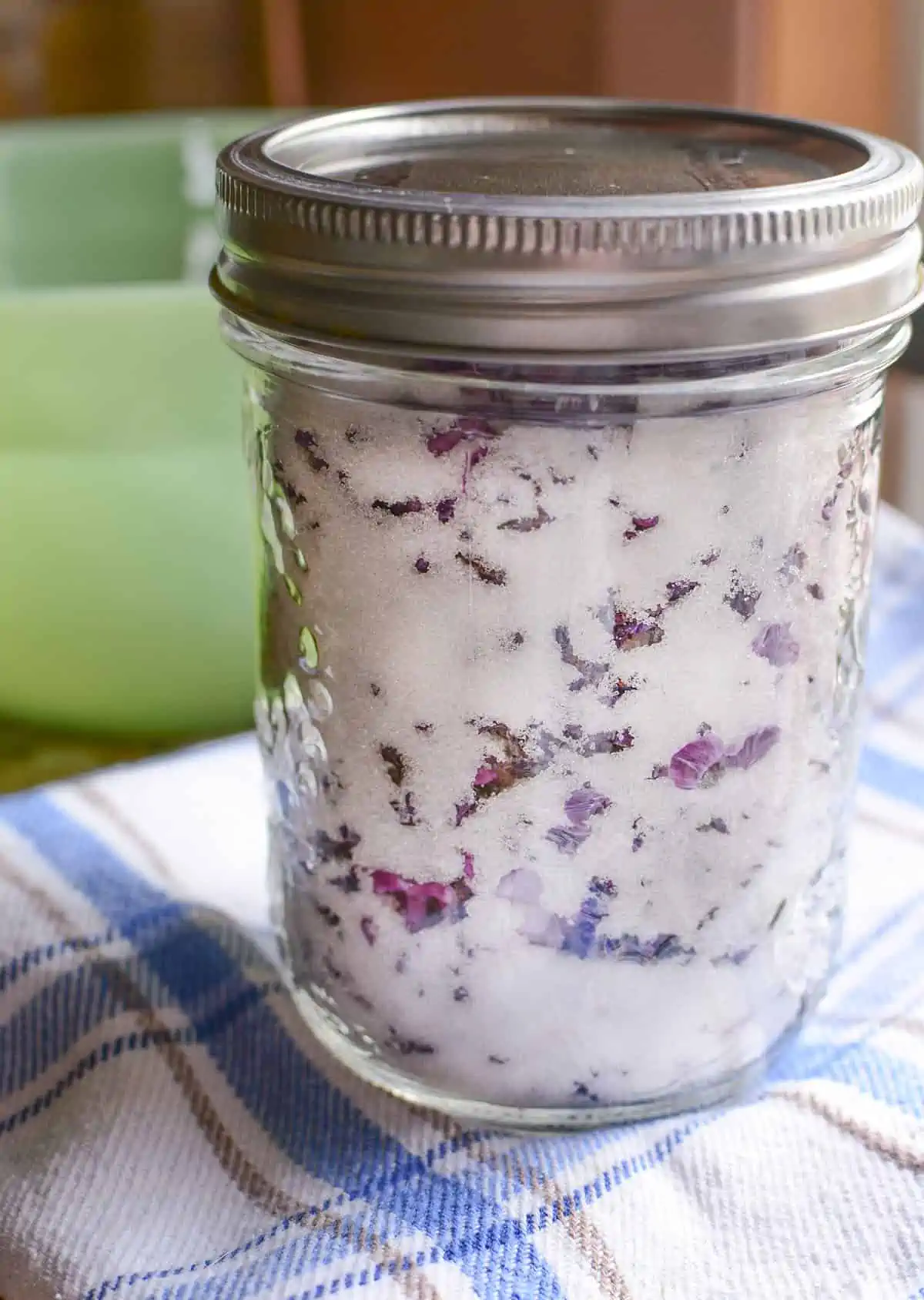 Homemade Lilac Sugar
Lilac sugar is delicately scented and flavored sugar that can be used in many baking applications, as well as flavoring frostings and cookie toppings. So delicious!
Ingredients
1 cup granulated/castor sugar
½ cup lilac blooms (petals taken off the stems)
Instructions
Gather approximately ½ cup of lilac blooms. *see notes.
Carefully rinse the blooms to remove any debris or bugs left in the blooms. Dry gently.
Lay the flowers onto a towel or tray to completely dry. *see notes.
Remove all the blossoms after they are dry. Discard the stems.
Add the blossoms into a bowl with the sugar. Mix well.
Transfer the infused sugar to a mason jar or container with a tight-fitting lid.
Leave the mixture in the jar, shaking a few times a day, for up to a week or two.
Use the lilac sugar for your drinks, cookies, or any other baking.
Notes
Be sure to read the body of the post for being able to identify the species of the lilacs.
It's important to completely dry the blooms so that when they are mixed with the sugar in the jar infusing, nothing will stick together.
Nutrition Information:
Yield:

32
Serving Size:

1 tablespoon
Amount Per Serving:
Calories:

24
Total Fat:

0g
Saturated Fat:

0g
Trans Fat:

0g
Unsaturated Fat:

0g
Cholesterol:

0mg
Sodium:

0mg
Carbohydrates:

6g
Fiber:

0g
Sugar:

6g
Protein:

0g
All nutritional information is based on third-party calculations and is only an estimate. Each recipe and nutritional value will vary depending on the brands you use, measuring methods, and portion sizes per household.