Banket (aka Banketstaaf), is a popular Dutch Christmas delight that's the perfect sweet pastry treat for this holiday season. 
A roll of almond paste is wrapped up in a nice flaky puff pastry, then brushed with apricot jam and baked until nice and crispy. 
With absolutely no kneading, no fancy ingredients, and barely 10 minutes of kitchen time, you can put this delightful and fancy-looking sweet treat together. 
I love the idea of making these along with my reindeer wagon wheel cookies and my festive peppermint bark fudge and serving them for my holiday parties. 
Dutch Banketstaaf Pastry Dessert
Ingredients For This Banket Recipe
Puff pastry: Puff pastry acts as the outer coating for the marzipan logs. It has a nice, flaky texture and turns crispy when baked, which lends the perfect texture contrast. 
Almond paste: Also known as Marzipan, almond paste acts as the filling for the Banket. You should be able to find it in any grocery store near you. 
Egg: Brushing a whisked egg on the top of the puff pastry helps it get that beautiful, shiny glaze on the outside. 
Apricot jam: Apricot jam, brushed on the outside, adds that delightful sweetness to the Banketstaff. 
Flaked almonds: This one's optional, but you can also choose to sprinkle the outside of the log with some slivered or flaked almonds for that extra texture. 
How to Make Banket
Roll the puff pastry sheet into a rectangle on a lightly floured surface.
Roll the almond paste into a log shape, slightly shorter in length than the length of your puff pastry.
Place the log on your puff pastry sheet, fold the sides, encasing the marzipan log inside, and roll the pastry sheet on it, covering it completely. 
Brush with some beaten egg and bake until golden brown.
Remove when baked, allow it to cool down a bit, brush on the apricot jam, and top with slivered almonds and confectioner's sugar.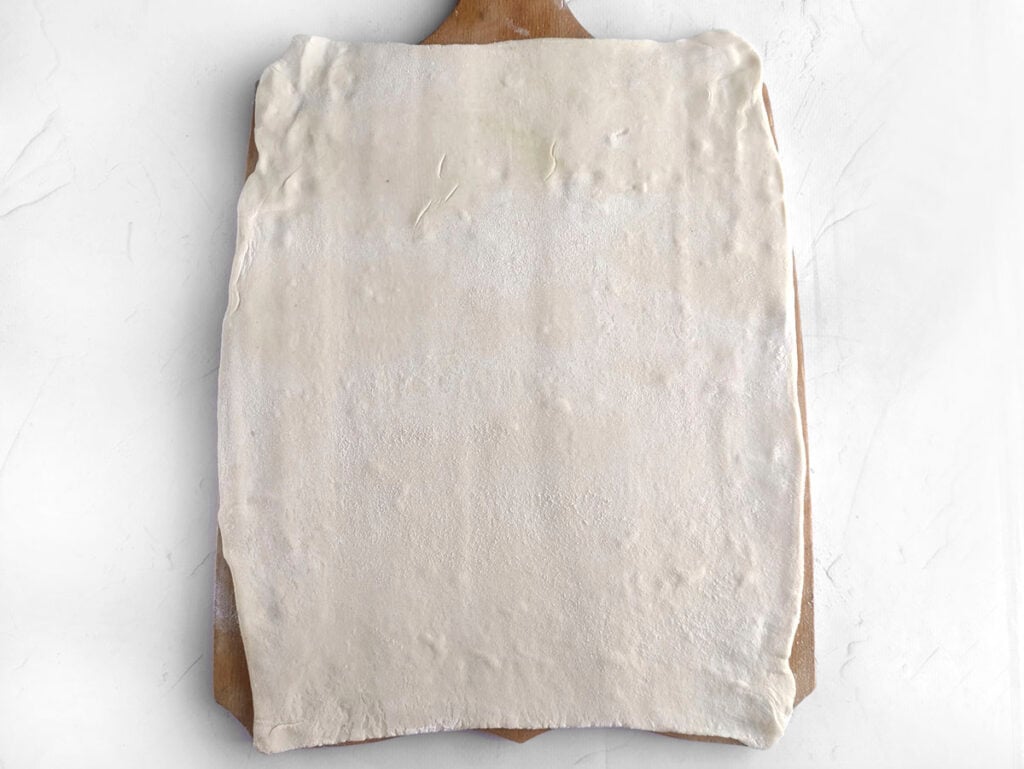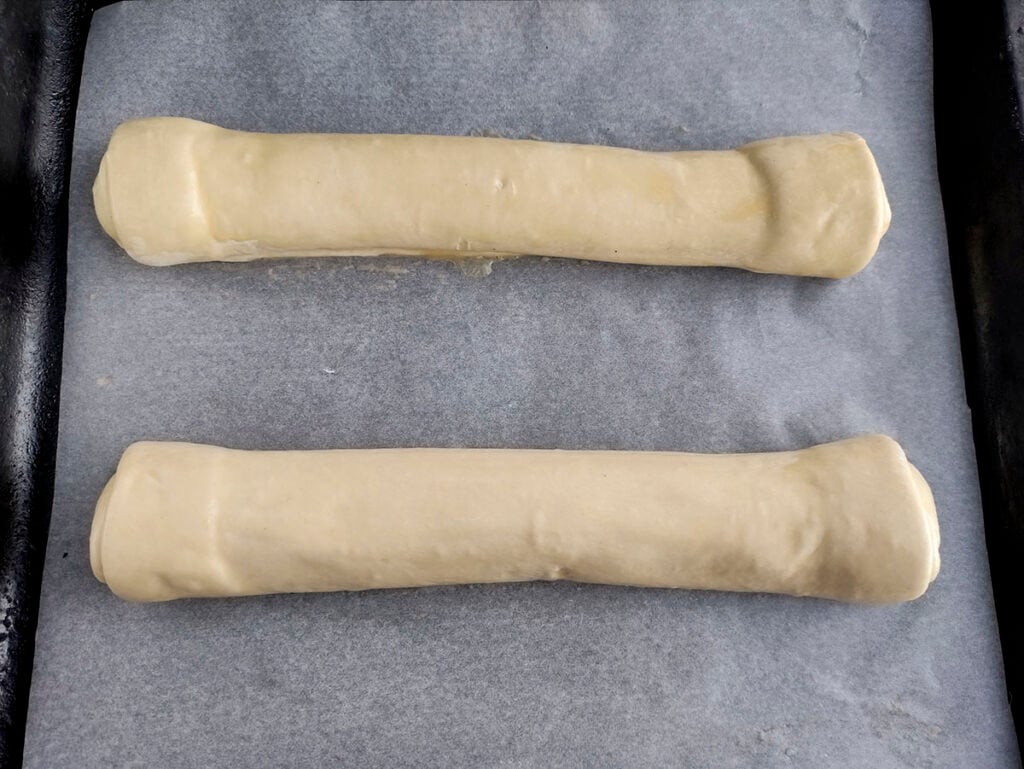 Tips & Variations for this Almond Banket Recipe 
To add some extra flavor and freshness to the Banketstaaf, you can mix some lemon zest or orange zest into the marzipan.
You can also dust a healthy amount of confectioner's sugar on the top of the Banket after it is out of the oven. 
You can also choose to prep this marzipan log in advance. After you're done assembling it, cover it up tightly with some cling wrap and refrigerate it for up to 2 days. Then, all you need to do is bake it until it is golden brown. 
You can also shape the marzipan logs in letters or any other shapes of your choice to bring a bit of variation.
Another great idea is to drizzle the logs with some chocolate sauce, right before you serve.
How to Serve Banket Pastries
Banket can be a great addition to your holiday spread. You can team it up with some other sweet holiday creations like old-fashioned butter tarts or some whipped shortbread cookies or any of your favorite festive desserts and snacks.
Serve it with warm beverages like coffee, tea or even hot chocolate would be divine. And, if you want to go with a more adult beverage, try it with my Advocaat Snowball cocktail, a tradition we have every Christmas Eve.
Storage Ideas & Suggestions
You can refrigerate your leftover Banketstaaf for up to 2 days. Cover it up in cling wrap or transfer it to an airtight container to keep it fresh.
I would recommend reheating it in the microwave or the oven for a few minutes before you serve it.
I wouldn't recommend freezing it, because I don't think the texture of pastry is as nice as it is after baking.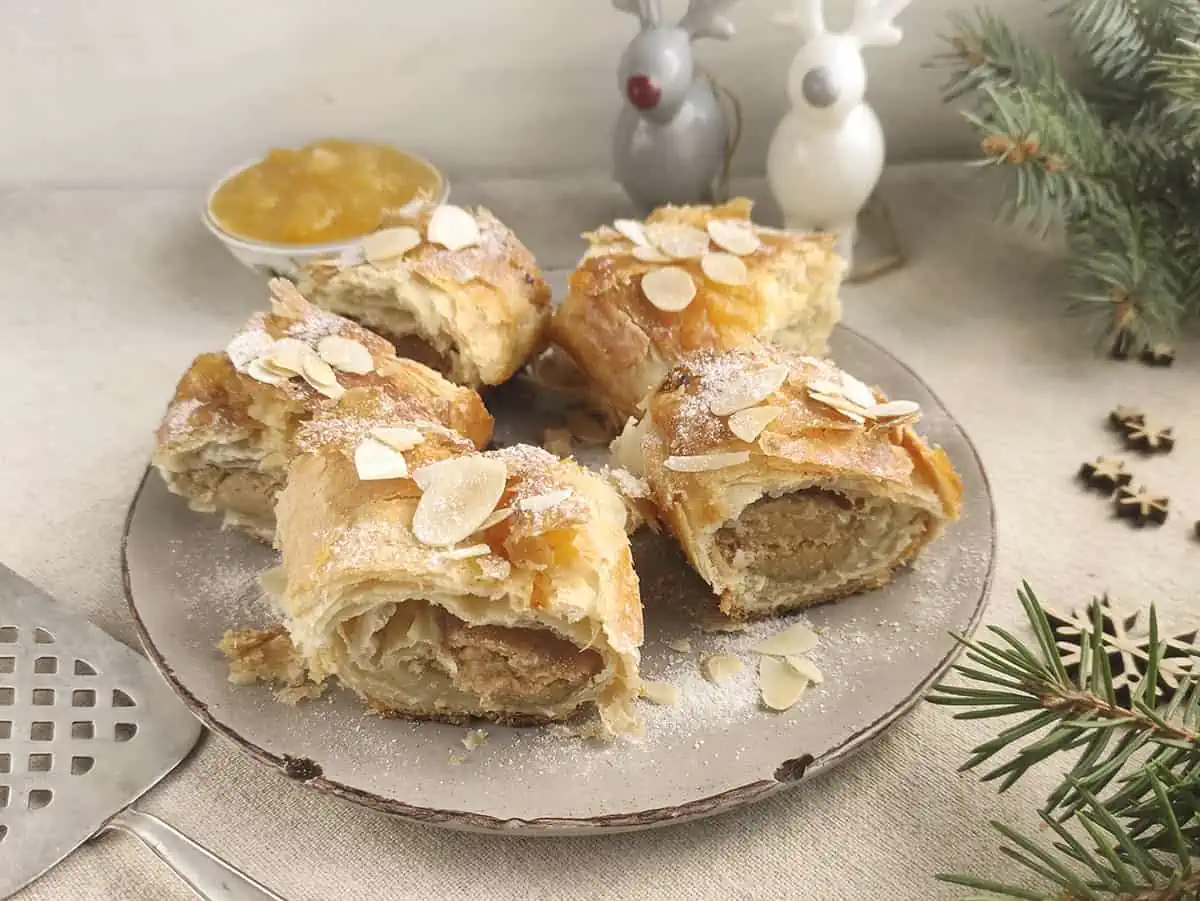 Questions You Might Have
I can't find almond paste anywhere. Now what?
If you can't find almond paste, or, marzipan, in any specialty stores or grocery bakeries, you can easily make your own using regular almonds and a few other ingredients.
How long will homemade marzipan last?
Wrapped tightly with plastic wrap and kept in the fridge, it will keep for up to a month or two. It's important that it's kept chilled. If kept at room temperature, it will quickly go slightly off or dry.
Can I freeze almond paste?
Yes. Wrapped tightly in plastic wrap and stored in a freezer-friendly container, you can freeze almond paste for up to 6 months. Note: this is freezing the paste only, not the entire dessert with the cooked pastry around it.
Did you make this Dutch Banket recipe? I'd love to hear your feedback in the comments below, and please don't forget to leave a star rating in the recipe card! Thank you for stopping by The Salty Pot, and I hope you have a fantastic day!
~Joanne
Banket (A Dutch Pastry)
Additional Time:
5 minutes
Discover the timeless delight of Banket, a classic Dutch pastry cherished for its flaky crust and rich almond filling. This Banketstaaf recipe guides you through the steps to create an authentic Dutch treat that's perfect for any occasion.
Ingredients
2 sheets Puff pastry, frozen
10 ounces marzipan or almond paste. (300 grams)
2-3 tablespoons Apricot jam.
1 egg
Garnish: Flaked almonds, and powdered sugar if desired for serving
Instructions
Preheat the oven to 400F and cover a baking sheet with parchment paper. Set aside.
Allow the puff pastry to thaw for about 20 minutes. (See notes)
While the pastry is thawing, crack open and beat the egg in a small bowl. Set aside.
When the pastry dough is still cool but pliable, roll it out to about ½" thick.
Take one-half of the marzipan and roll it into a sausage shape, and place it on the longest side of the pastry dough.
Brush the edges with the beaten egg.
Fold in the edges of all sides of the dough and roll the marzipan in the puff pastry to form a log. (see photos in the main part of the blog post.)
Repeat the steps to form a second log and place both logs onto the lined baking sheet.
Bake the banketstaff for 20 - 25 minutes or until golden brown.
Once the almond log is baked, transfer it to a cooling rack and allow it to cool down to where it's warm to the touch.
Brush the apricot preserves all over the tops and sides of the banket.
Sprinkle with the flaked almonds and sprinkle with powdered sugar.
Notes
As the puff pastry thaws, it's a good idea to keep a damp, clean towel over the pastry so it doesn't dry out.
It helps to heat the apricot jam slightly so it spreads smoother on top of the banket.
Nutrition Information:
Yield:

10
Serving Size:

1
Amount Per Serving:
Calories:

228
Total Fat:

7g
Saturated Fat:

1g
Trans Fat:

0g
Unsaturated Fat:

6g
Cholesterol:

19mg
Sodium:

29mg
Carbohydrates:

41g
Fiber:

1g
Sugar:

35g
Protein:

2g
All nutritional information is based on third-party calculations and is only an estimate. Each recipe and nutritional value will vary depending on the brands you use, measuring methods, and portion sizes per household.