It only takes a few minutes to take these Air Fryer Chicken Fries from frozen to warm, crispy, and delicious.
They're a perfect snack for any time in the day you might be feeling a bit peckish or, if you're in a hurry to get dinner on the table for your little one before soccer practice, this is the one!
This post may contain affiliate links. If you make a purchase after clicking a link, I may earn a small commission AT NO COST TO YOU. As an Amazon Affiliate, I earn from qualifying purchases.
Cooking Chicken Fries in the Air Fryer
Seriously my lovelies, whipping these chicken fries up in the air fryer takes literally no time at all. They're easy, healthy-ish, and way more economical than going through your local drive-through.
The only dilemma is how many to make in one sitting!
How many you can make at one time will depend on how big your air fryer is. My Cosori air fryer can cook a dozen chicken fries in the basket at one time but if I used my Ninja Foodi on the air fryer function, I could cook more than that because it has a larger surface area.
The important thing to remember here is to NOT crowd or overlap the fries in the machine. Overlapping them will produce chicken fries that aren't that crispy in spots.
If you're making a large amount of them at one time, it's a good idea to make them in batches so they're all crispy and delicious!
How To Cook Chicken Fries
The directions are basic, but certain points are pretty important if you want a good crispy chicken fry at the end.
The Basics to Remember
1 Start with frozen chicken fries. This is super important because if you thaw the fries, the cooking times that are given here will be off, and can overcook them. Also, thawing them could make them mushy to deal with and no one wants to deal with mushy chicken fries!

2. Mist them with oil. Yes, I'm aware that this adds extra calories, but honestly, it's a very small amount, especially if you use the Misto Oil Sprayer. It's lightweight, works on a pump aerosol system and you can use any oil you prefer. I like avocado oil.
It's not recommended to use nonstick baking sprays inside the machine because they can produce a sticky film over time that's CRAZY DIFFICULT to get off.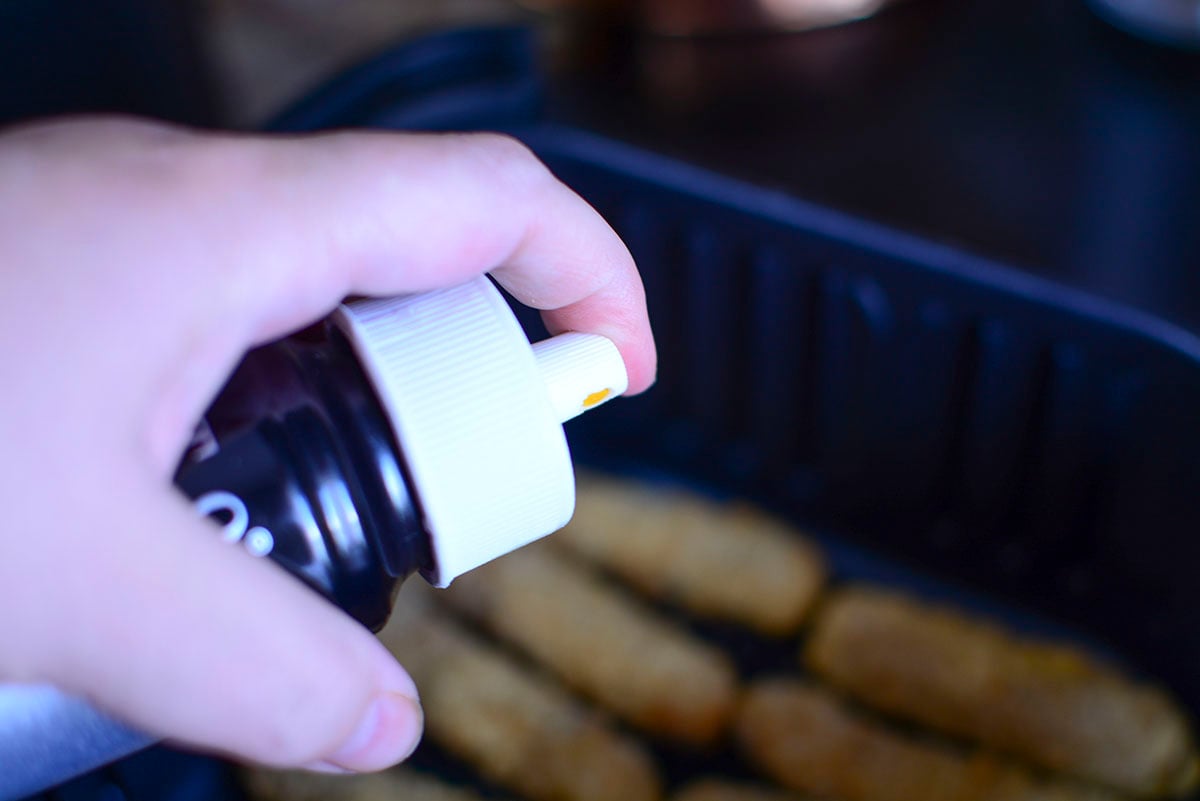 3. Give them a shake halfway through the cooking time. Just open the drawer of the air fryer and give them a good enough shake that they flip over to the other side.
If you're using the Ninja Foodi you won't be able to shake them like that, so you'll want to use a pair of tongs to flip them over manually.
Complete and detailed instructions on how to cook these chicken sticks will be in the printable recipe below.
Cooks Tip: Make sure you give the fries a shake or manually flip them halfway through the cooking time. You want that golden brown crunch on all sides!
Serving Ideas
You could serve these chicken fries just as they are with a light sprinkle of salt. But what's a fry without a dipping sauce, right?
In this instance, I mixed mayonnaise with a little bit of Franks Red Hot Buffalo Wing Sauce because well, chicken and hot wing sauce are best friends. But if hot sauce isn't your thing, you could easily serve them with:
Ketchup – I have a fantastic Crock-Pot Homemade Ketchup recipe on the blog if you wanted to make your own at some point!
Plum Sauce
Honey Mustard
Ranch Dressing
BBQ Sauce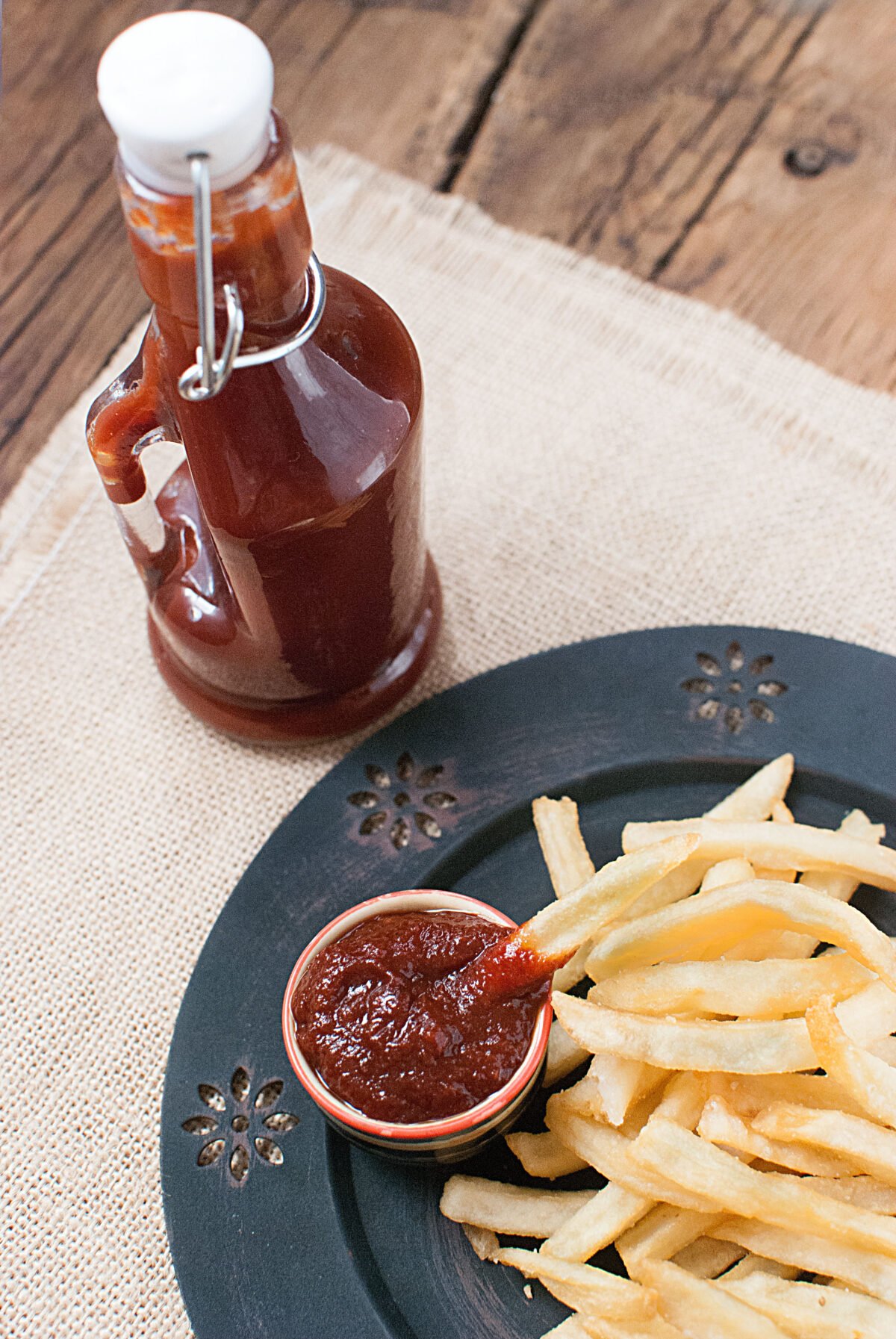 As for serving a side along with these air-fried chicken fries, a really delicious Creamy Dill Pickle Macaroni Salad would be perfect as a cold side, but if you wanted something warm, this Doritos Mac and Cheese recipe would be awesome, especially for the littles!
If you wanted to serve a more healthy side, you could whip up my 3 Minute Instant Pot Maple Cinnamon Carrots, or even try air frying some homemade sweet potato wedges before you air fry the chicken.
Questions You Might Have
What if I don't have the oil sprayer, can I still make these fries?
Yes, not a problem. Just drizzle a little bit of oil over them, in a bowl, before you cook them. The mister works nicely because it disperses the oil in a mist, and evenly over the fries, but drizzling will work as well.
Can I air fry french fries at the same time as cooking the chicken fries?
Sure! As long as the fries are about the same thickness as the chicken fries, they should all cook at the same time. If your fries are slightly thinner, then keep an eye on them, and remove them before the chicken is done so they don't burn.

I hope that you give this recipe a try and when you do, please let me know what you think by leaving a ***STAR RATING*** and comment below, or shoot me an email at Joanne@thesaltypot.com. Have a fantastic day!

~Joanne
Air Fryer Chicken Fries
These Air Fryer Chicken Fries are golden, crispy and ready in a flash using your air fryer. Pair them with some dipping sauce and a yummy side, and you have a quick dinner in no time!
Ingredients
12 chicken fries, frozen
1 tablespoon cooking oil to drizzle or spray
Instructions
Remove the chicken fries from the package. If you're not using a misting bottle, place the fries on a flat surface and drizzle the oil over the top. Toss to coat.
Place the fries in the air frying basket, making sure not to overlap them. Use the misting bottle now to lightly spray the fries with oil.
Begin to air fry the chicken fries at 400 for 8 minutes in the Cosori, and 390 in the Ninja foodi for approximately 9-10 minutes.
Be sure to flip (or shake) the fries halfway through air frying.
Remove when golden and crispy and serve with your favorite dipping sauce. Enjoy!
Notes
1. Always start with frozen fries.
2. Remember to either mist or drizzle some oil over the top to help them get nice and crispy in while cooking.
3. Don't overlap them in the fryer because the overlapped areas will not get as crispy.
4. Cooking in batches is a better idea rather than dumping them all in and trying to cook them that way.
5. Air fryer chicken fries are always better with a yummy dipping sauce!