If you are looking for something different you will love this sandwich. It's like a Caprese salad and a steak sandwich had a baby.
It's a sort of copycat version of the Caprese sandwich at Tim Hortons without the grilled steak. My version swaps out the traditional roast beef for fresh flavorful grilled steak with freshly sliced mozzarella and tomatoes and a sweet and tangy balsamic glaze.
Serve this with my Dill Pickle Pasta Salad for a flavorful meal.
This post may contain affiliate links. If you make a purchase after clicking a link, I may earn a small commission AT NO COST TO YOU. As an Amazon Affiliate, I earn from qualifying purchases.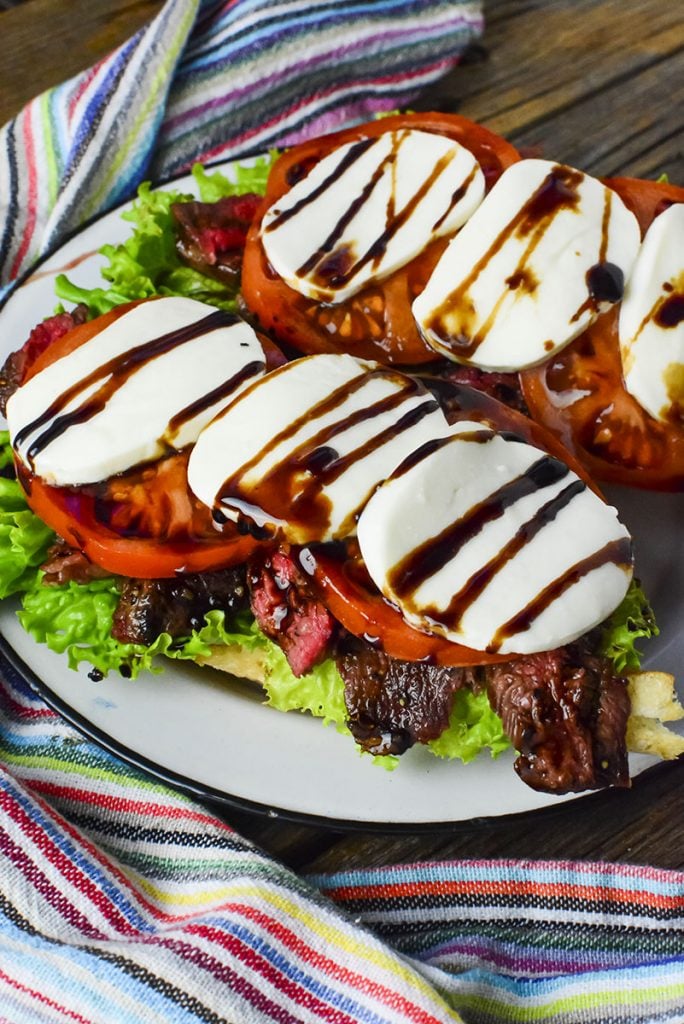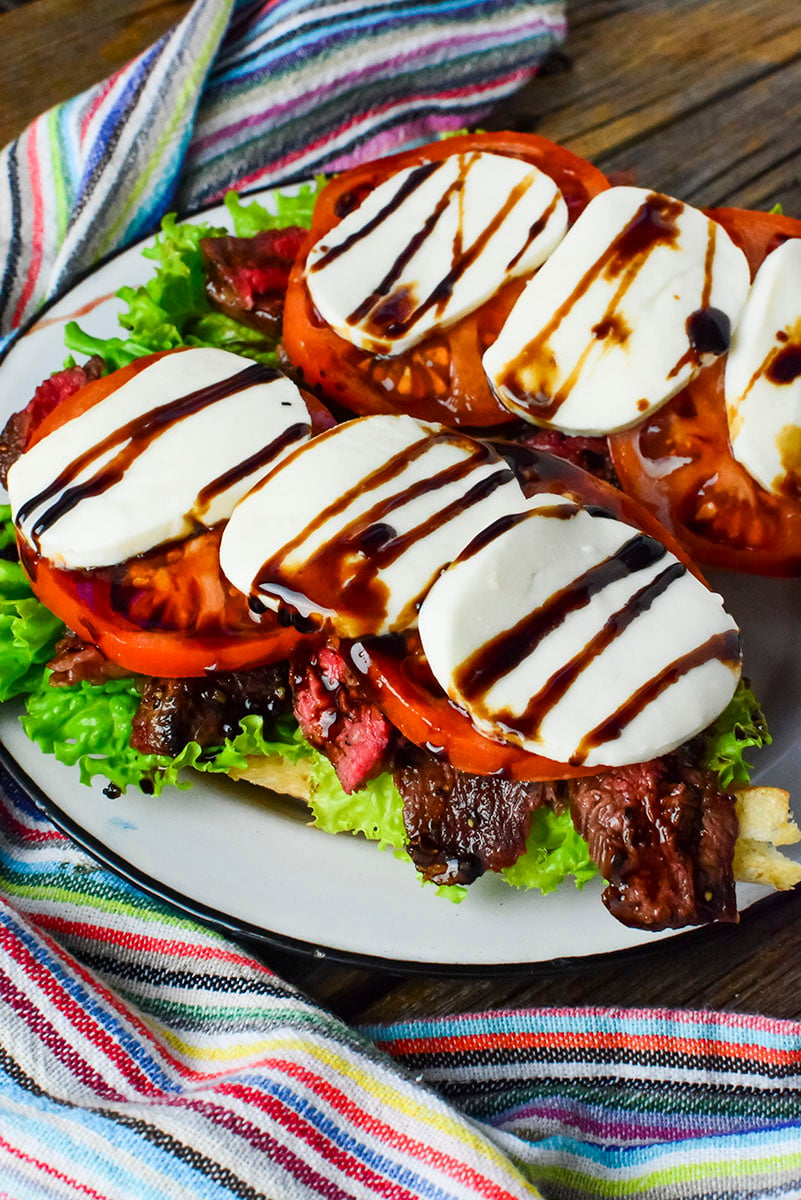 Caprese Steak Sandwich with Balsamic Glaze
Ingredients needed for this sandwich
Steak: I used two flat iron steaks because they are inexpensive, yet still tender enough for this sandwich. You won't look for lots of marbling in the steak as possible. Use what you have on hand, or what's on sale in the grocers if you can't find flat iron cuts.
Baguette: I found a small baguette to use for this sandwich. Use any hoagie, baguette or regular bun you have on hand.
Mozzarella: Fresh Mozza is part of what makes it a Caprese sandwich. Regular mozzarella will do, but it won't quite taste the same.
Tomato: Fresh is best!
Romain: I wanted to use some nice basil leaves but my store was out. So you want to add a green element here, so I chose the romaine lettuce.
Dijon Mustard: I love dijon and I used a seedy dijon, but whatever type of dijon you have on hand will be perfect.
Mayo and butter: Mayo for mixing with the mustard, and butter for the bread after it comes off the grill pan.
Seasonings: Just my usual standard, go-to seasoning – Montreal Steak Spice. Your one-stop-shop for steak seasoning (or.. anything seasoning.. lol).
How to build the perfect Caprese sandwich
These sandwiches are all about the flavor. With the classic tomato and mozzarella combination and a sweet and tangy balsamic glaze that really contrasts against the savory flavors of the steak, they all come together for a complex, delicious and unforgettable sandwich.
You can use what you have on hand for a balsamic glaze, or if you prefer, Monari Federzoni Glaze is a great glaze. If you are new to using this you should start with a light hand as the flavor of balsamic glaze can be really intense and easily overwhelm other flavors as easily as it can accent them.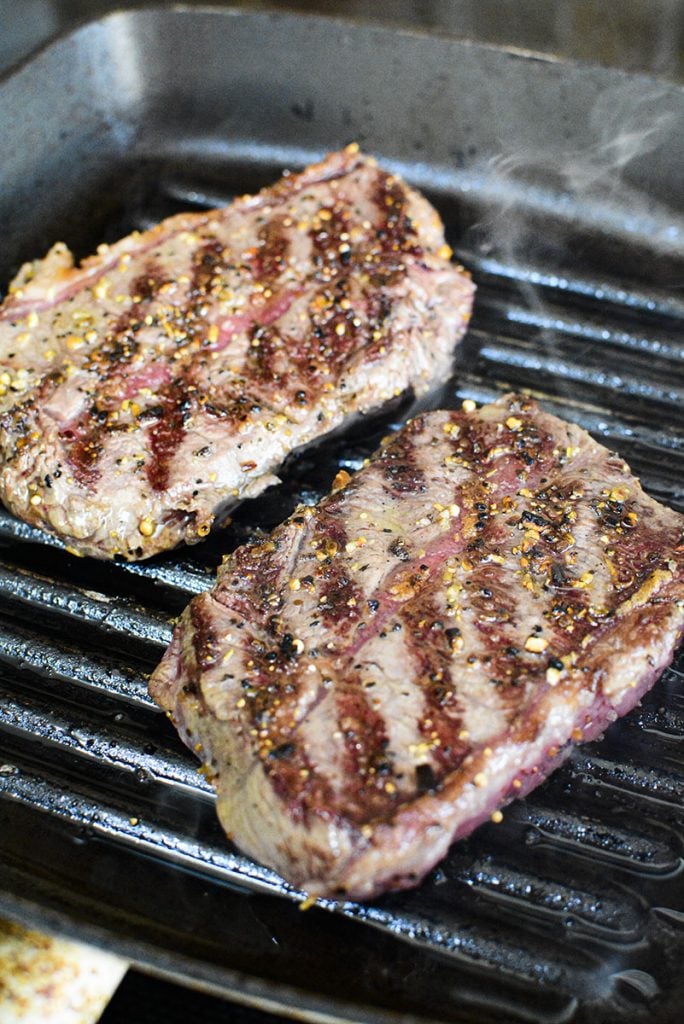 Don't cut your cheese and tomatoes razor thin. Keeping the slices a bit thick can really help keep their flavor balanced when added to all of the other ingredients.
Use the freshest bread available. While day-old clearance bread is a great way to save money you want to take the fresh baguettes or make your own to really take advantage of this steak sandwich.
Add your favorite greens. I used romaine for mine but fresh-cut basil or baby spinach makes a great lettuce option for this sandwich.
How to grill steak for sandwiches.
Choose a tender cut of steak for grilling. I decided to use a quality flat iron steak. The more tender the cut the better.
For a truly flavorful steak, you want to add plenty of seasoning. Many people don't do a lot to grilled steak and truly miss out on the opportunity to enhance the flavor.
If you do not have a grill or the weather isn't right to head outside you can use a grill pan as I did or even a regular pan. Cast iron grill pans can make an amazing seared steak.
You can use the grill or grill pan to toast the baguette to warm it up and give it a bit of a crunch so it will not get soggy.
I added a bit of cooking oil to my pan and got to cooking. To get the perfect steak you can test the internal temperature with a thermometer to find the correct stage of doneness you prefer.
Cook's Tip: Be sure to bring the steak out of the fridge 20 – 30 minutes before you want to cook it. Bringing it to room temperature ensures an overall, more even cook on the steak.
For a rare steak, (which is how mine is cooked), you want to hit at least 130 degrees while 155 degrees and up will give you a well-done steak. After grilling to your desired level of doneness let it rest to help retain the juiciness before slicing and building your sandwich.
All the specific directions and measured amounts will be in the printable recipe card below.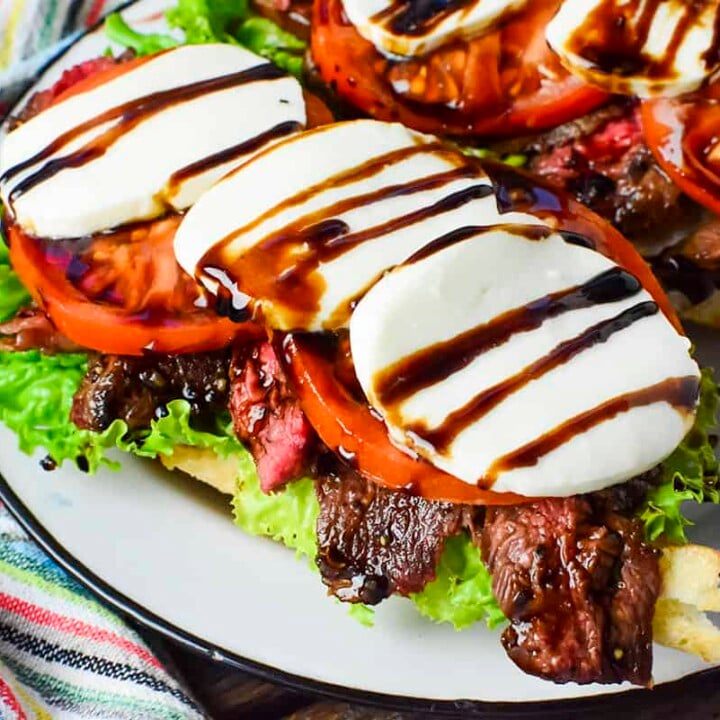 Open Faced Caprese Steak Sandwich
Additional Time:
5 minutes
This open faced Caprese steak sandwich has everything! Savory steak, creamy Mozzarella, balsamic drizzle, juicy tomato, toasted bread- DELICIOUS!
Ingredients
2 Flat iron steaks (or any cut of steak you prefer), 10 ounces
1 short baguette, (or torpedo rolls, hoagie rolls, sandwich rolls)
8 slices fresh mozzarella
6-8 slices fresh tomato
as desired, romaine lettuce, spinach, basil or any sort of greens you have on hand. **See notes below
2 tablespoons balsamic glaze
1 tablespoon mayonnaise
1 tablespoon seedy dijon mustard
2 teaspoons of butter
as desired, Montreal Steak Spice
Instructions
Bring the steaks to room temperature. Sprinkle the Montreal steak spice over the steaks, both top, and bottom.
Preheat the grill pan to medium-high heat.
Spray with nonstick spray and place the steaks down in the pan to begin grilling. For a degree of doneness (to your preference), check out the body of the post where it talks about grilling time. I grilled mine for about 5 minutes on both sides for rare doneness.
Remove steaks to a plate, tent, and let rest while you continue the recipe.
Cut the baguette in half horizontally and place it cut side down in the grill pan to toast for 2 minutes. Be sure to check the bread for doneness so it doesn't burn.
Butter both pieces of the toasted baguette with 1 teaspoon of butter. Set aside.
In a small bowl, combine the dijon and the mayonnaise. Divide the spread onto both baguette pieces.
Untent the steak and make small thin slices against the grain of the steak.
Assembly for both baguette pieces: Place the lettuce on top of the bread. Lay down the sliced steak, tomato and fresh mozzarella.
Drizzle the balsamic glaze over top the fresh mozzarella. Garnish with more basil leaves if you prefer and enjoy!
Notes
Caprese usually includes basil flavors in some way. I didn't have any on hand that day, but I usually will include fresh basil leaves on top of the lettuce. I have also blended some basil paste (that comes in the tubes) in with the mayo dijon spread as well.
Use any tender steak you have on hand, and cutting against the bias will shorten the strands of the meat and make them even more tender for eating.
Be sure to let the steak rest so the juices redistribute through the meat. Cutting it too early could make all the juices run out onto your plate.
Nutrition Information:
Yield:

2
Serving Size:

1 baguette
Amount Per Serving:
Calories:

1156
Total Fat:

70g
Saturated Fat:

31g
Trans Fat:

1g
Unsaturated Fat:

31g
Cholesterol:

311mg
Sodium:

1240mg
Carbohydrates:

37g
Fiber:

9g
Sugar:

15g
Protein:

94g
All nutritional information is based on third-party calculations and is only an estimate. Each recipe and nutritional value will vary depending on the brands you use, measuring methods, and portion sizes per household.