If you're wondering how to make applesauce for dogs, you've come to the right place. I know, you're looking for things that you can make for your dog to help keep them healthy while fighting the cost increases of your dog's food. I totally get it.
Supplementing with healthy homemade goodies like applesauce is a great way to help fill in gaps and keep your pets healthy, plus giving them a fun treat.
Anyone can make their own healthy applesauce for their dogs to help add a healthy addition to their diet.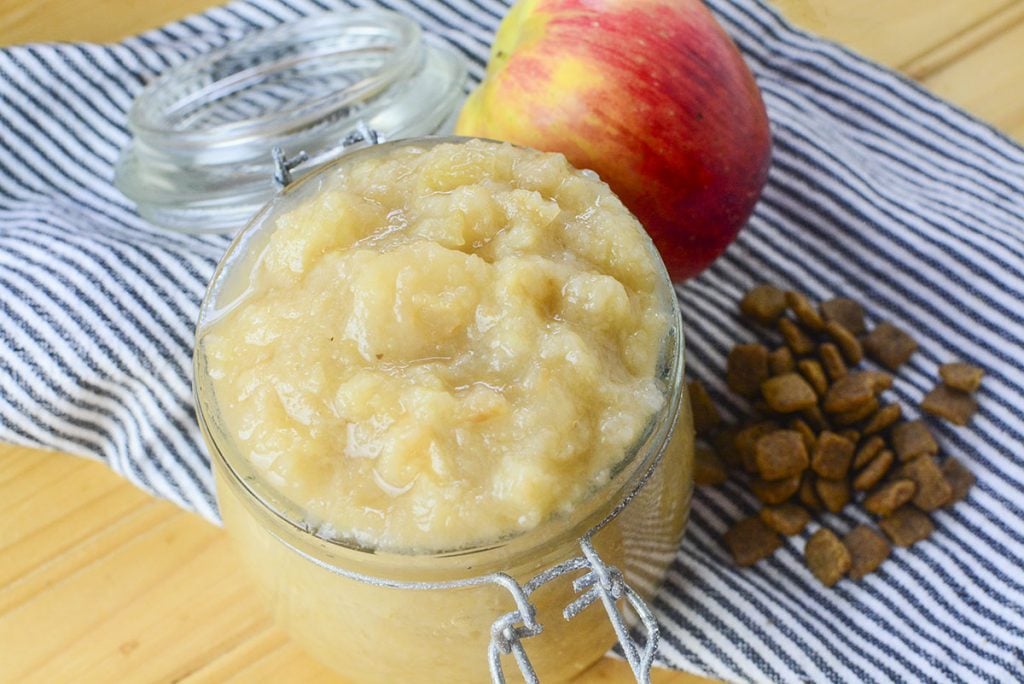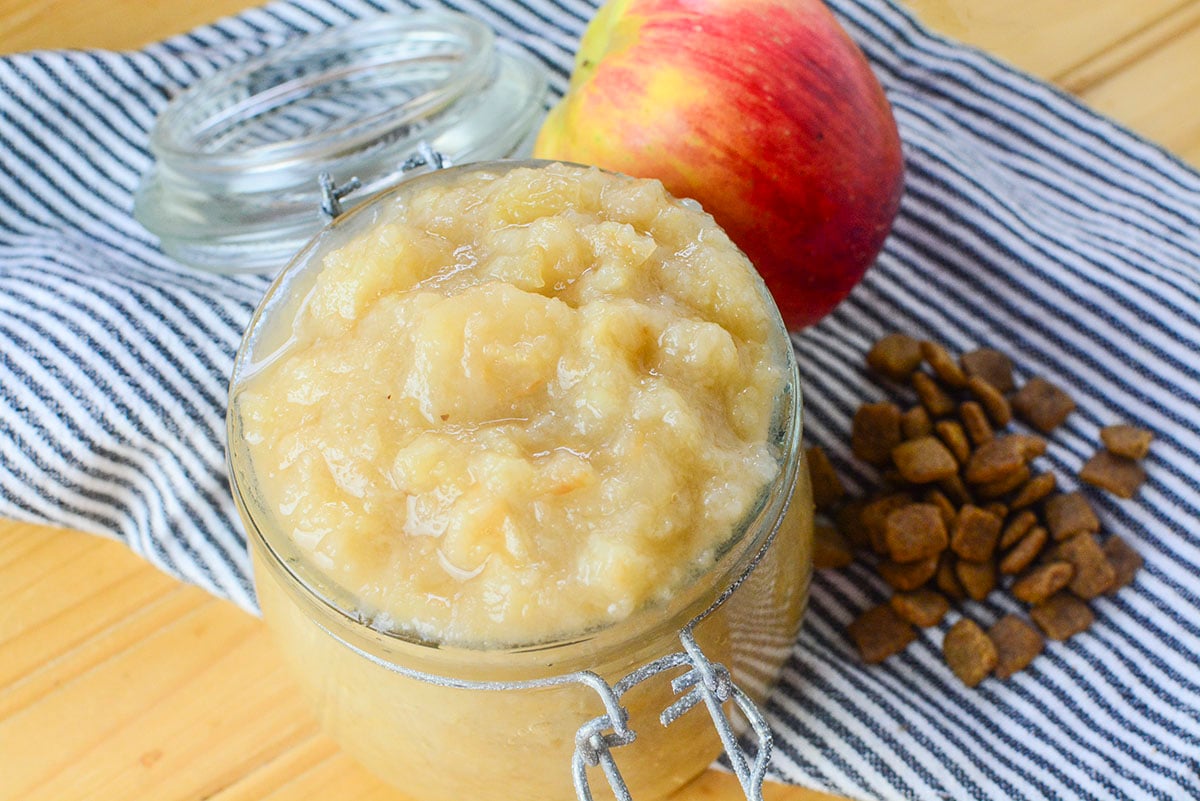 Why homemade applesauce is good for dogs
Making your own sauce from apples for your dogs is a great way to know exactly what your pets are getting. It also allows you to add nutrition to the applesauce and leave out the sugar often added to commercially made applesauce.
You can get more value for your time by making applesauce for your dogs at the same time you are making a batch for the human members of your family, with just a small little twist that makes it special for your puppers!
When you make your own applesauce you can use organic apples, add in things like pureed carrots, and fresh nutrient-dense homemade bone broth. You can even add in fresh meat bits leftover from making your own broth for an added protein boost.
Which, by the way, your fur kid will LOVE!
Applesauce is a great way to add extra vitamins and fiber to your dog's diet. This can be particularly useful in helping to keep your dog healthy over the winter.
If your dog is not feeling well you can give them this applesauce with bone broth mixed in to give them some more nutrition and fluids to help them bounce back faster. Remember that every bit helps when we are sick and the same goes for our pets that can't choose to simply chug an electrolyte drink.
How to make applesauce for dogs
It is vital that you take the time to remove the seeds when making your coring the apples for your dog.
You should intentionally leave out the seeds when making it at home for your family as well because apple seeds include a chemical that releases cyanide when you chew and digest it. While peeling and coring your apples make a point of ensuring all seeds have been removed. If you see any made it into the cooking process, fish them out.
After prepping your apples you can cook them down in a large pot or slow cooker. Instead of adding water or juice like when you make a normal batch of applesauce, the special twist is to add in bone broth instead of water to increase the nutrition.
Depending on how you want to use it, you can stop at a chunky type consistency, or continue on to break the apples right down to a puree.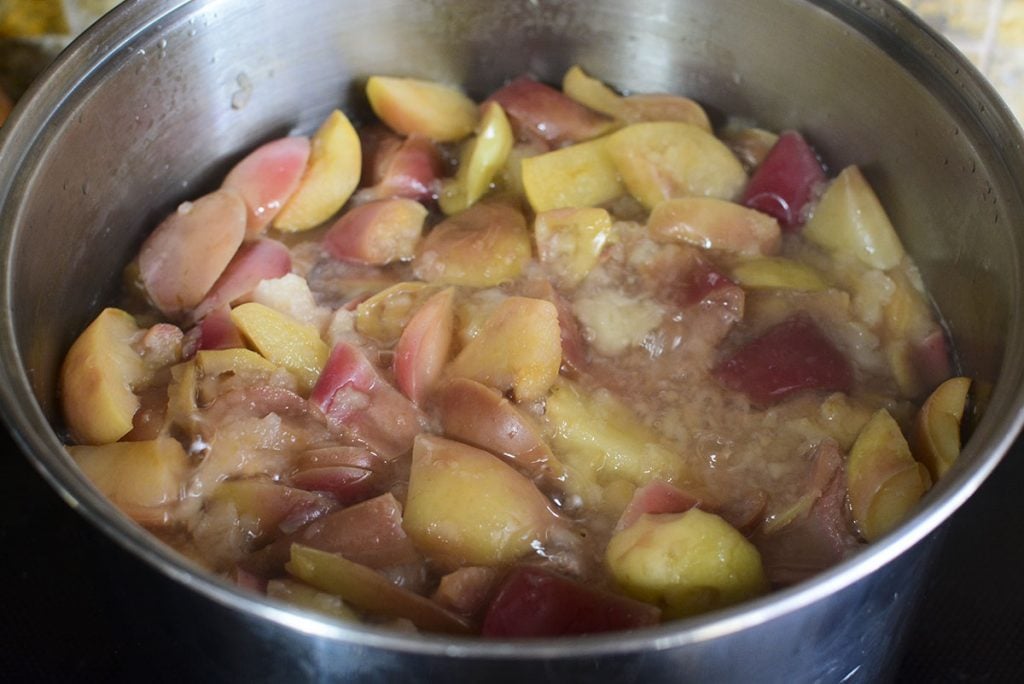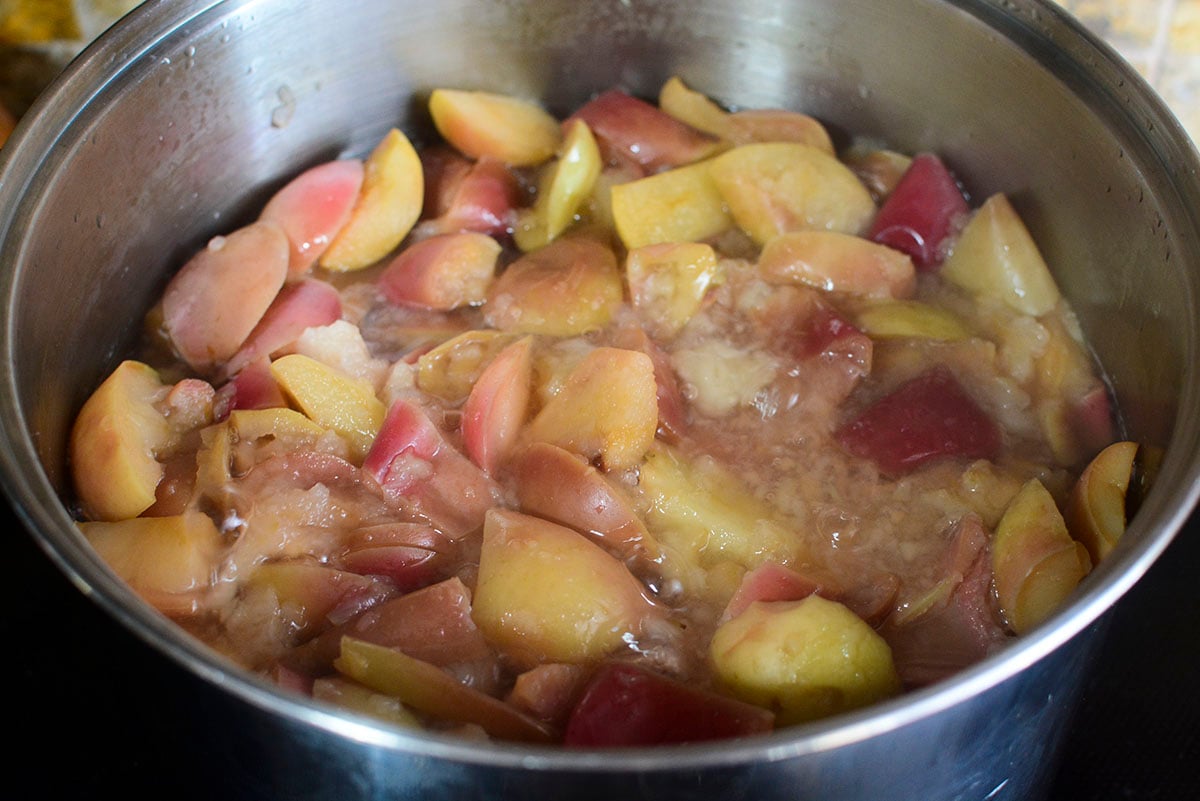 As with any applesauce, be it for dogs or humans, you'll want to choose the right type of apple. You'll want one that's not overly sweet (so without a lot of sugar) for dogs, but it is still soft enough to break down easily.
Golden Delicious and Macintosh are some great options.
How to serve applesauce to dogs
While some dogs may dive right in and enjoy the applesauce as is there are a few ways you can add this treat to their diet even if they tend to be a bit picky. A few simple ways to use applesauce for dogs:
Mix it in with dry kibble to add moisture and even make it easier to eat for older dogs.
Add plain unsweetened yogurt for flavoring to encourage your dog to eat, healthy probiotics.
Make your own popsicles for hot days
Use to bake homemade muffins and treats for your dogs.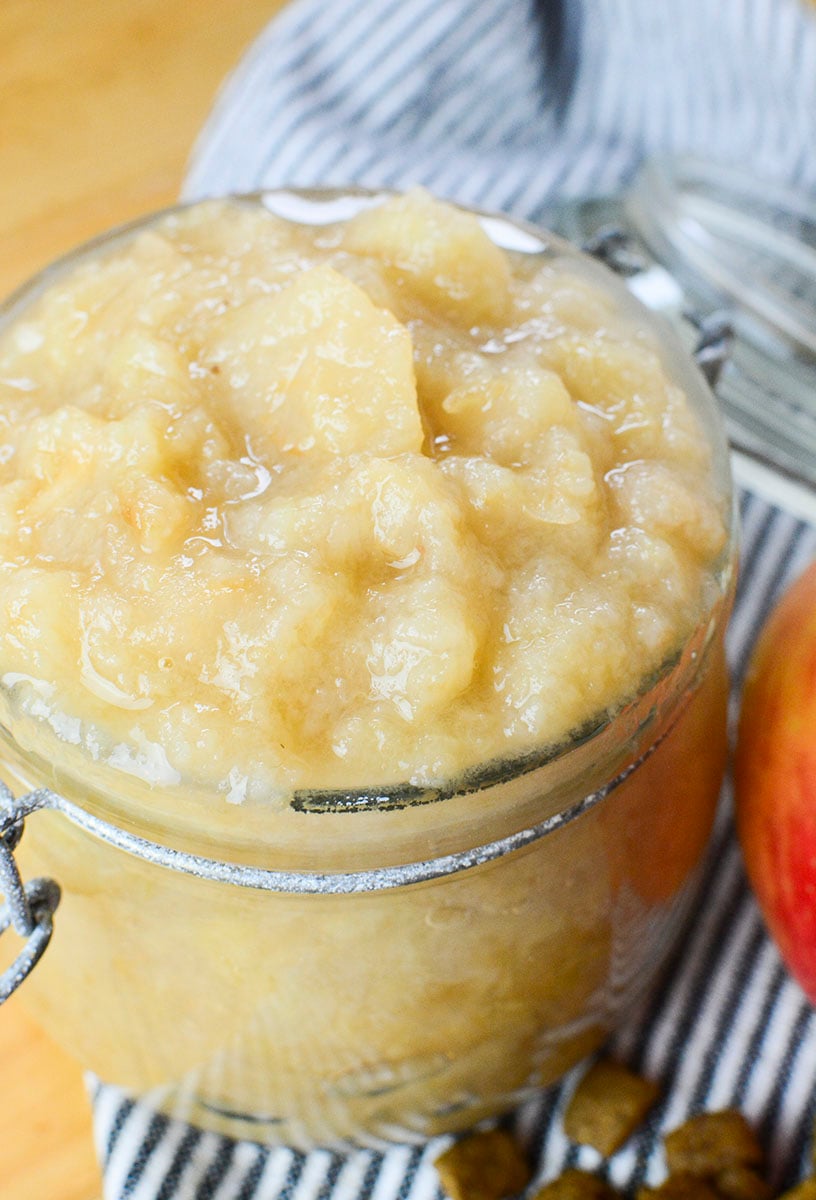 My dog is diabetic, can he still have applesauce?
Yes, in small amounts and be sure to serve it with their kibble or raw food and make sure there is some protein and fiber (which will be in the kibble, usually, but check your brand of dog food).
Don't feed just the applesauce to them with nothing else included.
If you're looking for other ideas to feed your diabetic dog, I have a great article with some suggestions for different treat ideas.
Storage Information
This applesauce should stay great in the fridge for up to 4-5 days. To freeze it, a handy way is to pour the sauce into ice cube trays and freeze that way, then take out as many cubes as you need and thaw overnight or in the microwave before serving.
Placing the frozen cubes into an air-tight freezer bag or container will help keep them fresh for up to 3 months.
COOKS TIP: Keep the frozen applesauce cubes handy for hot days when your pup can enjoy a "pupsicle" outside to keep cool!
Facts and Tips
What kind of bone broth should I use?
Use any bone broth you prefer, but be sure to use low sodium or no salt is even better. If you'd like to make your own, this is a good recipe to use but leave out the salt when making it.
Do I have to leave the peels on the apples for this applesauce?
You don't have to, but it's a good idea to leave them in as they provide extra fiber. However, if you don't like the look of them after cooking, you can use a hand immersion blender to help puree the peels into the sauce.
You can also use your blender, but blend the peels in when the sauce is cold, to prevent burns while blending.
Can I use my slow cooker for this recipe?
Absolutely! Using your crockpot to make applesauce is a perfect way because it's a set it and forget it type of thing. I'll include directions in the recipe card below on how to make it using your slow cooker.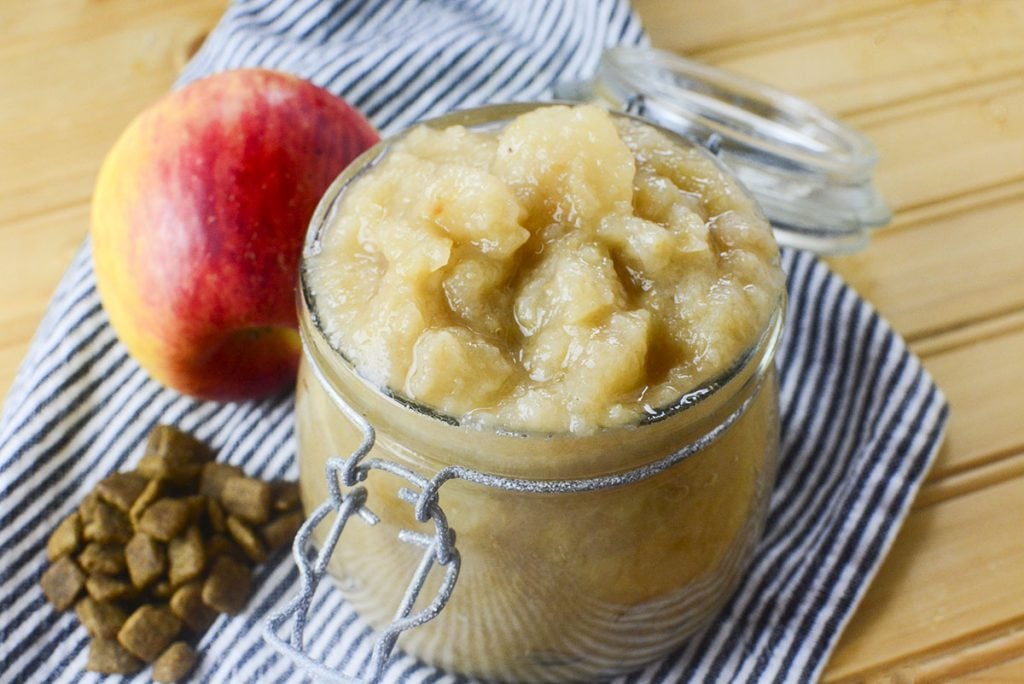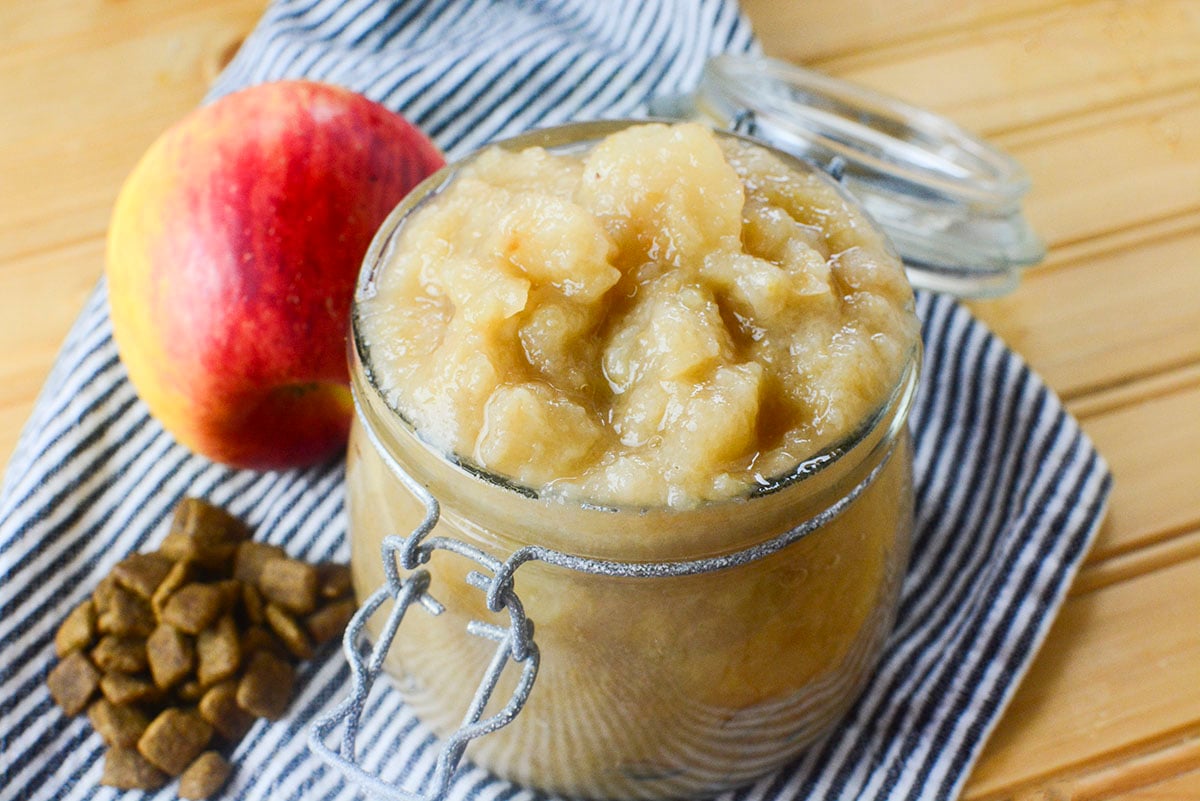 I hope that you give this recipe a try and when you do, please let me know what you think by leaving a ***STAR RATING*** and comment below, or shoot me an email at Joanne@thesaltypot.com. Thanks for stopping by The Salty Pot today!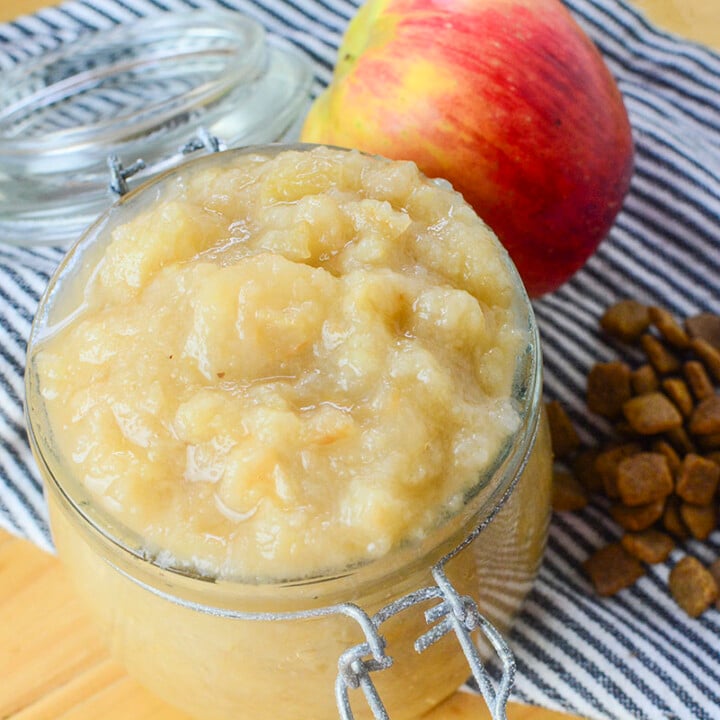 Applesauce For Dogs
Total Time:
3 hours
15 minutes
A delicious and healthy addition to your pup's meals to add interest, extra nutrition and fiber, and deliciousness!
Ingredients
4-5 large apples, cored (and peeled if you choose, read notes)
1 cup low sodium bone broth (see notes)
Instructions
Core the apples and peel them if you wish.
Add them to a large stockpot and add the bone broth.
Bring the mixture to a boil and then turn it down to a simmer and cover, letting the apples break down to the consistency you prefer. (Shorter for chunkier, longer simmer time for more of a puree).
Remove the cover if the mixture is too watery for your liking. The liquids will evaporate and thicken up the sauce.
Let cool completely before serving to your dog.

Directions for using a Slow Cooker:
Step 1 is the same. Add the apples to the slow cooker along with the broth. Cover and cook on low for 5-6 hours or high for 2-3. The timing will all depend on the consistency you want to achieve.
Notes
1. Be absolutely sure to remove all the seeds as they contain cyanide and could make your puppers ill.
2. Use any bone broth you prefer, but be sure to use low sodium or no salt is even better. If you'd like to make your own, this is a good recipe to use.
3. If you choose to keep the peels on for added fiber, you can use a hand immersion blender to help puree the peels into the sauce. You can also use your blender, but blend the peels in when the sauce is cold, to prevent burns while blending.
Nutrition Information:
Yield:

20
Serving Size:

¼ cup
Amount Per Serving:
Calories:

31
Total Fat:

0g
Saturated Fat:

0g
Trans Fat:

0g
Unsaturated Fat:

0g
Cholesterol:

0mg
Sodium:

25mg
Carbohydrates:

8g
Fiber:

1g
Sugar:

6g
Protein:

1g
All nutritional information is based on third-party calculations and is only an estimate. Each recipe and nutritional value will vary depending on the brands you use, measuring methods, and portion sizes per household.