Whether you call fruit leather, fruit jerky, or fruit strips, they're all pretty much the same thing – dehydrated, portable, pure fruit that's sweet like nature's candy!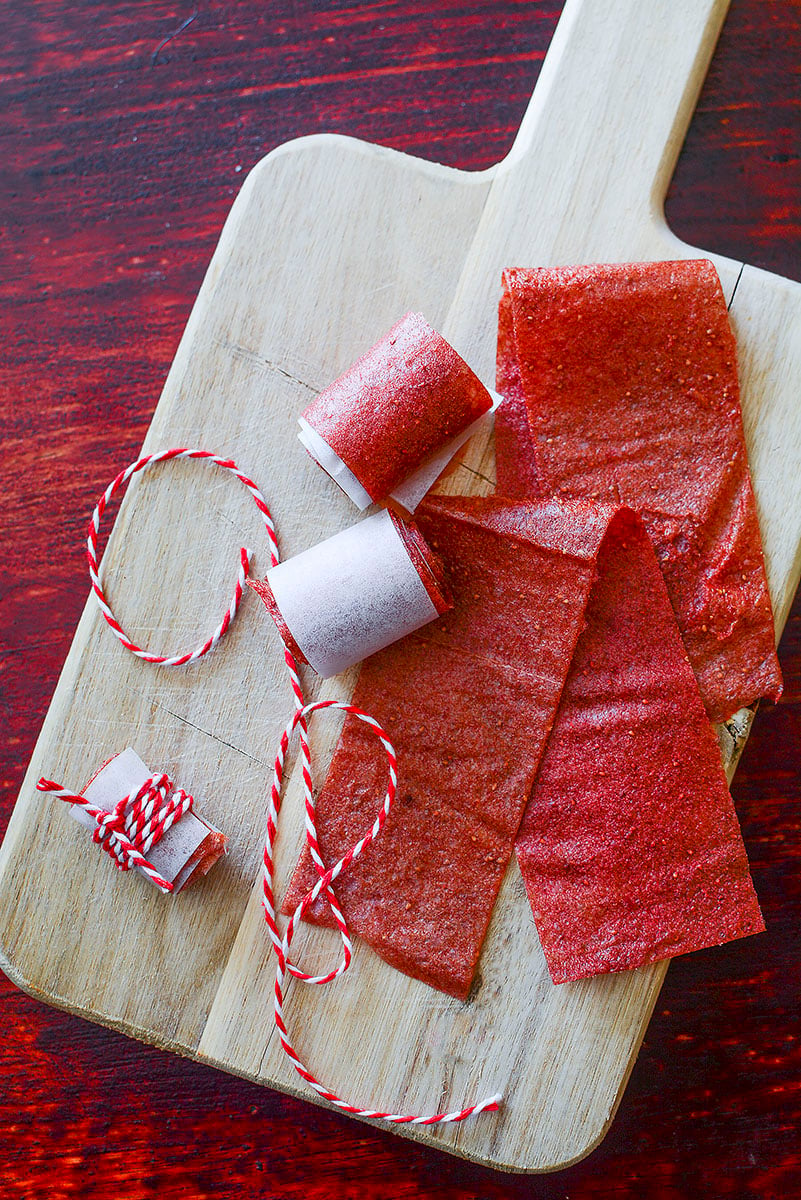 Strawberry Fruit Strips – Nature's Sweet Candy!
Strawberry Fruit Strips
These strawberry fruit strips are strips made from dehydrated fruit puree. They're great because:
A. – Just like my Cherry Gummies Recipe, kids usually LOVE these sorts of snacks, so they're a great way to get some great nutrition into your little one without much fuss.
B. – They're an awesome portable snack (similar to my Fall Pumpkin Granola Bars) that quell that sweet tooth, is nutritious and properly stored, and can last a lot longer than typical fruit.
So I should mention here – that I used strawberries AND pears for this recipe. But you can totally use all strawberries if that's what you have on hand. I had a few pears that needed to be used up and I thought why not add them to the mix?
And if you know me, you know I like to use up extra food that might be thrown away, just like I did in my Marshmallow Cereal Bars recipe.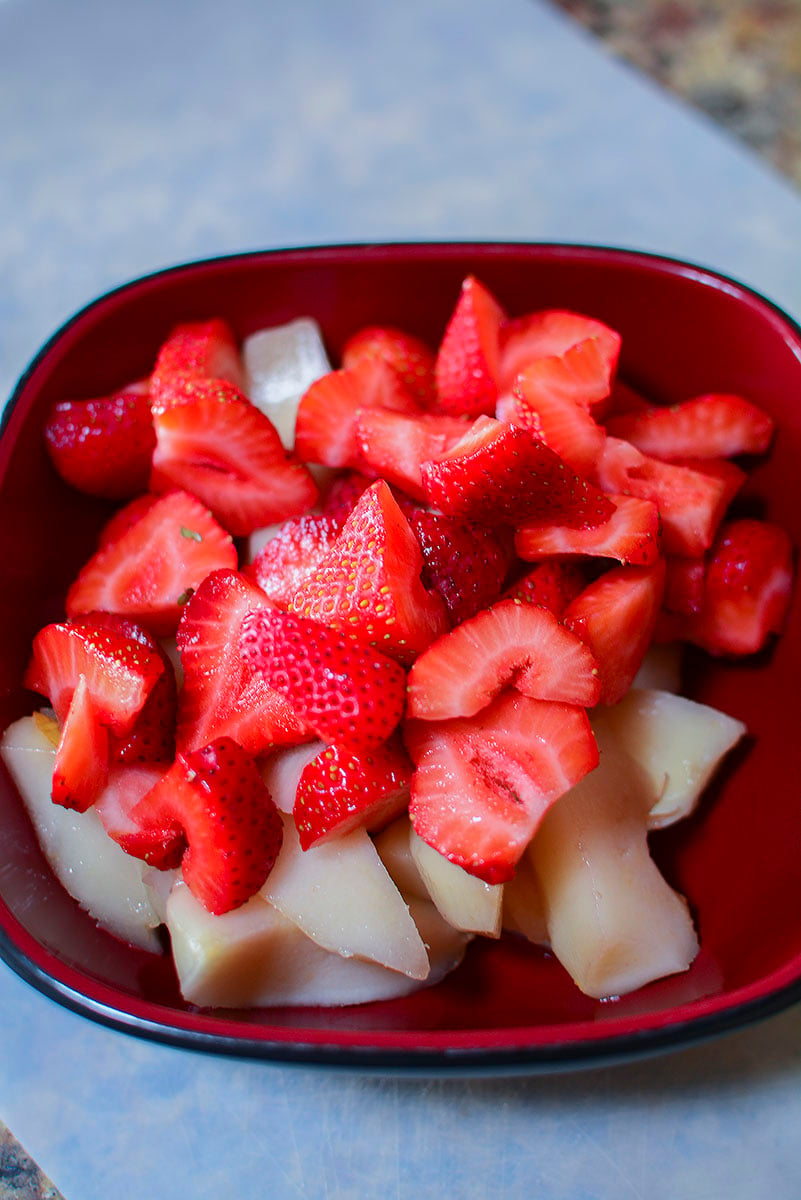 Do I Need a Dehydrator to Make These Fruit Strips?
Not at all! I actually have a dehydrator, but I wanted to try making them in the oven so that if you didn't have a dryer, it didn't matter because you could still use your oven!
I've used my oven to dehydrate a lot of different things and wrote an informative post on all things dehydrated!
You'll want to use your oven on the lowest temperature setting you have, or around 200 degrees F. Be prepared that this strawberry fruit jerky may take a while to dry, but it's totally worth the time involved to make them.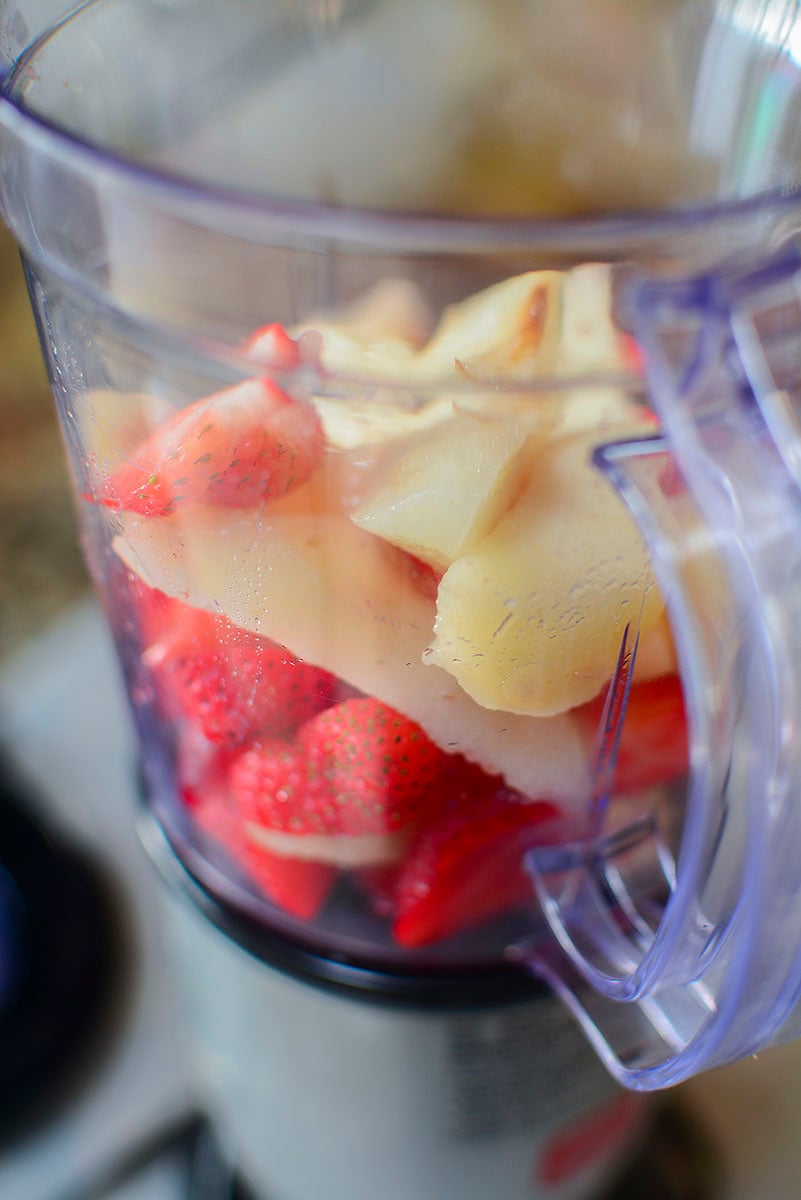 What Other Fruits Can I Use?
My lovely, the possibilities are endless!!! You can use practically any fruit you like! However, I will say some fruits work better than others.
For instance, I wouldn't suggest using bananas as sometimes they take a really long time to dry completely. However, you could add a tiny bit of banana in conjunction with other more watery type fruits/berries and then it should be ok.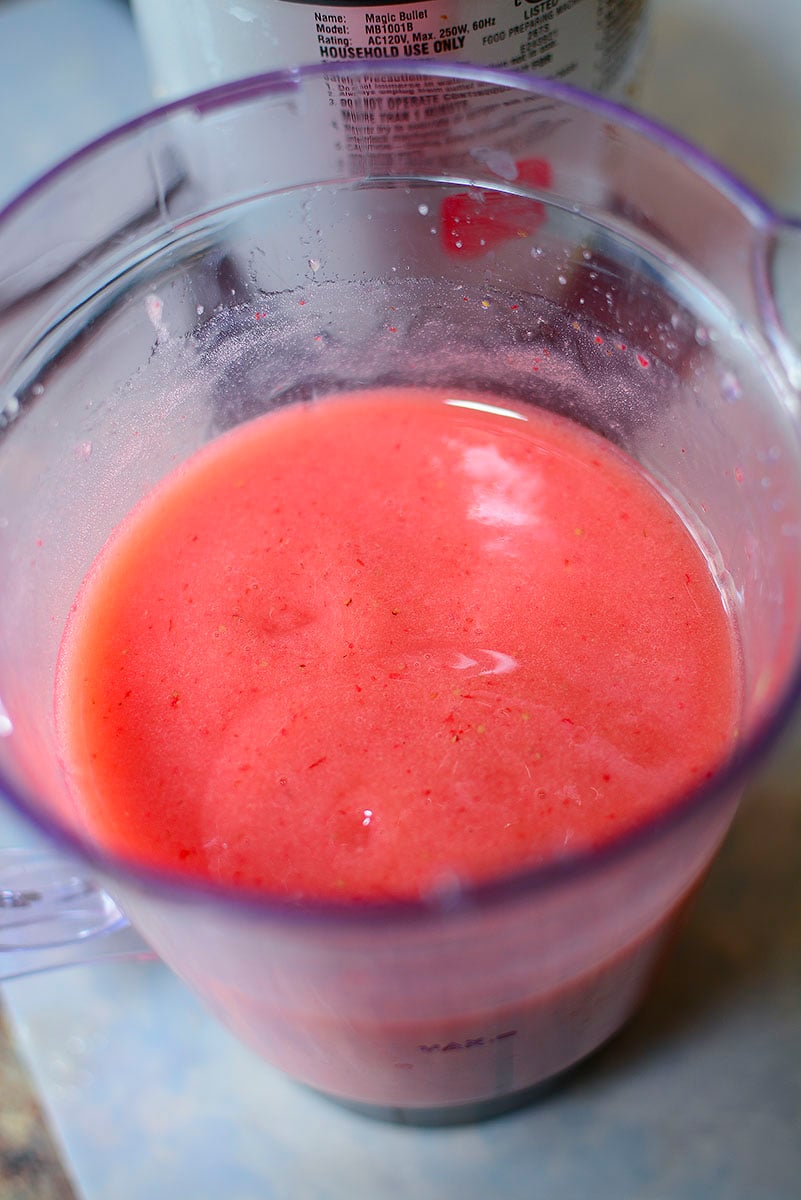 Some combinations would be incredibly tasty! For instance, what about:
Strawberry/Kiwi
Blueberry/Blackberry
Apple/Strawberry
Cherry/Peach
Peach/Nectarine
Other combinations you could add would be spices. A great example would be Apple/Cinnamon, Peach/Ginger, etc.
Keep in mind when you dry these fruit combinations, you are concentrating the flavors, so you'll want to be careful with adding too much cinnamon or ginger or any other spice that may concentrate when dried and become overpowering.
Subtlety is a good thing, sometimes .. haha!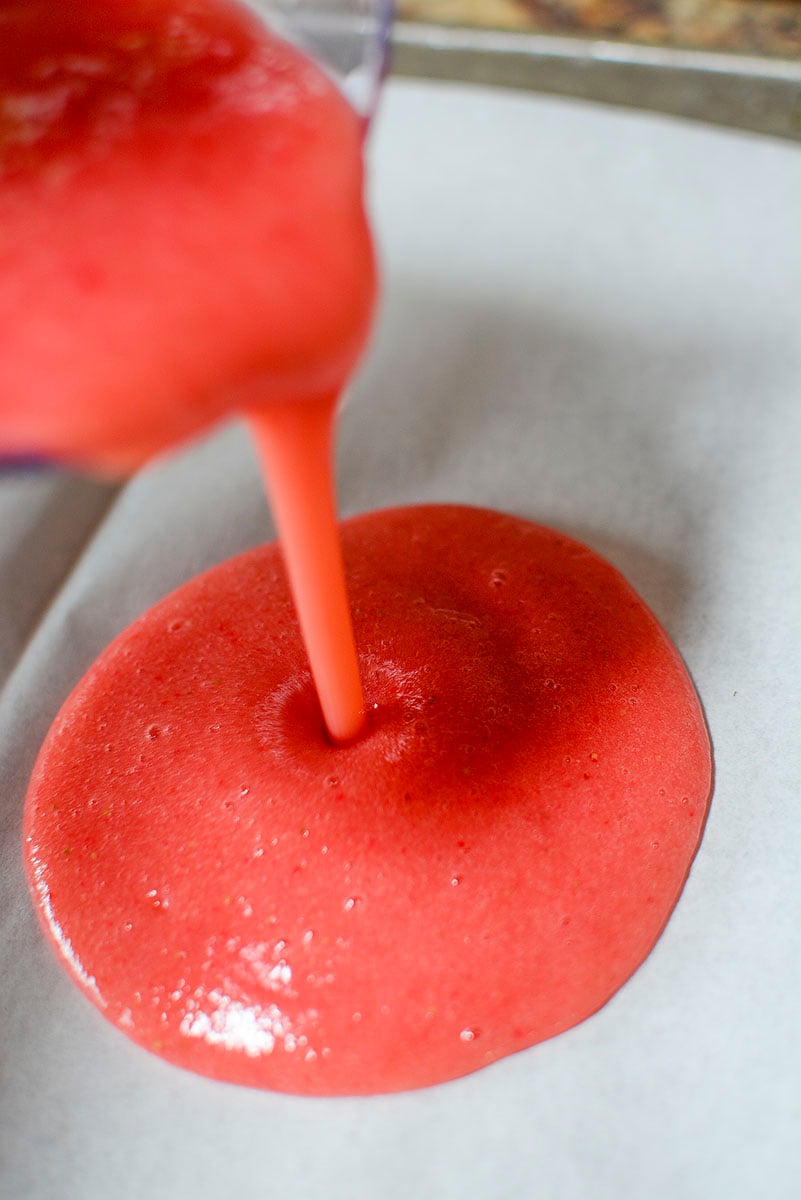 What about Vegetables? Can I Use Any of Those?
Yes and no. I think sneaking in some veggies is a great idea, but you'll want to be very careful with the types of veggies you choose for this. For instance – adding easily adaptable veggies like carrots with mango would be great. They are the same color, both are sweet, and would combine very well without little ones detecting them!
Another example would be apples and cucumbers. The cucumbers would add a nice fresh flavor and would hide well in the apple flavors.
You could also try adding some spinach powder with kiwi fruit strips. The spinach would help keep the fruit leather green and add some nice 'green' flavor!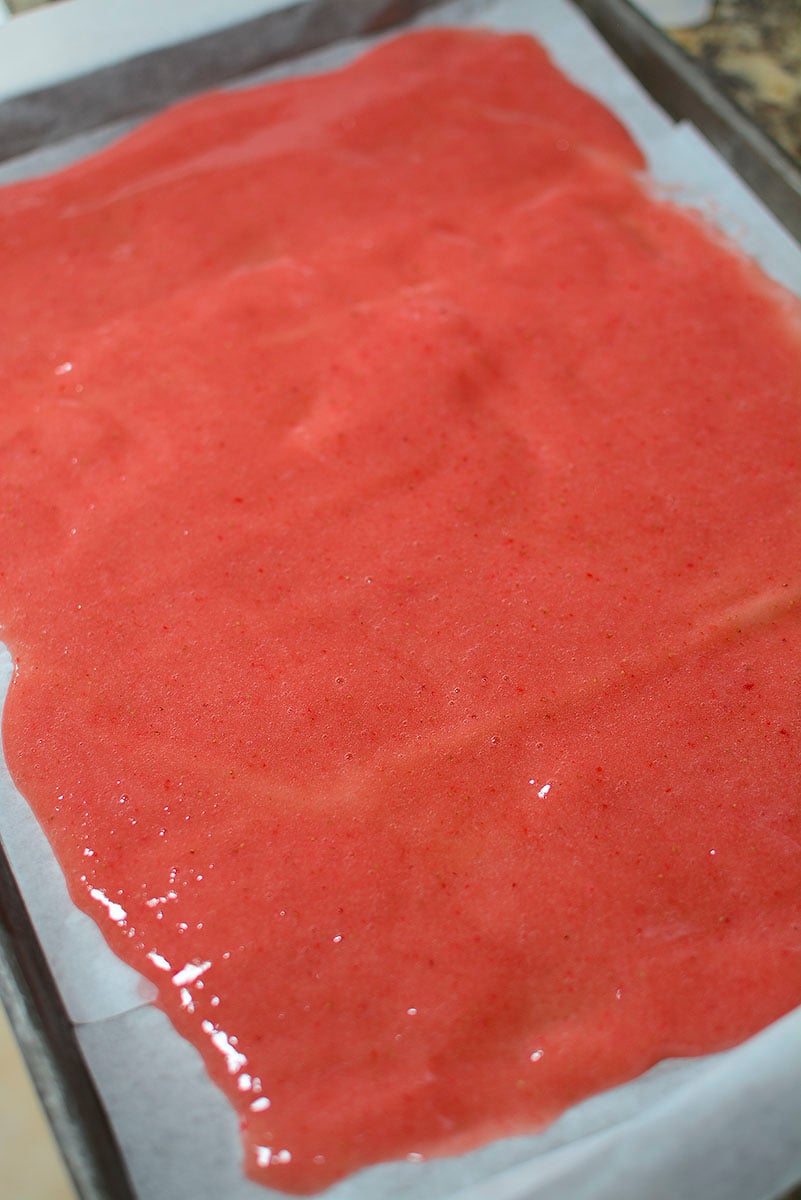 And let's be honest – adding zucchini (peeled) will go with ANYTHING as it's such a mild vegetable!
I would NOT use things like mashed potato or sweet potato with any fruit. Personally, the texture would be odd as well as the flavor. Same with beans and fruit. I'd say that's a no-go as well. Lol!
Can I Freeze These Strawberry Fruit Strips?
Yep! As long as they are stored in a freezer-friendly, airtight bag or container, they should last up to a month in the freezer. For extra protection, I would include a piece of kitchen towel in the container around the fruit strips to help prevent any freezer burn.
They should also last in the fridge for up to 10 days. But of course, please use your discretion. Do not eat any fruit jerky that's discolored or has any mold growing on it.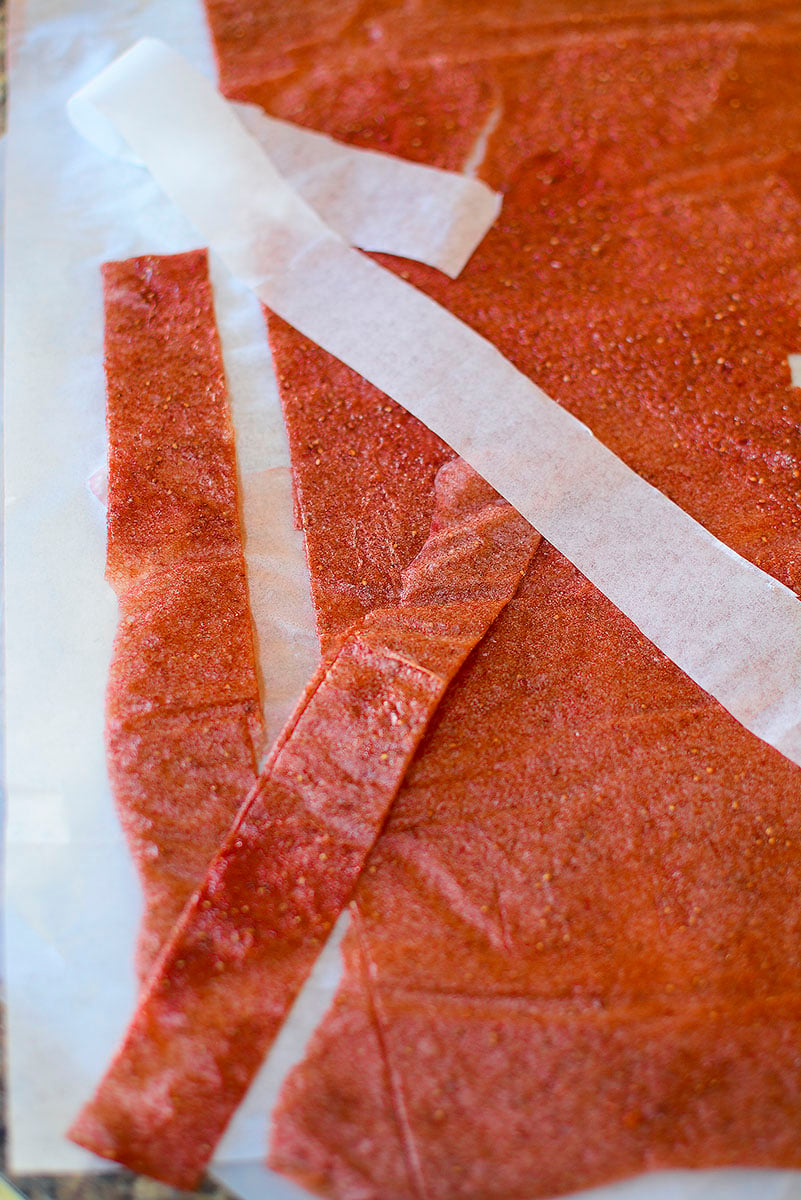 How Else Can I Use These Fruit Leather Rollups?
Well, after they are dried, you could always cut them into smaller pieces and use them in some homemade granola.
Mixing pieces into some homemade trail mix would be fantastic as well!
Is Fruit Leather Vegan?
Sure is! As long as you are only using fruit puree, then you're good to go!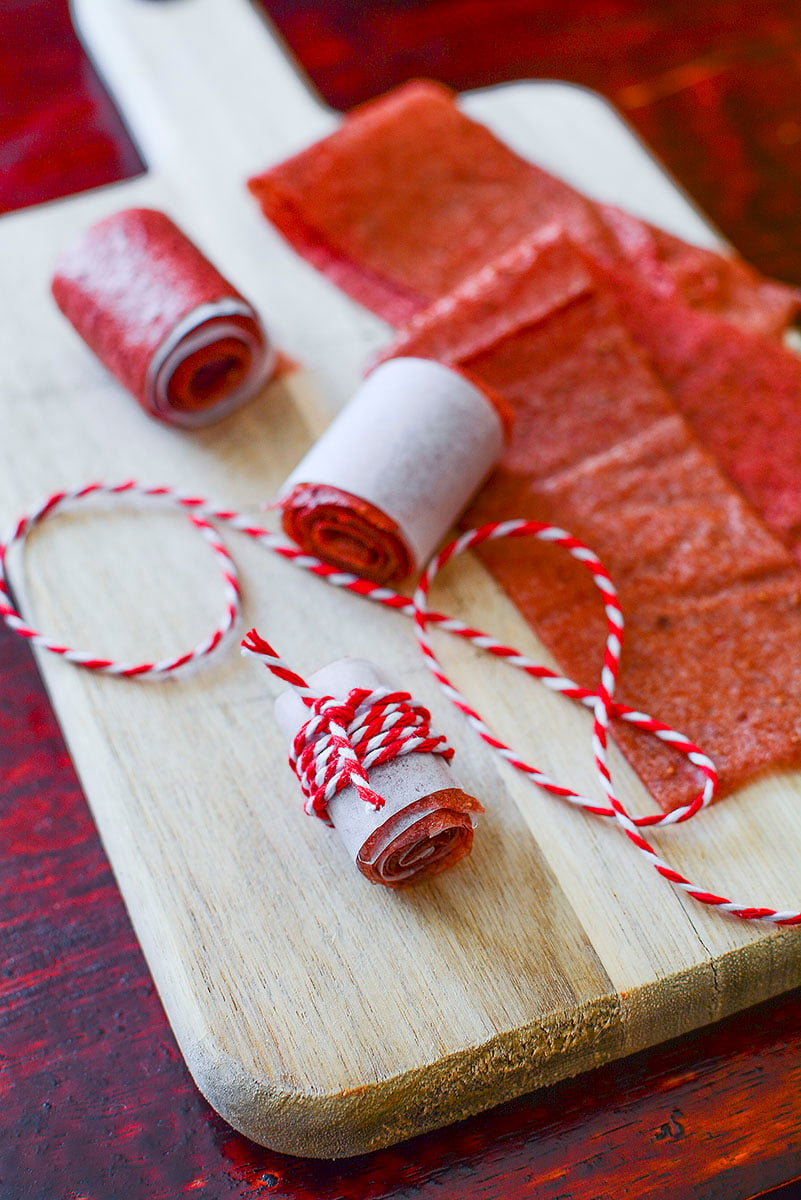 Can You Make Fruit Strips From Jam?
I bet you probably could, however, when a jam is made, it uses A LOT of sugar usually. So if you are concentrating those flavors, the fruit leather is going to be SUPER sweet, so it's not something I would recommend.
Have you made any sort of fruit strips or fruit leather, fruit jerky, fruit rollups (whatever you'd like to call them!) before? If so, let me know what kind, I'd love to hear about it! You can comment below, or feel free to email me at Joanne@thesaltypot.com!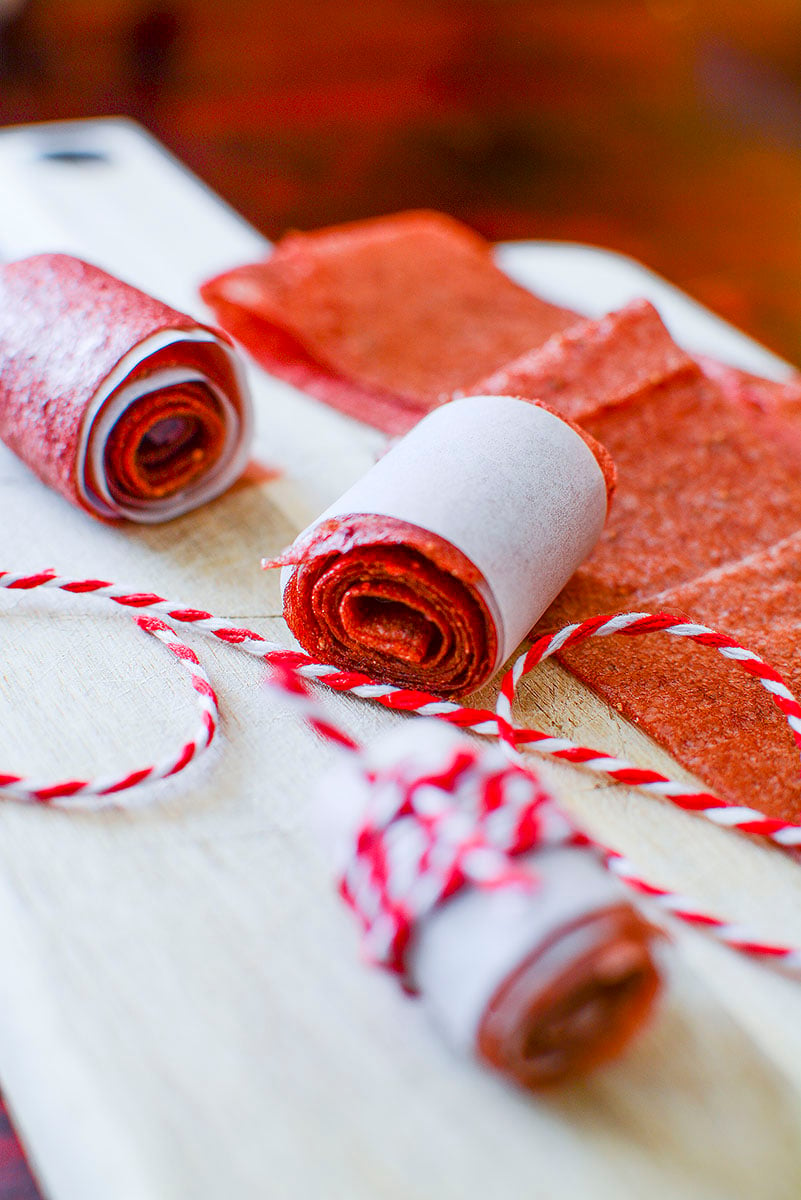 Thank you so much for stopping by The Salty Pot today and I hope you have a fantastic day!!!
Strawberry Fruit Strips
Yield:
1 tray 8 - 10 strips
Total Time:
8 hours
10 minutes
Strawberry fruit strips are the perfect snack for your littles (and you as well!). Nutritious, delicious and easy to make - they make use of extra fruit and your kids will think they're having candy!
Ingredients
2c sliced strawberries (see notes)
2c sliced ripe pears
1 teaspoon lemon juice *optional (see notes)
Instructions
Preheat the oven to the lowest setting it will go. 200F or less. (less is better). Have all your fruit ready to go - cleaned and cut into smaller, blender ready chunks.
Blend the fruit so that it's very smooth. If you prefer no seeds in the fruit strips, then spend the time to sieve out the seeds.
Line a baking sheet completely with parchment paper. Slowly pour out the puree onto the baking sheet. With a spatula, spread out the puree so that it's fairly thin (but not see-through) on the parchment paper. Try your best to get it into a rectangle shape with a boundary around the edges to make things easier, later.
Place it in the oven and dehydrate the puree into the fruit strips for approximately 8 - 10 hours. (see notes)
Remove from the oven when the center of the fruit sheet is no longer wet, and just a bit tacky.
Let the fruit sheet cool. With a pair of scissors, cut the fruit sheet up into approximately 1" strips, lengthwise, leaving the parchment paper attached to the strip.
When the strawberry fruit strips are cut, roll them up, securing them with string or leave them in long strips and place them in a container in the fridge. See the body of the post for freezing directions.
Notes
1. You'll want a total of four cups of ripe fruit. Use all strawberries if you'd like, or do a mix!
2. Lemon juice is optional. It will help retain the bright color of the strawberries, but it's not critical to the recipe.
3. You should remember to taste the puree before you roll it out onto the pan. If your fruit puree is not as sweet as you'd like, feel free to add some honey or other sweeteners to sweeten it up.
4. The drying time will depend on the temperature your stove goes down to and how thick the puree is.

Nutrition Information:
Yield:

10 strips
Serving Size:

1 strip
Amount Per Serving:
Calories:

28
Total Fat:

0g
Saturated Fat:

0g
Trans Fat:

0g
Unsaturated Fat:

0g
Cholesterol:

0mg
Sodium:

1mg
Carbohydrates:

7g
Fiber:

2g
Sugar:

5g
Protein:

0g
All nutritional information is based on third party calculations and is only an estimate. Each recipe and nutritional value will vary depending on the brands you use, measuring methods and portion sizes per household.