A cool twist on regular store-bought pesto is this homemade Garlic Scape Pesto. The garlic scapes' curly whirly shape offers a really nice soft garlic flavor that doesn't hit you in the face or overpower all the other elements in the condiment.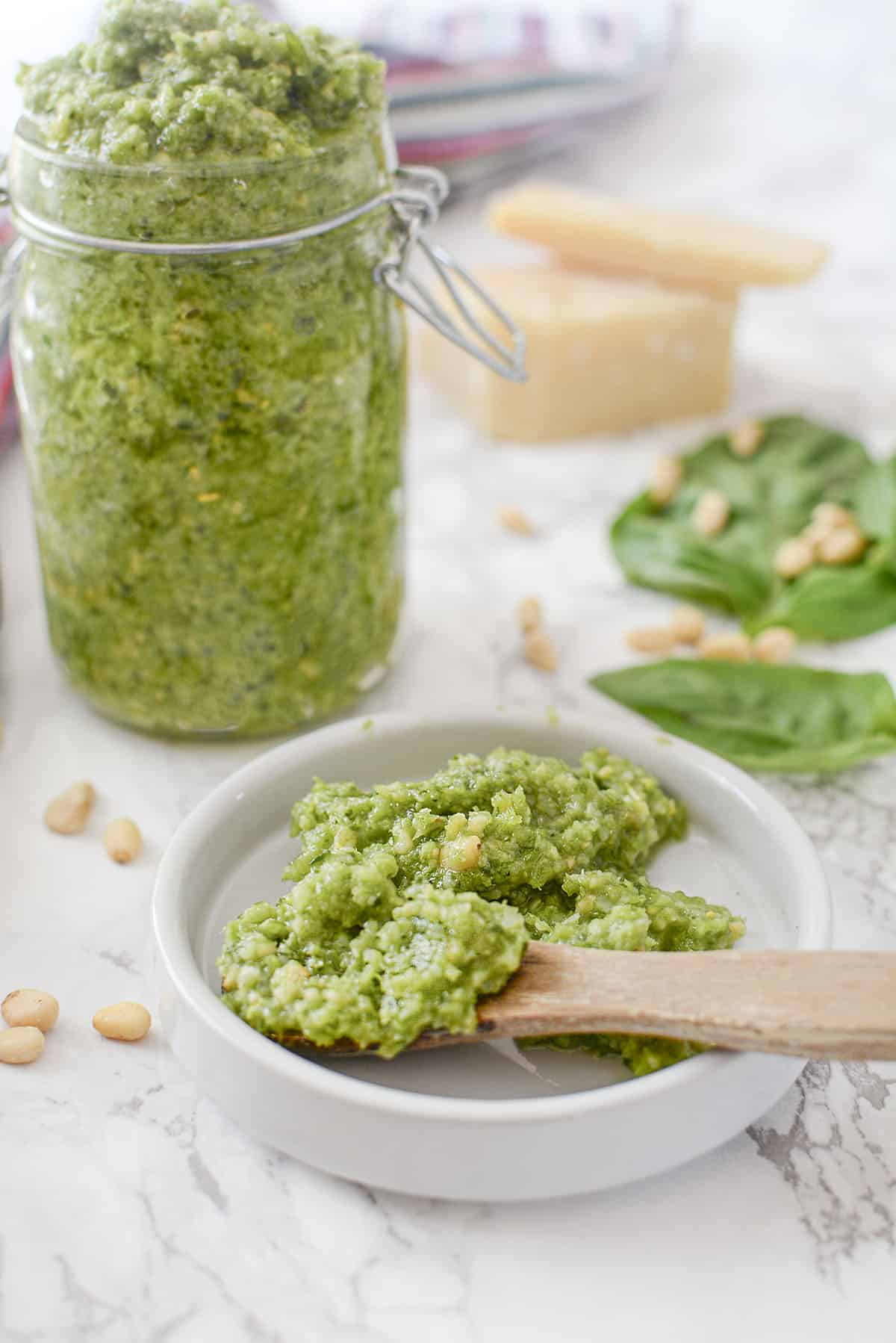 Did I mention the humble garlic scape is super versatile? You can use it for making pesto like we are going to do today, or slice it and use it as a stir fry as an added green to the dish, or even in a compound butter as I did in my Garlic Scape Butter! (Which is divine on grilled steaks!)
Garlic Scape Pesto – a new idea for using garden-grown scapes
Ingredients To Make This Garlic Pesto
Garlic scapes: Fresh or frozen garlic scapes are perfect. The flavor will hold up if they were previously frozen, so it's not a problem. Just remember to remove the actual flower and any woody ends.
Oil: My preference for any pesto is Avocado oil, but traditionally, Olive oil is the chosen oil. I say use what you have on hand.
Basil: Fresh is the best in this situation. I don't recommend using dried basil as you really want the fresh basil to lend not only its flavor but freshness as well to the pesto.
Lemon: Just as in the Basil, fresh lemons hit the mark here. You can use bottled lemon but really, bright vivacious flavors are what we are after here, so I'd say use fresh everything when possible.
Parmesan cheese: Parmesan is the traditional cheese used here, but I have tested the recipe with grand padano cheese and it's been totally fine.
Pine nuts: Phew! These puppies are expensive! I wanted the freshest I could find and that translated to 11 dollars for a half cup! Pine nuts are also traditionally used for pesto. Look below for other substitution ideas.
Salt
How to make Pesto with Garlic Scapes
Remove the flower ends from the scapes. Check the opposite ends of the scape for any tough woody ends. Remove them as well.
Chop them into 1-inch pieces and put them in the food processor.
Add in oil and process.
Add the rest of the ingredients in stages until a paste consistency is achieved.
See how easy? Simple Dimple!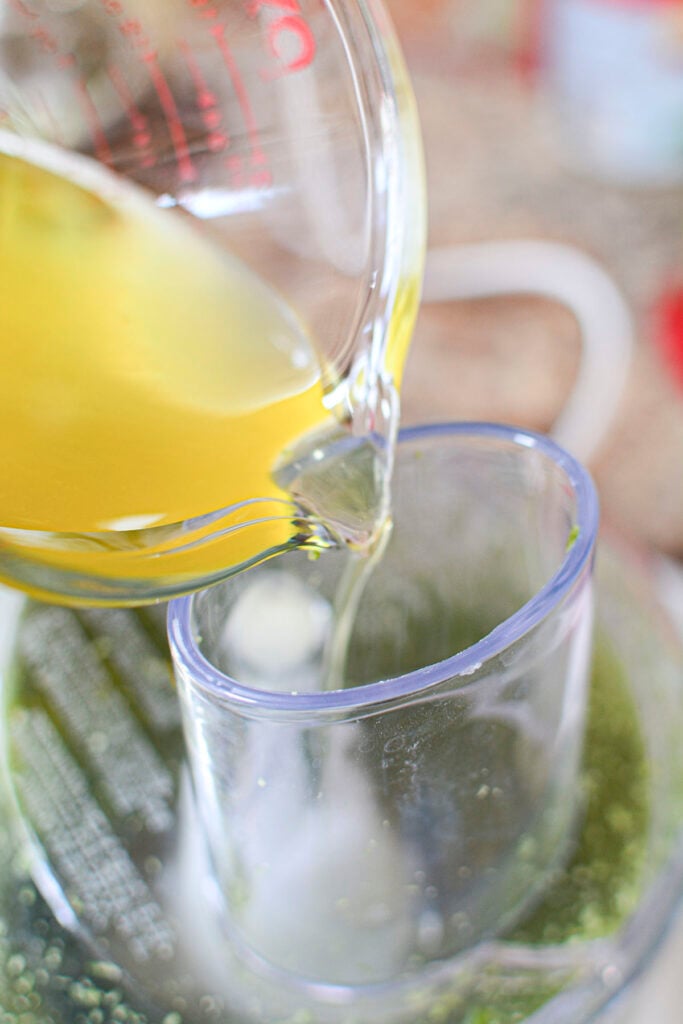 *** The exact ingredient amounts along with detailed instructions are in a printable recipe card at the bottom of this post.
So what are Garlic Scapes Exactly?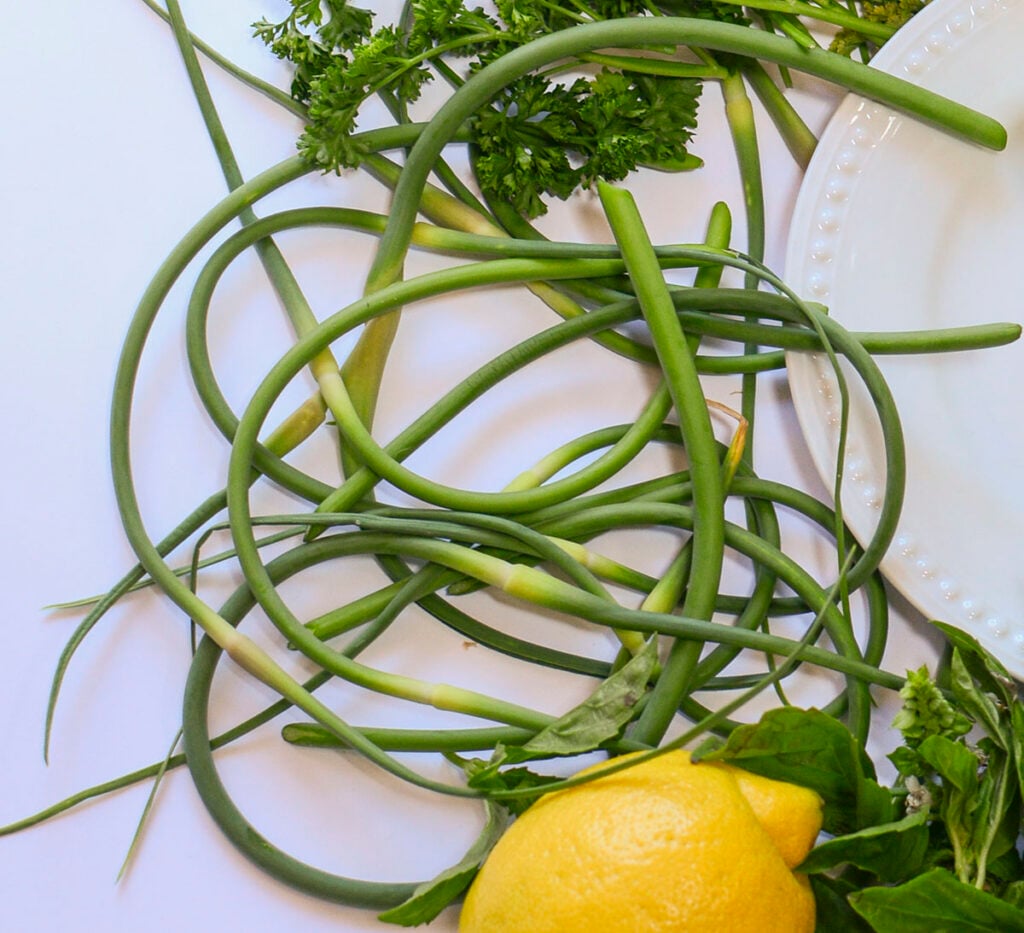 They are the actual flower of the garlic plant. They grow from the planted garlic clove (exactly what you see in the stores) and it grows with a gorgeous earthy green color and a curved, looped type shape.
You want to harvest the scape before it actually blooms so it will make the plant focus on sending its energy back into the bulb so it can grow bigger.
Flavor-wise, garlic scapes have a more tender and milder garlic flavor when compared to the actual cloves themselves.
SaltyPot Tip: If you have a bunch of fresh garlic scapes and think you won't use them all, they freeze beautifully. Place them in a freezer bag and throw them in the freezer. They'll be perfectly fine and when you thaw them, the texture will change a slight bit but they are very close in texture and flavor as they were when fresh. Just remember to remove as much oxygen from the bag as possible to help prevent freezer burn.
Cooking Tips and Substitutions
Substituting ingredients is common when making pesto, and here are a few ways to switch things up!
Pine Nuts – because they're so expensive, substituting them with walnuts or cashews can lend that creamy, nutty flavor that's easier on your wallet.
Oil – Instead of avocado oil, you can use virgin (or extra virgin) olive oil, grapeseed oil, or even regular vegetable oil. The key is to use a neutral flavored oil. Olive oil doesn't have a neutral flavor, but if you enjoy the flavor of it, go ahead and use it.
Parmesan – Try combining parmesan or fully substitute it with other cheeses like grand padano or reggiano. You will still want to stay within that family of cheeses for that pesto flavor we all love.
Garlic Scapes – Believe it or not, if you run short or have no scapes at all, try making a leek scape pesto (if you like mild onion flavors), or substitute the scapes for kale, roasted red peppers, cilantro, artichokes, or even asparagus (lightly steamed).
Ideas On How To Serve This Pesto Sauce
There are so many great ideas for using this pesto!
Garlic Scape Pasta: I have a delicious recipe using garlic scape pesto with pasta and shrimp!
Sandwich condiment: Try making this Caprese Chicken Sandwich that's easy and super tasty!
Salad Dressing: Dilute the sauce with a bit of water and use it as a salad dressing on your favorite leafy salad or even pasta salad.
Crackers: Spread it on crackers before adding some bocconcini cheese and a slice of tomato!
Soup: Mix a few tablespoons of the pesto into a vegetable or chicken soup broth to add extra flavor.
Freezing and Storage
Garlic scape pesto can be frozen for future use, extending its shelf life. I like to line an ice cube tray with plastic wrap, lining each tray cup with plastic. Then, I spoon the pesto into the tray cups and cover it with the remaining plastic.
Once frozen like that, pop them out of the tray and place them into a freezer bag or container. To avoid overpowering other foods in the freezer with its garlic aroma, it's a good idea to ensure this won't happen by double wrapping the bag or container the pesto is being stored in.
Wrap the freezer-friendly container that's holding the pesto in foil – this extra step keeps the scent from wafting around in the freezer.
When it's time to enjoy your frozen pesto, simply transfer it to the refrigerator to thaw overnight. The flavors will remain intact, and the pesto will be ready to use once fully defrosted. You might want to give it a stir to re-incorporate any liquids/oils that have thawed.
In the fridge, garlic scape pesto will typically stay good for up to a week, provided it is stored in a tightly sealed container.
Questions You Might Have
Can I freeze extra scapes that I haven't used?
Absolutely you can. I simply leave them whole and intact with the flower end still attached. Place them in a freezer-friendly sealable bag and they'll stay great for at least up to 3 months.
I don't want to use pine nuts. What else can I use?
Try using walnuts, pecans, or cashews.
Have You Tried This Garlic Scape Pesto Recipe?
If you've made this garlic scape pesto recipe, I'd love to hear about your experience. Did you make it as is or did you substitute any ingredients? Don't forget to leave a comment below and give the recipe a five-star rating in the recipe card if you loved it! Thank you for stopping by The Salty Pot today, and I hope you have a fantastic week!
~Joanne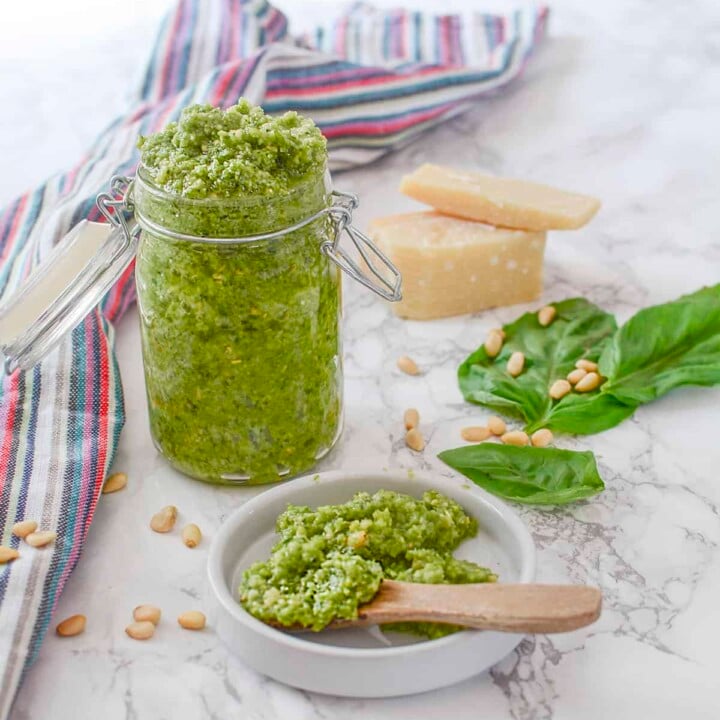 Homemade Garlic Scape Pesto
Garlic Scape Pesto is delicious, with a fresh, bright, and mild garlic flavor that allows all the other ingredients to equally shine through. It comes together super simple and make sure you make a big batch as it freezes beautifully!
Ingredients
15-16 garlic scapes, flowers and ends removed, chopped into 1 inch peices.
½ cup Avocado Oil
½ cup Pine Nuts
½ cup Parmesan Cheese
⅓ cup Basil Leaves, fresh
Juice of 1 Lemon Juice
Instructions
Place the chopped scapes into the food processor bowl. Give it a few pulses to break them up into smaller pieces.
Slowly drizzle the oil into the scapes with the processor running to help break them up even smaller, into a paste.
Add the rest of the ingredients except the nuts, and process again until you have a nice consistency for spreading.
Finally, add the nuts and pulse the whole mixture until the nuts are broken down small, but not pulverized.
You can use this right away or cover it and chill it in the fridge for a couple of hours to let the flavors come together even more.
Notes
Check the body of the post for all the substitutions that can be used for the nuts in this garlic scape pesto recipe.
Nutrition Information:
Yield:

32
Serving Size:

1 tablespoon
Amount Per Serving:
Calories:

58
Total Fat:

5g
Saturated Fat:

1g
Trans Fat:

0g
Unsaturated Fat:

4g
Cholesterol:

1mg
Sodium:

34mg
Carbohydrates:

2g
Fiber:

0g
Sugar:

1g
Protein:

1g
All nutritional information is based on third-party calculations and is only an estimate. Each recipe and nutritional value will vary depending on the brands you use, measuring methods, and portion sizes per household.