I did not have a lot of time today to blog, but I just HAD to get this recipe to you for this Fluffy Cherry Pie! Why you ask? Well, because of yumminess, of course. 🙂
If you need a super quick, super easy, dreamy pie that includes cherries, well this is the one. To make it even easier, we're using cherry pie filling!!

Seriously, I'm not saying I'm lazy, I'm just saying I like to conserve my energy for you know, super important things like, if Oprah called me to go shopping or, well.. I don't know, if someone needed my help setting up their tent at the beach.
Truth be known, I probably wouldn't help with the setting up part, but I could bring them this pie and the world would be an awesome place for both of us while we sit in front of the tent on the beach looking at the water, right? 🙂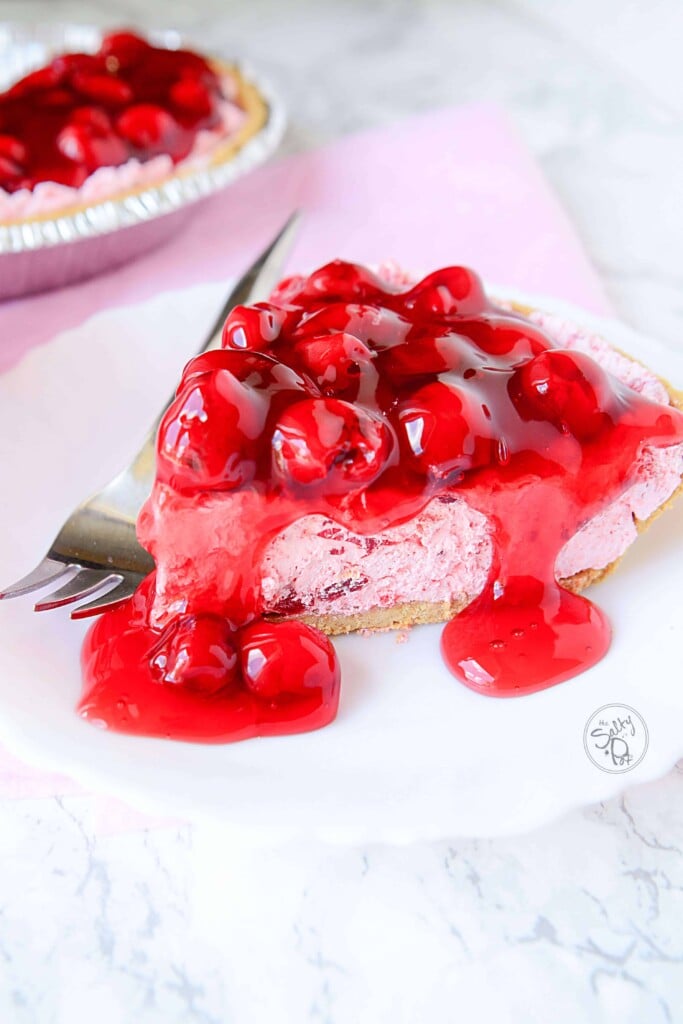 Anyway.. sheesh I ramble on sometimes, dont I? Ok, so back to this awesome fluffy cherry pie. Even the name is super cute right?
Easy peasy to make!. To start, you need a graham crust. A can of cherry pie filling. One tub of whipped topping. One box of cherry jello…. aaaaand a bit'o water. That's it!!
Boil the water and make the jello according to the directions on the box. Waiting for the jello to cool down is the most time-consuming part. You could put it in the fridge, but be careful that it doesn't set!!
No ACTUAL jello making can happen here!! You want it cooled so that it won't melt the dreamy whipped topping, but not set up like jello does.
So when it's cooled.. yeah, you guessed it.. you mix it with the whipped topping. Don't freak out and stir it in from here to oblivion. Just fold it in all nice and friendly like. Talk to it maybe.. or whistle it a soft tune. Call it baby. I don't know, just be nice with it.
Once it's all folded in, transfer it to the graham crust. Level it so it's nice and smooth and then refrigerate it for a few hours so that the jello sets up firm. It won't be super firm like regular jello, but it takes on a nice consistency when it's mixed with the whipped topping. It makes it fluffy kinda. .. hence the fluffy cherry pie name!
So when it's cooled and set up, simply pour half the can of pie filling into the top of the pie and spread it out so it just about reaches the border of the pie. If you leave a tiny bit of the cool whip/jello mix peeking out, it makes it even prettier and we all know we're aaaaalll about the pretty food!
Not really, I'm about the taste, but pretty food make it taste better sometimes. lol.
With the remaining pie filling, you can choose to spoon more cherries on top, or add more of the saucy filling part (some people like it saucy.. ahem), or you can save the half of the cherry pie filling for another day when your spoon needs to top chocolate cake with cherry pie filling…..
or maybe your spoon needs to top a sugar cookie with some pie filling……
or maybe your spoon needs to top a stray tart rolling around in your freezer with cherry pie filling….
You never know, it could happen.
And if you decide to make another super easy and cute dessert to accompany this pretty cherry dessert, try this Apple Pecan Croissants with butterscotch sauce here – or any of these cute summer berry desserts here. I guarantee you, you'll love the cuteness dessert overload!
This fluffy cherry pie is such an easy, cute dessert to put together, I just know you'll take a bite (like I did) and proclaim, "where have you been all my life, you easy-to-make fluffy cherry pie??" I know, no one talks like that,…….. but you might think like that. And if you do, let me just say, life, if not complete, is SOOOO much nicer with this cutey patootie dessert in your life.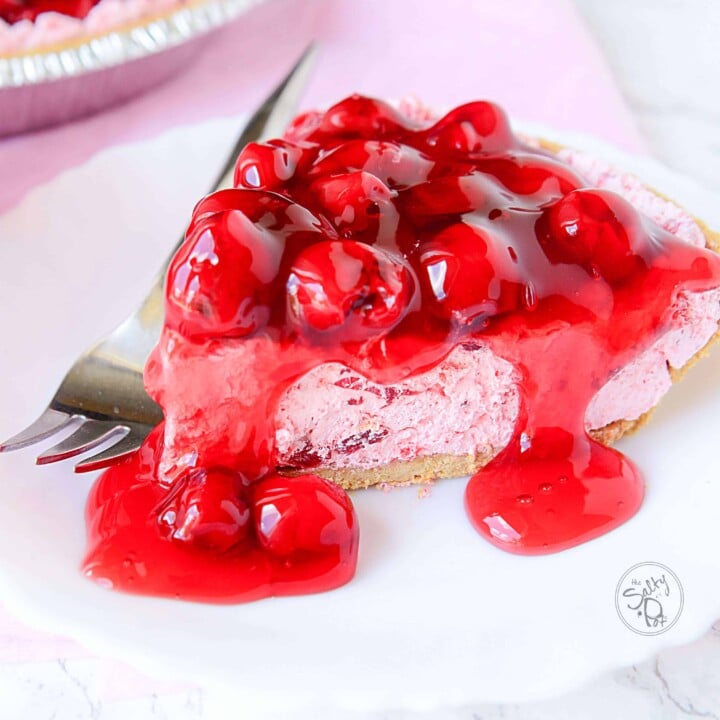 Fluffy Cherry Pie
Total Time:
1 hour
15 minutes
A super easy, super fluffy, no bake cherry pie dessert! Made with ingredients you probably have on hand right now, this gorgeous cherry dessert is a real show stopper!
Ingredients
1 graham cracker crust
1 tub whipped topping, slightly thawed
1 box cherry jello
1 can cherry pie filling, 18 - 20oz
Instructions
In a bowl, prepare the jello according to the box directions.
chill the jello until cool, but not set
add the jello to the whipped topping and fold it gently all together. Transfer the filling to the pie crust and level the top.
chill the pie until serving. Upon serving, use pie filling to cover the surface of the pie. If there's extra after cover the top, use the reserved to drizzle more over each piece.
Enjoy!
***** DON'T FORGET TO PIN THIS FLUFFY CHERRY PIE RECIPE TO YOUR FAVORITE DESSERT BOARD ON PINTEREST FOR SAFE KEEPING!!!!******