This fluffy, No Bake Cherry Pie has a creamy, delicious cherry filling with juicy cherries enveloping the top of the pie. This easy pie comes together in no time and doesn't contain any cream cheese at all.
This post may contain affiliate links. If you make a purchase after clicking a link, I may earn a small commission AT NO COST TO YOU. As an Amazon Affiliate, I earn from qualifying purchases.
Reasons I Think You'll Love This Recipe
If you're looking for a really quick, really easy dreamy no bake cherry pie without cream cheese, this is the recipe for you. Sweet juicy cherries on top of a creamy cherry filling all resting on a graham cracker crust, I love how light and fruity this pie is.
It's not heavy because it doesn't contain any cream cheese at all. The ingredients are easily available at your local grocers which is even better.
Lastly, the recipe is easily adaptable to fit your personal preferences, and adding a few different ingredients makes the recipe all your own!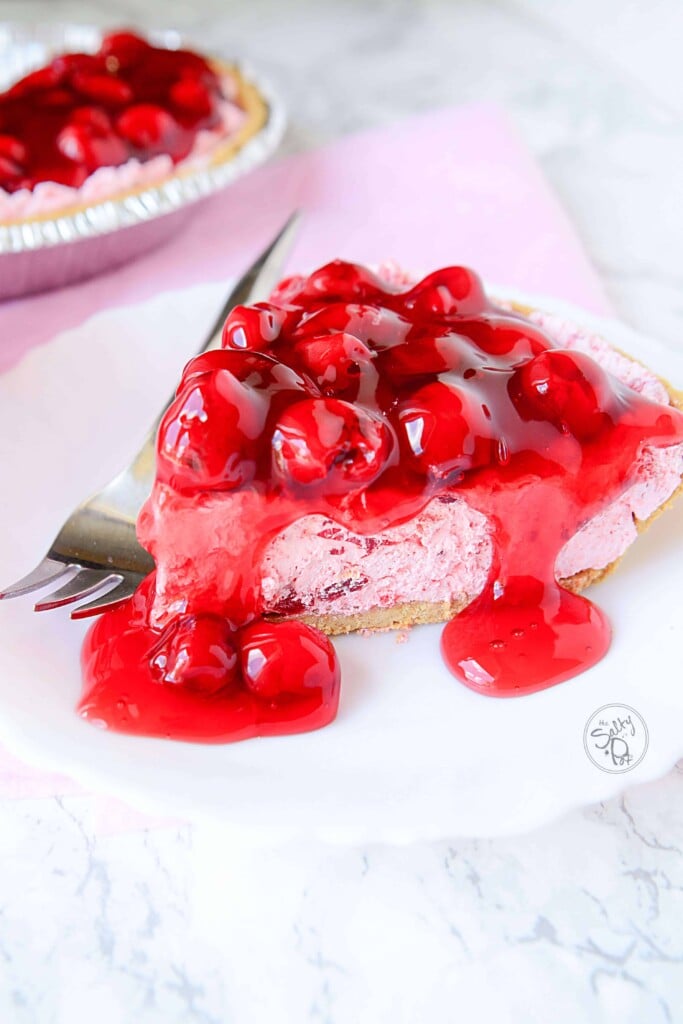 Ingredients You'll Need To Make This Cherry Cool Whip Pie
It's almost kind of funny how easy this cherry dessert is to make. Similar to my Slow Cooker Apple Blueberry Cobbler recipe, it's a dessert that you basically set it and forget it. Minimal effort up front and the remaining time is hands-off.
For this recipe, you'll need:
Graham Cracker Crust – Any 9″ or 10″ pre-made graham cracker crust will work here. However, I realize that sometimes you may prefer to make a homemade graham cracker crust, so I encourage you to do so!
Cherry Jello – I used the Jello brand but there are other grocery/no-name brands that will work that are less expensive. Use what you might have on hand.
Cherry Pie Filling – Some cherry pie fillings are sweeter than others, so if this is important to you, remember to compare labels when you're in the store. The graham crusts usually have sugar in them, so it's just something to be aware of.
Cool Whip – The usual tub of cool whip is perfect for this recipe. If you want to make your own homemade whipped cream, there's no problem with that.
***You'll find the exact ingredient amounts and directions in a printable recipe card below.***
How To Make This No Bake Cherry Pie
Step One – Make the jello according to the directions on the side of the box. This usually includes adding boiling water to dissolve the crystals and then adding more water to add volume and cool it down. Place it in the fridge to cool BUT NOT SET.
SaltyPot Note: No ACTUAL jello making can happen here! You want it cooled so that it won't melt the dreamy whipped topping, but not set up like jello does.
Step Two – When the jello is cooled enough, but not set, fold it into the whipped topping. Be gentle as to not deflate the volume of the cool whip.
Step Three – Once it's all folded in, transfer it to the graham crust. Level it so it's nice and smooth and then refrigerate it for a few hours so that the jello sets up firm. It won't be super firm like regular jello, but it takes on a nice consistency when it's mixed with the whipped topping. It almost has the texture of mousse.
Step Four – When you're going to serve this pie with cherry mousse, dollop half of the can of pie filling over the top and spread it out so it just about reaches the border of the pie. If you leave a tiny bit of the cool whip/jello mix peeking out, it makes it an even prettier presentation!
Variations and Serving Suggestions
Switching up the cherry pie with graham cracker crust is easy as pie 😉
Try switching out the cherry pie filling for a different pie filling like blueberry or even blackberry. (Berry pie fillings work the best. I don't recommend using apple pie filling.)
You could even combine different pie fillings – blueberry and cherry or blackberry for a fun flavor combination.
Try sprinkling grated chocolate over top of the cherry filling on the pie for flavors reminiscent of black forest desserts.
I recommend serving this fluffy cherry pie chilled. Room temperature is ok, but serving a slice of this pie, chilled, with a nice hot cup of coffee tea – CHEF'S KISS!
If you're looking for other fruity desserts, give this Apple Pecan Croissant Dessert a try, or if it's a fluffy fruity flavor you're after, my Ambrosia Salad fits that bill perfectly.
Storing And Leftovers
I've never actually frozen this no-bake cherry pie. However, I think because cool whip freezes perfectly fine, and i think mixed with the jello, it would be perfect in the freezer, tightly covered for up to a month. I recommend waiting till it thaws (overnight in the fridge or on the counter for a few hours) to place the cherry filling on top.
For any leftovers, cover them with plastic wrap and keep them refrigerated for up to 4-5 days. If the pie slices look a little 'watery' or 'sweaty' (sorry for that choice of the word..lol) after a few days, that's an indication that the filling is breaking down and I would just toss it.
This fluffy cherry pie is such an easy, cute dessert to put together, I just know you'll take a bite (like I did) and proclaim, "where have you been all my life, you easy-to-make fluffy cherry pie??" I know, no one talks like that,…….. but you might think like that.
And if you do, let me just say, life, if not complete, is SOOOO much nicer with this cutey patootie dessert in your life.
If you made this fluffy cherry pie dessert, please take a moment to comment or leave a star rating in the recipe card below. Have a wonderful day!
~Joanne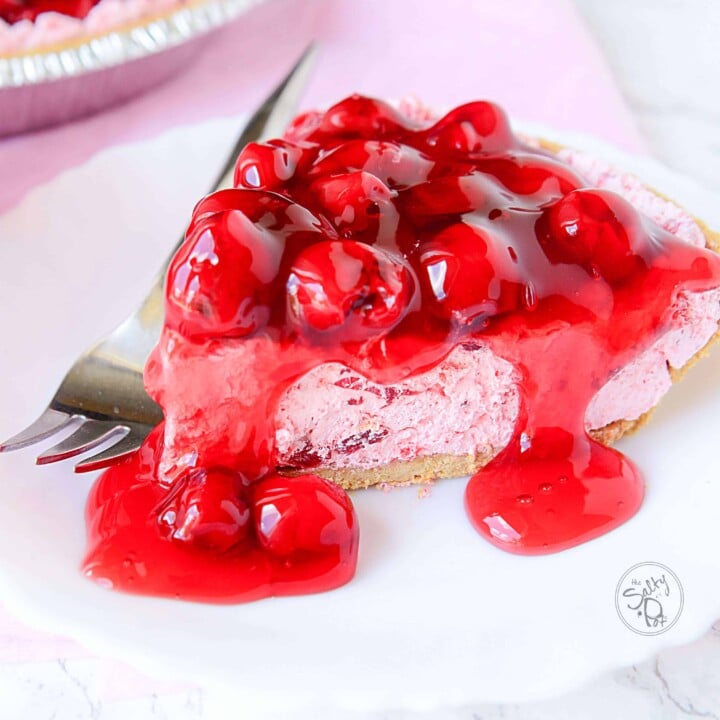 Fluffy No Bake Cherry Pie
Total Time:
1 hour
15 minutes
Here's a super easy, super fluffy, no-bake cherry pie dessert! Made with ingredients you probably have on hand right now, this gorgeous cherry dessert is a real show-stopper!
Ingredients
1 graham cracker crust
1 tub whipped topping, slightly thawed
1 box cherry jello
1 can cherry pie filling, 18 - 20oz
Instructions
In a bowl, prepare the jello according to the box directions.
chill the jello until cool, but not set
add the jello to the whipped topping and fold it gently all together. Transfer the filling to the pie crust and level the top.
chill the pie until serving. Upon serving, use pie filling to cover the surface of the pie. If there's extra after cover the top, use the reserved to drizzle more over each piece.
Enjoy!