Do you need a quick dinner but realize that you forgot to thaw a package of ground beef from the freezer and now don't have time to wait for it to thaw? The good news is that you can brown hamburger meat from frozen for things like skillet dinners and casseroles quick and easy even if you do not have time to let it thaw properly.
For other things that require ground beef to be thawed and ready to cook there are a few handy tricks you can use to quickly thaw meat to cook right from a frozen state without waiting for hours.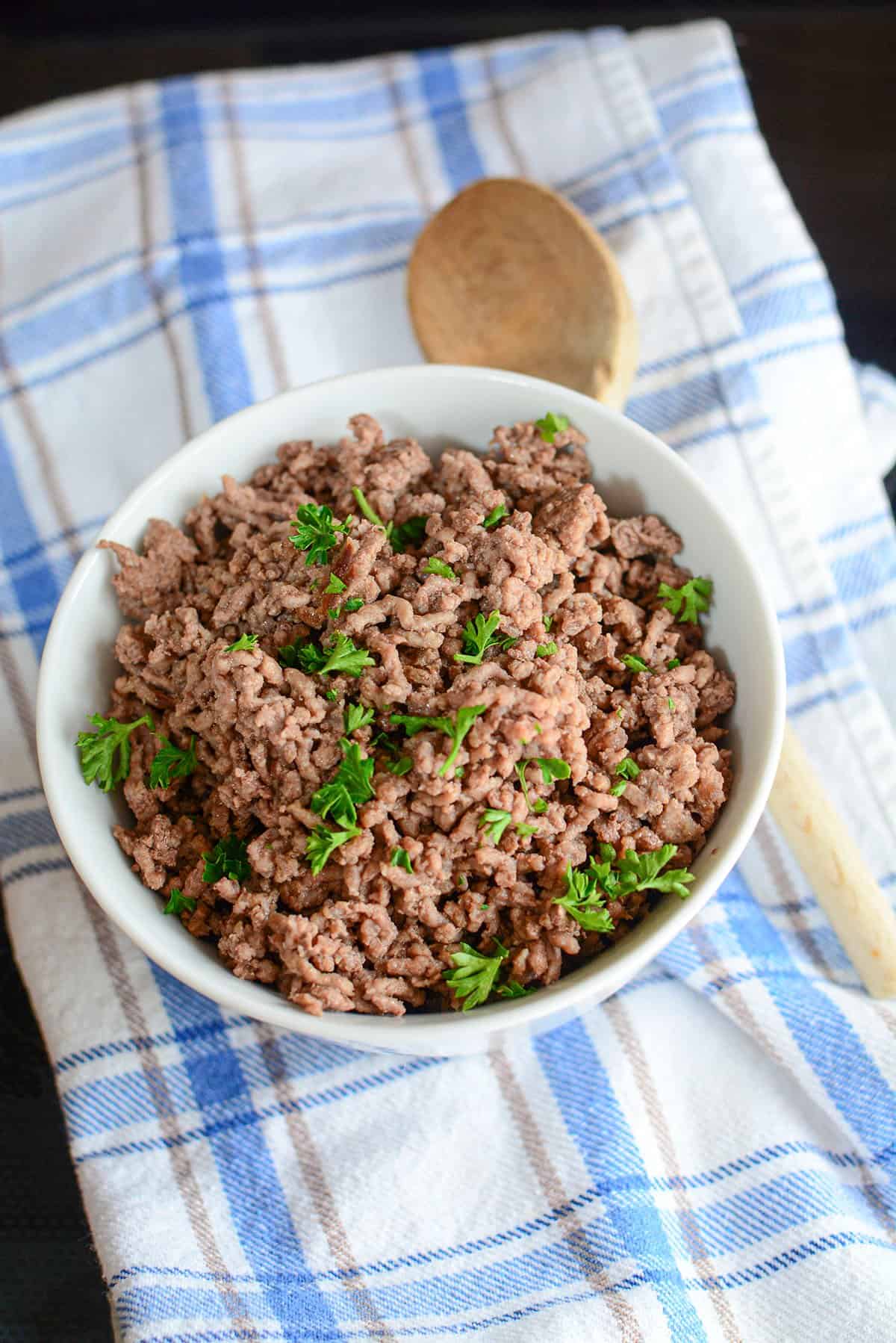 Can You Cook Ground Beef While it is Frozen?
Yes, you can cook a block of ground beef (or any ground meats using this similar method) without having to thaw it. This is handy for when you need to whip something up for dinner and can't wait for the usual thawing process. Keep in mind that the cooking time will be longer than if you were starting with fresh meat.
The best part of doing this is that the process of searing the outside of the meat also helps thaw the inside as it cooks which is beneficial in a few ways. It prevents any harmful bacteria growth by keeping the meat out of the danger zone because it doesn't get a chance to sit at room temperature for a long time causing food poisoning. You're also using this method to brown ground beef while also thawing it so essentially completing two tasks at once.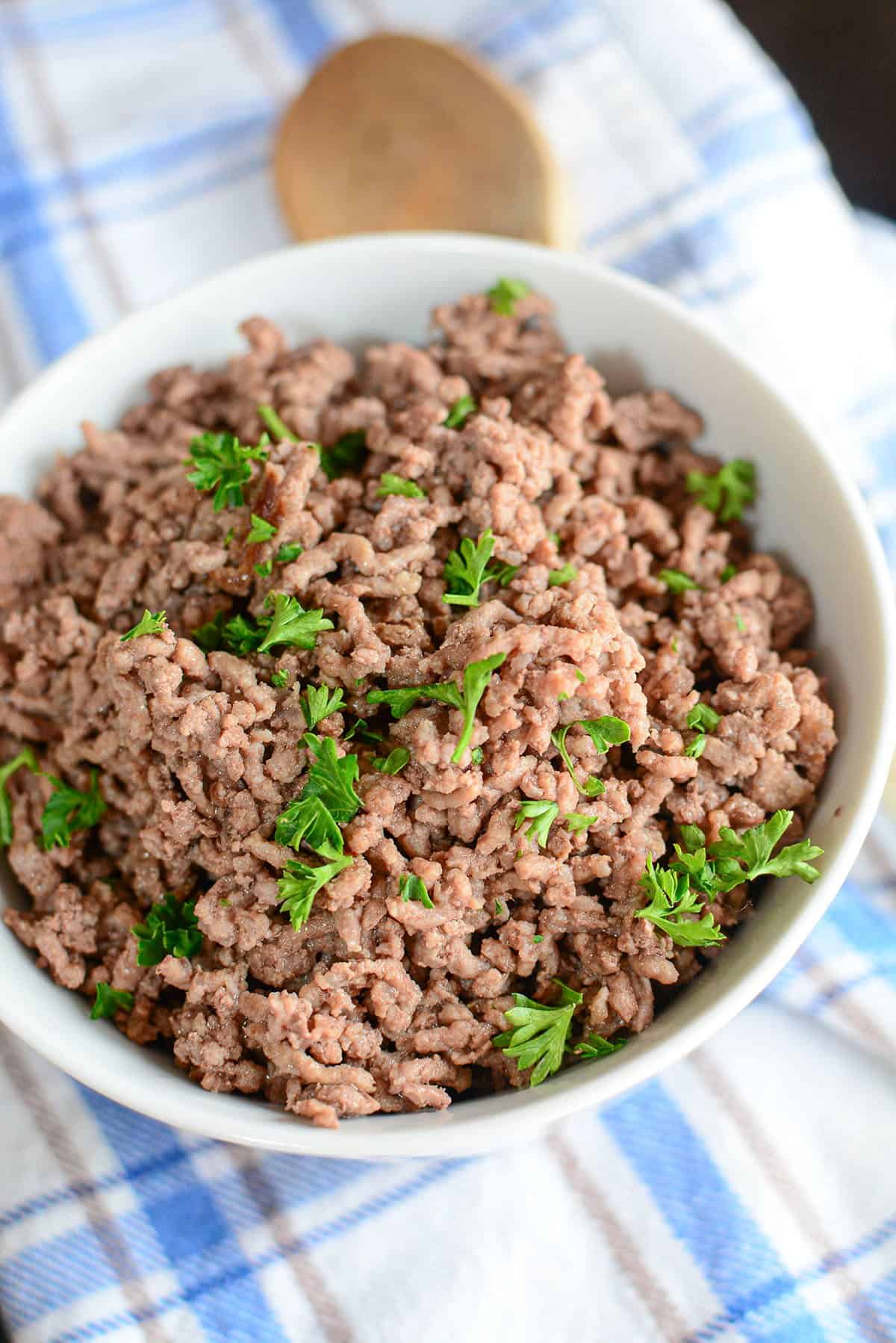 How to Cook Frozen Ground Beef
Place the frozen beef into a medium heated skillet with a tablespoon of cooking oil and don't move it around for a few minutes. Allow your meat to sear on one side while you work on something else in the kitchen.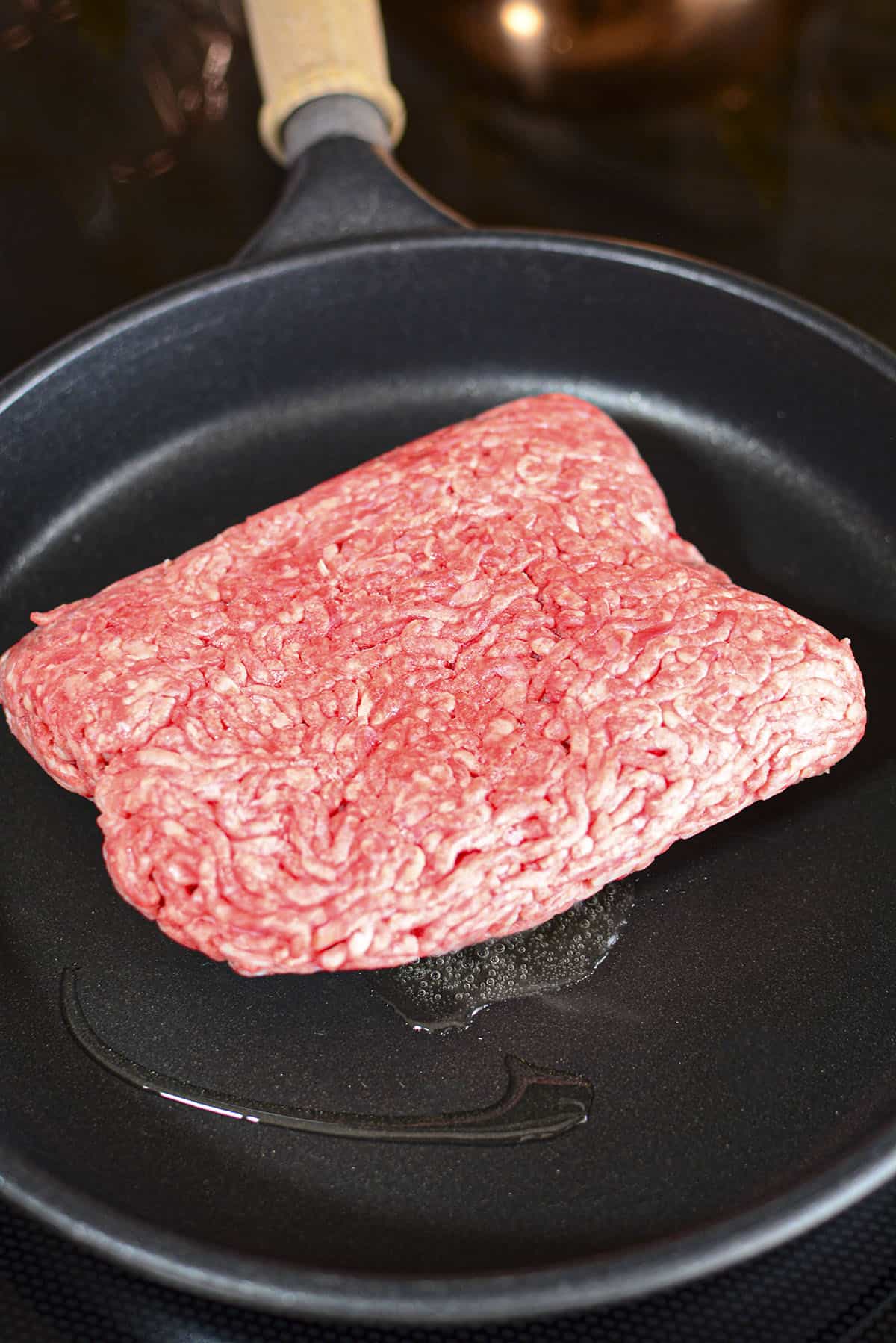 Every few minutes go back to your cooking beef and take a moment to flip it over and scrape the cooked portions off of the overall piece of ground meat. This will allow the meat to thaw under the cooked portion when you flip it again.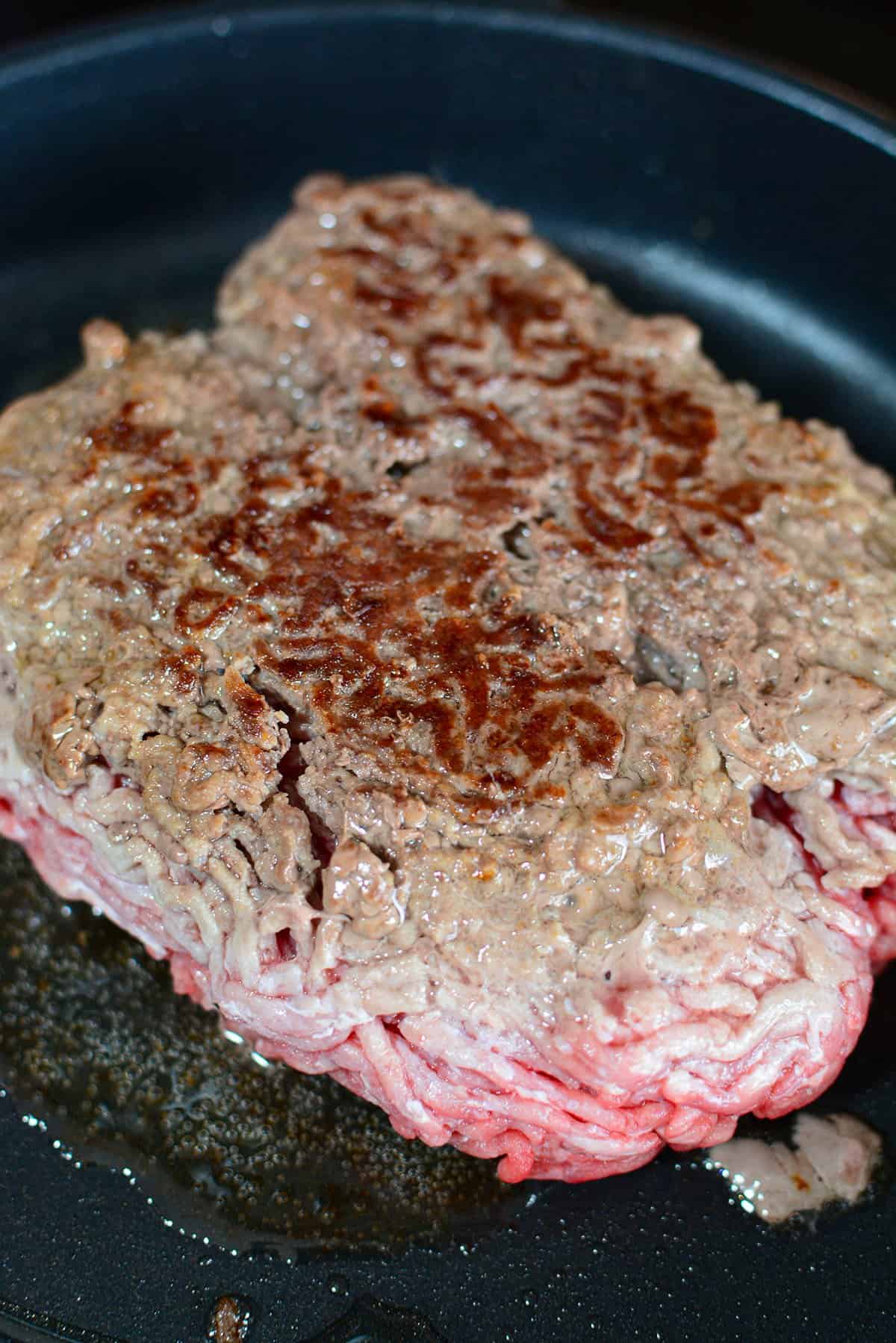 Season the meat as you continue with this cooking method until the layers of meat have been scraped off and the initial frozen portion has been reduced. At this point, it will be possible to break off pieces of the frozen piece of meat. Using this meat chopper is ideal for breaking up larger chunks of cooked ground beef into a fresh batch of the crumbled meat.
When it's cooked through, you can now use the cooked beef in dishes just like you do fresh ground beef. This thawing/cooking method is great for many ground beef recipes like sloppy joes, spaghetti sauce, or any casserole using cooked ground beef.
**Note: If you don't want the crispy, deep-colored pieces of beef that come from searing, negating this is easy. You can simply add a little water to the skillet as the meat cooks. Using a lid to cover the skillet will help create a steaming effect, thus making it difficult to develop that sear on the beef and leaving you with more tender beef crumbles.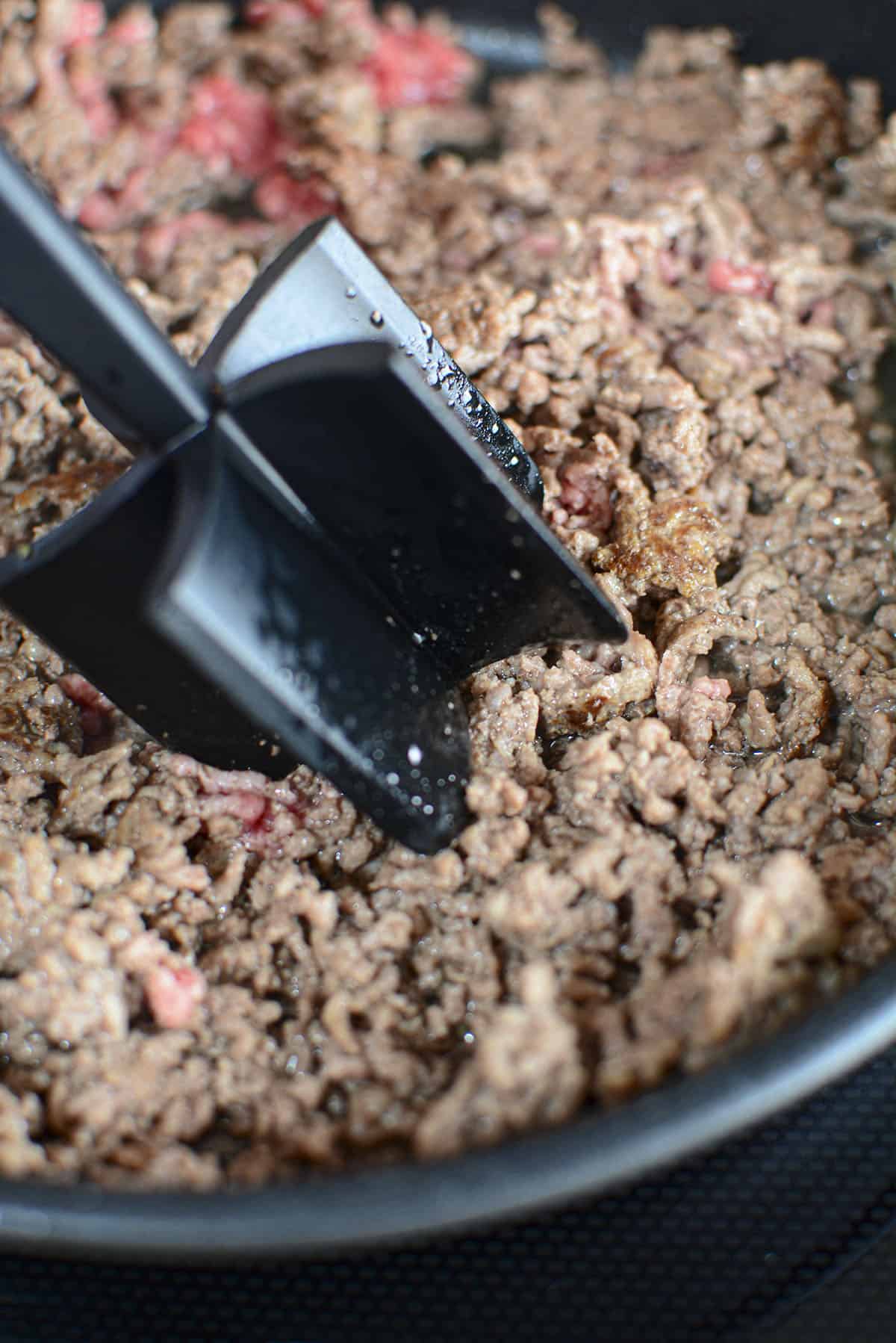 Temperature to Safely Cook Frozen Ground Mince
Food safety is important and when you are cooking your ground beef from frozen you want to make sure it is fully cooked. According to the USDA Food Safety Guidelines, ground beef should be cooked to an internal temperature of 160 degrees Fahrenheit. Also, there should be no pink pieces of meat, it should all be nicely browned. This can take a bit longer for some pieces so be sure to look closely.
COOKS TIP: A super helpful way to get a jump on using frozen beef that is ground, is when you buy it from the store, buy it in bulk. Then when you're home, separate the bulk package into 1 pound portions and place the meat into freezer-safe bags. The key is to press the meat as flat as possible within the bag before sealing. The thinner the portion of ground beef, the quicker it will thaw (or cook from frozen) when you need it!
Other Alternative Ways to Thaw Frozen Ground Meats
Even though you can cook your ground meat directly from frozen when you wish to make things that simply need the meat to be browned, there are some things that require you to be able to adjust the shape of your meat such as meatloaf, hamburger patties, and meatballs.
For these foods, you may want to use a quick defrost method such as the ones below.
Microwave: Using the defrost setting in your microwave oven is one of the most popular meat thawing methods because it works in a matter of minutes. The downside of this one is that it can begin to cook your meat in some areas. This can also sometimes affect the taste and texture of your meats.
Water: A great way to defrost frozen ground mince is to submerge the lump of frozen meat in a large bowl of ice water. Be sure the beef is in an airtight package before doing this. Also, this thawing method will take about an hour or hour and a half to thaw, so keep that in mind when preparing things. Do not use warm or hot water for this method as it could encourage the unhealthy growth of bacteria. Keep the water cold during the thawing process.
Pressure Cooker: Using a pressure cooker like an Instant Pot is a hands-off approach to thawing ground beef. This is an easy method and gives you the results of cooked beef rather than something like fresh ground beef. These directions will show you exactly how to use this method.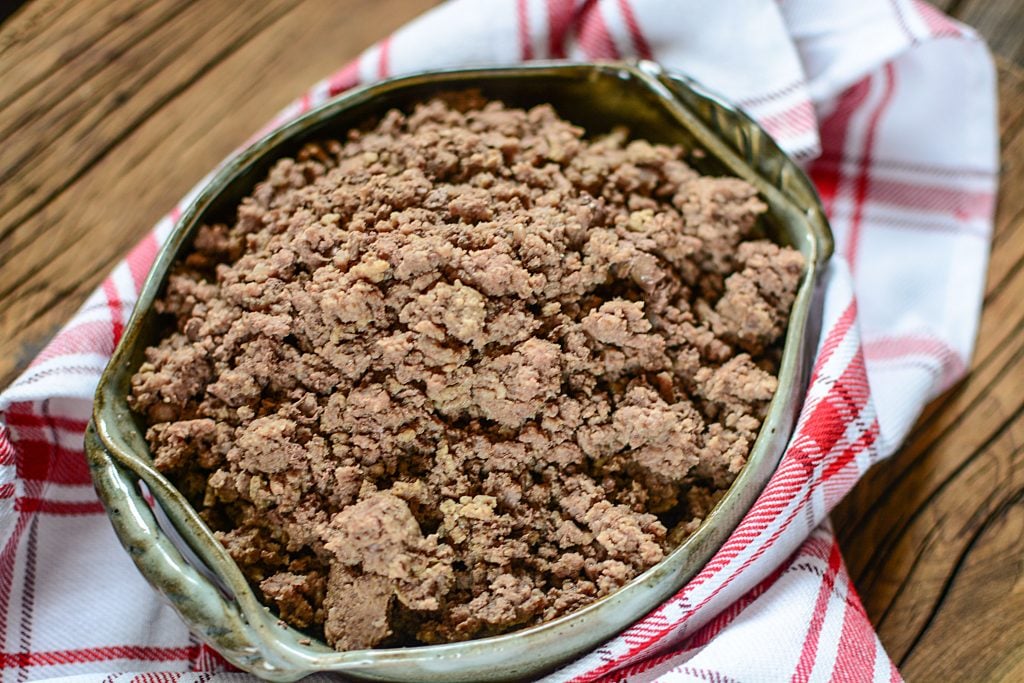 Can I Refreeze Thawed Ground Beef?
There are some cases where it's somewhat safe to refreeze thawed beef, but for food safety issues, personally, I wouldn't risk it. However, you can cook the beef thoroughly, let it cool, and then transfer to an airtight container and freeze it for up to a month.
Recipes Using Cooked Ground Beef
These are some great recipes that are ideal for using ground beef.
Individual Spaghetti Dinners
Crockpot Taco Pasta
Ground Beef Casserole

Have you tried using this method to thaw frozen beef? Do you have other ways to thaw meat from frozen? Let me know down below in the comments, I'd love to hear them!