Although many people are familiar with a morning cup of 'joe', sometimes, you might ask, where does coffee come from?
While there are tons of different types of coffee and it's a hard plant species to classify, one point that everyone agrees with – coffee is one of the world's most popular hot drinks!
Types of Coffee
Ok, coffee comes from all over the world and there are many types of coffee 'species' but the most popular ones are these listed:
COFFEA ARABICA – This includes Bourbon, Jamaican Blue Mountain, Tico, Mundo Nova and are mainly grown in Latin America, The Carribean, Indonesia, East Africa, and Central Africa.
COFFEA LIBERICA – These are grown mainly in West Africa and Malaysia
COFFEA CANEPHORA – Predominately grown in South East Asia and both West and Central Africa.
The Early Origins of the Bean
When learning about where coffee comes from, it's widely believed that coffee has its origins in the province of Kaffa in Ethiopia. However, the actual date of the discovery of coffee is not reliably recorded but there is data that coffee was being cultivated in Yemen in the 15th century (and probably before)!
In 1616, the Dutch were successful in importing coffee beans to Holland and then the exportation of coffee spread to the Dutch colonies in Indonesia.
The Planty Info (Botanical Profile) of the Coffee Plant
Coffee belongs to the Coffea genus and is a member of the Rubiaceae plant family.
The Coffea species is usually an evergreen bush or tree that grows to a height of between 16 and 30 feet. Examples like Coffea Arabica have grey colored bark, with shiny, dark green leaves and pretty aromatic white flowers.
Coffee is extracted from the coffee seed, more commonly known as the coffee bean. Other species of coffee vary in leaf color and other botanical features.
The Ecology
Coffee was originally native to the countries of Africa, but it is now cultivated in many corners of the world, including several countries in Central and South America (for example, Costa Rica and Brazil), Hawaii, and parts of Asia. Coffee is a tropical plant that requires certain ecological factors to survive; these include water, the right temperature, wind factor, soil quality, and sun light. Altitude levels also affect the success of coffee cultivation; this varies depending on the type of coffee species.
The Introduction of Coffee into Europe and America
The coffee trade began in Europe in 1615 through Venetian traders, and Venice opened the first European coffeehouse in 1623; the exportation of coffee into Europe followed chocolate and tea. The use of coffee is first recorded in America in 1668, but it wasn't until the 1720's that coffee cultivation began in the Americas. Coffee cultivation was introduced to Martinique by the French, to Jamaica by the British, and to Central and South America by the Dutch. Today, North America is the largest consumer of coffee.
Ways to Drink It!
There are a large number of ways to drink coffee in today's society. Coffee has become a 'lifeline' to people. It gets you going in the morning, keeps you awake at night, finishes off a meal, refreshing in summer when iced, it's used a central activity when meeting up with friends, etc. etc.
The main ways to coffee is made into a beverage are:
Regular, hot brewed coffee in a drip machine – coffee is put into a filter and hot water is poured over it so it drips into a cup/carafe underneath.
Pour Over – similar to the machine method above, but done by hand, usually in a single serving.
Cold-brew – Served cold, it's the method of steeping coffee grinds in filtered water over a long period of time to achieve a smoother cup of coffee.
French Press – Similar to a cold brew, but it uses hot water, and a plunger, that when depressed, separates the grounds from the coffee. (A french press is featured in the very first photo of this post).
Instant – Coffee beans are ground, brewed and then the coffee is dehydrated to form crystals. They are then rehydrated with boiling water for a single cup. More information on how instant coffee is made can be found in this article.
Instant Pot – yes! It's possible! I made a coffee concentrate in the instant pot. Similar to a cold brew, but it's done under pressure with hot water. The concentrate is then added to hot or cold water, depending on what you want.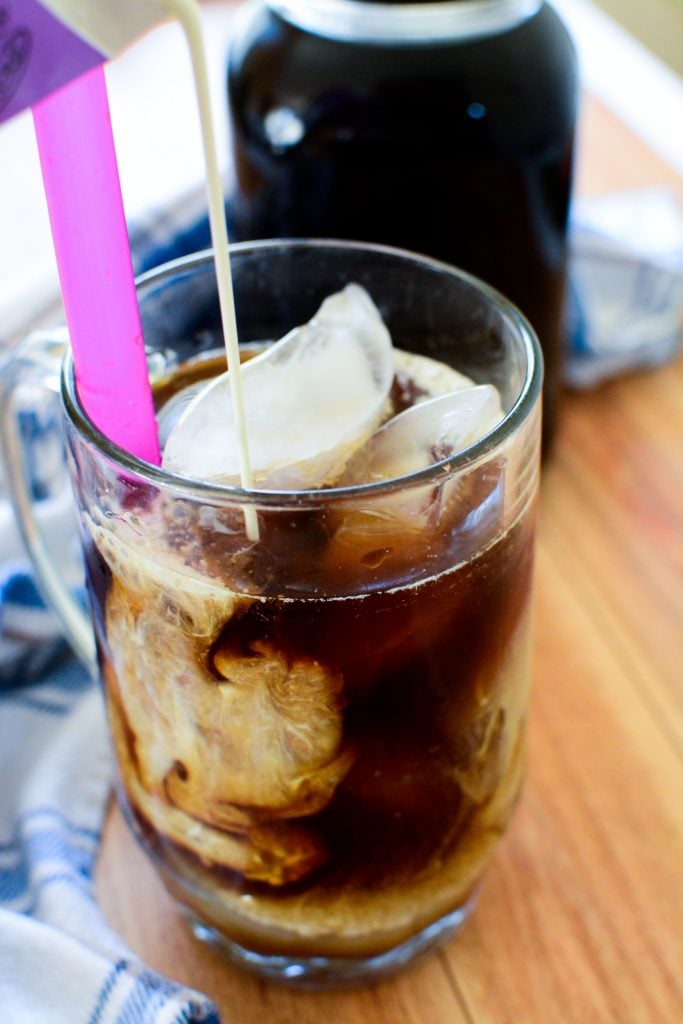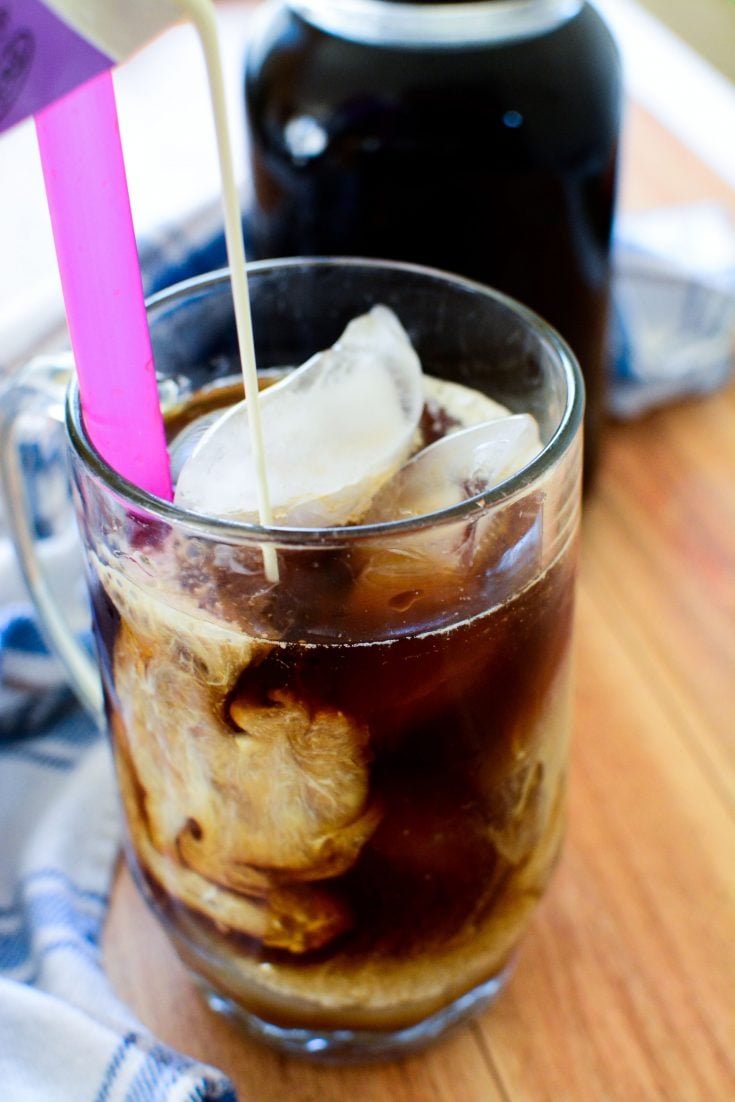 Of course, there are plenty of other recipes that have ingredients added to the coffee, like steamed milk for lattes and cappuccinos.
There is fine ground coffee that is very strong and meant for a sipping type coffee called espresso.
Also, people add alcohols, sweet creamers, etc to make "special coffees", like my recipe for a Boozy Morning Coffee Creamer that is FANTASTIC.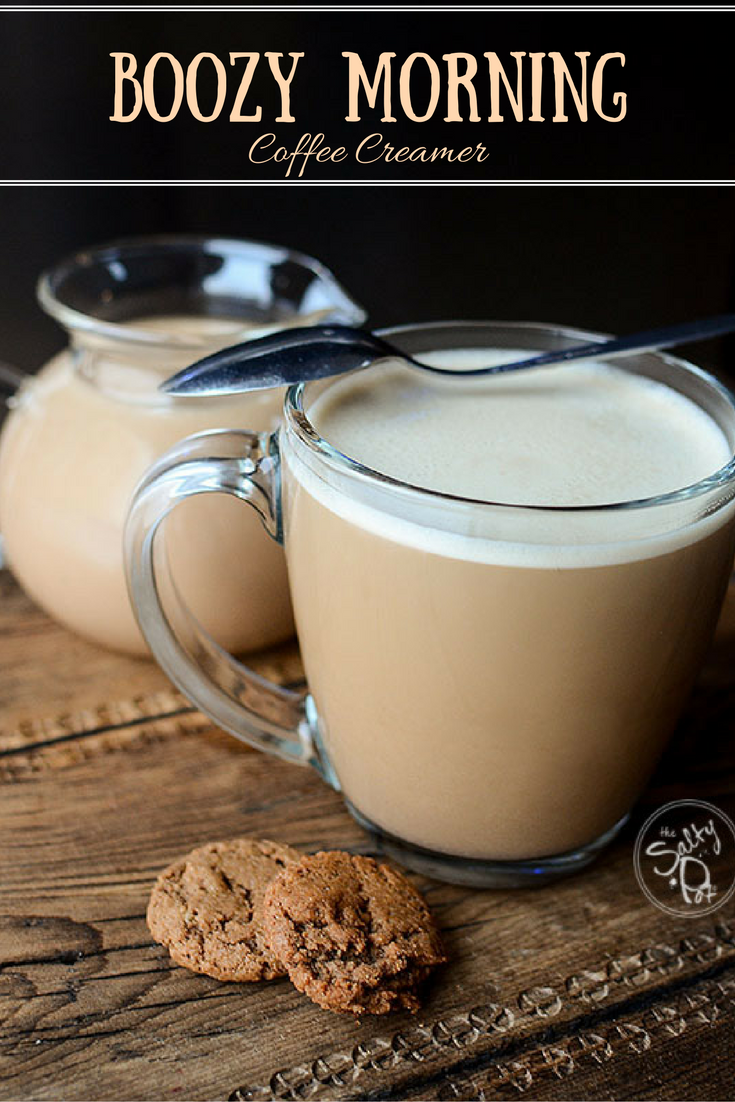 I'm hoping that the information I've provided here answers the question regarding where coffee comes from.
How do you take your coffee? Let me know your absolute favorite way to enjoy a cup of coffee below!
Thanks so much for stopping by The Salty Pot today, and I hope you have a truly awesome day! If you have any questions or comments, please leave them below and I'll try my very best to get back to you, or, you can shoot me an email at Joanne@thesaltypot.com.
~ Joanne