This Ninja Foodi Air Fryer Chicken Thighs recipe is a winner because using an air fryer to cook the chicken thighs makes the flavors absolutely incredible.
The crispy outside with the juicy inside will easily become your go-to chicken dish on busy nights.
This post may contain affiliate links. If you make a purchase after clicking a link, I may earn a small commission AT NO COST TO YOU. As an Amazon Affiliate, I earn from qualifying purchases.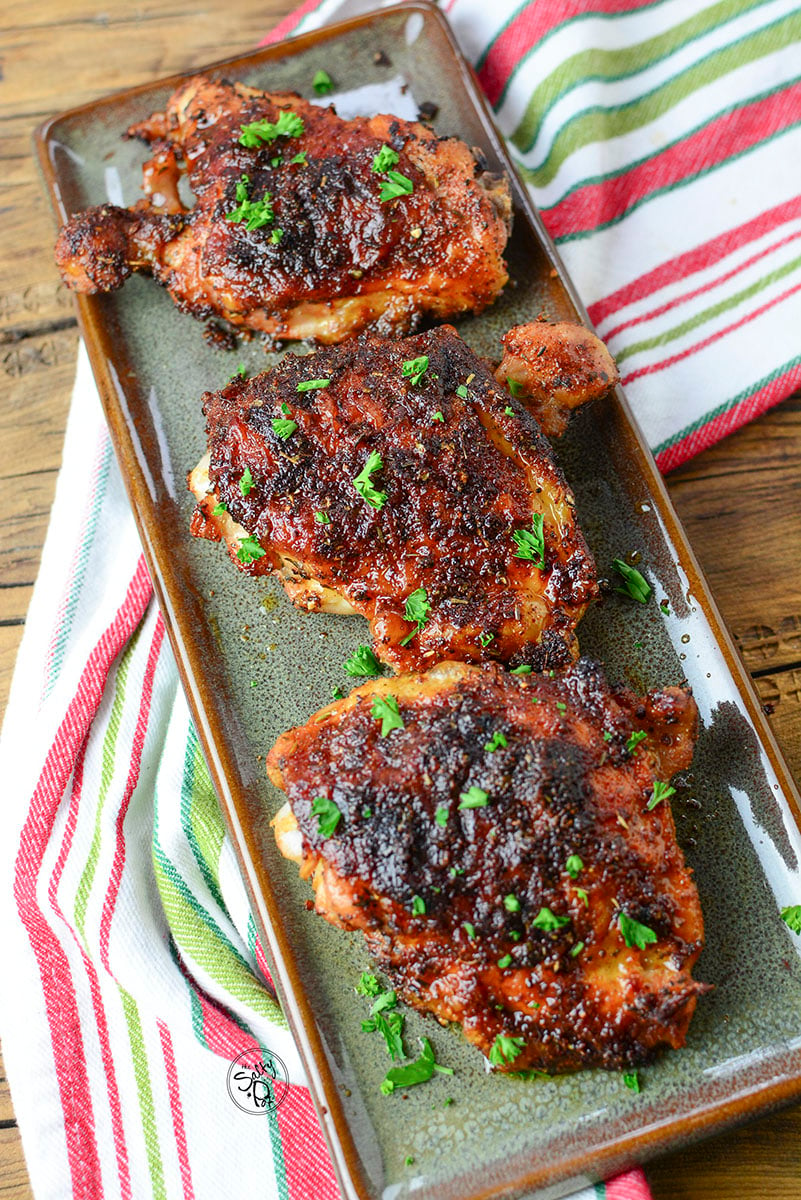 Air Fryer Chicken Thighs
These air fryer chicken thighs have got to be one of the best ways to serve chicken next to my Ninja Foodi Whole Roasted Chicken Recipe or my super fun recipe for Ninja Foodi Air Fryer Cornish Hens (with potatoes cooked alongside!).
Why? Because bone-in chicken thighs are inexpensive, versatile and air frying them leaves them super juicy and full of unctuous flavor. The best part? They're super easy to make!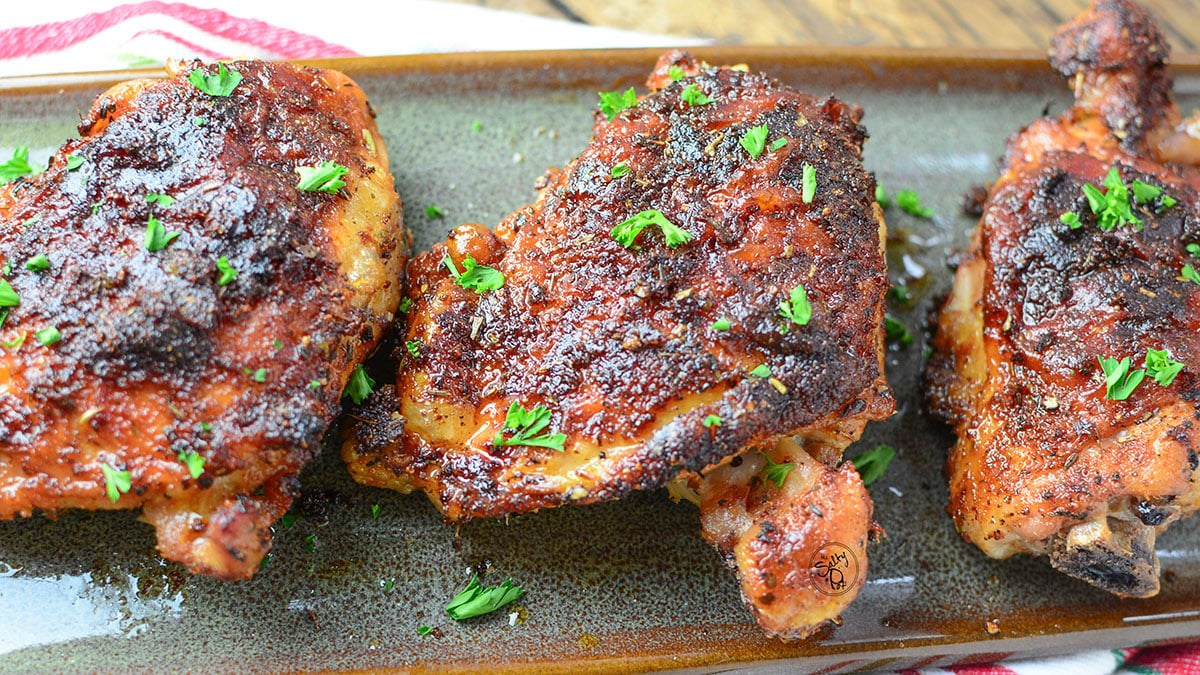 Ingredients
Chicken thighs – Using bone-in chicken thighs, I feel, brings so much more flavor to the dish. There's something about cooking meat on the bone that adds a deeper, more rich flavor. This would be the same for leaving on the skin. If you're worried about the extra calories, feel free to remove the skin after cooking. The skin will help protect the chicken from overcooking and drying out while air frying.
Seasonings – I like to use seasoning salt, pepper, paprika, garlic powder, onion powder, and Italian herb mix. You can also use smoked paprika but remember, a little goes a long way as its smoke flavor is strong. Other seasonings like regular salt work as well, but I recommend using seasoning salt since it adds extra flavor to the meat.
Cooking oil – Even though we are air frying, you will also need a bit of cooking oil to spritz over the meat as it air fries to add extra crispiness.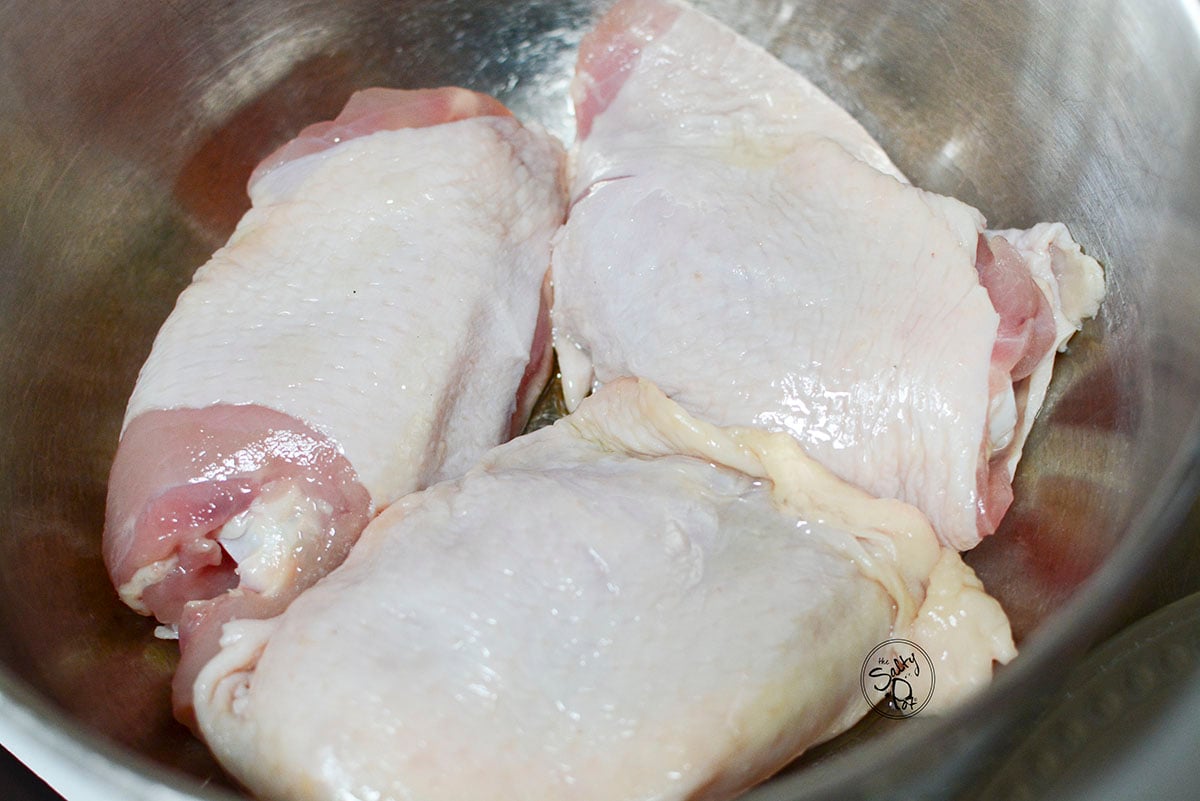 Can I use boneless chicken thighs?
Yes, for sure. BUT, cooking meat with the bone enhances the flavor and helps prevent it from overcooking too quickly.
Plus, bone-in chicken is typically cheaper than boneless because you are paying for the butcher's time to remove the bones, so you can save some extra money in this case.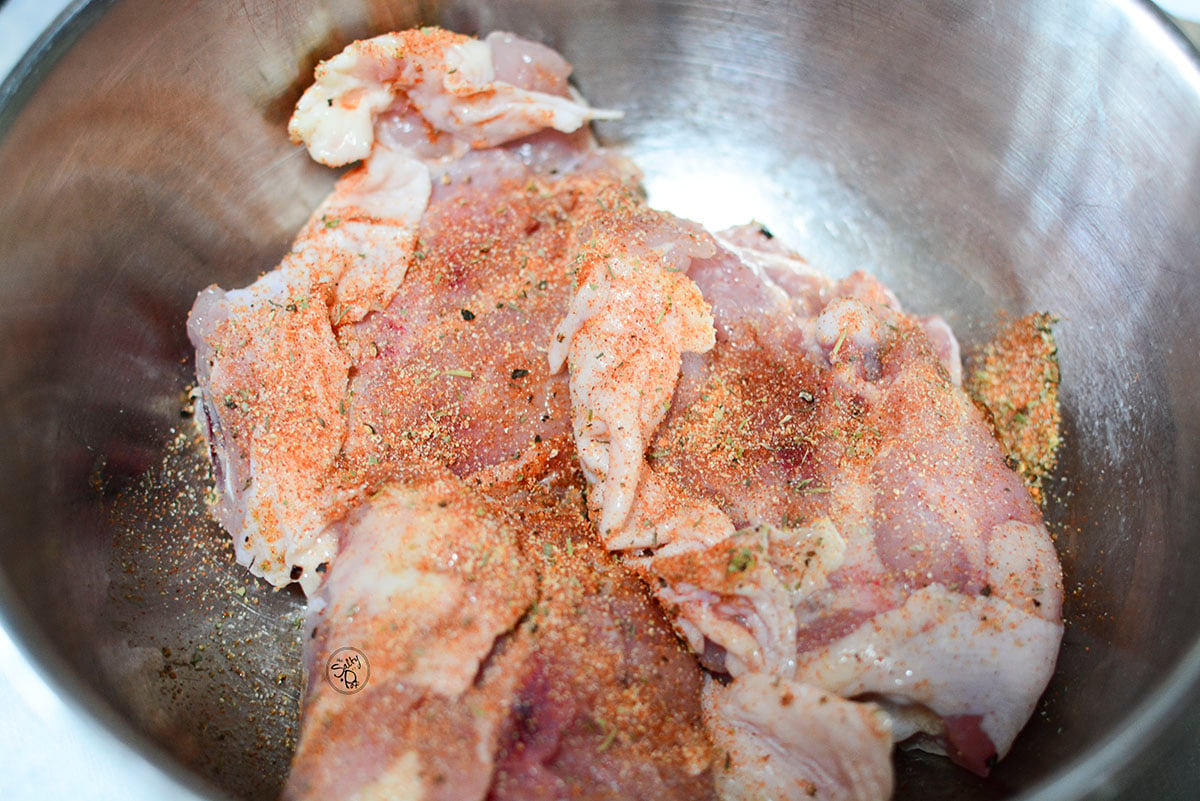 My air fryer isn't a Ninja Foodi so can I still make this recipe?
Absolutely. I used my Ninja Foodi because it has an air fryer function, but any air fryer that you can be temperature controlled can be used for this recipe.
Use whichever brand you have in your kitchen as long as it heats up to 400 degrees.
Incidentally, if you have a Ninja Foodi and you're new to using it, I have an easy guide all about using it that might make you feel more comfortable about diving in!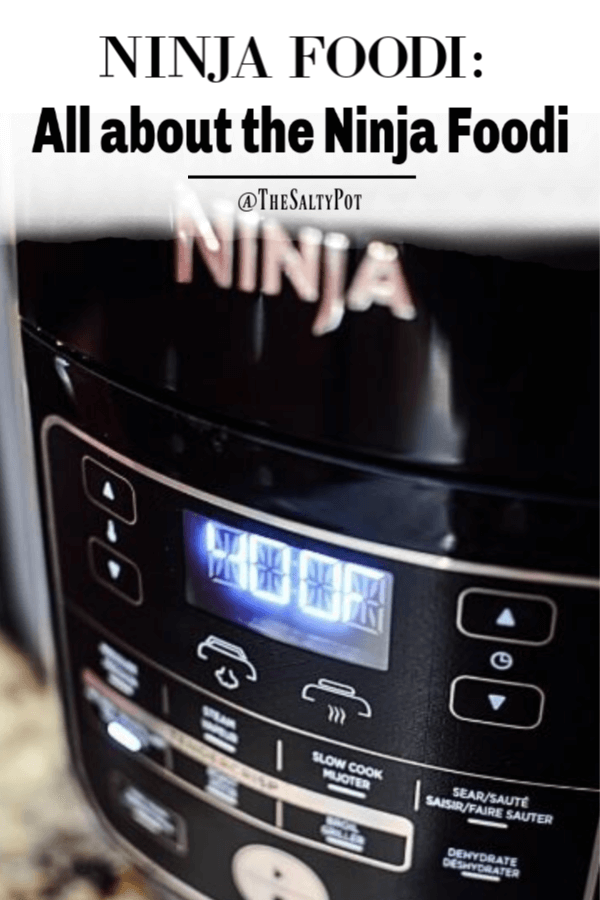 Can I air fry more than 3 thighs at a time?
You can air fry as many chicken thighs that will fit in the air fryer basket WITHOUT layering. Ideally, you'll want to leave space in between each thigh so that there's sufficient airflow between the pieces.
So depending on how large/small the chicken thighs are, and how large the basket is of your air fryer, will determine how many you can air fry at one time.
Cooking Tips
Here are some important things you should know:
Be sure to pat dry chicken before you season. This ensures crispier chicken.
Start air frying the chicken skin side down first, then halfway through. Flip skin side up to make it really crispy.
Feel free to use whatever seasonings you prefer. If you like your chicken on the spicier side, use some cayenne or hot peppers. More herbs? Be sure to add in some dry herbs into the spice mix. Use the seasonings that you prefer. My suggestions are a starting point for you.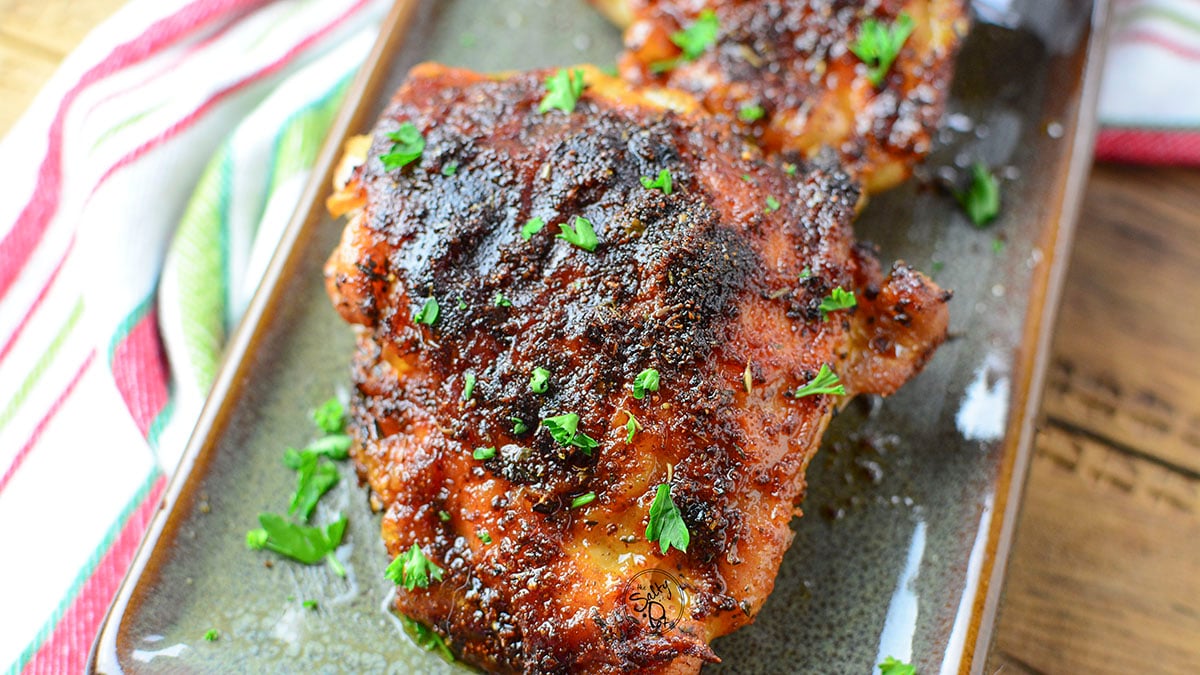 Storing and Reheating
Refrigerating: You can store it on the fridge for up to five days in a container with a tight-fitting lid.
Freezing: The chicken pieces will stay well in the freezer for up to a month in freezer-friendly containers.
Thawing: Thawing overnight in the fridge in a covered container is ideal, but the chicken will not hold its freshly cooked crispiness on thawing.
Reheating: When reheating, put the chicken thighs in the microwave for 2-3 minutes after thawing. You may choose to remove the skin as it will not be as crispy as when you made it fresh, however, if you leave it on, the flavor will still be there.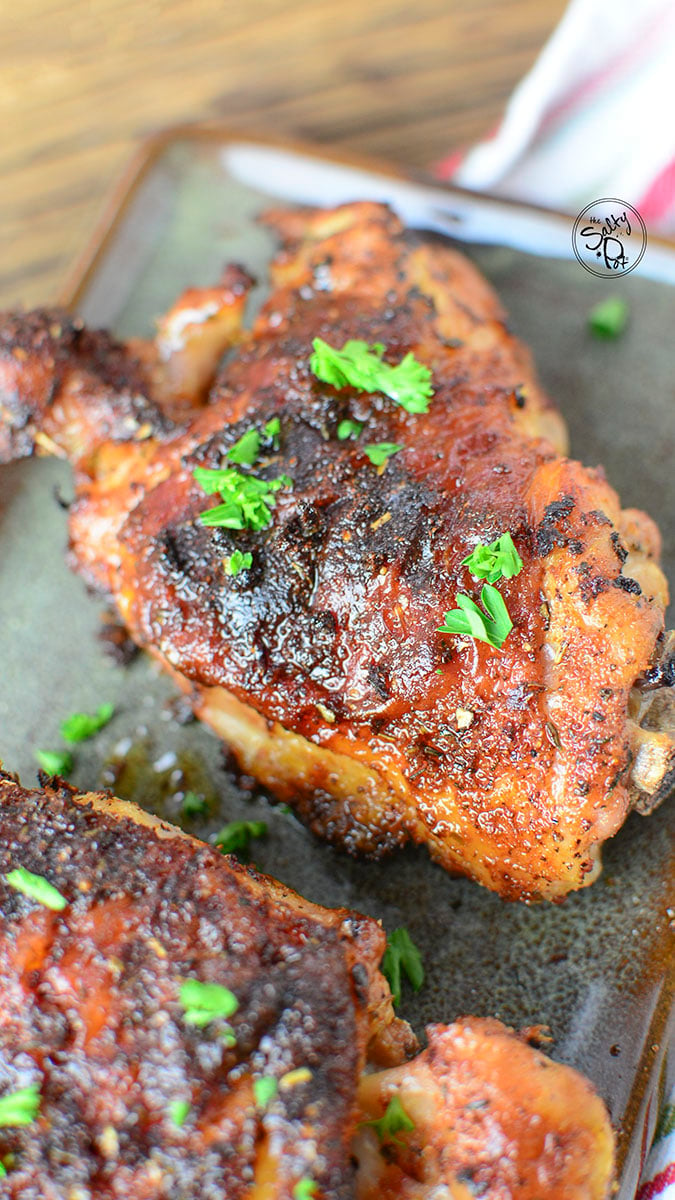 Will this air fryer chicken recipe work for chicken breasts as well?
Yes. Bone-in, skin-on chicken breasts will work with an air fryer, but the timing will be different, and you may not fit as many in the crisping basket as you can with thighs.
Chicken breasts are classified as white meat and have less fat content. They will dry out quicker than chicken thighs since the dark meat on thighs has a higher fat content, so it's best to use a thermometer when air frying chicken breasts.
The perfect internal temperature for cooking chicken breasts is 165F.
Serving suggestions to pair with these Foodi chicken thighs
Chicken thighs go great with so many things. You could try: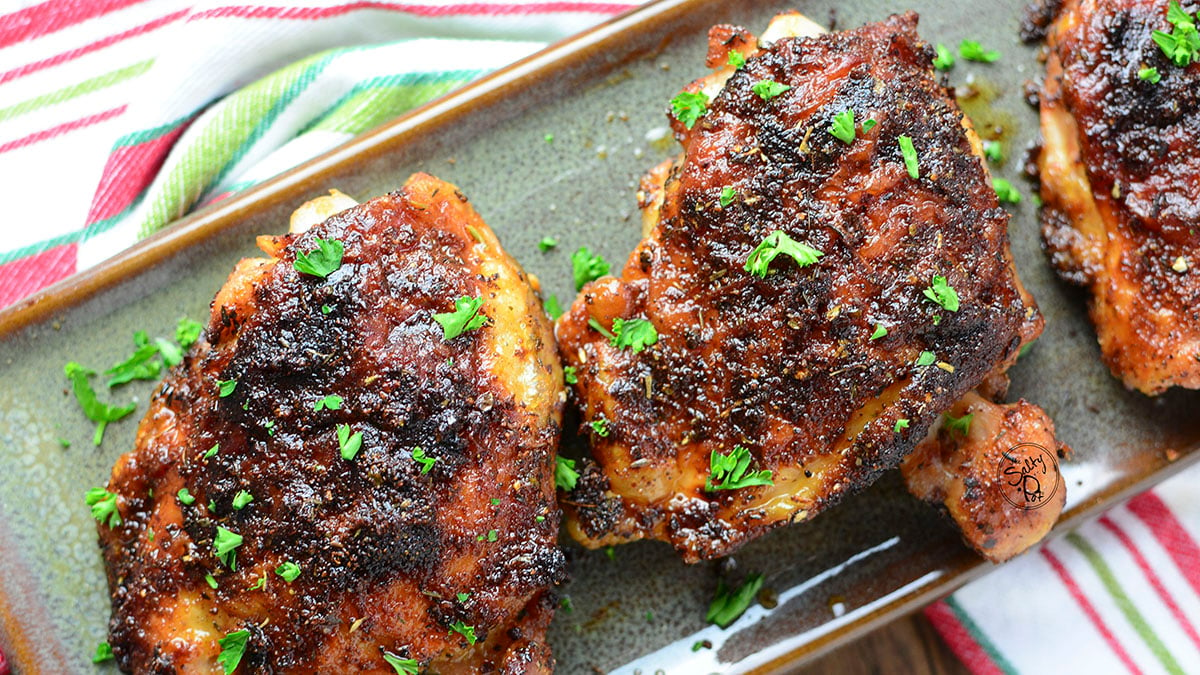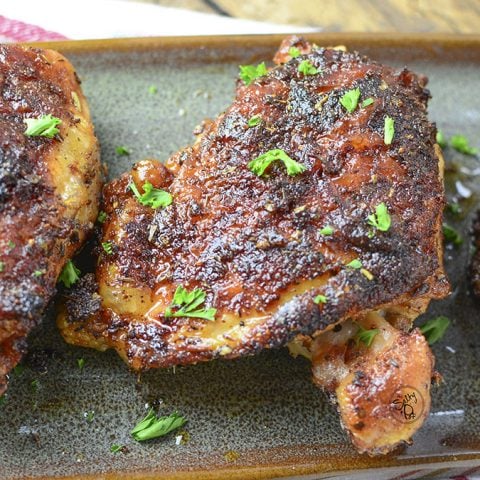 Air Fryer Chicken Thighs
Juicy, crispy, and deliciously savory, these air fryer chicken thighs are so easy to make, they'll be your Go-To chicken thigh recipe for the entire family.
Ingredients
3 - 4 Chicken Thighs
SEASONINGS
½ teaspoon smoked paprika
½ teaspoon garlic powder
¼ teaspoon onion powder
½ teaspoon italian seasoning
1 tablespoon oil
½ teaspoon seasoning salt
½ teaspoon cracked pepper
Instructions
Pat dry the chicken thighs with paper towel.
Place the thighs in a bowl, and drizzle to coat the oil over the thighs. Rub the oil all over the thighs, top and underside.
Season the thighs all over the thighs (don't forget the underside as well) and let rest 10 minutes.
Preheat air fryer, 390 5 minutes
Place the thighs in the air fry basket, skin side down.
Air fry for 8-10 minutes.
Carefully flip the chicken to skin side up.
Turn heat down to 350, air fry from another 10 minutes checking for internal 165F.
Let rest for 5 minutes.
Enjoy!
Notes
1. Be sure to pat dry the chicken thighs before beginning the recipe.
2. The oil coating will help ensure a crispier skin.
3. Be sure to season the underside of the chicken as well for added flavor.
4. The cooking times of the thighs may vary so it's best to start checking them at the 8 minute mark after flipping them. Depending on the size of the thighs will depend on how much cooking time they require.
Nutrition Information:
Yield:

3
Serving Size:

1
Amount Per Serving:
Calories:

417
Total Fat:

29g
Saturated Fat:

8g
Trans Fat:

0g
Unsaturated Fat:

21g
Cholesterol:

222mg
Sodium:

556mg
Carbohydrates:

1g
Fiber:

0g
Sugar:

0g
Protein:

41g
All nutritional information is based on third-party calculations and is only an estimate. Each recipe and nutritional value will vary depending on the brands you use, measuring methods, and portion sizes per household.