I've got a fantastic and super cute dessert recipe for you today! Strawberry Angel Cake is what I like to call it, but you know what? Make this pretty little dessert and call it whatever you'd like! Call it delicious! Call it amazing! Call it incredible! …. or, just name it Strawberry Angel Cake, like it did. Haha!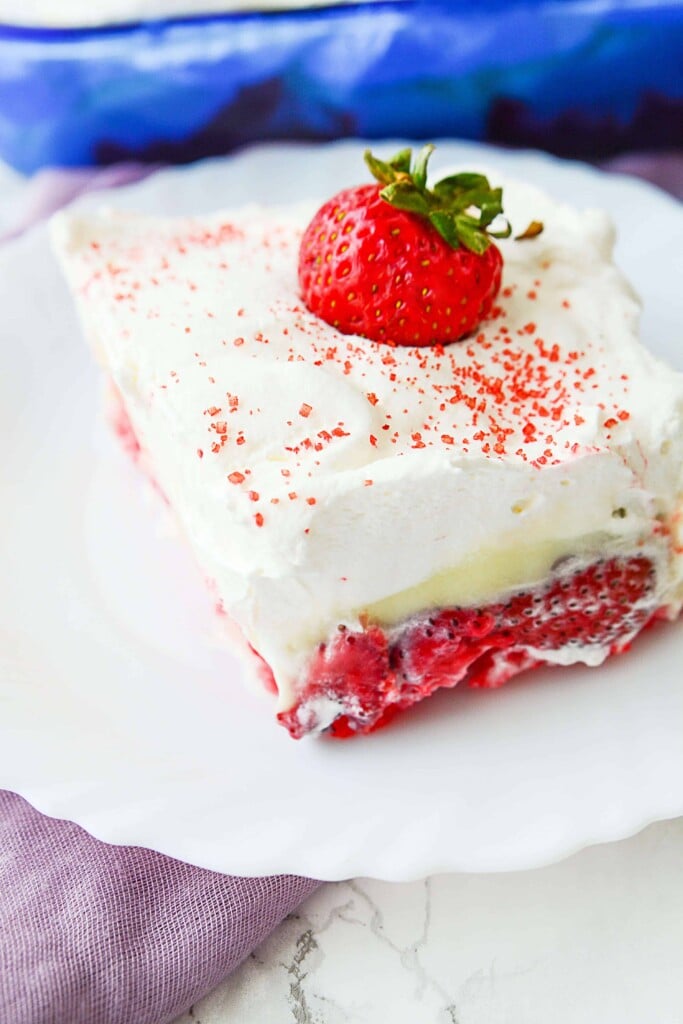 You can make this dessert somewhat ahead of time which is a huge bonus for saving your moments in your busy day. Also, using an an angel food cake mix makes things easy as 123. You can bake it up that morning or even a day or two ahead of time for when you need the dessert magic to happen. OH, did I mention that this strawberry angel cake sparkles??? I'll explain later!
The day before (or hours before, whichever suits your fancy), tear that baked angel food cake into bite size pieces. Place the pieces into a 9 x 13 casserole dish. Simple dimple, right?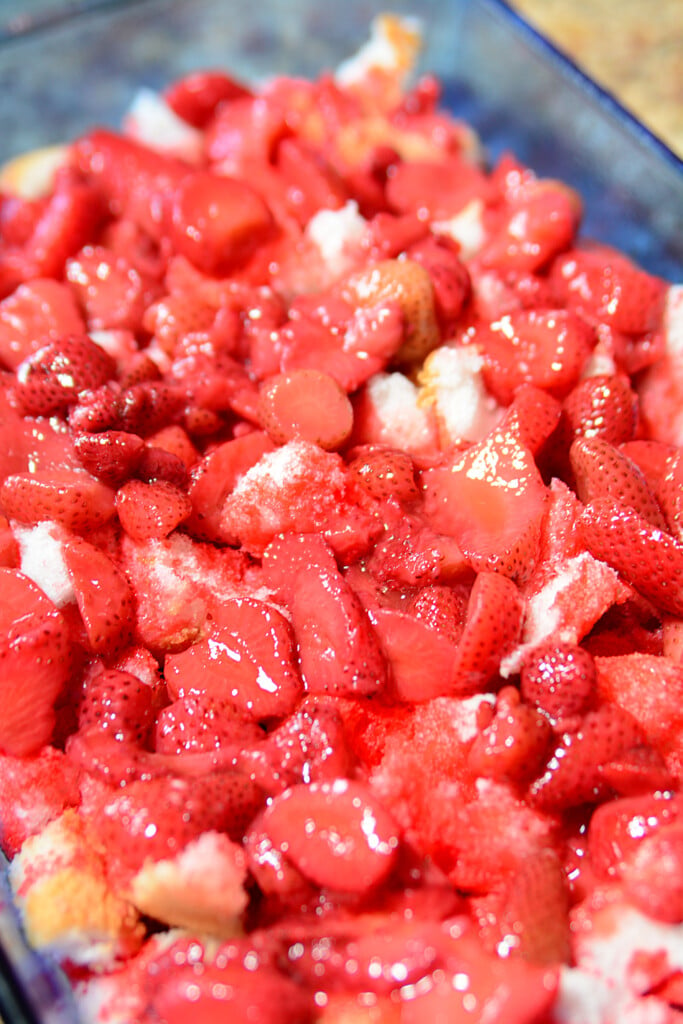 Make up the strawberry jello according to the package instructions. Again, easy. We've all made jello before, and well, if you haven't, it's as simple as boiling water… literally.  You have a choice now, you can drizzle the liquid steaming hot jello over the cake pieces right after you make it, but, if you prefer (because this cake is all about fitting into YOUR schedule!), let the jello mixture cool down so that you're not pouring hot lava over cake.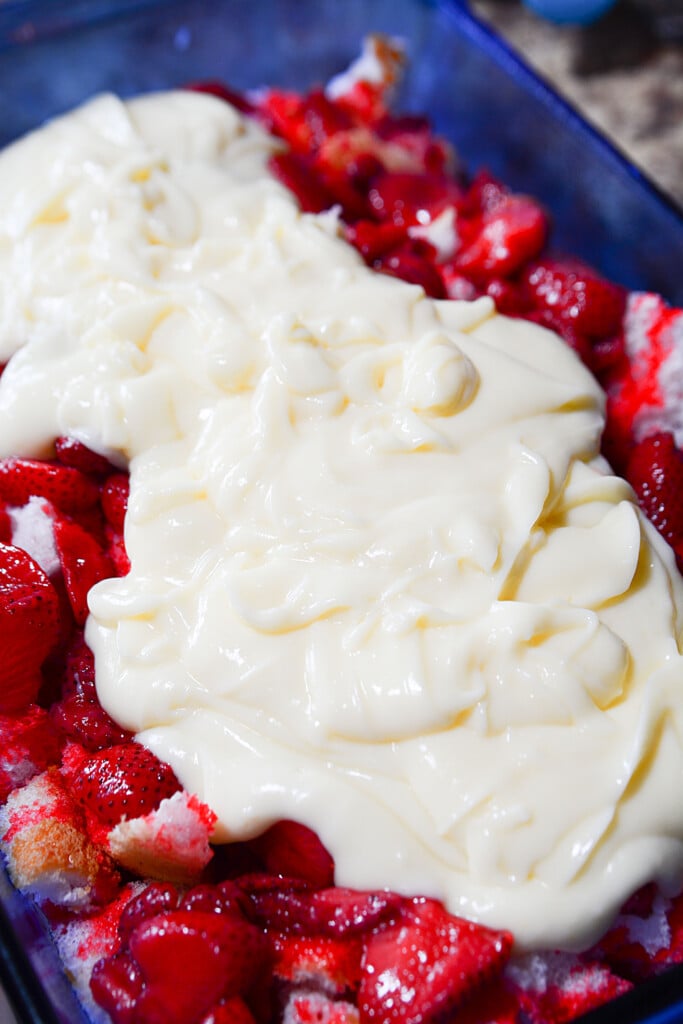 I personally let the jello cool to a warm temperature so that when I was drizzling it over the cake pieces, I didn't burn my fingers or hands in the pouring process, and have to go to the hospital emergency, and meet the doctor man of my dreams who might be the guy to attend to me, and want to sweep me off my feet right there in the emergency room, and here I am, looking disheveled and embarrassed because I cried all the way to the hospital with jello burns and mascara dripping like melting candle wax down my face that humiliates me beyond belief.  So no. I let the jello cool down for not only safety reasons, but to also save my integrity.
Anyway, moving on. After you drizzle the jello over the cake pieces, slide that puppy into the fridge. Let it cool right down and set up. The jello WILL set even while it was poured over the cake. When it's cooled and set, (a few hours before you want to serve), place the sliced strawberries over the cake/jello mix. Make up the pudding according to the directions, and then spread that over the cake as well, as evenly as you can get it.
Then, spread the entire tub of whipped topping over the top of the pudding! I KNOW RIGHT? The entire tub. It's worth it, trust me! Once that's all completed and evened out simply cover and place back into the fridge for a few hours. You can finish this cake in the morning and have it sit right until serving time after dinner!! Or,.. you could just have it for dinner.. either way…. you can let it sit in the fridge for a quite a few hours before serving, that's how versatile this pretty strawberry angel cake is!
So this is where the sparkly part comes in. If you notice the pretty sprinkles on the top, that's just colored sugar, but it adds such a beautiful added touch to the cake, and it kind of sparkles! Keep in mind, the sugar makes this dessert really pretty, and adds a tiny bit of crunch. But it's purely optional. Feel free to sub your sparkle with anything else that strikes your fancy! Colored sprinkles, chocolate sprinkles (chocolate and strawberries is an amazing combo!), more chopped up strawberries (although, I would wait until just about to serve to put these on), chopped nuts, little mini chocolate chips, a strawberry sauce drizzle, chocolate drizzle, etc etc etc. The toppings here are endless!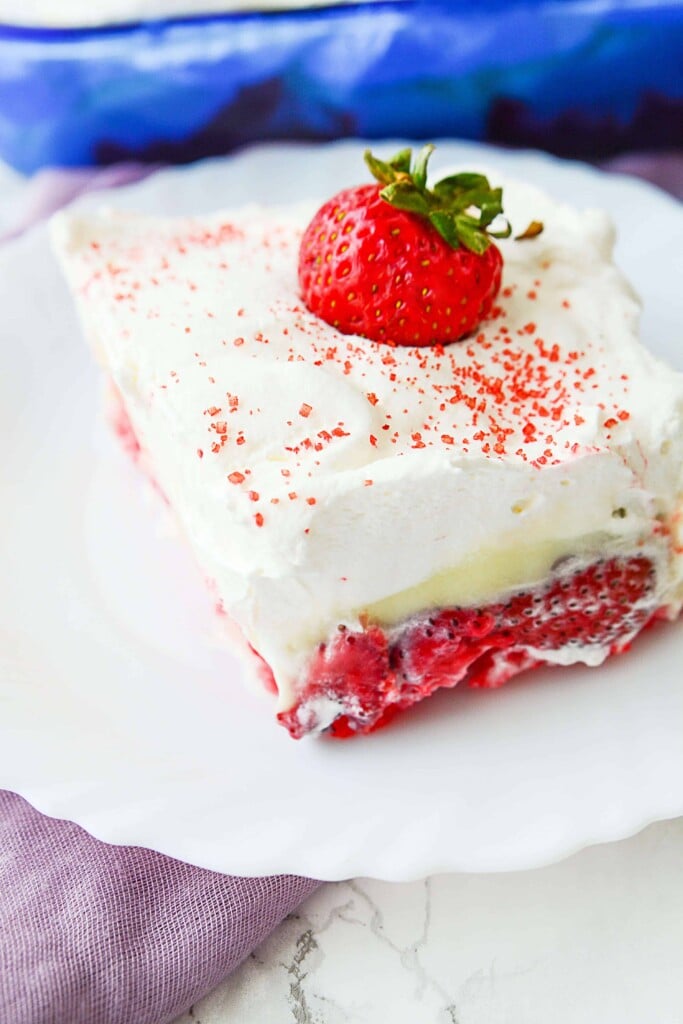 Regardless if you top this beautiful strawberry angel cake with sparkly sprinkles, or simply leave it as is, rest assured that the combination of all the other ingredients are sure to bring a sparkling smile to your family an guests (especially if there is kidlets partaking!) The sweet lightness and texture from the cake, the strawberry flavors, and the creaminess of the whipped topping make this gorgeous recipe something that might be on a weekly rotation for your family!!
Yield: 9 - 12 pieces
strawberry angel cake that sparkles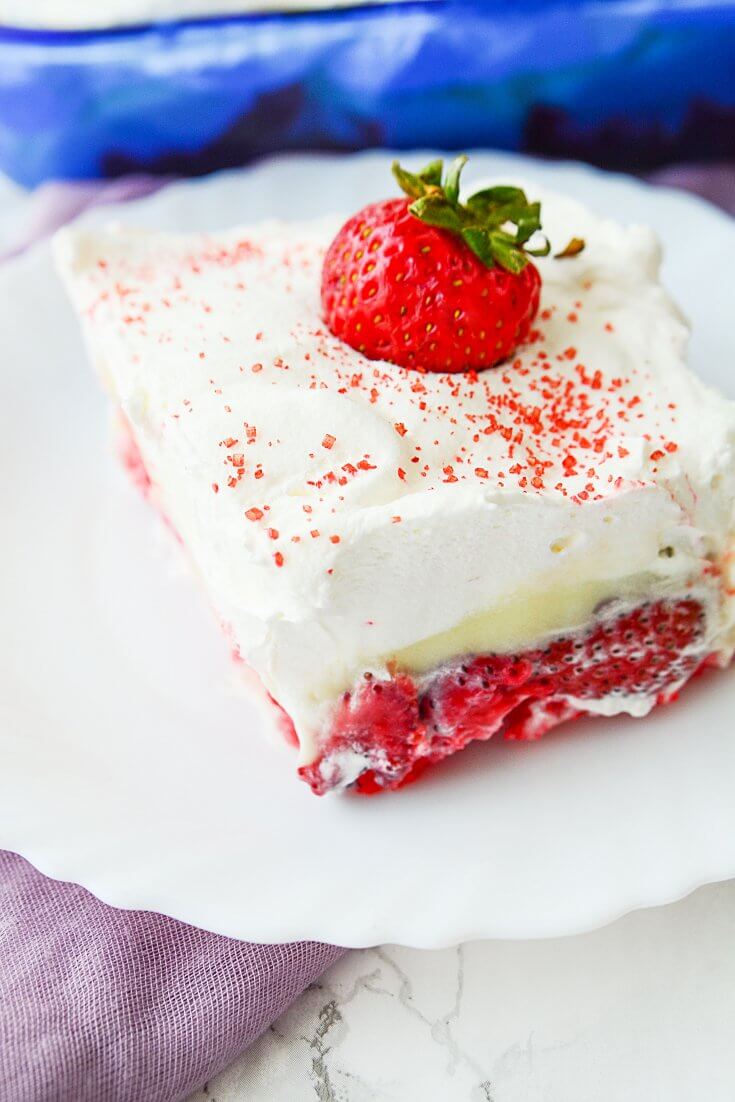 This Strawberry Angel Cake is so pretty and beautifully flavored, your family is sure to love it!
Ingredients
1 box angel food cake mix
1 box instant vanilla pudding
1 box strawberry jello
2 c sliced strawberries, or more if you prefer
1 tub of whipped topping
2 - 3 tbsp. red colored sugar
Instructions
Prepare the angle food cake according to the box directions. Let cool completely
Tear the cake into bite size pieces and put into a greased 9 x 13 pan
Make the jello according to the box directions and let cool, but not set
Drizzle the jello over the cake pieces and then chill in the refrigerator until set
Make the vanilla pudding according to the package directions
Sprinkle the cut strawberry pieces over the cake
Spread the vanilla pudding over the top of the strawberries
Evenly cover the vanilla pudding with the entire tub of whipped topping. Chill
Just before serving, sprinkle the colored sugar over the top of the cake and serve.
Garnish with more strawberries if you prefer and enjoy!