As a food blogger and a recipe enthusiast, I love experimenting and trying different things in the kitchen. And recently, I tried my hands at dandelion jelly- and was literally amazed at how delicious it turned out.
Dandelions? Really?
Dandelions are actually one of the most underrated plants out there! Seriously!
You know, you might be surprised to know that while it has gotten the reputation of being a weed, they are VERY nutritious, have great herbal properties, and every single part of the plant- even the roots, can be consumed.
What Can You Do With Dandelions?
Ok, check this out:
Greens: The leaves (best picked when when they first come up so they're more tender), can be sauted with other veggies or even mixed in with other salad greens. Keep in mind, they're a bit bitter, so you need something within the recipe to tame it down.
When dandelion greens are dehydrated, they can taste great in your soups and stews. Sprinkling some of the powder into the dishes increases the nutrition and adds extra seasoning!
And oh, if you're trying dehydrating for the first time, or even just considering it, I have a quick post on the blog that talks about dehydrating in your oven that may help you out with the details!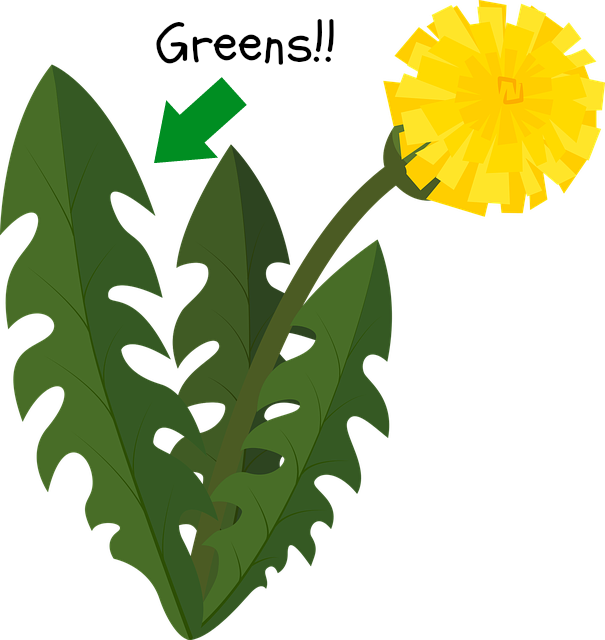 Roots: Dandelion roots are often picked and scrubbed of any dirt, then roasted to a golden brown. Then you can grind those roots into a fine grind resembling coffee grinds to be then whipped up into a dandelion coffee!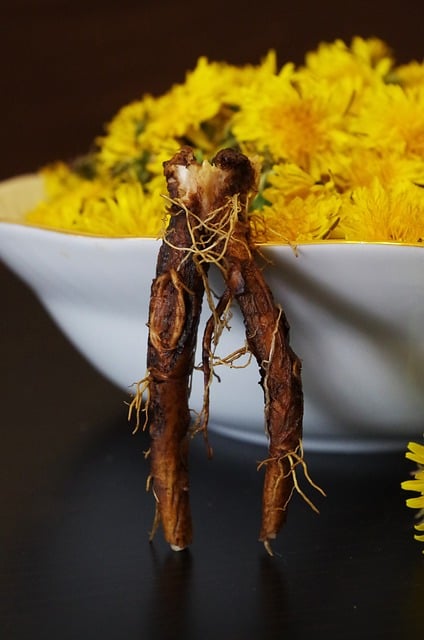 Flowers: The dandelion blossoms can be turned into delicious dandelion fritters, pancakes, and even cookies.  Also, if the dandelion flower is picked before it blooms, the small green flower head can be brined into dandelion capers!
And of course, there's always dandelion tea too! And with all that in mind, I thought of giving the dandelion jelly a try.
Making Dandelion Jelly the Right Way
Okay, so now that you've understood all about dandelions, it is time to dive right into the recipe details.
To make the jelly, I used Certo pectin powder, sugar and dandelions. That's it! Three ingredients!
If you're looking for Certo Pectin Powder which I think is a Canadian brand, but I'm pretty sure that SURE–JELL, would be the exact same thing.
So, making dandelion jelly is really that simple. This recipe should yield around 3 pints of jelly, which is great. You can also put them into smaller jars, which make great gift ideas for people you know who'll love it, or even for your own personal use, but in small batches.
Picking the flowers:
Pick early morning if you can, just as the heads open for the day. Only pick the heads (not the stems) as it makes your life easier when dealing with removing the petals.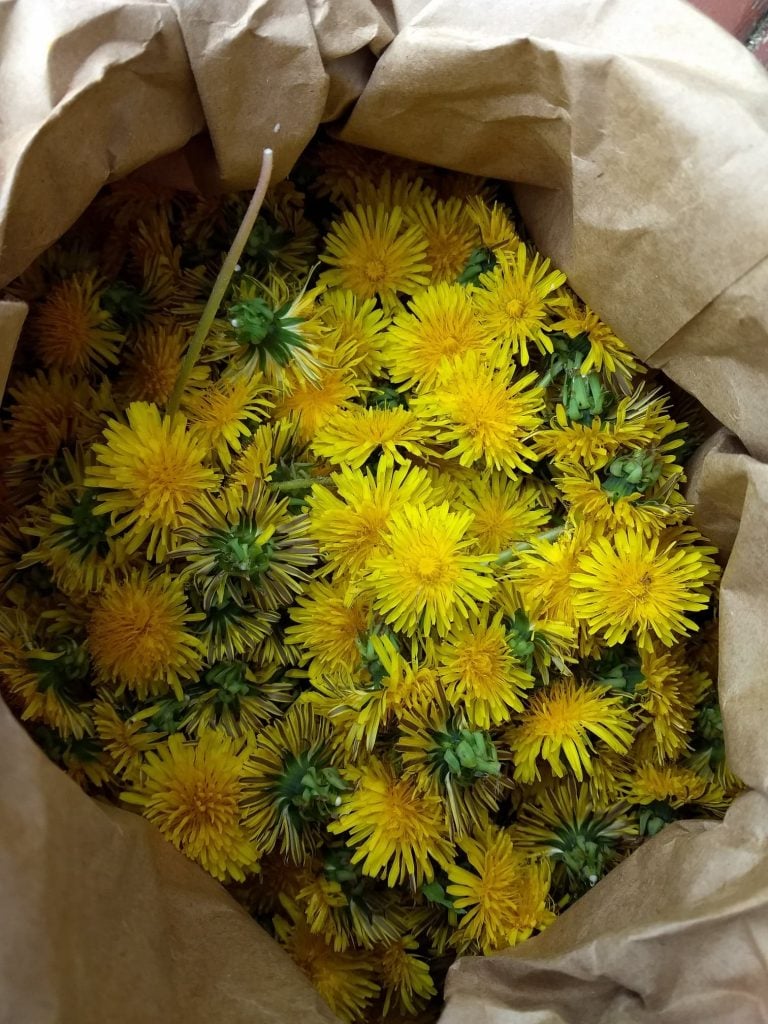 Also, pick the petals off of the dandelion flowers right after you pick the flowers, because if you wait and go have lunch or something, the flower heads will close, and you won't be able to pick the petals off of them that easily.
Also, It's a good idea to give the blossoms a light rinse if you're suspecting some little critters might be hanging about, or if they've been sprayed.. or.. you know.. if there's a dog in the immediate radius.. lol.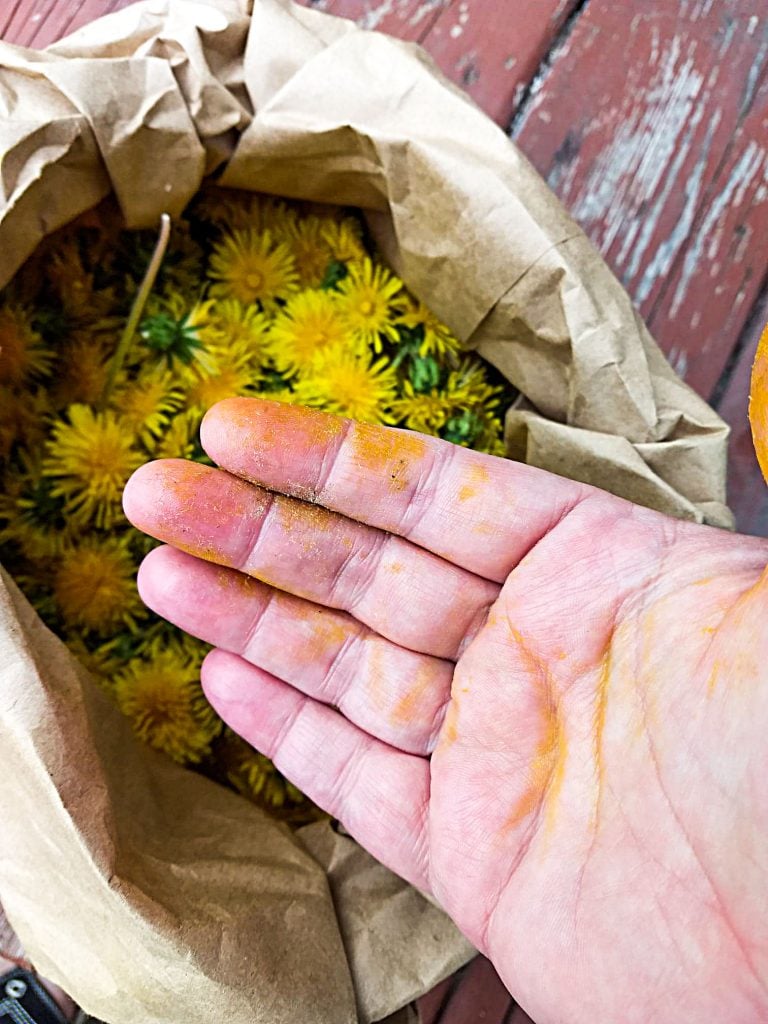 Processing the dandelion petals: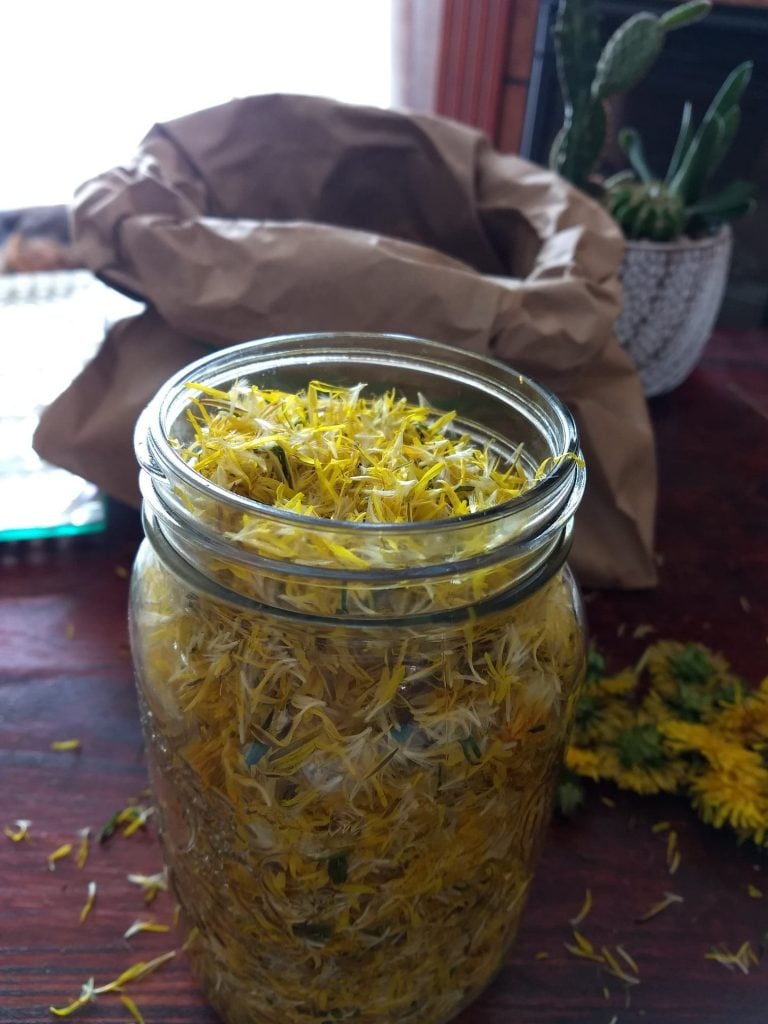 Place all the petals into a mason jar and add the water. I used boiling water to begin with just because I thought that might bring a nicer, more intense steep to the flowers right off the start. But using room temp would be fine as well.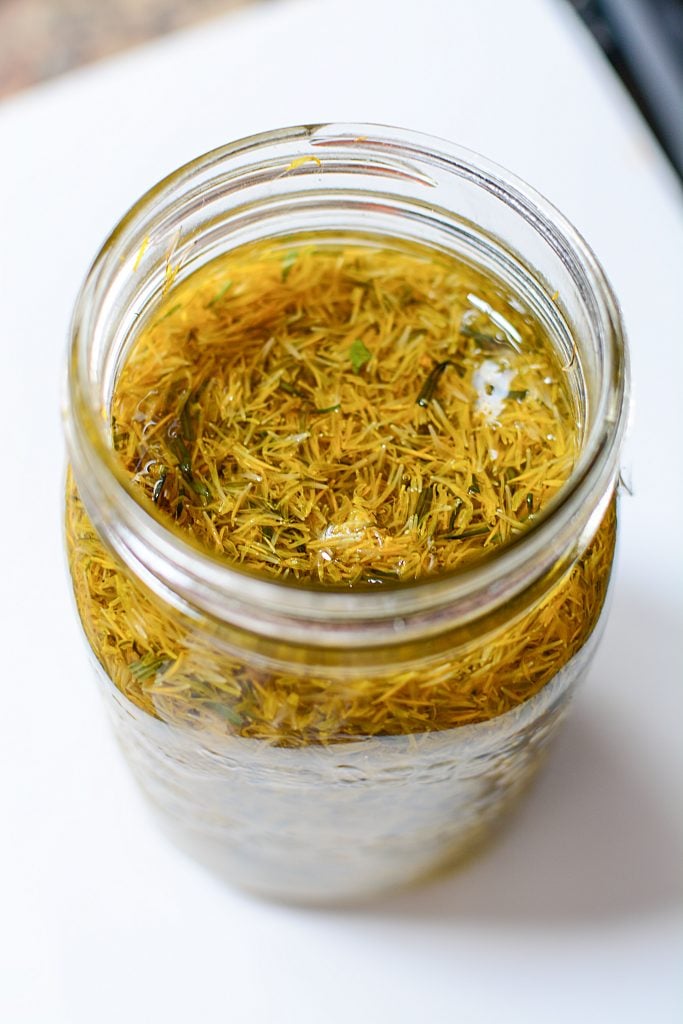 You'll want to steep the petals for at least 24 hours (room temp) before you actually use the liquid to make the jelly.
Oh, but don't go overboard- the max these petals can steep for is 3 days. After that, they'll start to ferment and turn funky and you won't really be able to use them for this recipe.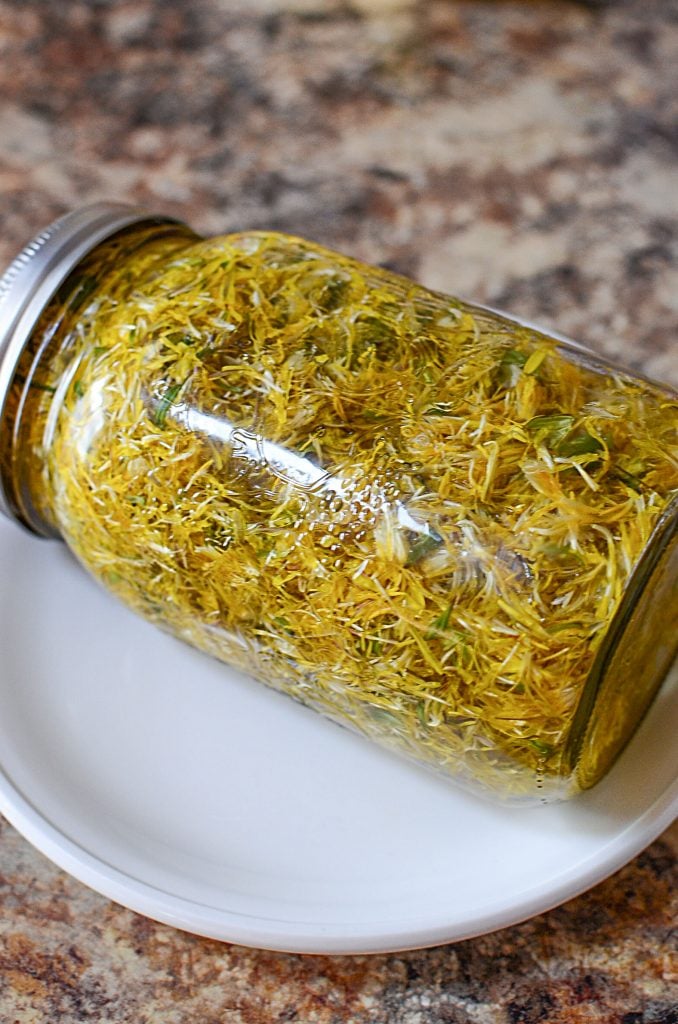 I also liked to store the petals on the side of the jar, on a plate. Whenever I'd walk by, I would give the jar a shake and set it back on it's side. I found if I set it upright, all the petals rose to the top and wouldn't 'steep', per se.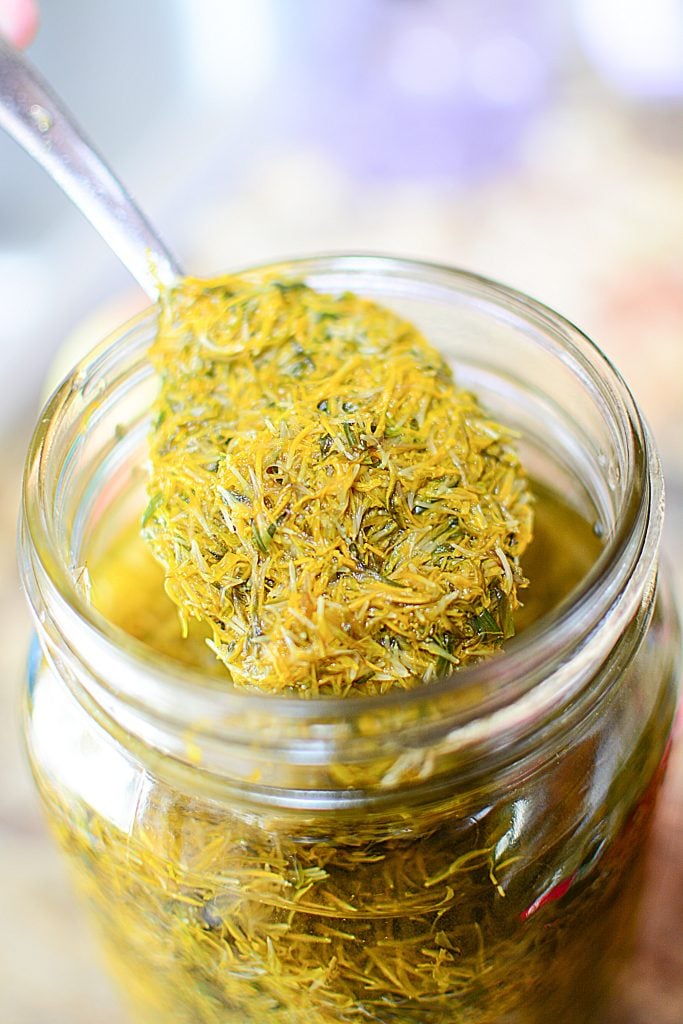 Making the Dandelion Jelly
After a few days, give the jar a mix with a spoon and then drain them in a fine mesh colander. Press the petals in the sieve to really expel as much dandelion tea as possible.
You'll want to proceed in making the jelly in the usual way that your pectin source indicates. I used Certo, so it was basically adding everything together but the sugar, boiling, skimming, adding sugar, boiling again and done.
Simple Dimple!
What Does Dandelion Jelly Taste Like?
If you're wondering how the dandelion jelly actually tastes like, well, it's really quite beautiful, I think. It has light floral notes to it, and it tastes a lot like honey.
Not a cloyingly, intense type of sweetness, though. It's got a gentle sweetness (but still sweet, just not sharp if that makes sense?), and has that perfect golden syrupy color that looks like you've got sunshine in a jar!
Do I Need To Waterbath Dandelion Jelly?
If you want to keep it shelf-stable for a long while, yes, I would recommend you do. However, you can still simply put it into sterilized jars and keep it in the fridge as a refrigerator jelly and it should last up to 3 weeks or so.
Other Ideas & Inspirations
Loved making dandelion jelly? You might be interested in a Sugar free Peach Freezer Jam I made. SO fresh and delicious tasting!
I also made a Pink Grapefruit Syrup and a Pomegranate Honey Syrup that were amazing as well!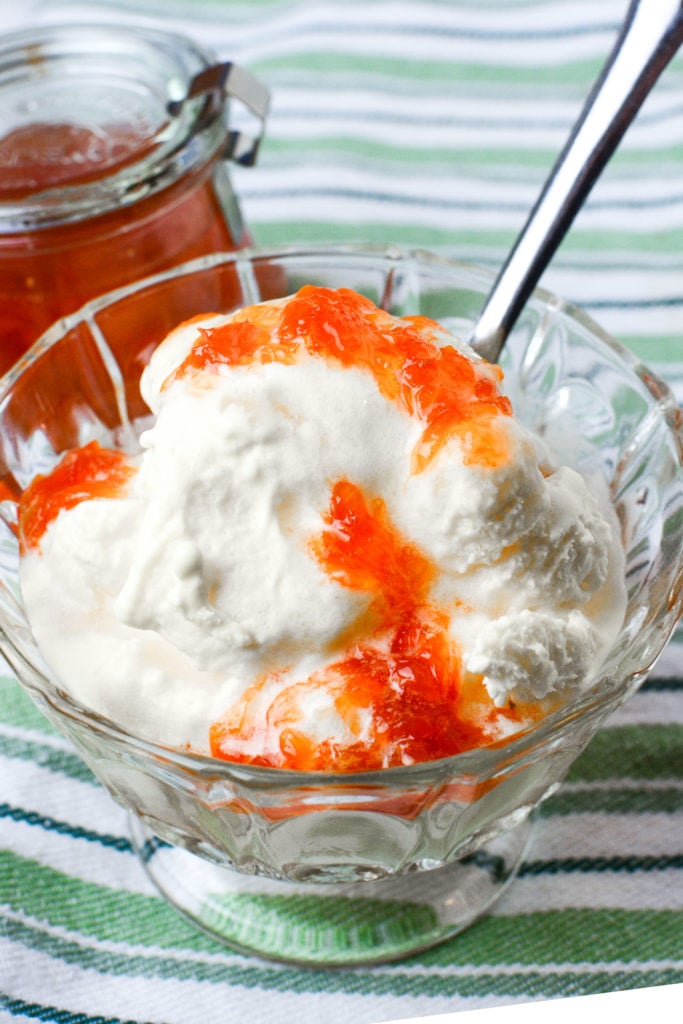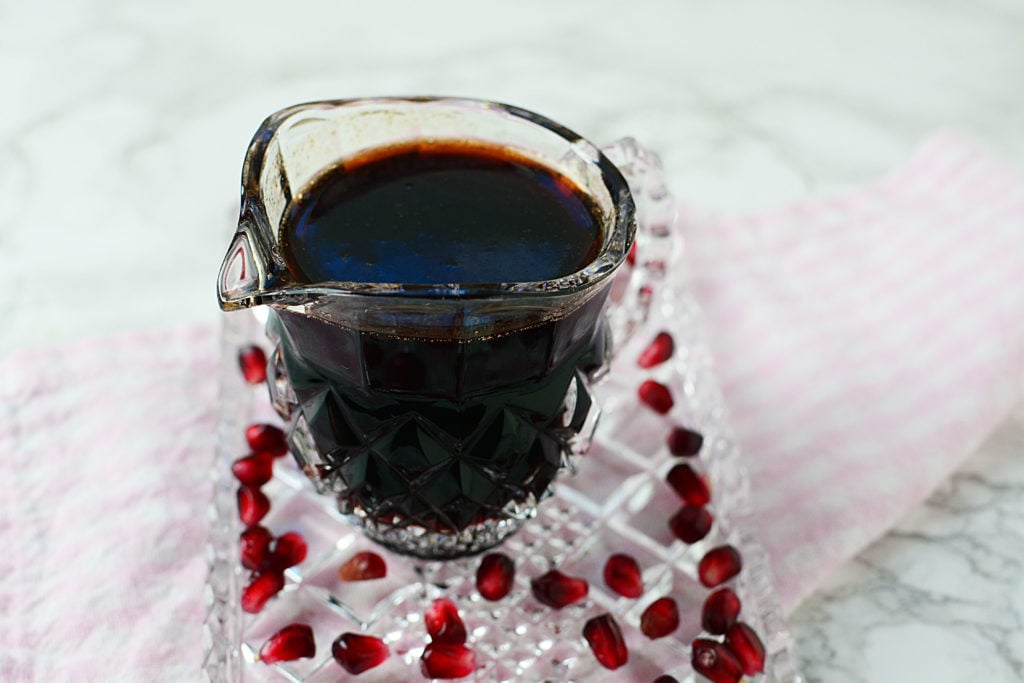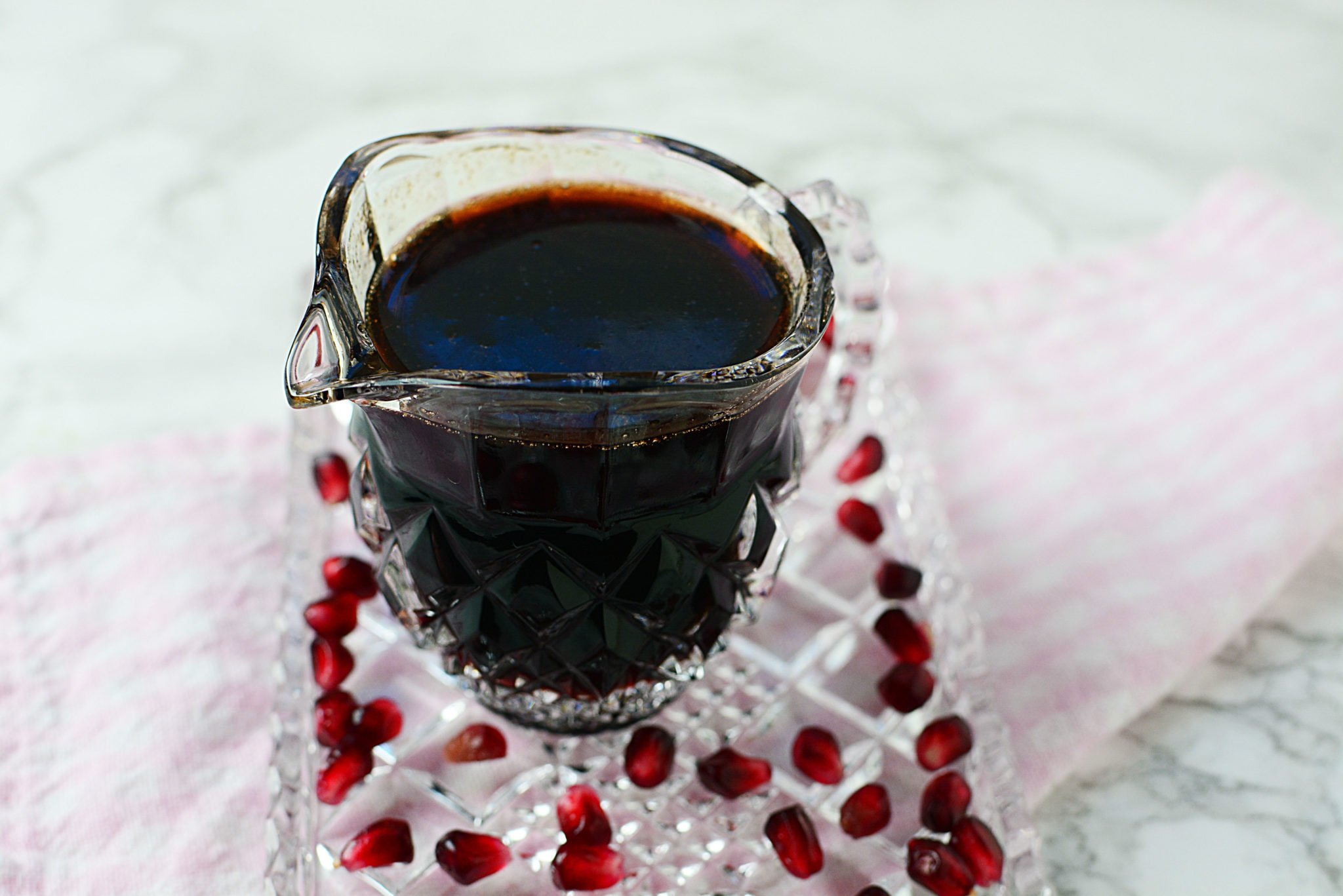 Storing Dandelion Jelly
The jelly should last on the shelf easily for 6 months if you did the water bath procedure. Be sure that when you open it, the seal is still intact, there is no visible mould and the jelly smells pleasant.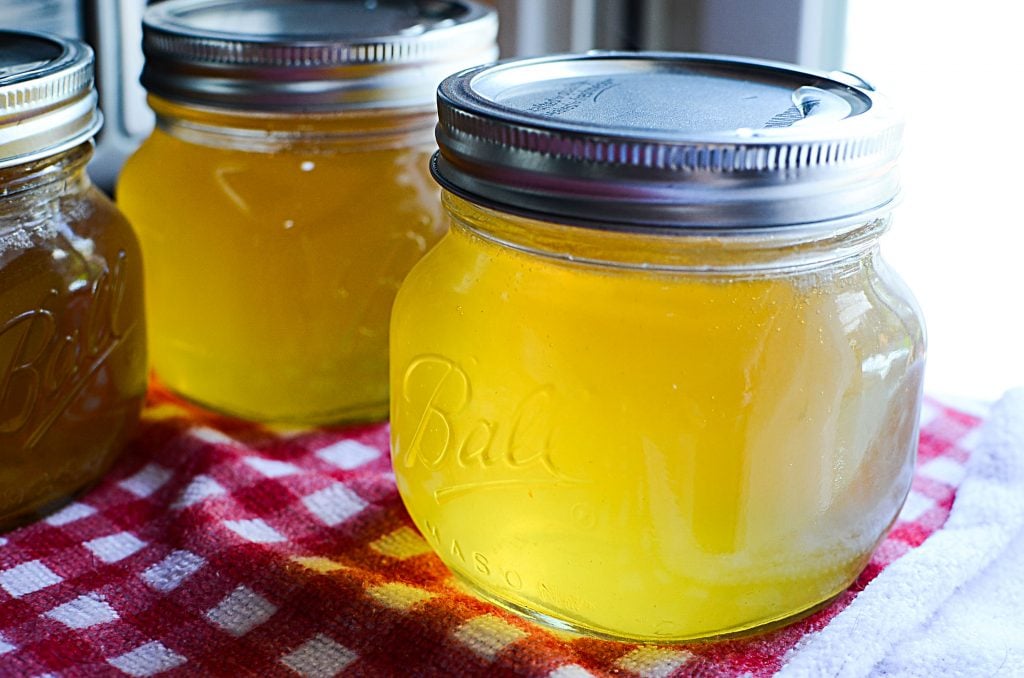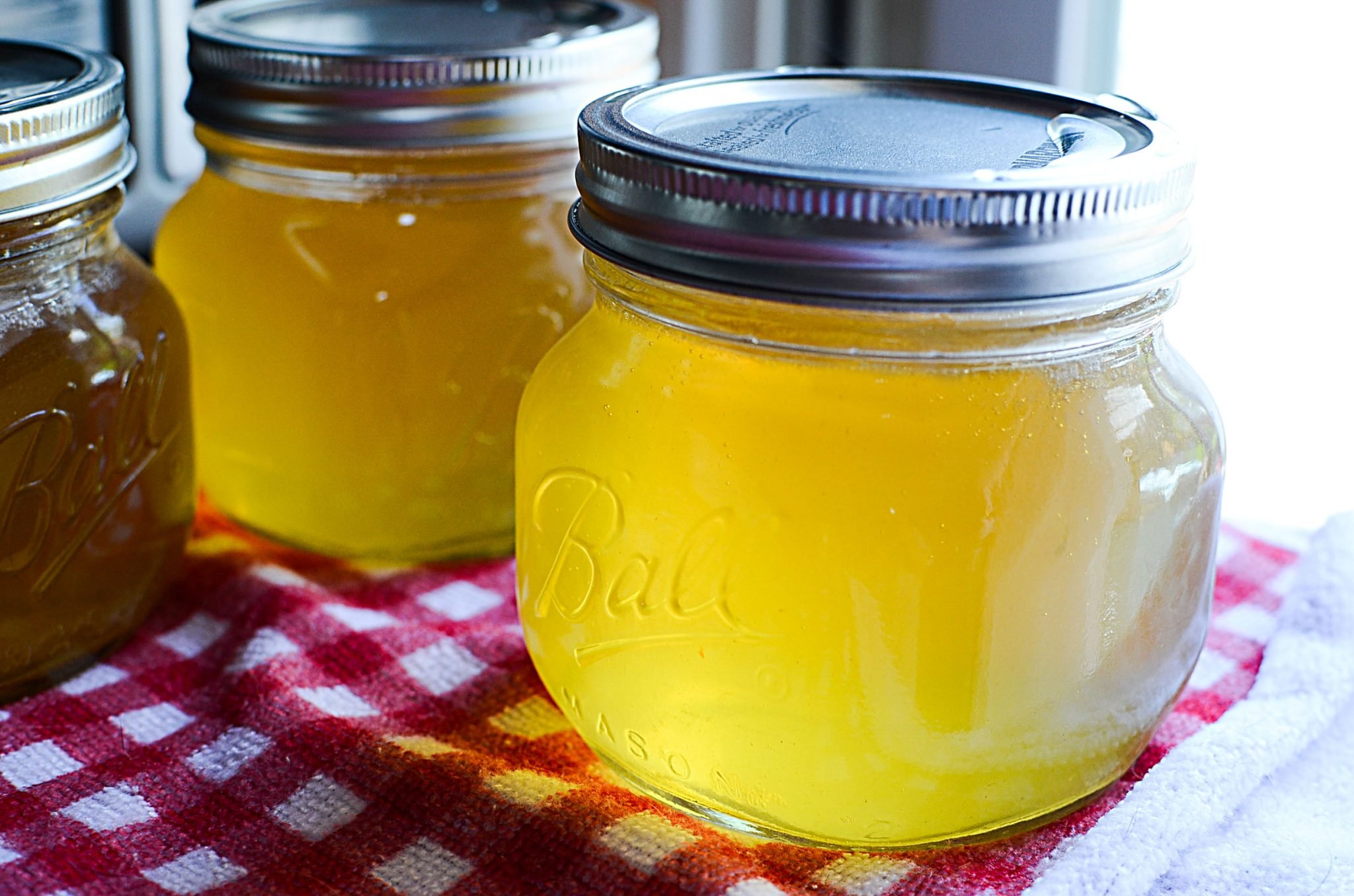 How Do I Use Dandelion Jelly?
You can use it in all places that you would use regular jams or jellies. It would also be excellent used as a sweetener (I would heat it to melt it first). My favorite way? On hot buttered TOAST! 🙂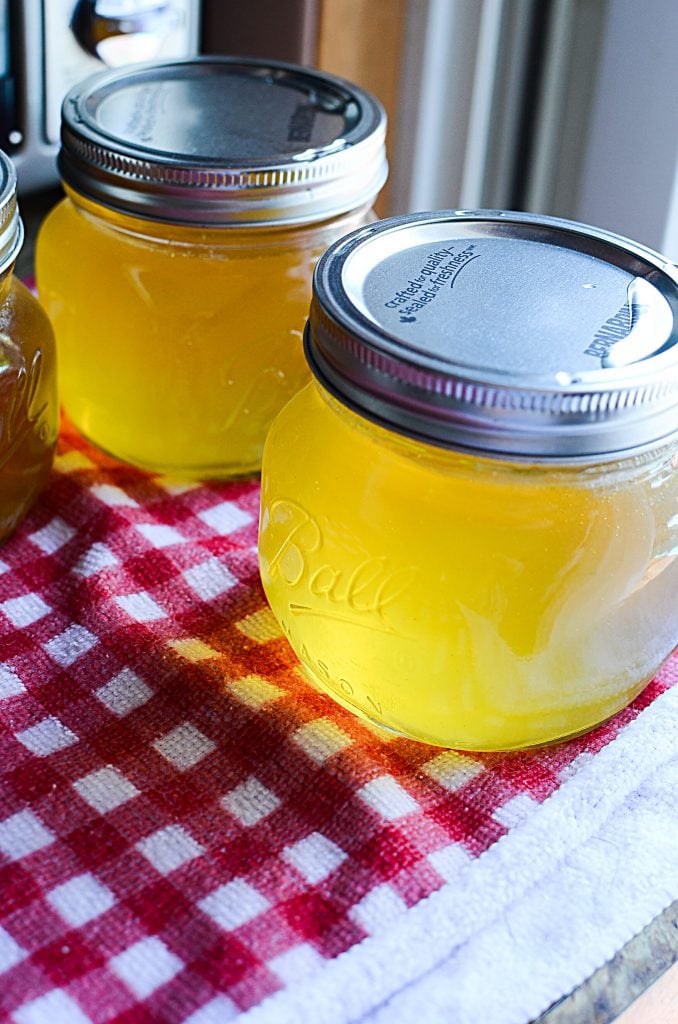 **DON'T FORGET TO PIN THIS DANDELION JELLY RECIPE PIN TO YOUR FAVORITE PINTEREST BOARD TO USE FOR LATER!!! **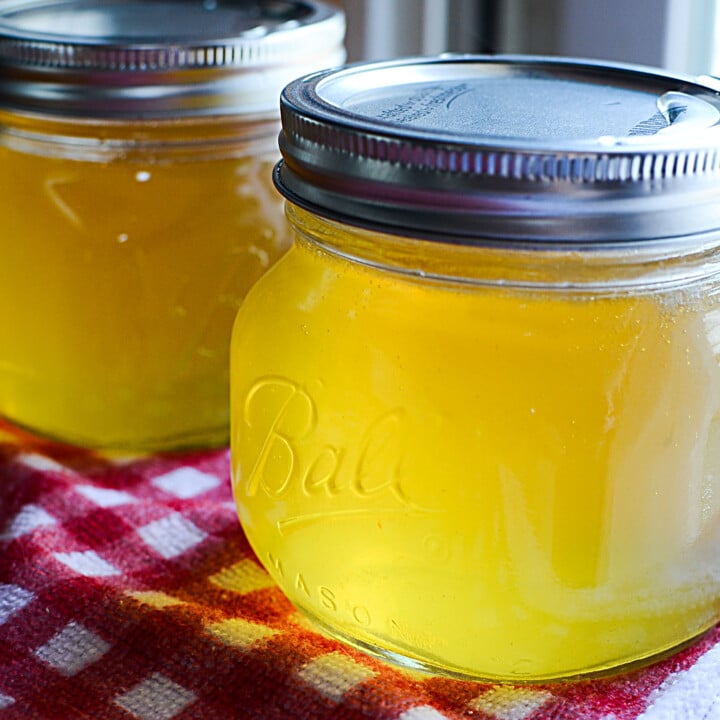 DANDELION JELLY RECIPE
A deliciously floral and sweet jelly made from golden dandelion petals! Fun to make and SO beautiful - it's like sunshine in a jar!
Ingredients
4c lightly packed dandelion petals
3-4 cups of boiling water *see notes
3 ½c sugar
1 box of pectin (1.75 ounces)
Instructions
After separating the petals from the flower, put them into a large mason jar. (Mason jar should be filled with petals, loosely)
Add the boiling water
Let the petals steep for approximately 24 hours, shaking the jar in between *see notes
Strain with a fine mesh sieve
Get boiling water bath canner ready with boiling water and sterilizing your jars & lids.
In a large pot, add the dandelion tea and the pectin. Bring to a rolling boil. *see notes
When a rolling boil is achieved, add sugar. Stir to dissolve. Bring back to a rolling boil, skimming any foam.
When the mixture reaches a rolling boil that cannot be stirred down, let it boil for one minute and then take it off the heat.
Pour into hot sterilized jars leaving 1" of headspace. Wipe the rims with a clean cloth and place the lids on.
Place the jars into the water bath, being sure that the water covers 1" over the top the jars. Process ten minutes.
Carefully remove the jars after processing
Let sit undisturbed for 24 hours.
Notes
1. I let the petals steep a little over 24 hours. I kept the jar at room temperature, resting on it's side and would occasionally shake the jar as I walked by.
2. At this point, you would follow the directions of your purchased pectin. I'm giving you the directions that were included in my pectin's box as rough guide.