Hold onto your hats because I am going to blow your mind with this Ninja Foodi Vegetarian Pulled Pork recipe. Whether you eat vegetarian all the time or are looking for a meatless meal, this recipe is mindblowing easy and delicious!! I love this dish because it is effortless to make and with my busy life, you know I"m all about the simple!!! So from time to time, I like to have a meatless meal, and this recipe fits the bill perfectly!!
Scrumptious Ninja Foodi Vegetarian Pulled Pork For Any Occasion
The star of the show in this recipe is the canned Young Jack Fruit. After it is cooked the texture and consistency is almost identical to pulled pork. The barbecue sauce adds sweet and spicy flavors to enhance the dish. You can even serve this on some buns and top with coleslaw, french fries, and cooked broccoli. Today, I simply served it on rice which was what I had on hand.
I used my Ninja Foodi to make this yummy dish but you can also use your Instant Pot! However, once you start getting the hang of using your Ninja Foodi, you will realize how many different types of recipes you can make in it!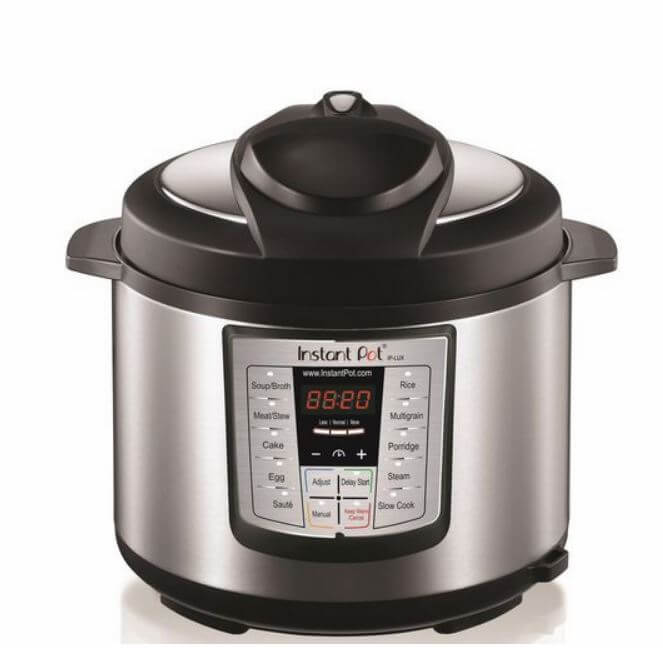 Whether you are a beginner or a chef in the kitchen, you may have some questions, and I would like to help answer those!
What Does Jackfruit Meat Taste Like?
YOUNG Jackfruit is very interesting indeed. The texture is similar to a banana or pineapple, but it doesn't have a lot of flavor on its own. The exciting thing is that you can merely add seasonings and it will take on those flavors. The texture is very similar to pulled pork, so it is perfect for vegetarian or vegan pulled pork dish.
Can Jackfruit Be Eaten Raw?
Yes, you can eat Jackfruit cooked or raw. When eating it raw, it tastes better when it's ripe so you can get some of the sweet flavors. You can add it to other hot dishes, and unripe jackfruit is more savory. Fresh Jackfruit is also incredibly sticky, so be prepared if you aren't using it out of a can. Canned jackfruit is what I used and is the most convenient. (Being in Canada, there's not a lot of wild growing jackfruit! LOL)
What Are The Benefits Of Eating Jackfruit?
Jackfruit is loaded with Vitamin C, has a low glycemic index, and lots of antioxidants. It even has protein, fiber, and carotenoids. When you consume Jackfruit, you are helping your immune system and lowering inflammation in your body.
Btw, What Does Ninja Foodi Do?
This kitchen gadget can cook food by using various methods. You can use it as a pressure cooker which allows the flavors to really mend together to create delicious meals. You can also use it as an Air Fryer to make your food nice and crispy. The Ninja Foodi also has a built-in slow cooker option as well as the ability to saute food. It is pretty much the coolest all in one kitchen tool on the market.
Here Are A Few Tips When Using Fresh or Canned JackFruit
You can actually eat the seeds in a Jackfruit. Whether you eat them raw or cook them, they taste pretty good! Some people think they have the same flavor and texture of water chestnuts.
Jackfruit canned in brine is terrific for vegetarian meals because the texture is similar to pork or chicken.
If you are trying to lose weight, Jackfruit may even be able to help you. It aids in digestion because it has fiber and it is low-calorie.
Where Do I Buy Jackfruit?
Most Asian grocery stores carry it. If you can't find it there, then you can buy the young green jackfruit in brine (which is what you want) on Amazon, here.
How Do You Make This Vegetarian Pulled 'Pork'?
Open the can of young jackfruit. It's usually packed in a brine, so you'll want to dump it into a strainer or colander and rinse the fruit. Transfer the fruit onto a cutting board, and from there you can begin shredding the jackfruit.
Put the jackfruit into the Foodi bowl and season. Add a few drops of liquid smoke and the broth.
Pressure cook for 5 minutes on high and then do a natural release. When the cooking time is up and the pin has dropped, remove the lid and drain the liquid from the jackfruit, and then place it back in the cooking bowl.
Add your favorite bbq sauce. There are tons of great sauces out there, or you can make your own vegan bbq sauce as well. You can serve it as it is right now, or you can broil the vegetarian pulled pork a bit (set it for 10 minutes and keep peeking at it) to caramelize the bbq sauce. Yum!
Serve this vegetarian pulled pork as you would with any other pulled pork. You could serve it on rice, as I did for this recipe, but also on buns, or in a carnitas sort of way for breakfast hash with eggs, etc. The possibilities are endless!
I hope that if you try this vegetarian pulled pork recipe, you'll leave me a comment below, letting me know how you served it! Thanks so much for stopping by The Salty Pot today!
This delicious roasted spaghetti squash is also a great vegan meal (just skip the bacon of course):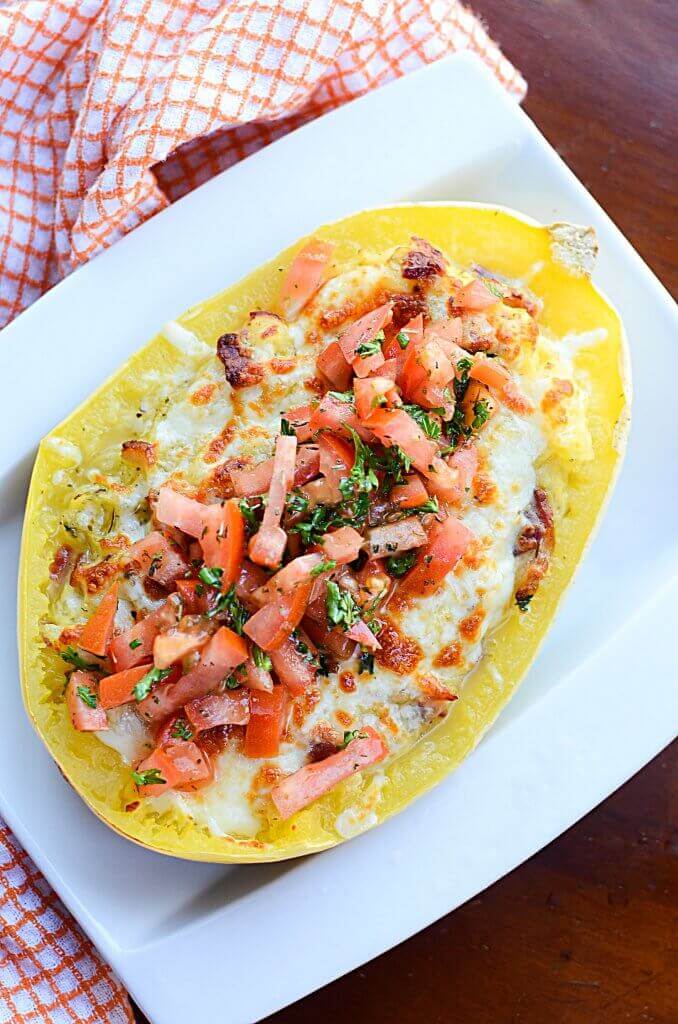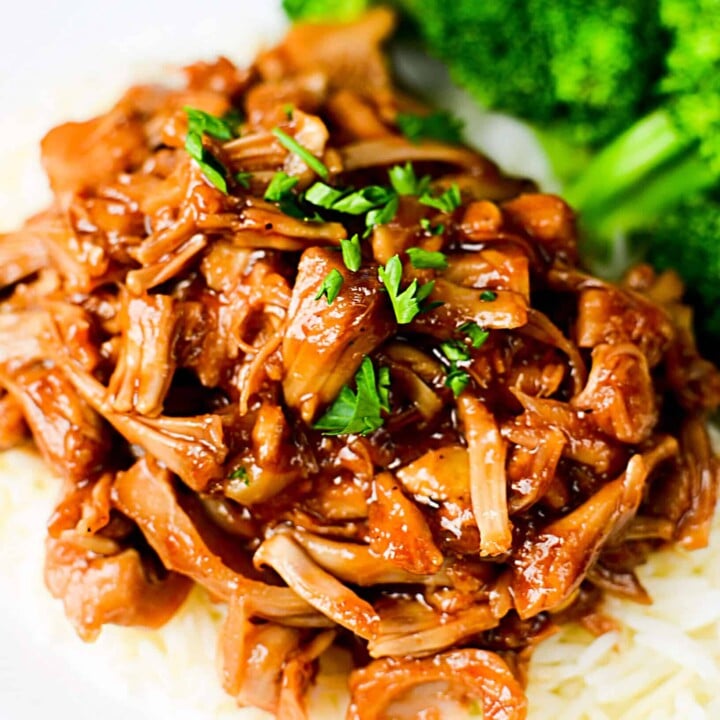 NINJA FOODI VEGETARIAN PULLED PORK
This vegetarian pulled pork is SO amazing! It has the texture of pulled pork, but is completely vegan! It's easy to make, and with the spices that it's made with, it's perfect to take to a cookout!!
Ingredients
20 oz Young Green Jackfruit
1/2 tsp Liquid Smoke
1c water or vegetable broth
1c BBQ sauce
1 tsp Garlic Powder
1/2 tsp Onion Powder
1 tsp Paprika
1 1/2 tsp Seasoning Salt
As desired, Pepper
Instructions
Open and drain the young green jackfruit from the can.
With two forks, 'pull' the jackfruit apart, to resemble pulled pork
Place the jackfruit in the Foodi bowl, and season with the seasoning salt, pepper, garlic, onion and paprika.
Add the 1 cup of water or vegetable stock
Place the pressure cooking lid on the top, place the toggle switch on 'seal', and manually pressure cook on high for 5 minutes.
STOVETOP: Do steps 1-4, and bring to a boil. Turn down the heat and simmer for 15 minutes. Continue on with step 8.
After the cooking time is up, do a Quick Release and remove the lid after the pin has dropped and it's safe to open.
Drain the cooking liquid.
Add the BBQ sauce and mix well.
(you can serve from this point on, continue on with the following steps)
Ninja Foodi: Broil for 10 minutes at 400 until the ends of the jackfruit begin to caramelize.
Stove Top: Place the jackfruit in an oven safe dish and broil in the oven for 2 - 3 minutes until the ends of the jackfruit begin to caramelize.
Enjoy!
Nutrition Information:
Yield:

4
Serving Size:

5 oz
Amount Per Serving:
Calories:

265
Total Fat:

2g
Saturated Fat:

0g
Trans Fat:

0g
Unsaturated Fat:

1g
Cholesterol:

0mg
Sodium:

1456mg
Carbohydrates:

63g
Fiber:

3g
Sugar:

51g
Protein:

3g
All nutritional information is based on third-party calculations and is only an estimate. Each recipe and nutritional value will vary depending on the brands you use, measuring methods, and portion sizes per household.
**Don't forget to pin this Vegetarian Pulled Pork Recipe to your favorite Pinterest board for safe keeping!!**