Eating a grilled ham and cheese sandwich is one of those things that make lunchtime perfect. Buttery toasted bread, smoky salty ham, and gooey, melty cheese make an epic meal that when made right, is not only scrumptious but unforgettable.
Simple doesn't have to be boring, folks. Keep reading for tips and tricks to make this grilled cheese sandwich absolutely divine.
This post may contain affiliate links. If you make a purchase after clicking a link, I may earn a small commission AT NO COST TO YOU. As an Amazon Affiliate, I earn from qualifying purchases.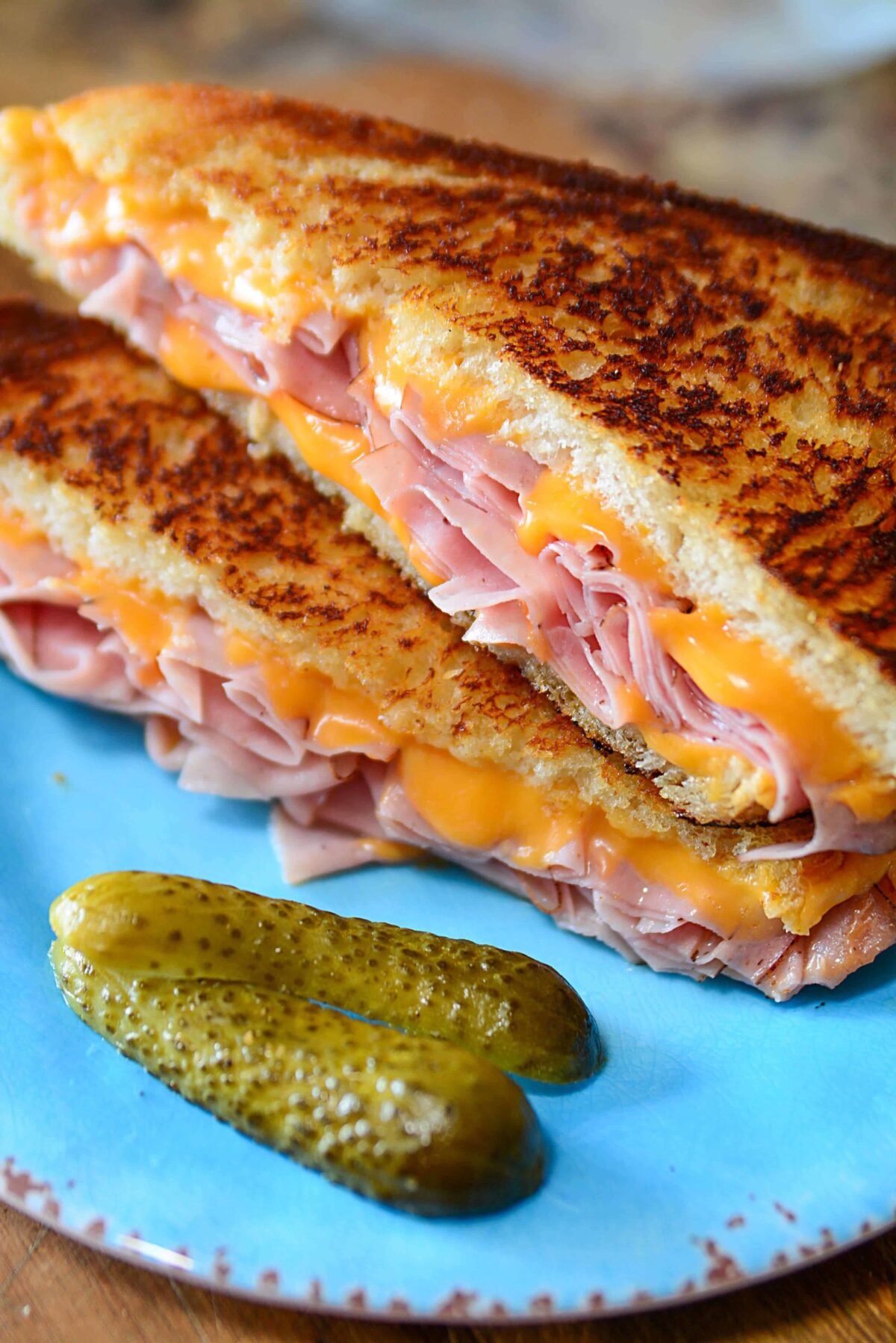 The Epic Grilled Ham and Cheese
I can't wait to share my favorite ham and cheese sandwich recipe, but before I do, I have lots to tell you about this simple meal. All the information I found out about a simple ham and cheese sandwich was crazy pants!!
Whether you enjoy hot or cold sandwiches, I have several tips that you can use to change how you eat them.
So ok, take a quick peek at these tips, and you will be devouring a delectable ham and cheese sandwich in no time! You can make it as simple or as advanced as your heart desires!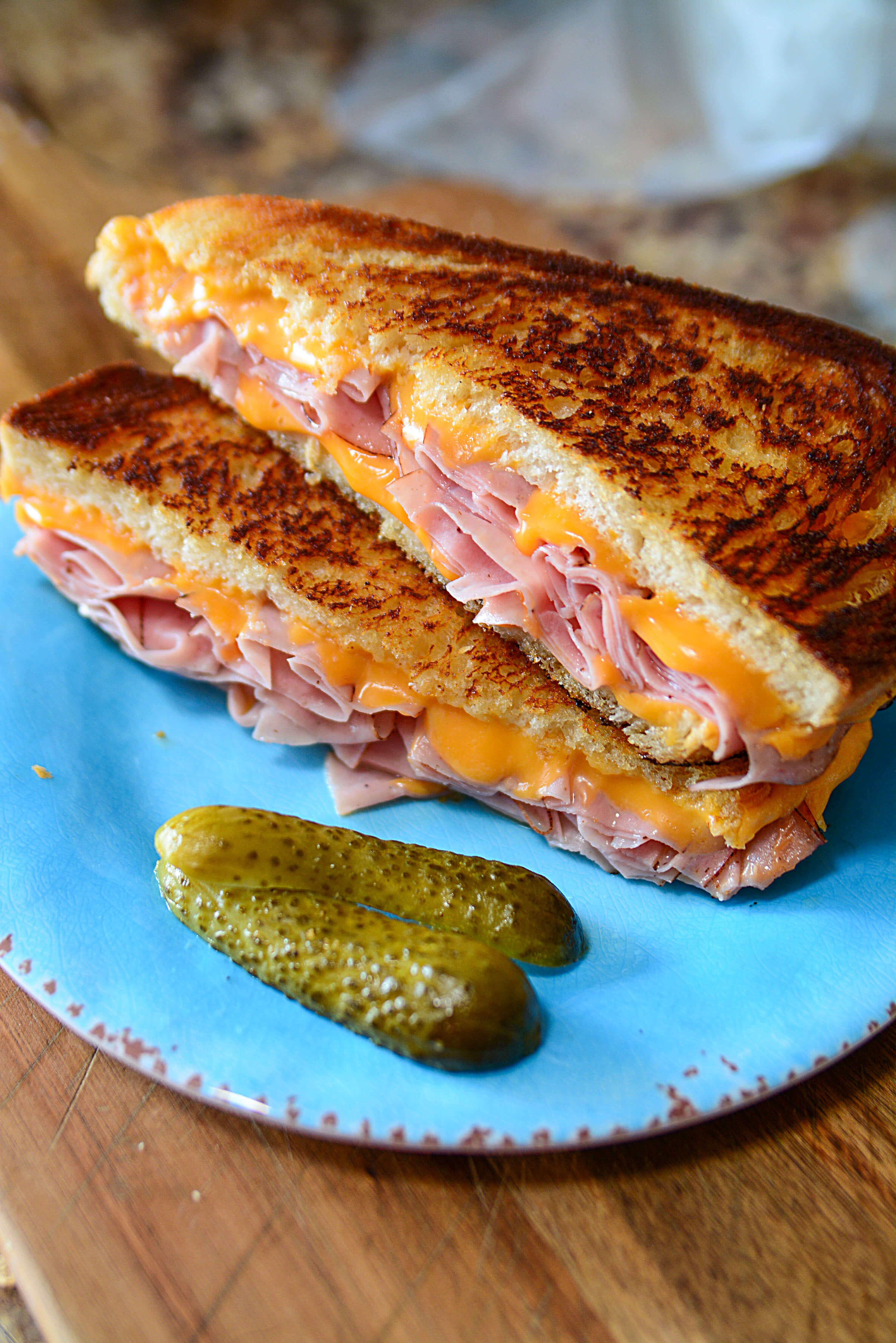 Is this grilled cheese and ham the same as a cheese toastie?
Yes. Grilled cheese and a cheese toastie are the same types of sandwiches. The only difference is that we've added ham to our grilled cheese, so technically, this sandwich would also be known as a ham and cheese toastie.
So let's talk about the ham. What choices are there?
You can use any ham you love for your sandwich. Here are a few options that taste amazing!
Honey Ham – adds sweetness to the sandwich without being overbearing.

Smoked Virginia Ham – The smokiness is delicious and adds tons of flavor!

Peppered Ham – has some spice to it and has a rich flavor that can't be beaten.

Spiral Ham

– If you have a holiday dinner or any other occasion and end up with leftover spiral ham, it makes the most fantastic sandwich!

You can also use a Black forest ham, shaved thin. This is what I used today for my sandwich.
Types of Cheese For Your Grilled Cheese Sandwich
Cheddar – It is my favorite and my first choice when I am making a sandwich.

Swiss – I love the tangy taste and texture of swiss cheese. It adds a ton of character!
Provolone – Adds a creamy texture and flavor that goes great with ham.

Pepperjack – It's spicy and gives you a kick of flavor that I can't get enough of.
What Types Of Bread Go Well With Ham and Cheese Sandwich?
Again, bread is one of these things that you can your favorites. There are so many flavors, textures, and styles of bread! You can go as wild as you want and the result will be terrific! Here are a few of my favorite choices:
Artisan – A tasty bread that has mild flavors and is soft and chewy. You can't go wrong using this type of bread. I used artisan bread today, but with the twist of grilling it, hence the Grilled Ham and Cheese Sandwich. However, the sandwich police won't be alerted if you simply want to keep it plain, soft and chewy!
Sourdough – A sourdough bread is easier to digest and usually the signature tangy flavor goes well with ham and cheese. Put it together and grill it up – it would be an amazing grilled ham and cheese sammy!!
Pita – they are a pocket that you can fill will all kinds of wonderful ingredients. Typically you don't grill with Pita bread, BUT there's nothing saying you can't! I would totally give this a try! All that ham and cheese in a non-drippy pocket? Oh yeahhh.
English Muffins – you can turn your sandwich idea into breakfast with an English muffin such as these super easy (and make-ahead) Breakfast Eggers! Plus, because they are so strong, they are easy to grab and go when you are in a hurry.
Whole Wheat – I love the taste of whole wheat bread, and it is one of my go-to bread choices. It's a basic but somewhat healthier version of white bread. It would do very well if you were to grill it with the sandwich ingredients.
Croissant – They are flaky and have a buttery taste. They add a new level of deliciousness to any sandwich. I've seen Panini's made with croissants and they looked amazing, I love the idea. Because they are really buttery and flaky, the end result would be a mind-blowing ham and cheese sandwich similar to my Easy Hot Ham and Cheese Sandwiches on the blog!
Incidentally, if you're looking for some more finger-licking good sandwich-type recipes, here's another great sandwich recipe you might want to try! This is a Crockpot Pineapple Teriyaki Sandwich that's a hit every single time it's made!
What Do I Serve With a Ham And Cheese Sandwich?
While the ham and cheese sandwich is the star of the show, you will most likely want something to go with it. Here are a few ideas that will give you a complete meal:
Potato Chips – I like to serve chips because there is no work involved. Just open the bag and jump in.

French Fries – You can choose between crinkle cuts, waffle style, steak, or even homemade fries. They all taste amazing so you can't go wrong!

Pasta salad – A comfort food dish like this Dill Pickle Pasta Salad would be fantastic with this sandwich!

Soup – an excellent hearty Tomato Basil or Beef and rice vegetable soup make a meal that is incredible.
Topping options to make a killer sandwich!
You can make your sandwich with just bread, meat and cheese if you desire. Nothing wrong with that my lovely!! But, depending on my mood, I like to add some extra toppings to change the flavor and texture. Here are a few of the things I love to use:
Fresh vegetables – Tomatoes, green peppers, and avocado are just a few things I use from time to time. When you add sliced tomato to the sandwich, the heat softens the tomato, adding this lovely enhanced tomato flavor. The tomato slice itself adds a bit of extra moisture to the layers, which I find super tasty!

Condiments

– Spicy mustard, mayonnaise, honey mustard, and horseradish are some great options!

Other topping ideas – Black olives, pickles, and banana peppers would also terrific!
How do you make this grilled ham and cheese melt??
So with today's grilled sandwich, I simply used the artisan bread that I mentioned earlier. Keep in mind, this sandwich is plenty big for two people to share. If you serve it with some of the things I mentioned above, two people can enjoy this epic sandwich!!
I cut two nice big slices and then buttered one side of it. This buttered side will be the BOTTOM layer of the sandwich.
After that, I just started layering the ingredients. I like putting cheese on both the bottom and top, kind of sandwiching the ham in the middle. (haha.. like what I did there?? lol)
Then, put the other piece of bread on top of the cheese. I buttered the outside so that when you flip the sandwich in the pan, will become the bottom piece. I know it might sound confusing, but in the recipe below, I explain it a bit better!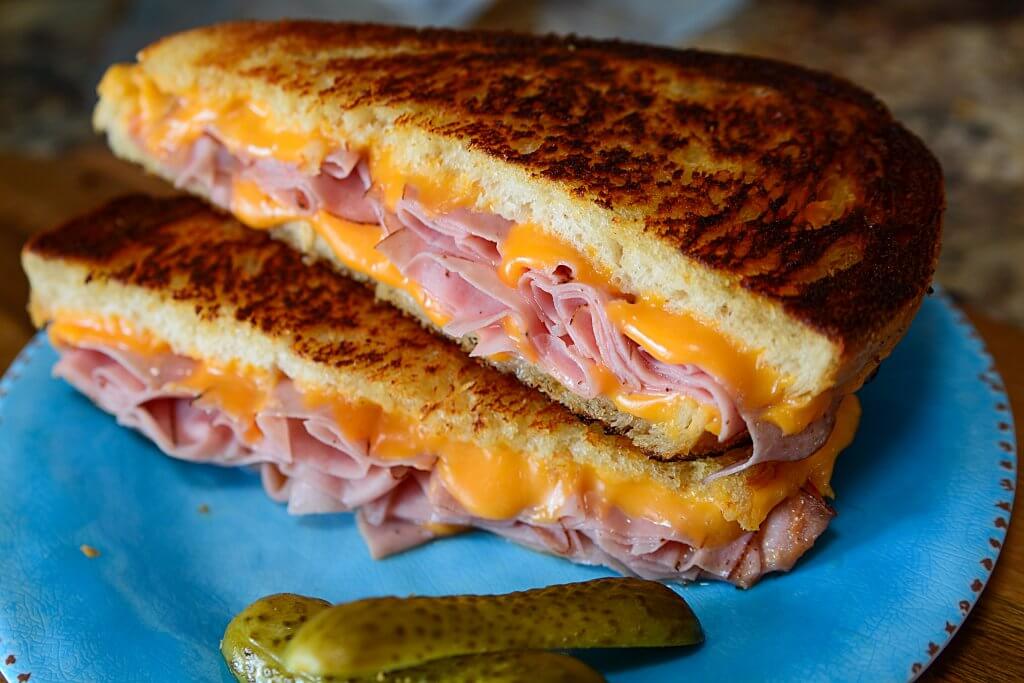 I used a nice thin black forest ham for this sandwich. I like the briny flavor against the creamy, gooey-ness of the melted cheddar. Which, btw, was an 'old' or 'sharp' cheddar. And as a side note, please use butter, not margarine for the bread. This kind of sandwich is just taken to the next level when you use real butter!
The other key is to fry it low and slow. If you grill it too quickly, the bread will burn before the cheese melts. You want the sandwich to warm slowly, so the cheese gets a chance to get all melty and yummy as the bread toasts or, grills, in the pan.
After it's toasted on one side, flip it carefully and do the same to the other side. Also, another tip is to cover the frying pan with a lid for a few minutes to trap some of the heat in there to help melt the cheese as well.
When it's done grilling, turn it out onto a nice board and give it a minute or two to settle. Then slice, and ENJOY!!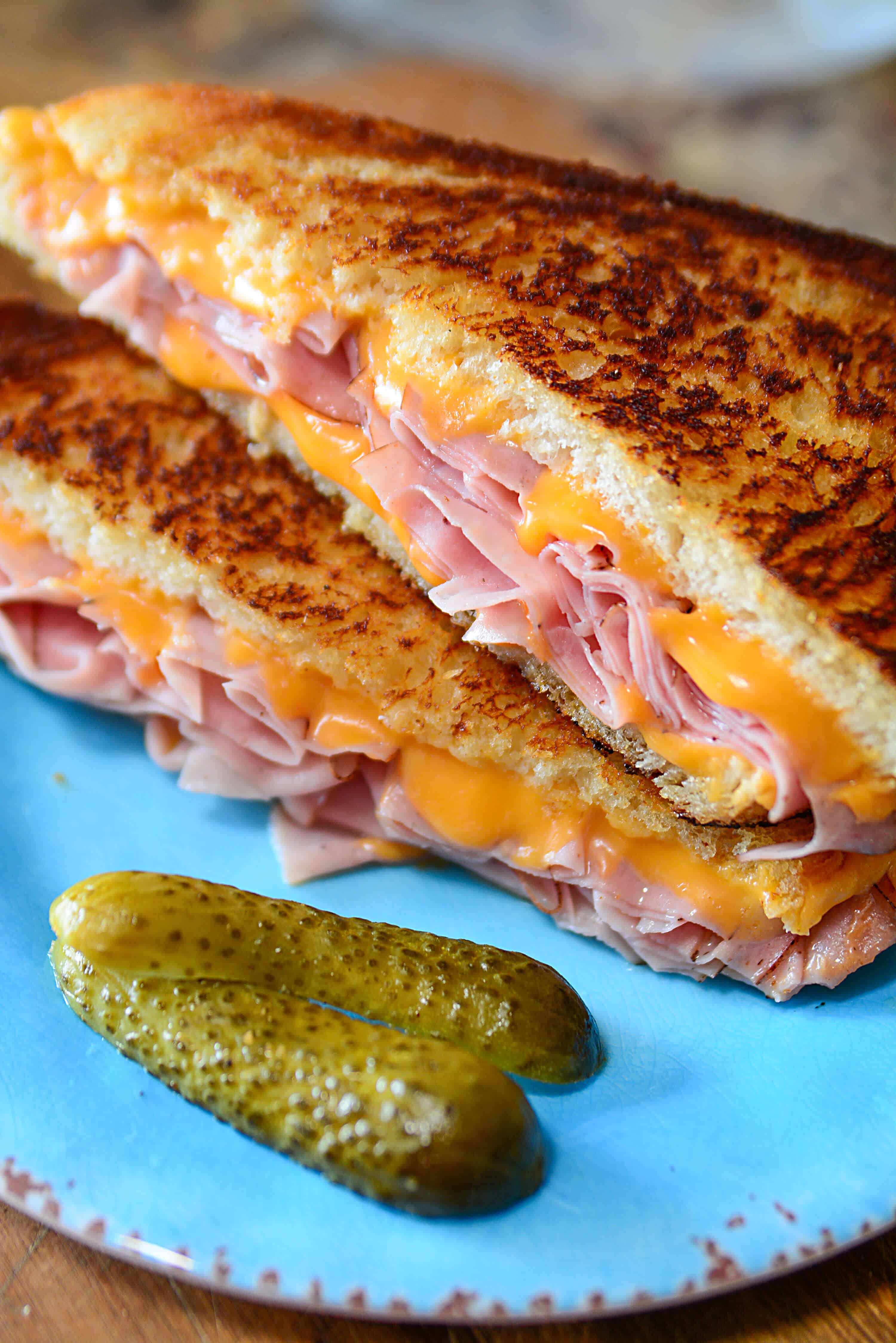 This is a pretty basic, but at the same time, DELICIOUS cheese and ham toastie! When I make them this way, I ALWAYS get compliments on them!
Lastly, no one is saying you have to grill your sandwich. If you choose to leave it ungrilled, I would butter the INSIDE of the bread instead, but still layer the cheese between the ham in the bread of course.
I hope that if you decide to follow this method for your grilled ham and cheese sandwich, you might try to add a few twists that were mentioned earlier, and then let me know how it went!! Thank you for stopping by The Salty Pot today!!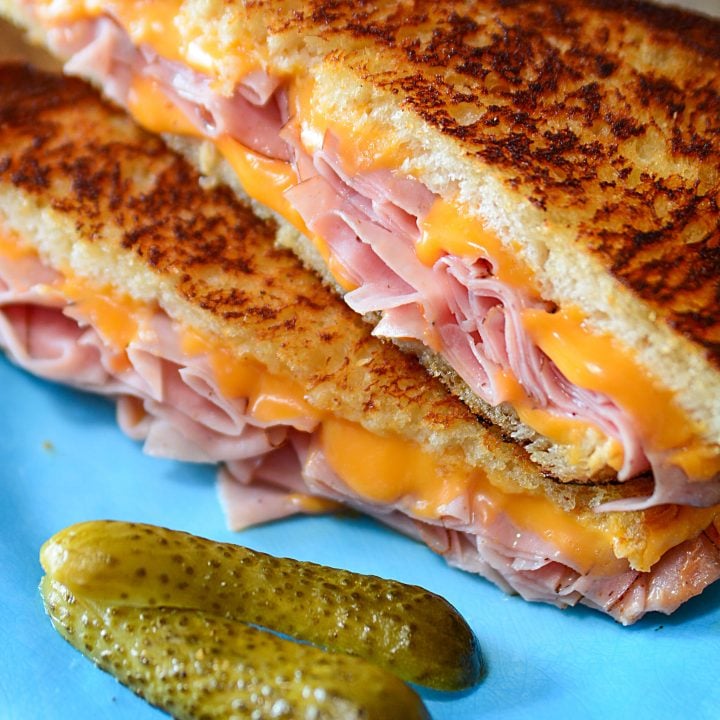 Grilled Ham and Cheese Sandwich
Not your average ham and cheese sandwich. It may seem basic, but this grilled ham and cheese sandwich is absolutely delicious if you follow the advice for the ingredients and the cooking methods. You will have people thanking you!!
Ingredients
2 slices thick slices of artisan, crusty bread
85 grams of shaved black forest deli ham
4 slices of sharp / old brick style cheddar, broken into smaller pieces
1 tablespoon butter
Instructions
Begin by getting your fry pan ready on the counter. Butter one side of the bread with ½ tablespoon of butter. Place the bread butter side down in the fry pan.
Take half of the broken up peices of cheese and place them on top of the bread, trying to cover all the available places on the bread.
Take the ham and twist each peice loosely so it folds in a small mound. Continue to do this with each piece, stacking them next to each other to cover the top of the cheese.
Take the remaining cheese pieces and top the ham with the cheese.
Butter the top piece of bread with another ½ tablespoon of butter and place it, butter side out, on top of the cheese.
Place the fry pan onto the stove over medium heat/low heat.Take your time grilling the bread as if you brown the bread too quickly, the cheese will not be melted. Keep an eye on the bottom piece and when it's nicely toasted, carefully flip the sandwich to the other side.
Placing a lid on the fry pan helps with melting the cheese slightly faster.
When the other side is nicely grilled to golden brown, remove the sandwich onto a plate. Let it rest for a few minutes as the cheese will be LAVA hot!! Cut in half after the wait time is done, and enjoy!
Nutrition Information:
Yield:

1
Serving Size:

1
Amount Per Serving:
Calories:

383
Total Fat:

25g
Saturated Fat:

13g
Trans Fat:

1g
Unsaturated Fat:

8g
Cholesterol:

93mg
Sodium:

1513mg
Carbohydrates:

17g
Fiber:

1g
Sugar:

2g
Protein:

24g
All nutritional information is based on third-party calculations and is only an estimate. Each recipe and nutritional value will vary depending on the brands you use, measuring methods, and portion sizes per household.
* Don't forget to pin this Grilled Ham and Cheese Sandwich to your favorite Pinterest board for safe keeping!! *