Don't you just love Monkey Bread?? How about Caramel and Pecans?? Ok, I gotcha covered my lovelies!! Pecan Caramel Monkey Bread desserts, but in mini portions, just for you!! Let the drooling commence NOW! HaHa!!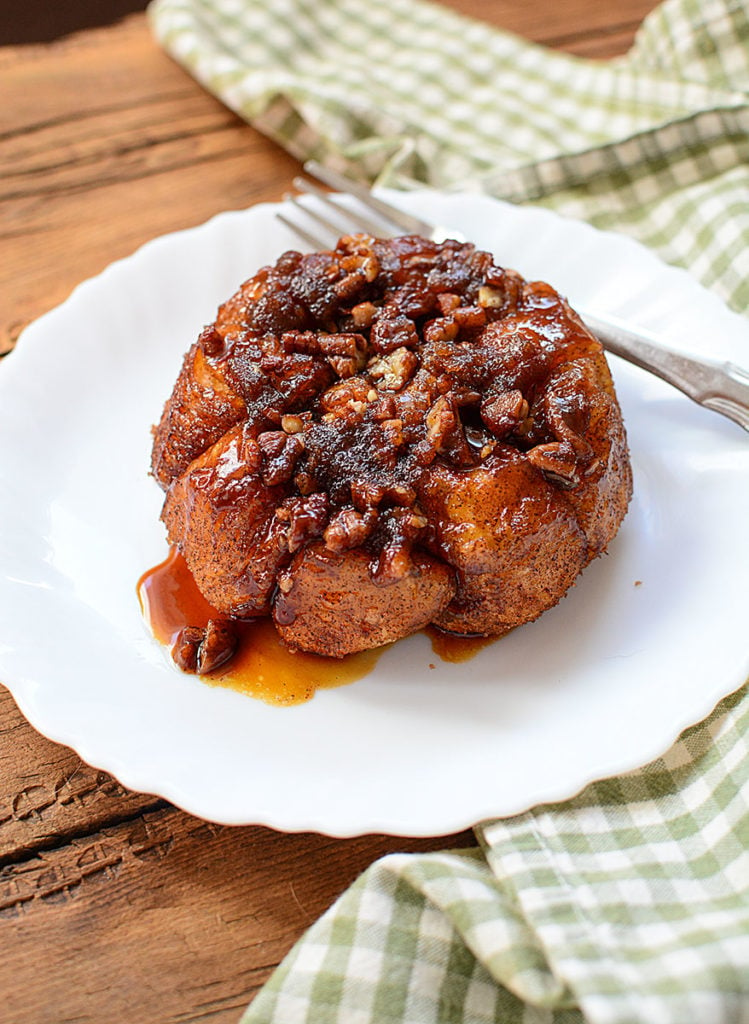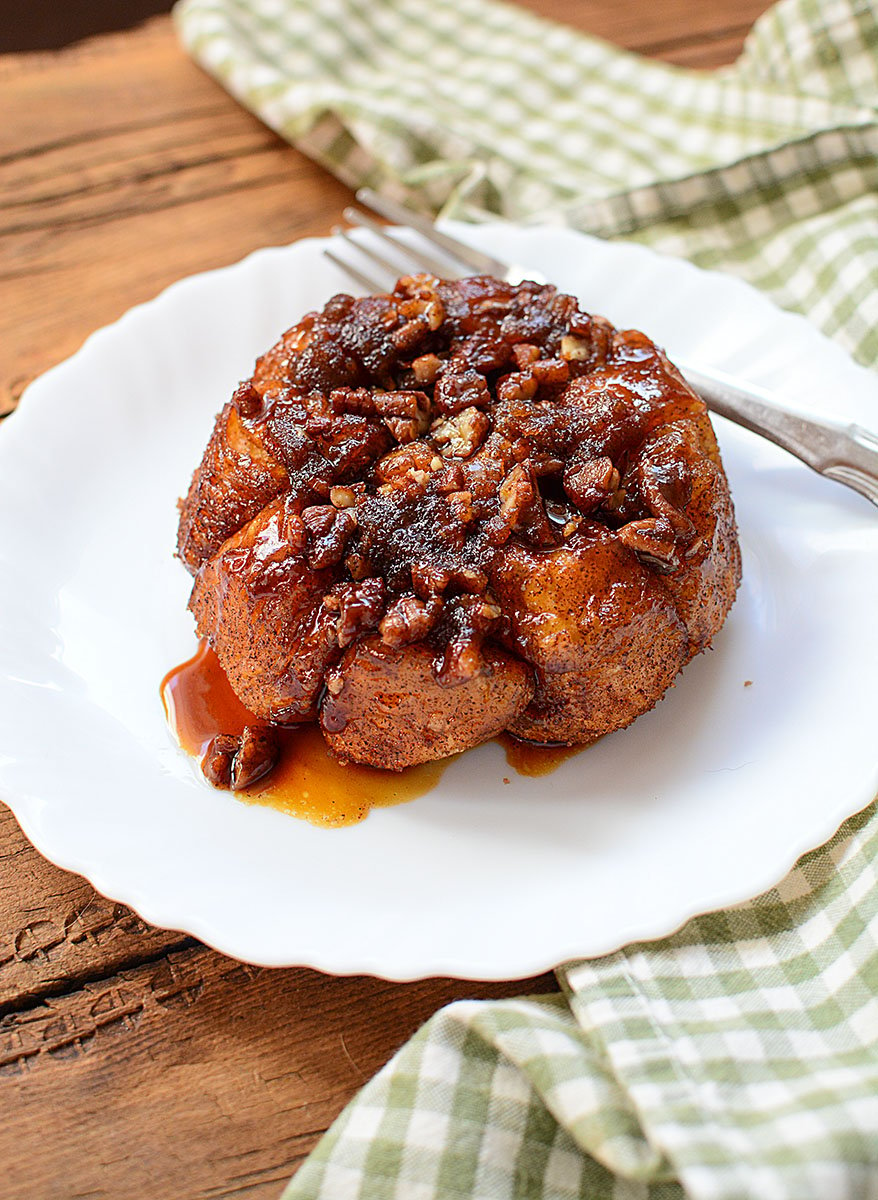 Baby Pecan Caramel Monkey Bread Desserts!
So if you love homemade cinnamon buns or pull-apart bread, monkey bread is pretty much the same thing. Little balls of yummy, fresh, yeast dough, rolled around in different spices and most of the time, sugar.
The balls are put into a baking dish, (often a bundt pan), toppled all on top of each other, and as they bake, they sort of, kinda like, stick together while usually keeping their form.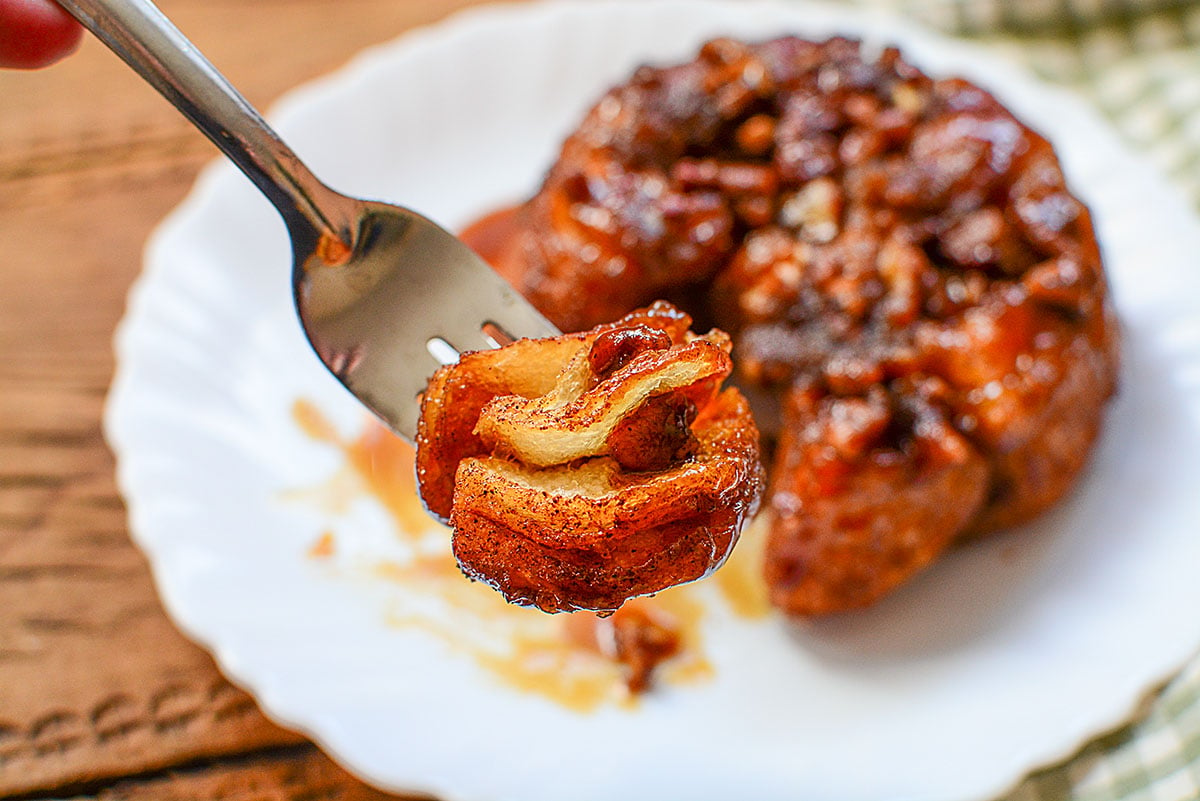 Sugar and spices in the dough get all melty and gooey and yummy, and honestly, the whole darn dessert is just incredibly delicious! There are all kinds of variations of monkey bread but the sort that I just mentioned is pretty much the standard recipe. But guess what?
Today I'm making MINI versions of monkey bread with Pecan Caramel flavors!
What's The Deal With The Mini Monkey Bread?
Honestly, I just love the idea of anything in mini form, or in individual portions/sizes. It's great for portion control and it's ideal for times where one person wants something, and other doesn't, or wants something else.
I've made a few other things that are mini or individually sized like my Individual Roasted Turkey Dinners which give the flavors of a full turkey dinner without all the work. And if you're a spaghetti lover like myself, then you should check out my Individual Baked Spaghetti Dinners done in the slow cooker.
They're part of my series on Make Ahead Meals, and they're SO handy, SO delicious and SO easy to make! There's more to come on those, so stay tuned!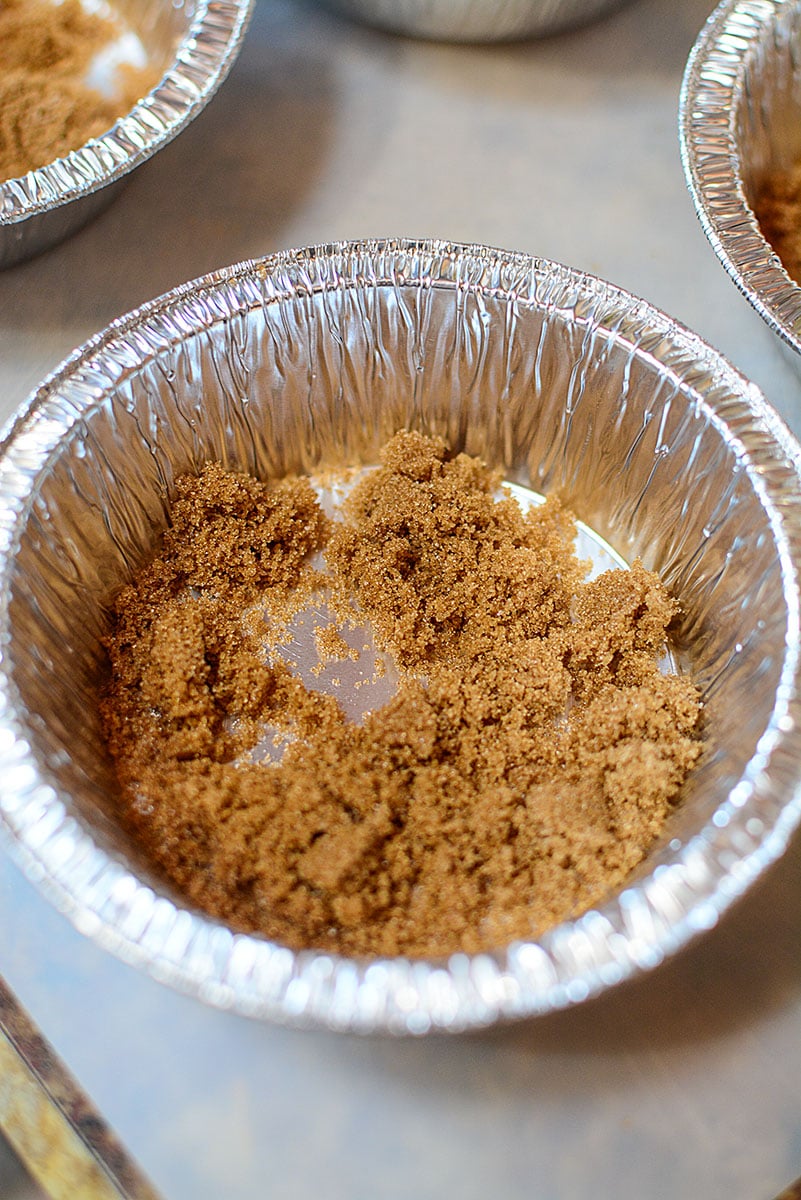 Ingredients Needed For This Pecan Monkey Bread
I'll bet you have all the ingredients in your fridge or pantry right now!! I used disposable foil containers that are about 6 inches across.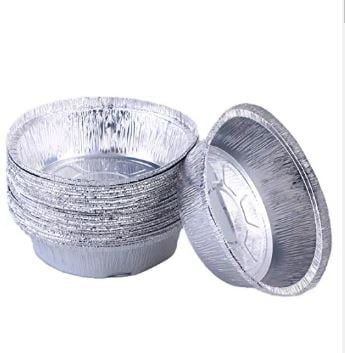 If you have other baking dishes that are on the smaller side and great for individual servings that can also withstand freezer to oven temps, feel free to use them instead! (don't spend extra money if you can use whatcha already got, right?!)
Ok, moving on….
The ingredients are:
One tube of Pillsbury Flaky Layers Biscuits (I"ll insert a pic below)
Brown sugar
Butter (salted)
Cinnamon
Pecans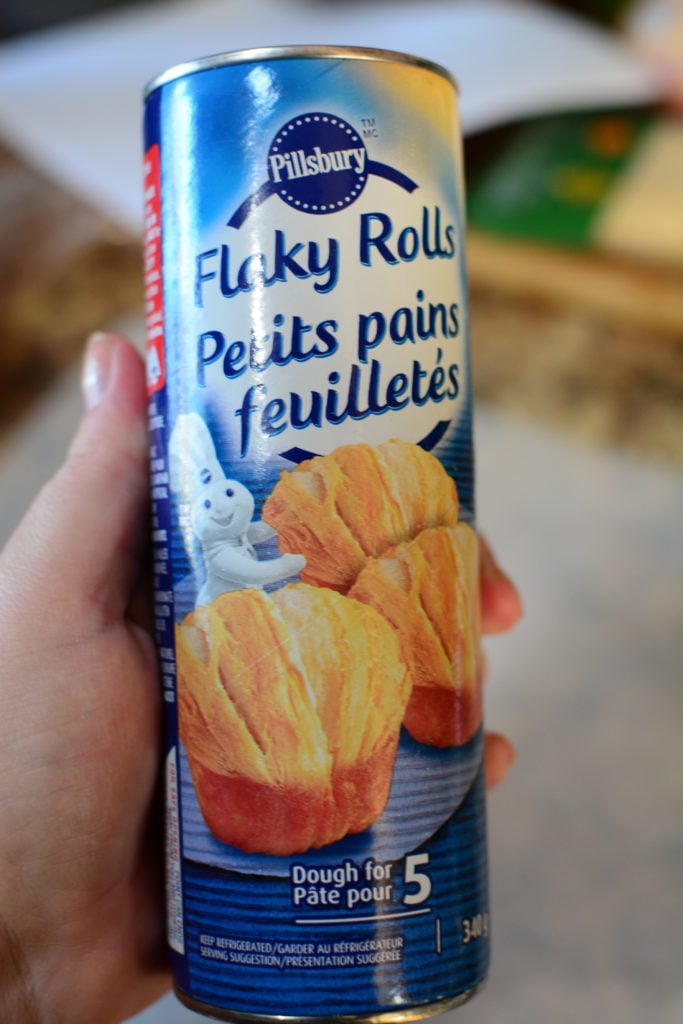 How Do You Make The Monkey Bread?
There are more detailed instructions in the recipe card below, but basically, you cut the biscuits into pieces, roll them in the sugar mixture, put them in the foil containers and then bake them.
Now that's a super simplified explanation, but it's honestly REALLY that simple. This would be a super fun activity to do with the little ones because they could roll the dough balls and cover them with sugar, they could help put them in the containers, etc.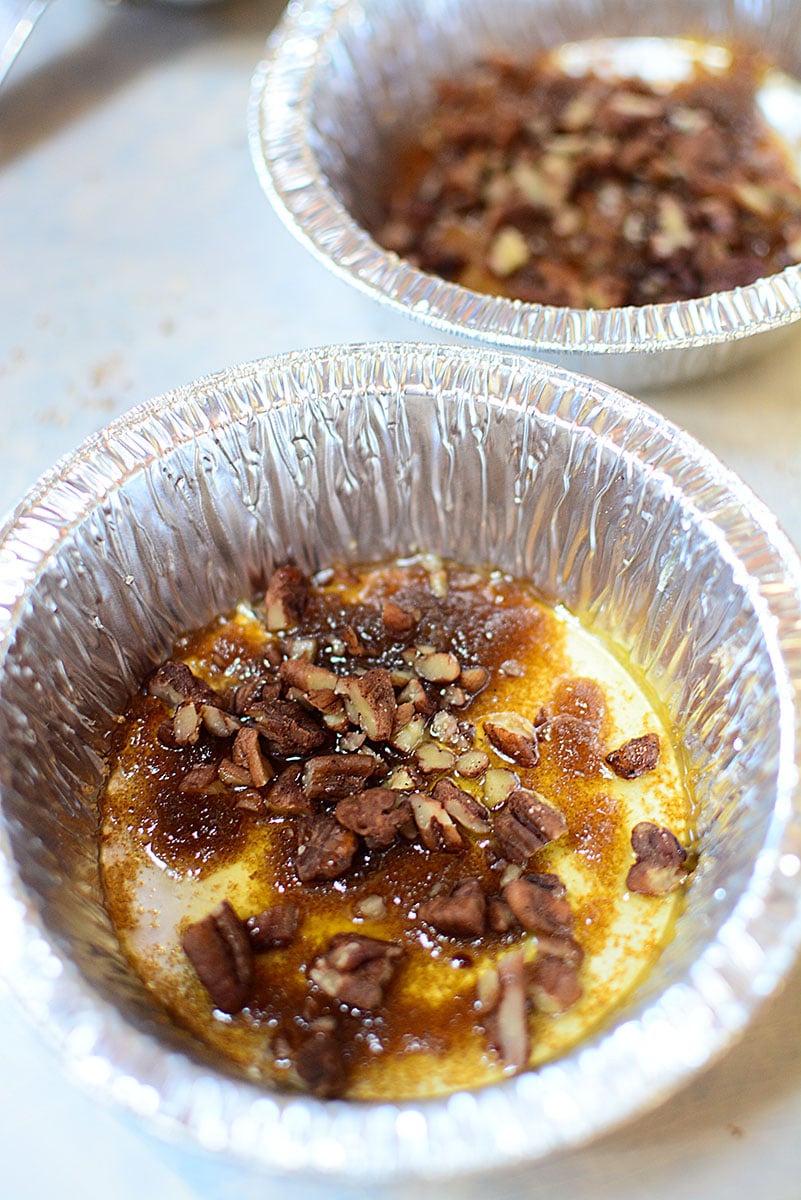 Plus they're crazy delicious. The Flaky biscuit rolls in specific are superb in this recipe because they are indeed, flaky. The flakiness makes for such a tender pull-apart bread for an end result.
I'll be super surprised if someone in your household doesn't like them!! They're always a hit when I make them and serve them to people!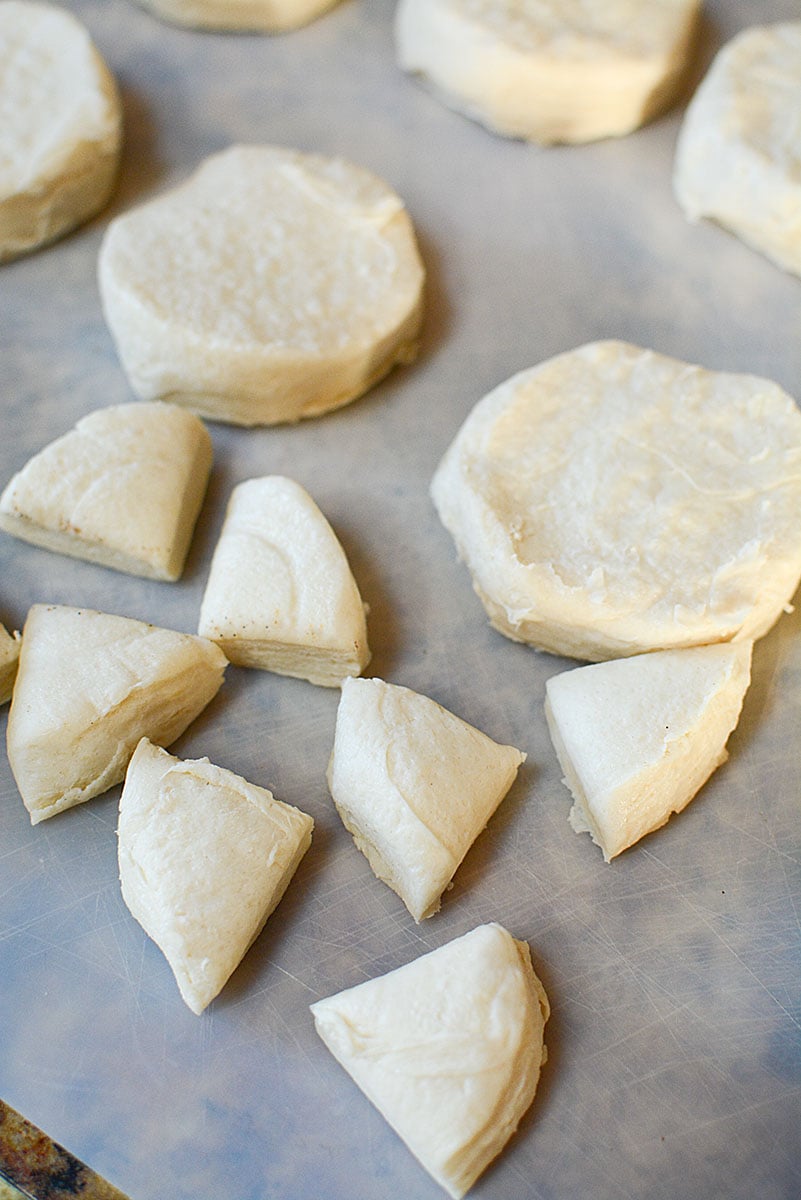 Can I Use Homemade Bread Dough Instead For This Pecan Caramel Bread?
Absolutely, but just know that the texture will be different than if you used the Flaky Biscuit dough. As I mentioned earlier, the flaky dough separates into little (almost peelable!) flakes of dessert bread that make them so tender and soft!
If you can't find the Flaky Biscuits dough, then I would be tempted to use either the crescent roll dough and if I couldn't find that one, then I'd use the regular biscuit dough or homemade bread dough.
Any of them will work out fine, it's just that the other ones I mentioned create a much more tender bread-type dough if that makes any sense. lol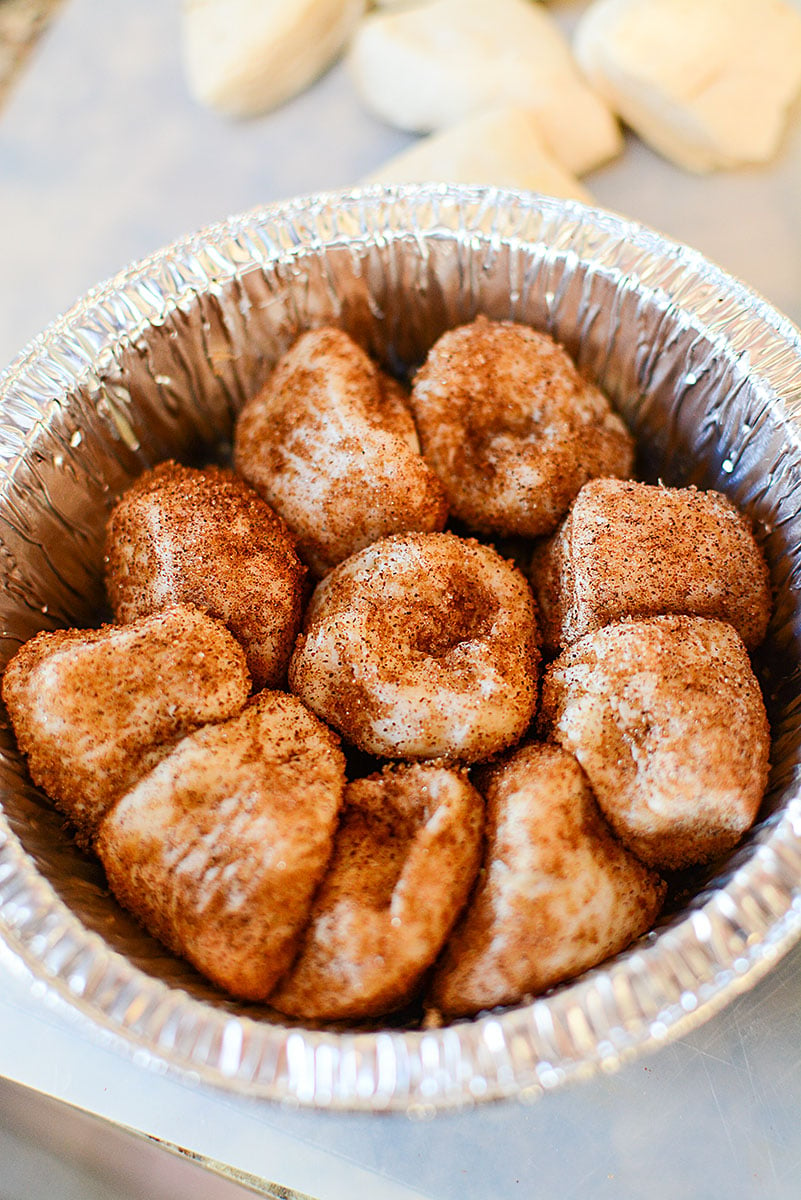 What Other Nuts Can Be Used Besides Pecans?
Use whatever nut you'd like or have on hand! I don't recommend using something like sunflower seeds or things like that. But walnuts, almonds, or heck, even peanuts would do the trick if that's all you have on hand.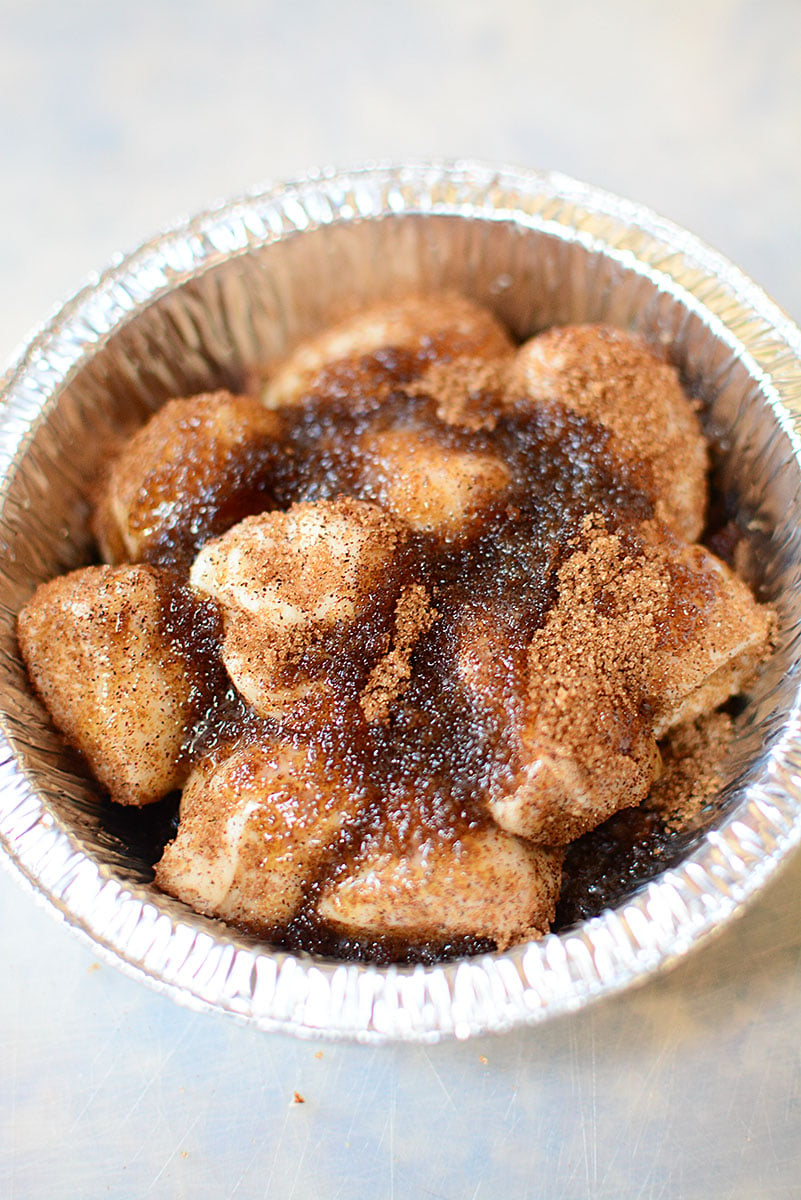 Ok, So Let's Talk About Baking These Adorable Mini Monkey Bread Desserts!!
I would recommend baking them without a cover. You could cover in foil if you'd like, but I preferred to keep them uncovered.
When I was testing the recipe, I found that when they were baked without the foil covering, the little jaggedy edges of the bread got super nice and crispy (but not hard). I'd have to say that was one of the standout things about baking them this way.
Covering them still baked them nicely, but be sure you allow space for rising or they'll stick to the top of the foil.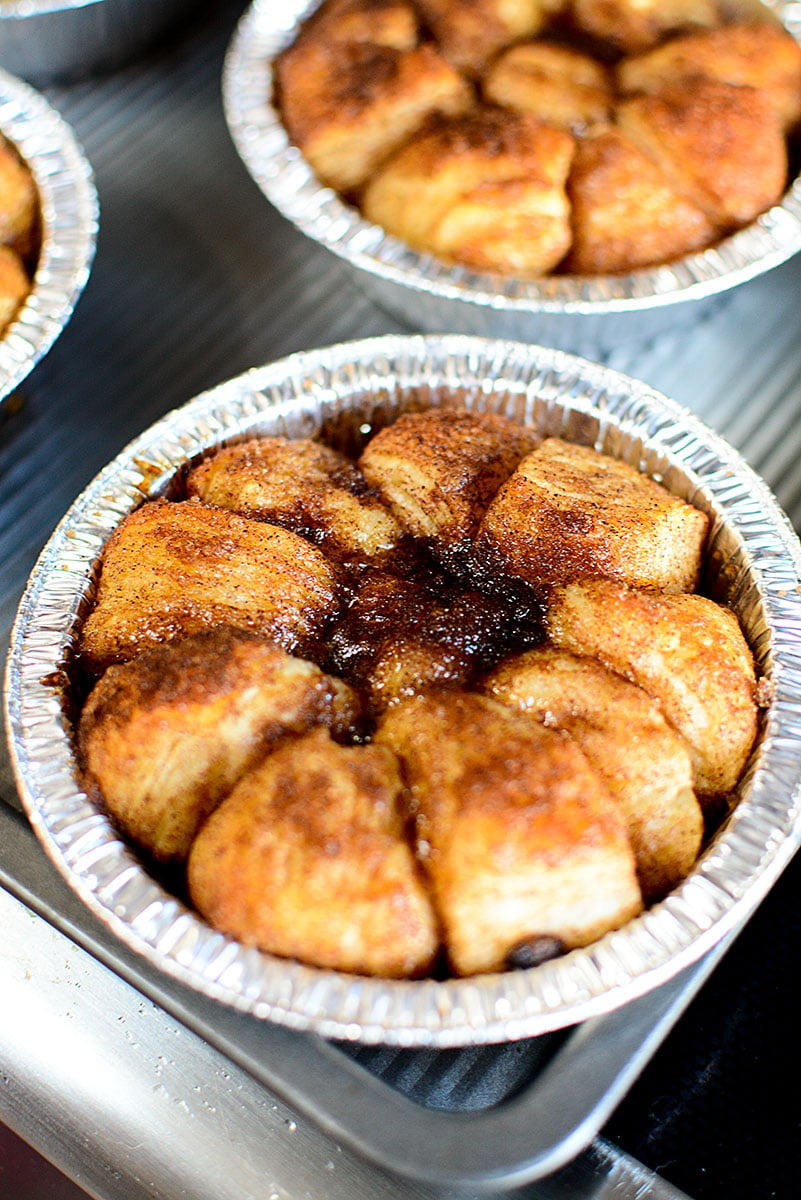 Can I Freeze Monkey Bread?
Sure can. I would bake the individual monkey bread, let them cool and then keeping them in the foil, place them in a freezer-safe bag or container until your ready to use them.
Thaw, and heat through.
I haven't tried to freeze them unbaked yet, but I will be doing that this week to see how they fare in the end result! Stay tuned!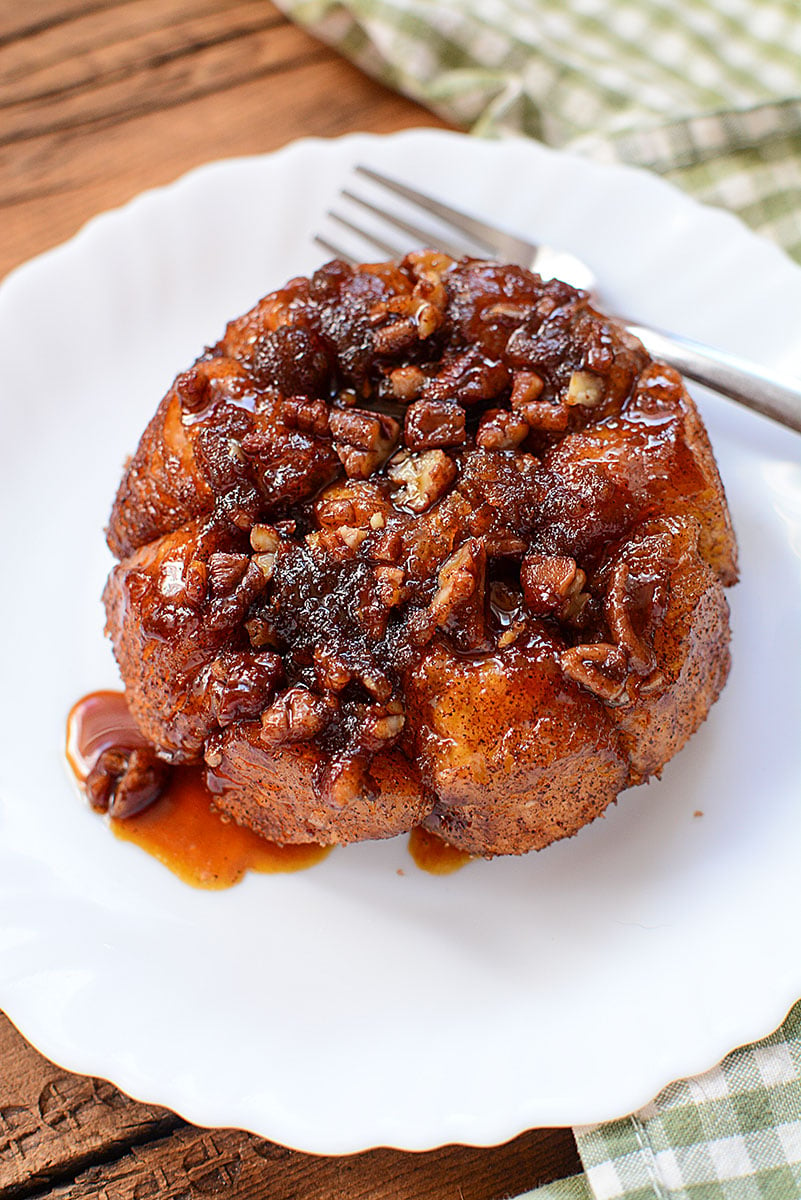 What About Baking Them From Fresh, Not Frozen?
Ok, then that's super easy! Into the oven, they go like any other baking! Again, use a convection oven/toaster oven to bake them if you're only baking one at a time. Less energy, less bills!
After the baby monkey bread desserts are cooked, then CAREFULLY invert them onto a plate or bowl and let the brown sugar & pecans ooze all over the top of the little nuggety bread!! DIVINE!!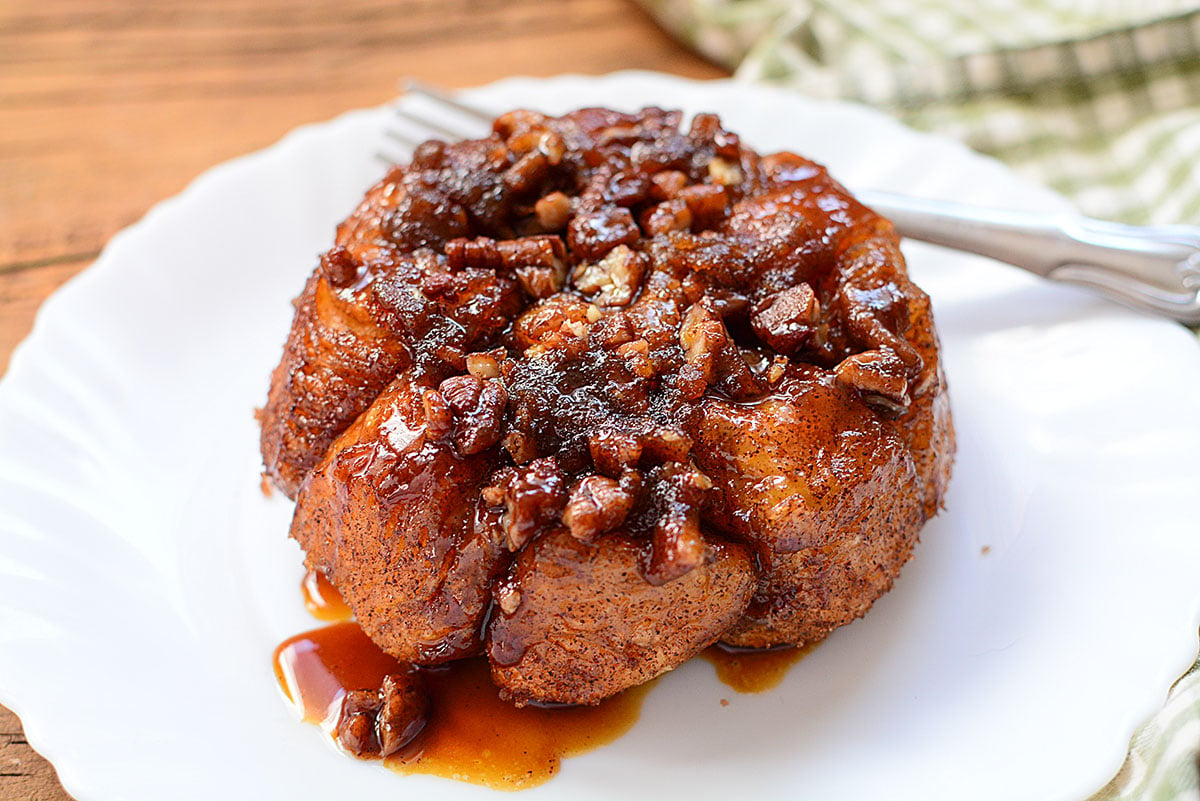 Serving them with ice cream, or a dollop of whipped cream would be heavenly for sure! But you could go that extra bit and serve them with a warm butter rum dipping sauce, or even a warm vanilla bean sauce as well! (Ok.. I'm totally drooling now!!)
Well my dear reader, I hope that I have successfully enticed you into giving these individual caramel monkey bread desserts a try. When you decide to make them, I'd LOVE to hear what you thought of the recipe, and how you served it!! Whipped cream? Custard? Ice cream?… yah!!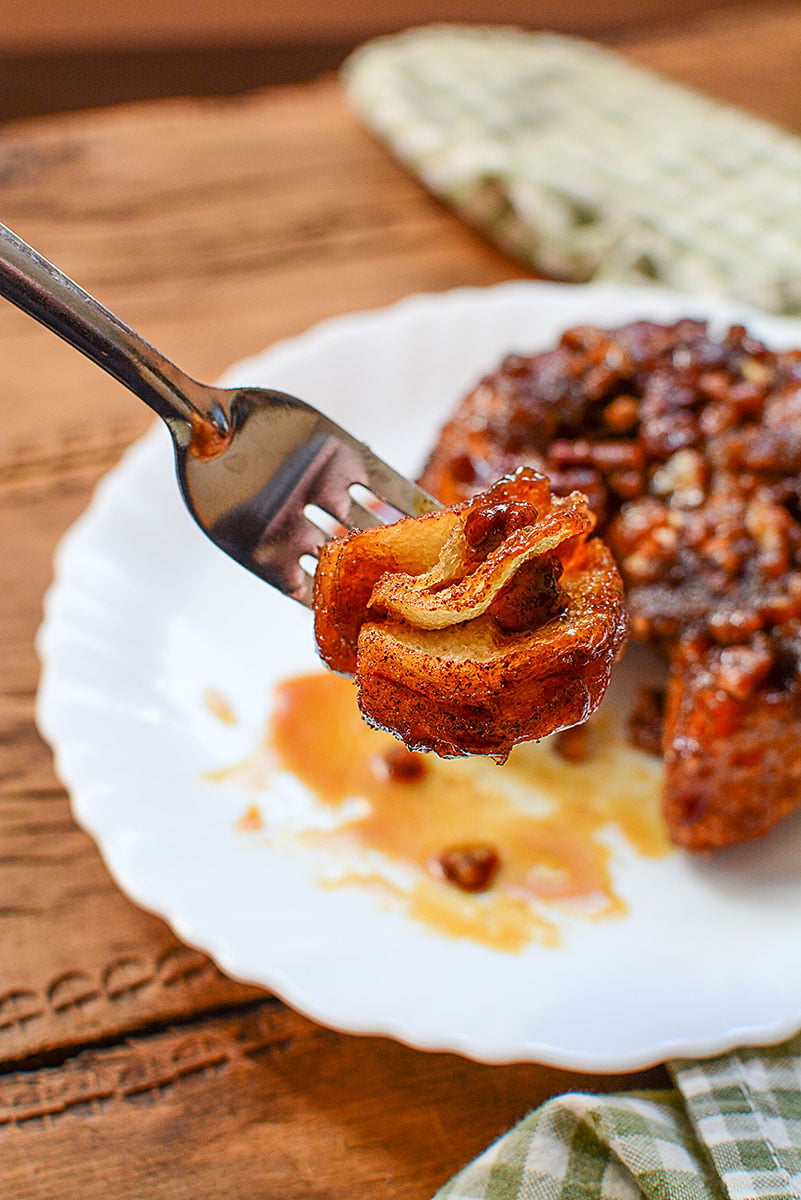 If you have any questions or comments, please leave them below OR feel free to email me directly at joanne@thesaltypot.com. And as always, thank you so much for stopping by The Salty Pot today, and I hope you have a fantastic day!! See you next time!
~Joanne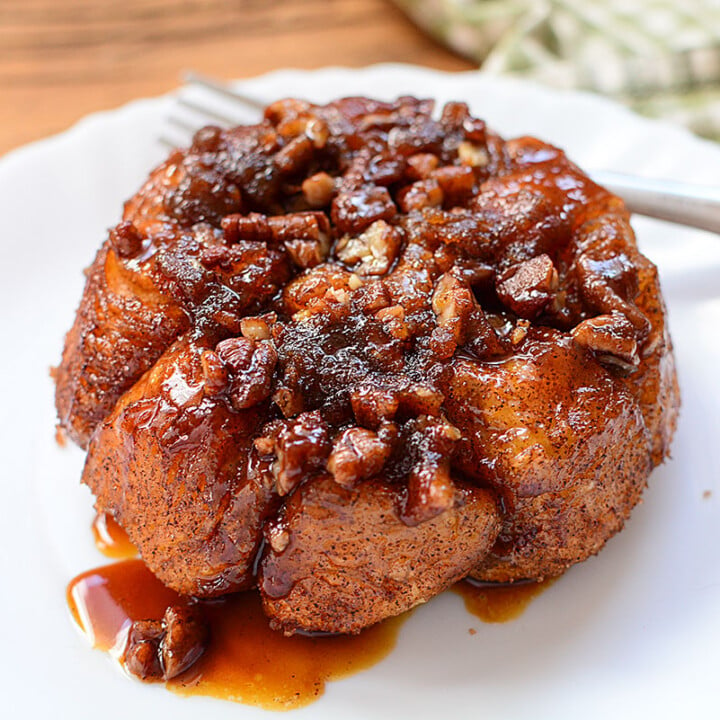 Individual Pecan Caramel Monkey Bread Dessert
Little individual pecan carmel monkey bread are the perfect dessert! These mini monkey bread are the epitome of comfort food with the warm, crispy-edged, fluffy bread, warm cinnamon, and sweet brown sugar flavors, covered in warm, crunchy pecans. Wholly mackerel, this buttery monkey bread is DELICIOUS!!
Ingredients
1 tube of Pillsbury Flaky Biscuits (5 biscuits)
For Coating the Biscuits:
½c brown sugar + ½ Tablespoon cinnamon
For Bottom of Dishes:
½ c Butter, melted
5 tablespoon Brown Sugar
5 tablespoon Pecans, chopped
Instructions
Preheat oven to 375.
Coating the Monkey Bread Dough: In a plastic sandwich bag or container, combine the ½c of brown sugar and cinnamon. Mix well.
Remove the biscuits from the tube and there should be 10 small dough disks. Cut each dough disk into 4 pieces.
Give them a quick roll in your palms to form into balls *optional step.
In the foil bowls (or whatever serving dish you decide to use), spray with some vegetable spray. Place 1 tablespoon of brown sugar in each of the five dishes.
Place 1 tablespoon melted butter in with the brown sugar.
Sprinkle 1 tablespoon of pecans in each of the five dishes.
Turning your attention back to the dough balls. Working only a few at a time, throw a few of the balls into the cinnamon-sugar mixture and coat well.
Place eight balls in each dish, seven around the outside with one in the center. *See notes
After filling all 5 containers, sprinkle any remaining cinnamon-sugar mixture over the top of the desserts and drizzle remaining butter over each one as well. * see notes
Bake in the oven for 13 - 15 minutes. (Mine took 14). Remove and immediately flip onto a serving plate/bowl. Let cool a few minutes and enjoy!
Notes
Cooks Notes:

1. Serve the monkey bread with a scoop of vanilla ice cream or a dollop of whipped cream if desired.
2. When using up any remaining cinnamon-sugar mixture on top of the individual monkey bread, feel free to make extra if there isn't enough for each dessert.

4. If you are not using the foil bowl containers that I used, be sure whatever dishes you're using are freezer to oven safe if cooking from frozen!

Nutrition Information:
Yield:

5
Serving Size:

1
Amount Per Serving:
Calories:

300
Total Fat:

18g
Saturated Fat:

8g
Trans Fat:

0g
Unsaturated Fat:

9g
Cholesterol:

31mg
Sodium:

169mg
Carbohydrates:

35g
Fiber:

1g
Sugar:

28g
Protein:

2g
These calculations are approximate and will depend on the brands of ingredients you use. For more accurate results, follow the nutritional labels on the ingredients you use.
***DON'T FORGET TO SAVE THIS PECAN CARAMEL MONKEY BREAD DESSERT TO YOUR FAVORITE PINTEREST BOARD TO USE FOR LATER!!***