This roasted Hot Honey Brussels Sprouts recipe is perfect for jazzing up those sprouts in a way you've never tasted before. Think crispy, caramelized perfection with a tantalizing blend of sweet and mild spice.
Yep, we're diving into Hot Honey Sprouts with Pomegranate today, and trust me, the flavor payoff for the minimal effort you put it in, is gold!
Roasted Hot Honey Brussels Sprouts – your new go-to for a green vegetable!
Highlights Of This Vegetable Side Dish
It takes a green vegetable that is sometimes hard to make palatable for some, easily accepted and actually requested!
The effort you put in is minimal compared to the flavor payoff.
This recipe is easily customizable to put your own unique twist on.
It's delicious and unique enough to be served with anything from humble hamburger steaks to an upscale steak dinner!
Ingredients Needed To Make This Brussels Sprouts Side Dish
Fresh Brussels Sprouts: The key when buying sprouts is to use the freshest ones you can find. Look below for buying tips when selecting yours.
Hot Honey: Mike's Hot Honey (not sponsored) is available in stores (or online), but I prefer to make my own Homemade Hot Honey because it's incredibly easy and so I can control the heat factor in the honey. 
Pomegranate Arils: Pomegranate adds another layer of tart sweetness to the dish with a bit of crunch as well that's just divine. If you're not sure how to open a pomegranate and use the arils, there is a great online tutorial by Jamie Oliver you can follow. 
Seasonings: Oil, salt, black pepper, garlic powder.
Equipment You'll Need
A large sheet pan or rimmed baking sheet
Parchment paper for easy cleanup
Sharp knife for slicing the sprouts
Large bowl
​How To Make Hot Honey Brussels Sprouts With Hot Honey Glaze
​The easy recipe is so simple, that even beginner cooks can handle it.
​Begin by prepping the Brussels sprouts. Be sure they're clean and remove any loose or brown outer leaves. Slice the bottom of the sprouts to remove any calloused or brown stem ends. 
Slice them in half, lengthwise.
Put them in the bowl, oil, and season.
Drizzle the hot honey mixture over them.
Place them cut side down in a single layer, on the prepared baking sheet.
Roast
Remove when they are golden brown, have a nice caramelized bottom edge on them, and are cooked through.
Sprinkle the pomegranate ariels over top and serve.
*** The printable recipe card below gives the exact ingredient amounts and cooking directions for this crispy hot honey Brussel sprouts recipe.
​Tips and Variations for this Perfect Side Dish
The longer that you can roast the sprouts on the cut side will help increase the amount of delicious caramelization you get on them. However, I recommend keeping an eye on them so the honey doesn't burn them. Some ovens run hotter than others, even at the recommended temperature.

Want to bulk out the recipe a little? Feel free to add carrots sliced around the same size as the Brussels sprouts so they have approximately the same cooking time. I have a recipe on the blog for Hot Honey Carrots so I know the hot honey goes really well with them.

​Try adding some lardons (fancy name for chopped bacon) to the crispy Brussels. The bacon will pair incredibly well with the hot honey sauce and will add a nice smoky salty flavor to them. My recipe for Air Fryer Brussels Sprouts uses bacon, and you can use this same cooking method if you want to make these an air fryer hot honey brussels sprouts dish instead of cooking them in the oven.
​For a salty kick, sprinkle a tiny amount of feta cheese over top. Sweet, spicy, salty, and a bit of texture, all those bliss points will be reached!
This Brussels Sprouts Side Dish Second Act
​If you have leftover sprouts, here are some fantastic ways to repurpose the dish without having them as a reheated side dish again.
Power Bowl: Try slicing the brussels into smaller pieces and give them a quick fry in a cast-iron skillet. Then include them in a power bowl over grains, quinoa, or rice with roasted chickpeas, greens, and a tangy yogurt dressing.
Pizza: These would be phenomenal sprinkled over a pizza along with marinated artichoke hearts, feta or goat cheese, prosciutto, or Italian sausage.
Stuffed Chicken: Mix the sprouts with herbed boursin cheese and some onion then stuff chicken breasts with the mixture. Sprinkle mozzarella cheese on top after seasoning the chicken. Delish!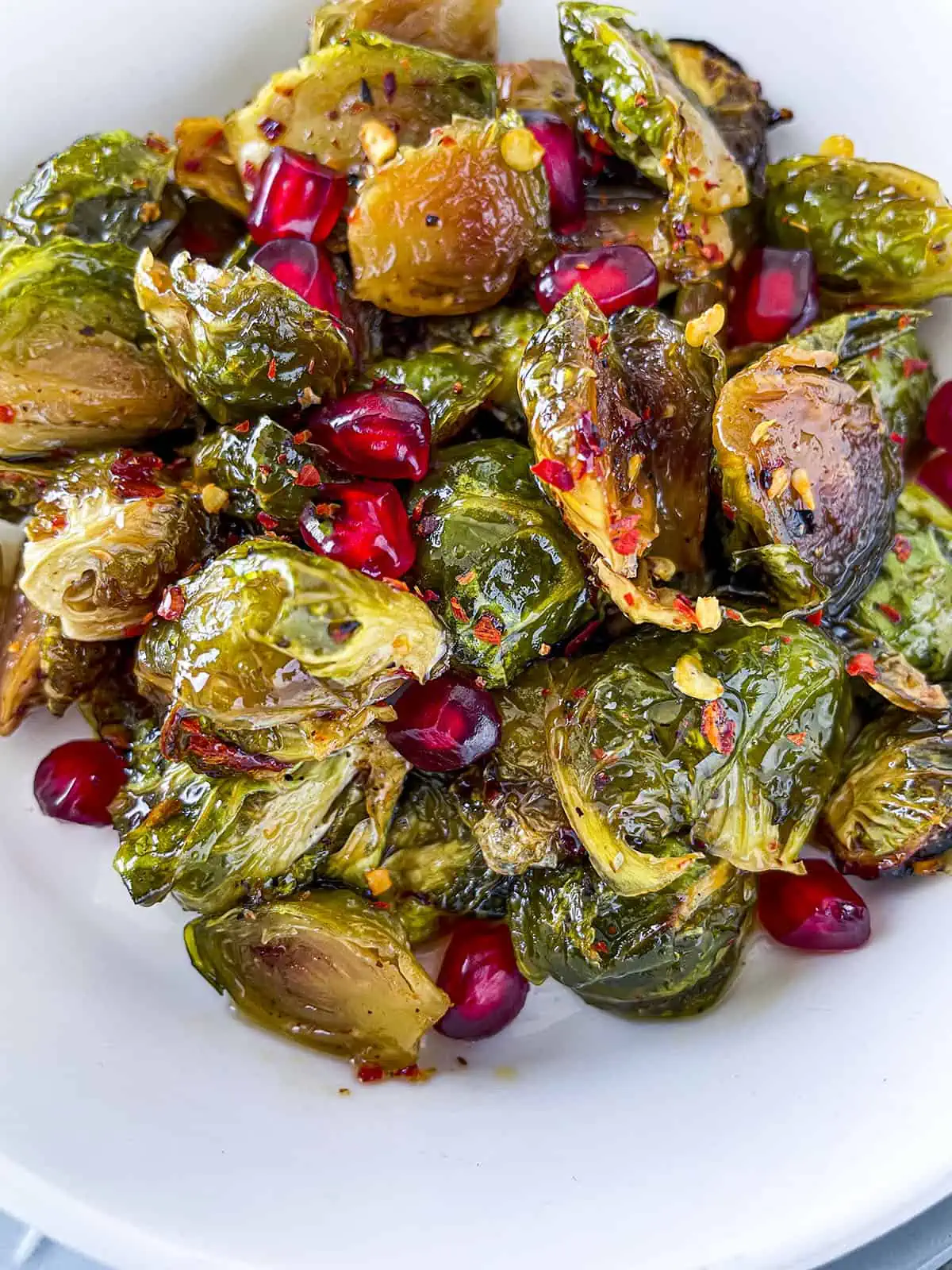 Storage and Freezing
This Brussels side dish will stay in the fridge in an airtight container for up to 4 days. Unfortunately, any caramelization you gained during roasting will be lost. The flavor will still be there, but the crispiness may most likely be gone. You could pop them in the air fryer (preheat it for five minutes beforehand) and get them a bit crispy again, just watch for them burning. 
I don't recommend freezing them as I think they will be mushy after thawing.
​Questions You Might Have

1. I can't find fresh pomegranates anywhere. What else can I use?
You can make a pomegranate sauce that would taste delicious with these sprouts. No need for fresh pomegranate, you can use pomegranate juice that can be easily found at any grocery store. The recipe for making the sauce is easy as well.
2. How do I pick a perfect fresh brussels sprout?
Look for nice-sized sprouts that are bright green. The sprouts themselves should feel firm and the leaves should be tightly wrapped around the sprout. If the sprout is overly soft and has any wrinkly or brown leaves, leave them at the store.
3. The hot honey I made isn't hot enough. What else can I do?
You can add a teaspoon of red pepper flakes to the hot honey or sprinkle them on top of the sprouts when they come out of the oven.
I hope that this Brussels sprouts recipe with spicy honey becomes one of your favorite vegetables if it isn't already. I'd love to hear what you think about this new recipe by leaving a comment below and giving a ***STAR RATING*** on the recipe card. Thank you for stopping by The Salty Pot and I hope you have a wonderful day!
Roasted Hot Honey Brussels Sprouts
These Hot Honey Brussels Sprouts with Pomegranate are about to steal the show! Sweet and spicy, these sprouts are different than the ordinary fare. Perfect for weeknight dinners or even festive occasions, this is one recipe you'll want to revisit time and again.
Ingredients
● 1 pound brussel sprouts
● 4 tablespoon hot honey
● 2 tablespoon olive oil
● ½ teaspoon garlic powder
● ½ teaspoon salt
● ½ teaspoon pepper
● Pomegranate arils
Instructions
1. Preheat oven to 425 degrees Farenheight
2. Remove any outer leaves that are browned, dried, or loose. Trim off the bottom stem of the sprout.
3. Slice the sprouts in half, lengthwise.
4. In a small bowl, combine the hot honey, salt, pepper, and oil. Mix well.
5. In a larger bowl, combine the brussels sprouts and the hot honey mixture until all the sprouts are covered.
6. Place them, cut side down, on a parchment-lined baking sheet.
7. Roast in the oven for 20 - 25 minutes until the sprouts are caramelized on the bottom. Keep an eye on the sprouts as they roast so that the honey doesn't burn.
8. Once crispy and cooked through, remove from the oven, sprinkle the pomegranate arils over them, and drizzle more honey if desired.
Notes
Use sprouts that are fresh, firm and not soft or mushy.
Place the Brussels sprouts cut side down to gain crispy caramelized edges.
Nutrition Information:
Yield:

4
Serving Size:

¼ cup
Amount Per Serving:
Calories:

225
Total Fat:

8g
Saturated Fat:

1g
Trans Fat:

0g
Unsaturated Fat:

6g
Cholesterol:

0mg
Sodium:

318mg
Carbohydrates:

39g
Fiber:

6g
Sugar:

29g
Protein:

4g
All nutritional information is based on third-party calculations and is only an estimate. Each recipe and nutritional value will vary depending on the brands you use, measuring methods, and portion sizes per household.