This Ninja Foodi Roast Beef is tender, succulent, and not dry in any way. It's incredibly easy to make and the au jus is savory, flavorful, and exactly what you want when making this incredible beef roast.
This is such a great recipe because what normally would have taken a few hours to complete, the Ninja Foodi (or any pressure cooker you have) can make short work of it and let you have dinner on the table in no time.
This post may contain affiliate links. If you make a purchase after clicking a link, I may earn a small commission AT NO COST TO YOU. As an Amazon Affiliate, I earn from qualifying purchases.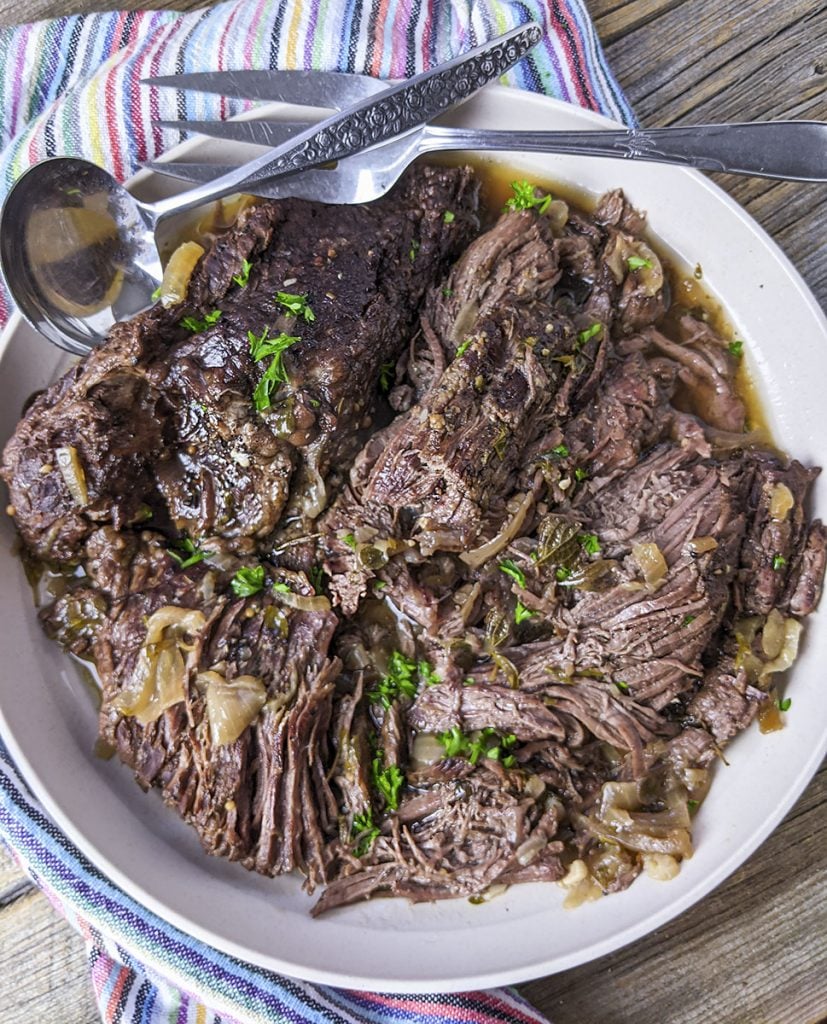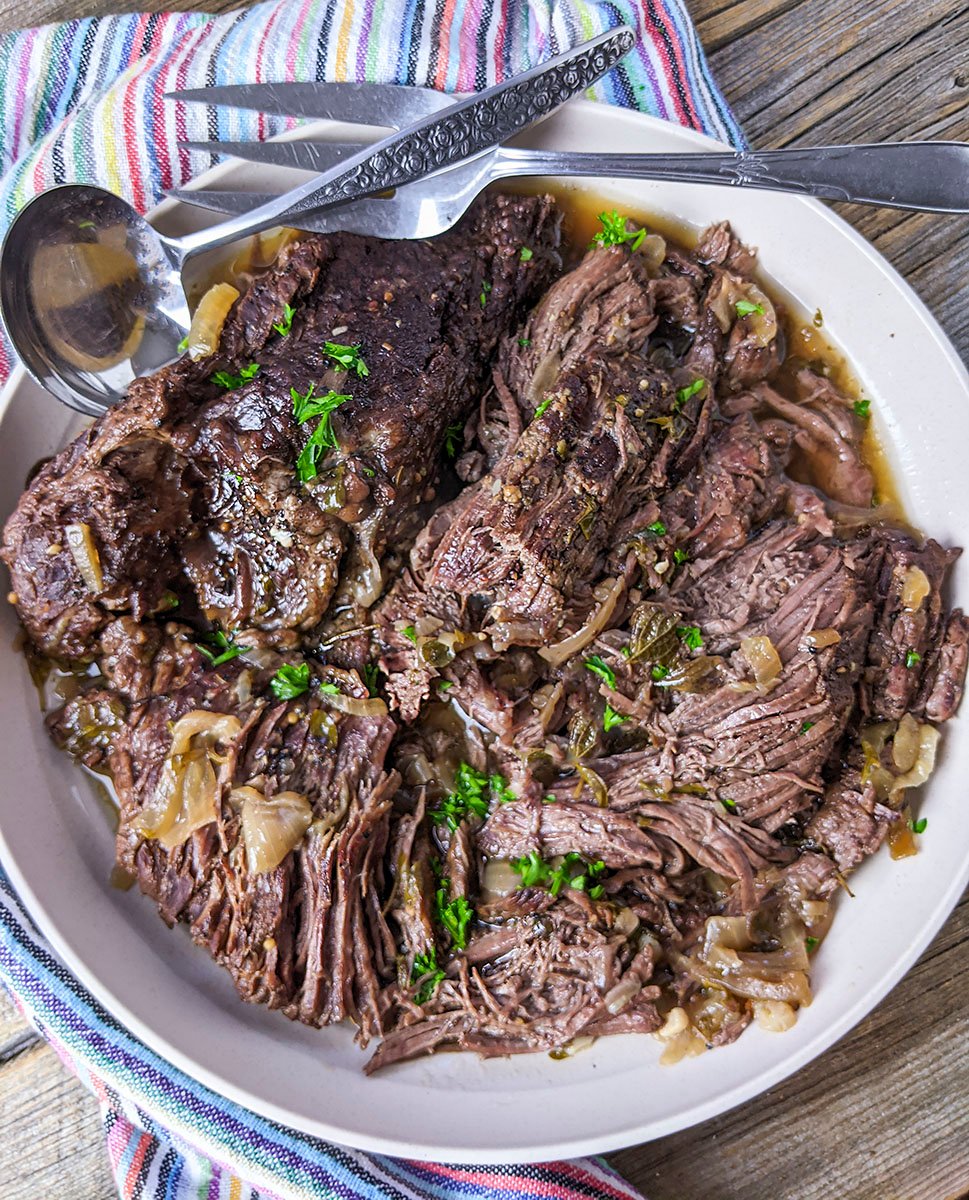 Ninja Foodi Beef Roast
When it comes to some of my favorite foods roast beef is right there at the top of the list, and in fact, I am willing to bet you would love this 3 Packet Roast or my Mississippi Pot Roast Recipe because they are just as delicious as this beef roast.
But getting a truly juicy tender roast can be tricky and take a lot of time. That is where my Ninja Foodi comes into play.
When you use the Ninja Foodi or simply your favorite air fryer for making your roast you can get it done fast while enjoying all the tender juicy flavor you love. Making this Ninja Foodi roast is an easy way to put a tender flavorful meal on the table.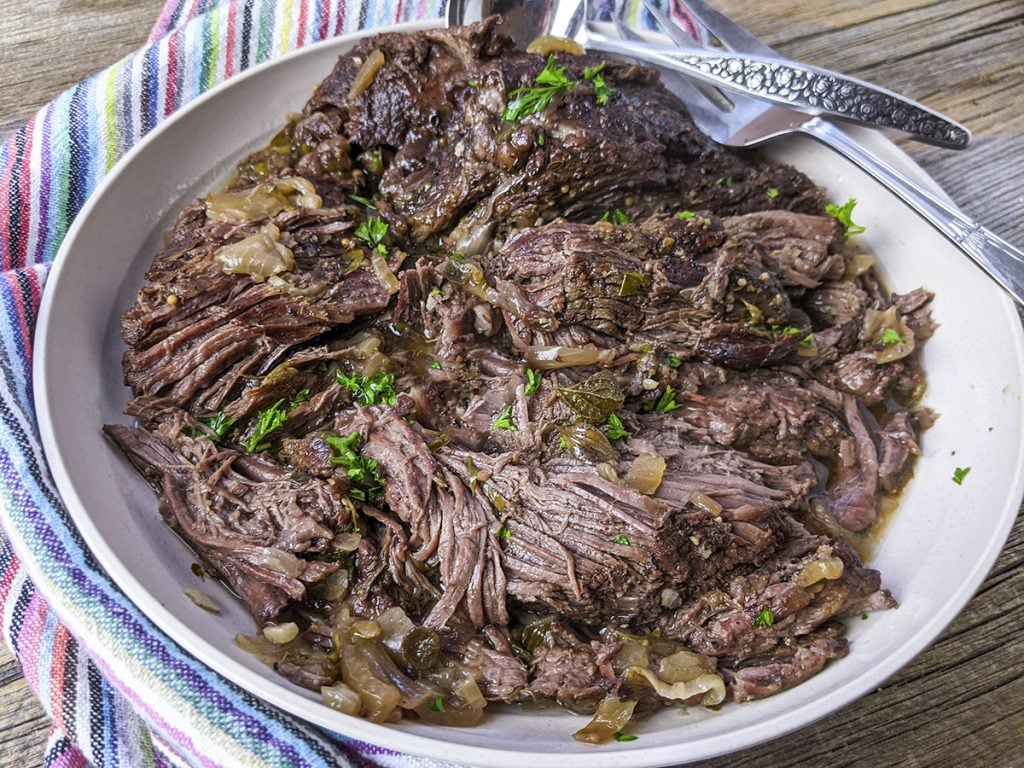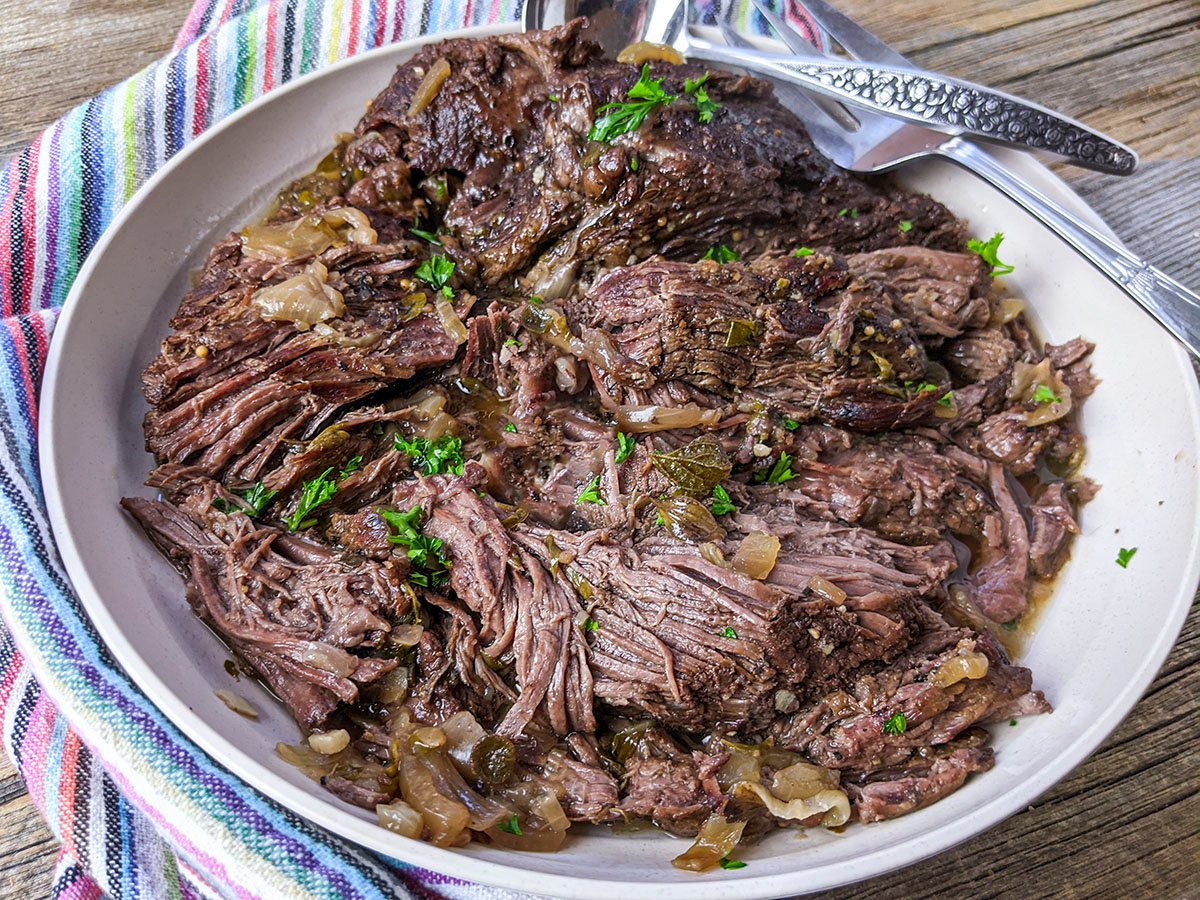 How to cook a roast in the Ninja Foodi
If you're new to the Ninja Foodi pressure cooking, I have an easy to read Guide for the Foodi that may help you feel ready and prepared for cooking this roast.
I started with a 3-pound sirloin tip cut roast though you will find the Ninja Foodi is more than capable of making any inexpensive cut of roast tender. So don't be afraid, go ahead and use whatever roast you can find on sale at the store or sitting in your freezer.
If your roast is previously frozen make sure it is fully thawed before you start.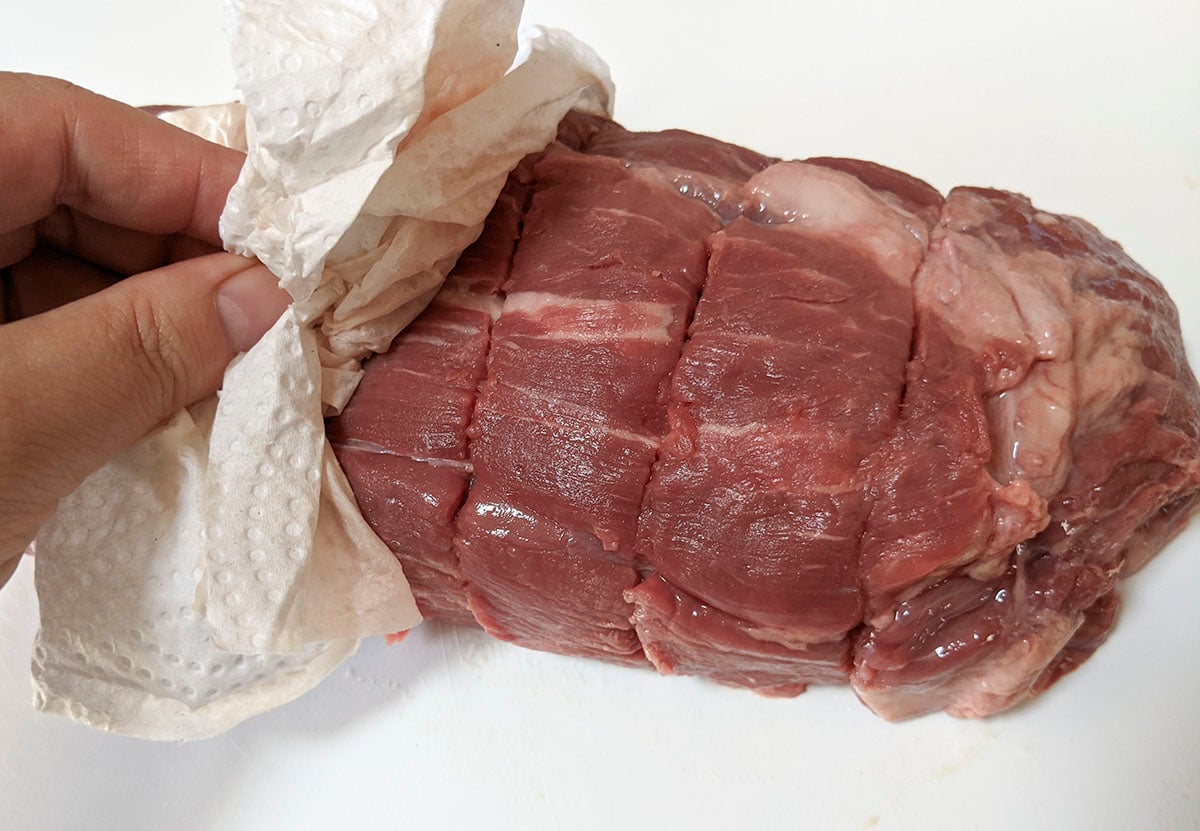 Pat your roast dry with a paper towel to remove excess moisture and season well with Montreal Steak Seasoning. If you don't have this seasoning, I list alternative spices you can use to come close to this seasoning.
Seriously though, you can't go wrong with this stuff. I put it on everything!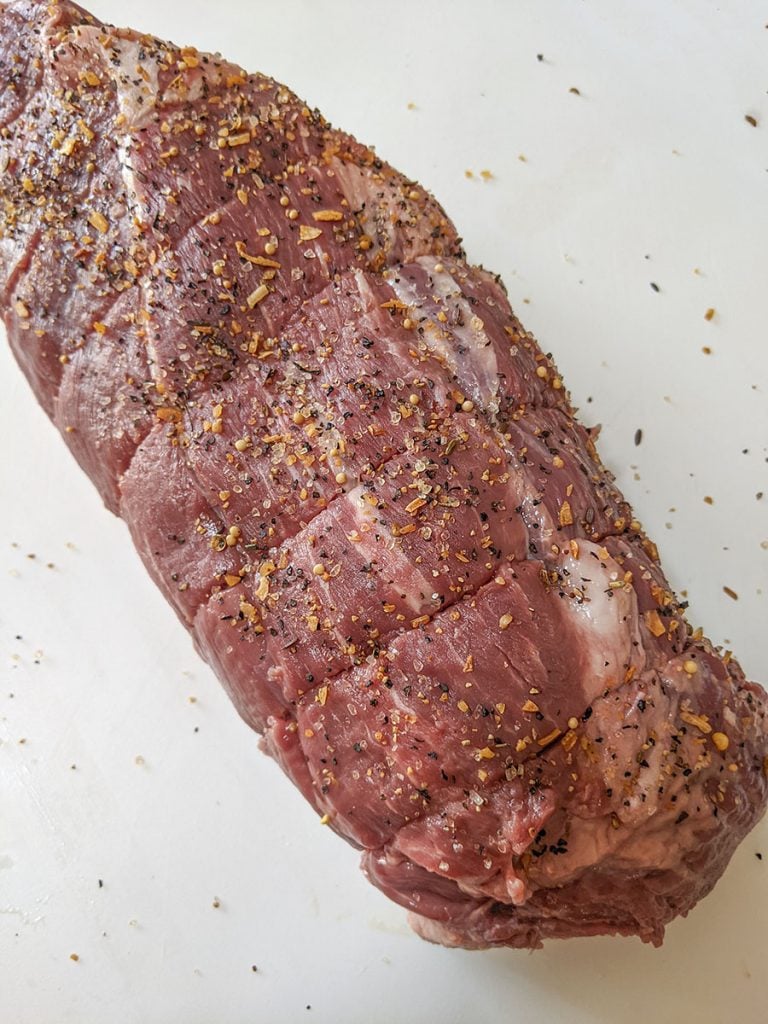 Saute your roast on all sides with 2 tablespoons of oil. This will help to give the roast a nice sturdy outer layer, help seal in the juices, and adds extra flavor. Remove the roast when you're finished searing and set aside.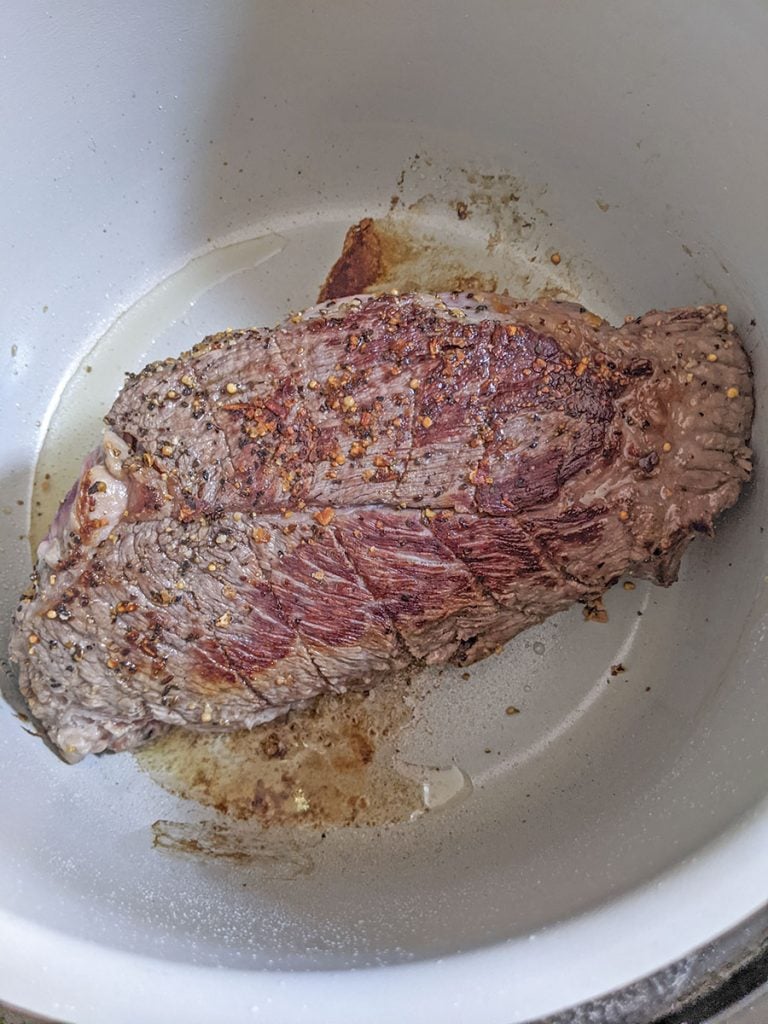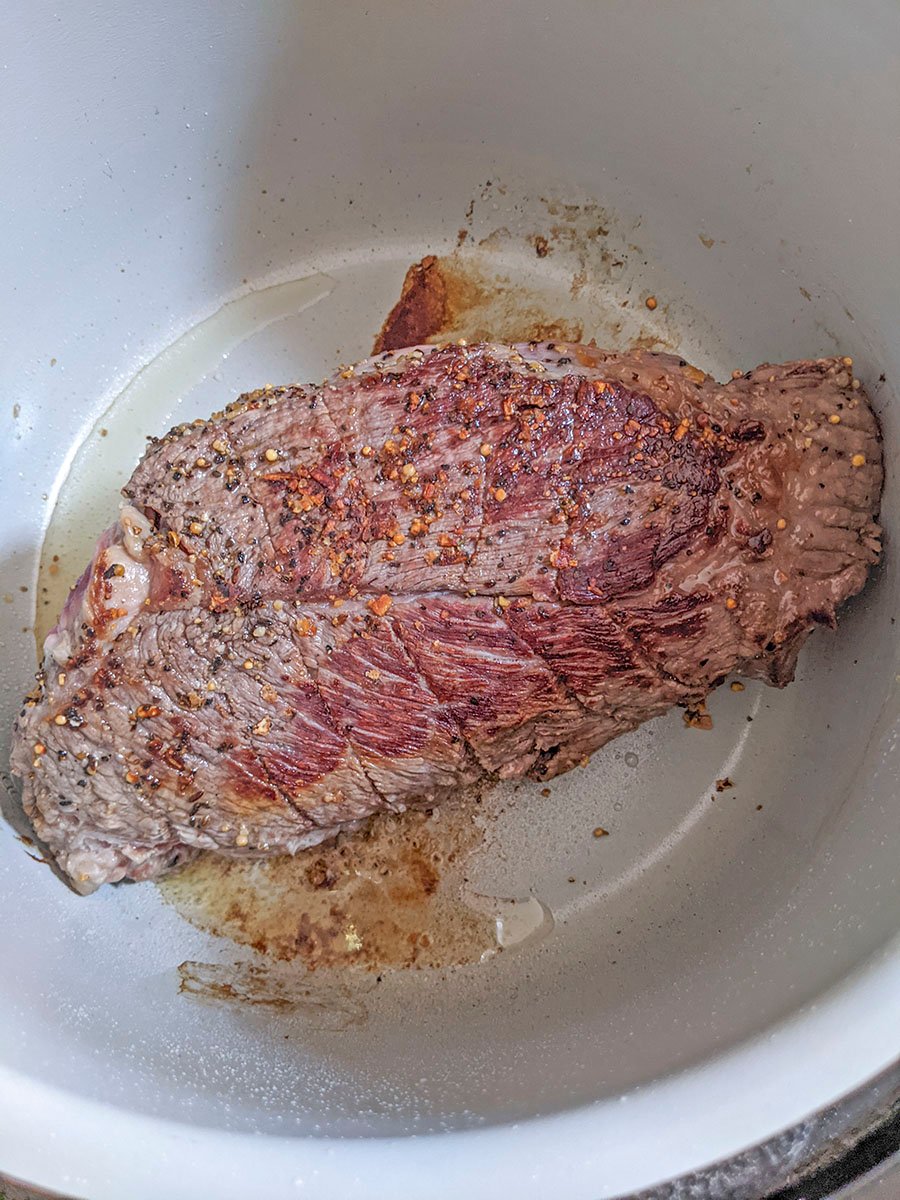 PRO TIP: Sometimes the Foodi tends to give a warning that the food is going to burn to the bottom during the cooking process. This is the 'fond' (the brown bits from searing) that the machine is detecting. Just add a little bit of the beef broth and use a silicone spatula to help lift the fond.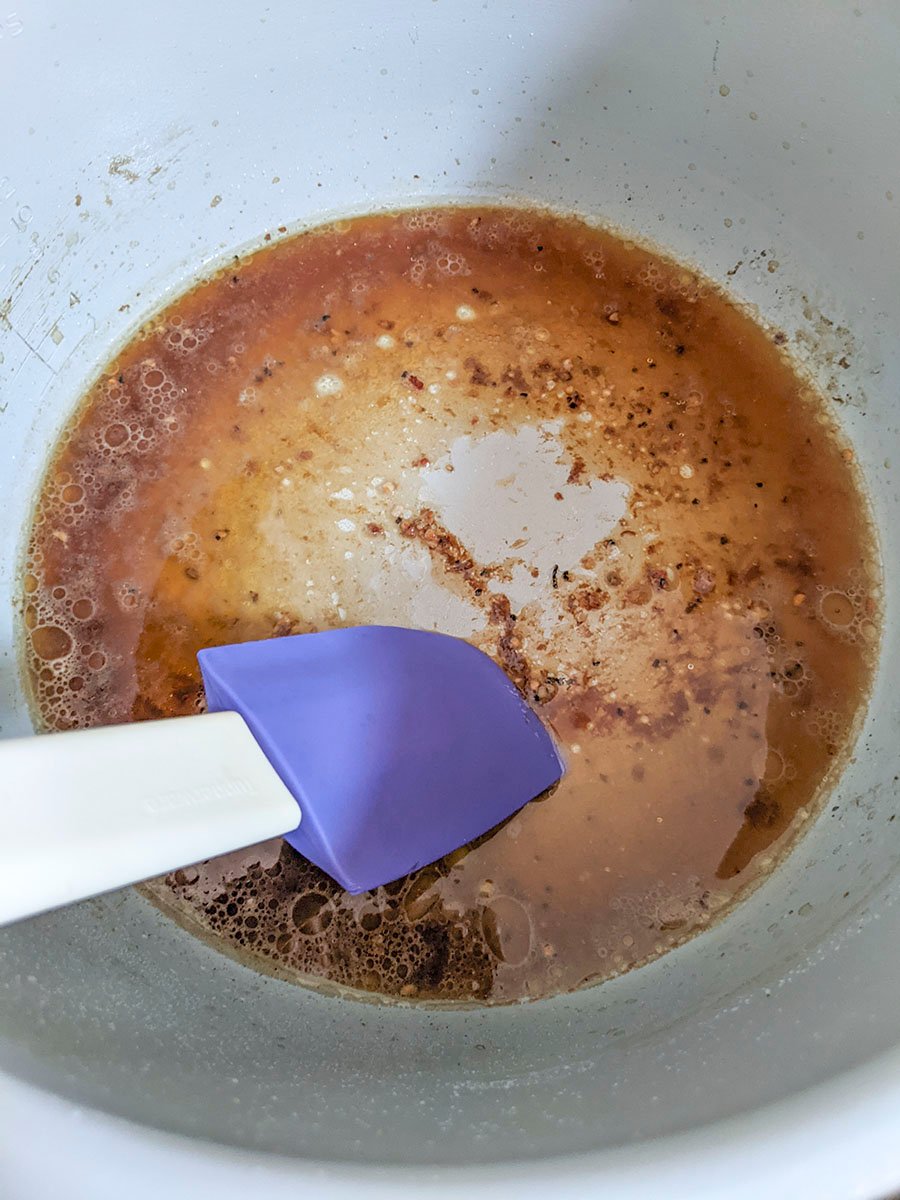 Then we add the red wine to add flavor and help to tenderize the meat giving you a tender, juicy, and flavorful finished roast. Red wine is one of the best options for a deep flavorful roast. A rich Cabernet or Pinot noir are great choices for cooking beef.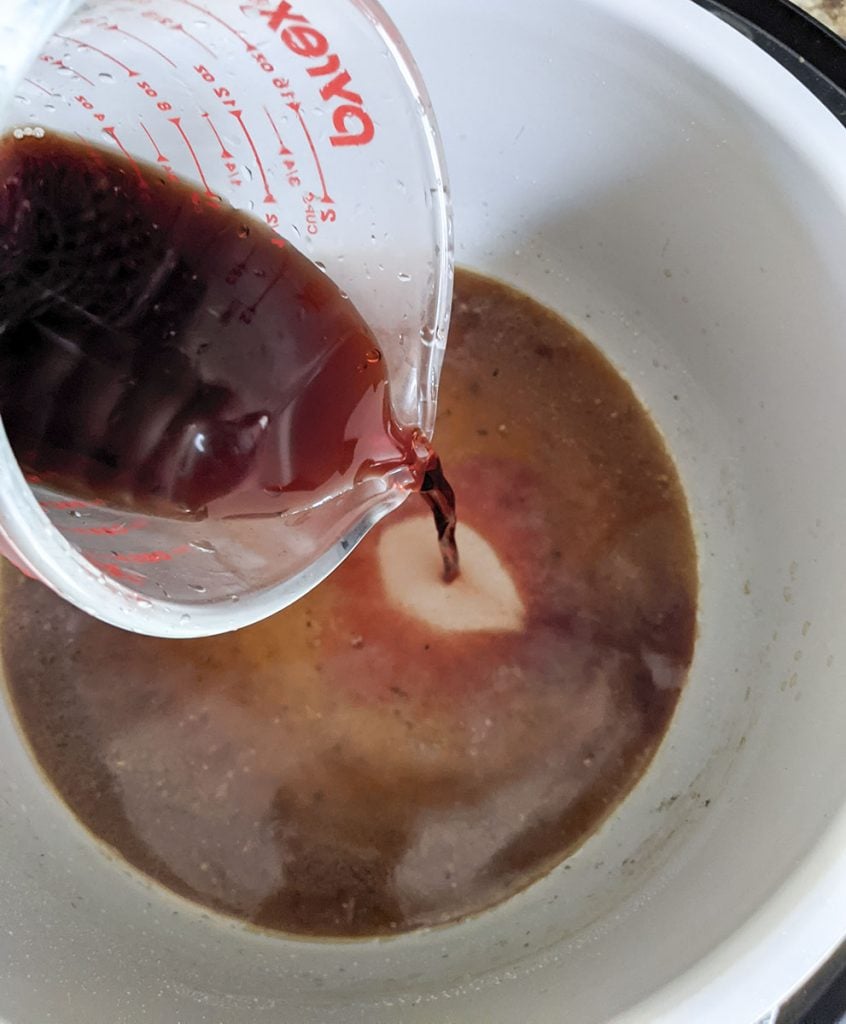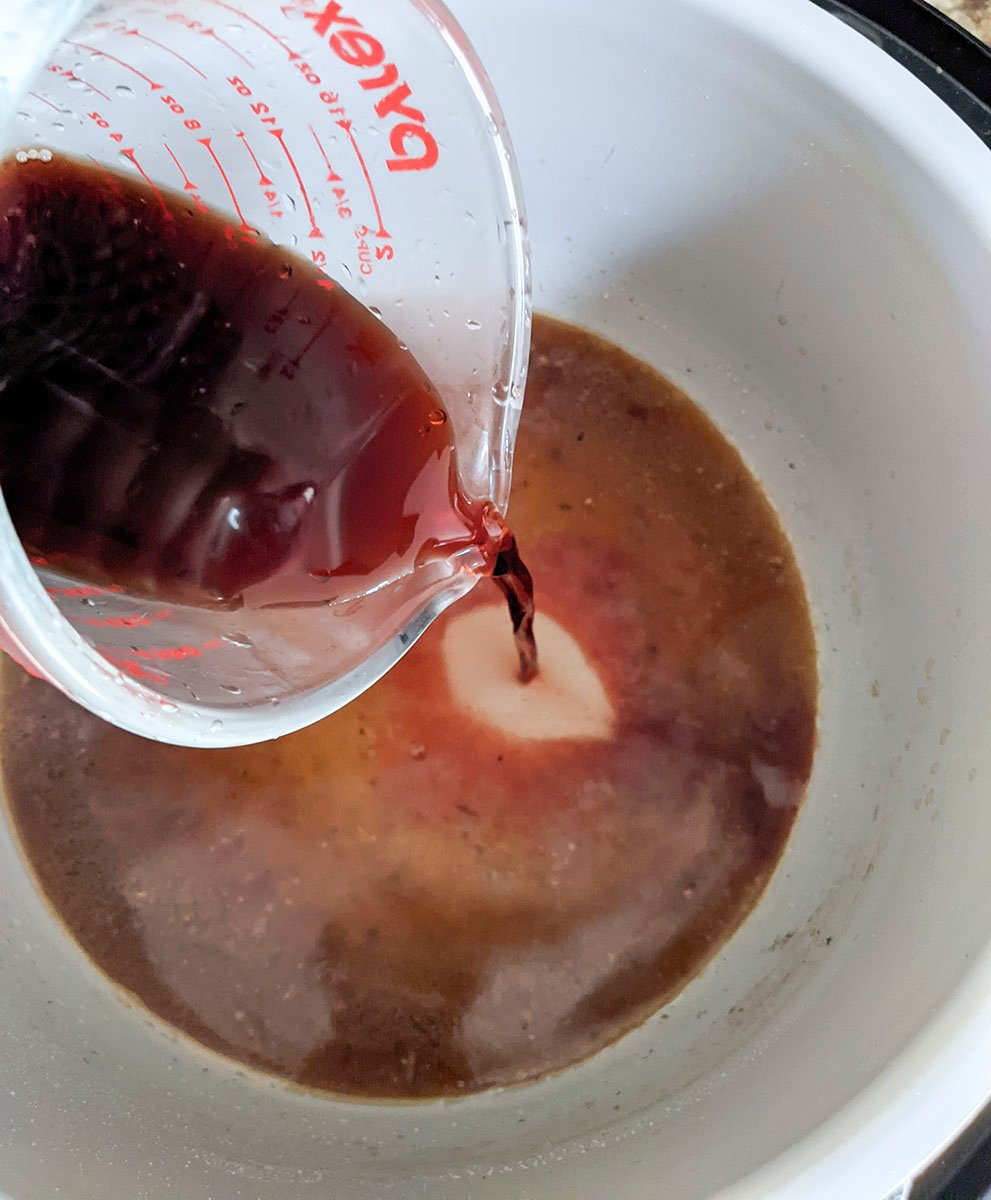 Add your roast back to the pot and top with garlic, onions, butter, and pepper. The flavor of these will seep down into the meat as it cooks as well as flavoring the steam and broth.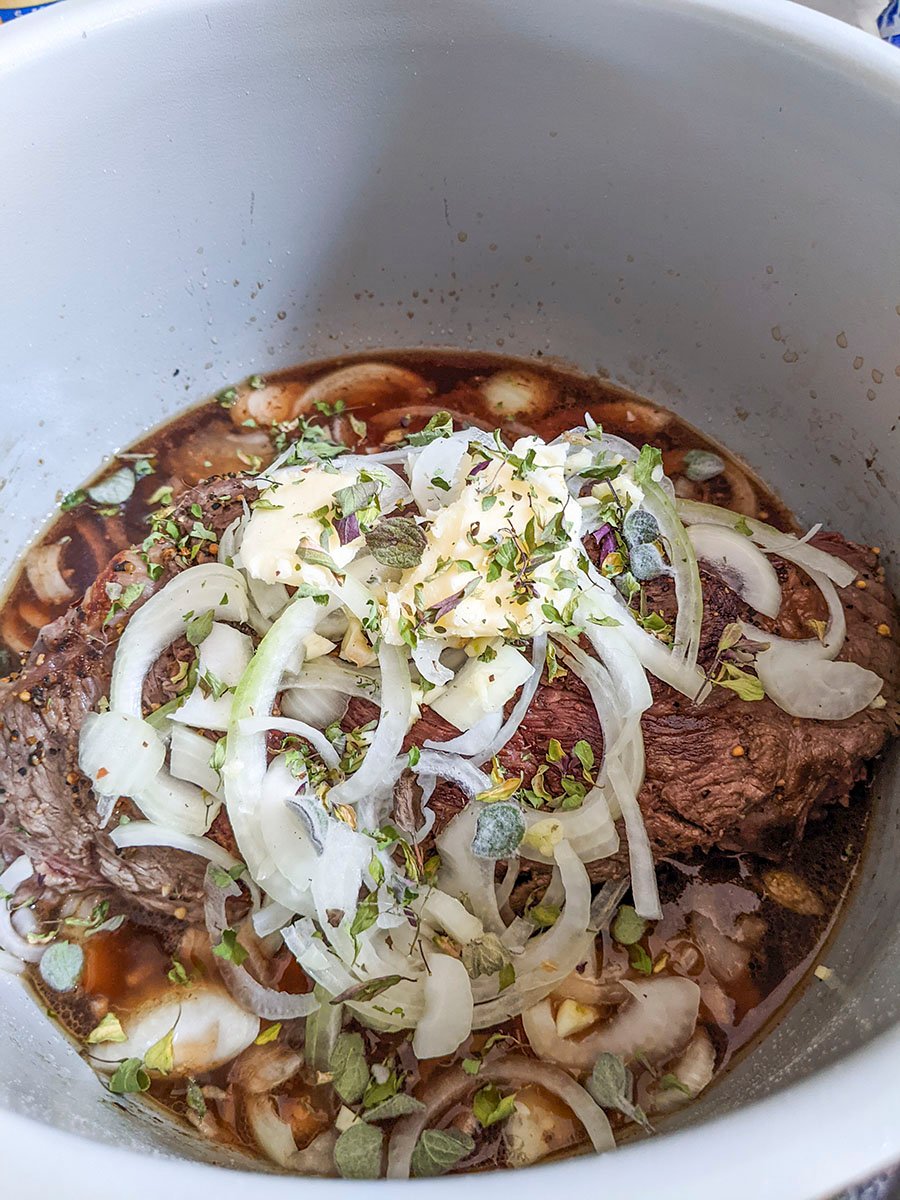 Pressure cook for 60 minutes and allow it to naturally release for 30 minutes to complete the cooking process. Pressure cooking will help break down those tough fibers and render the fat that allows even the cheapest cut of meat to be perfectly delicious and tender.
If your cut of roast is more expensive so it doesn't need so much tenderizing, you might want to air fry it instead. Like my Air Fryer Roast Beef Recipe, it's really simple to make!
After cooking you can remove your roast beef from the Foodi and slice or shred depending on how you wish to serve it. The juices left at the bottom of the Foodi are perfect for making homemade gravy and leftovers can be made into a lovely beef stew.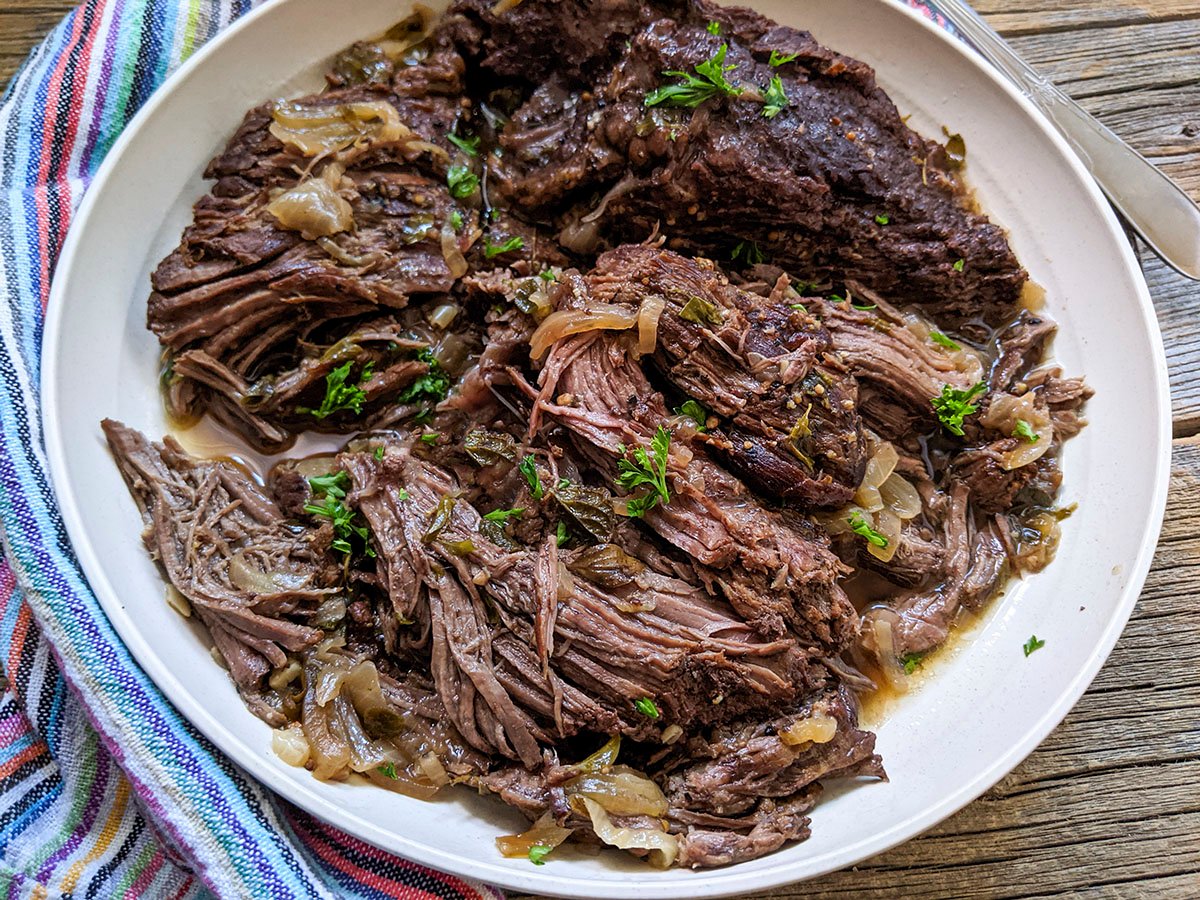 Other things to add to your Ninja Foodi roast beef
If you prefer to leave out the red wine, that's not a problem. You can add extra flavor by adding some beer, a bit of liquid smoke, bay leaves (2 or so), dried chili flakes, mustard seed, or more herbs like oregano and basil.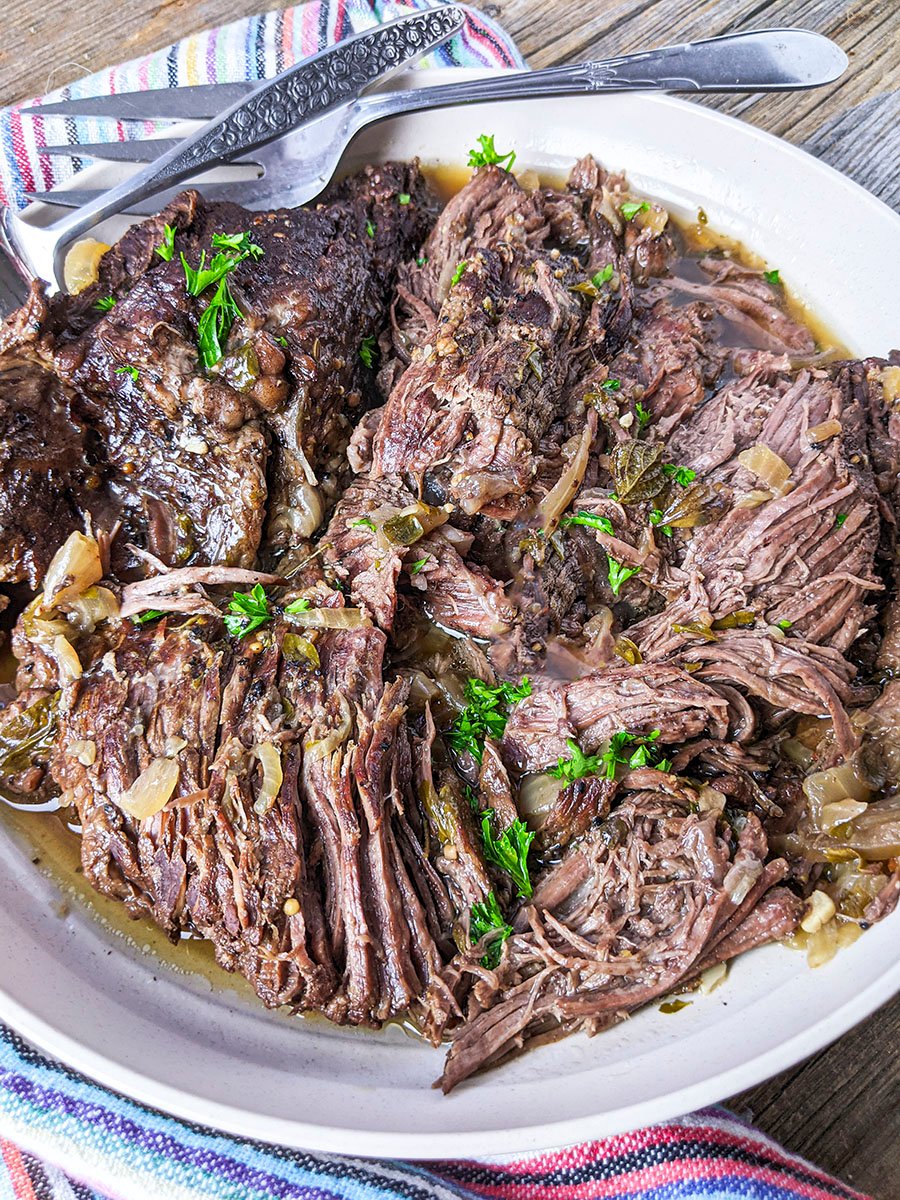 Can I make this roast in my Instant Pot?
Absolutely. The instant pot does a great job on pretty much all meat, like my 3 Packet Chicken, or my Instant Pot Pulled Pork recipe.
The directions will be the same to cook this roast in the Instant pot as it is to cook it in the Ninja Foodi.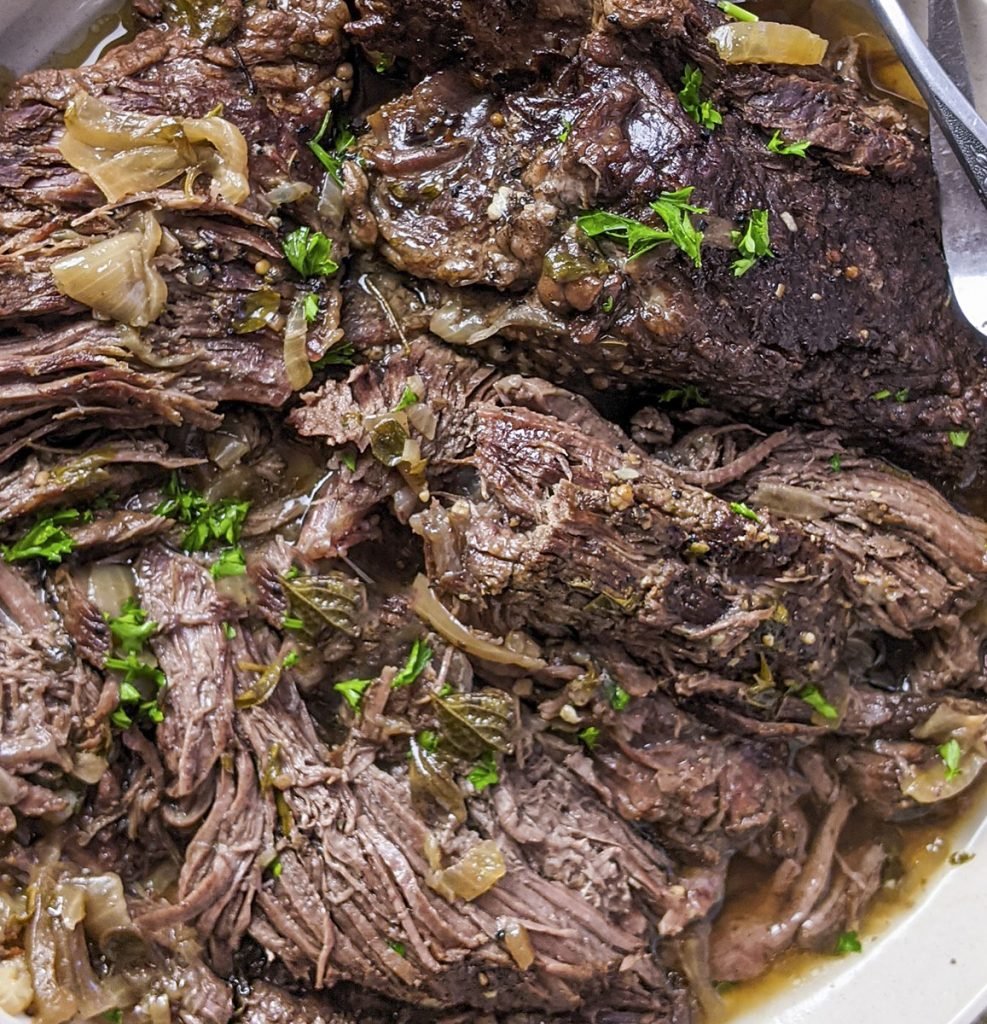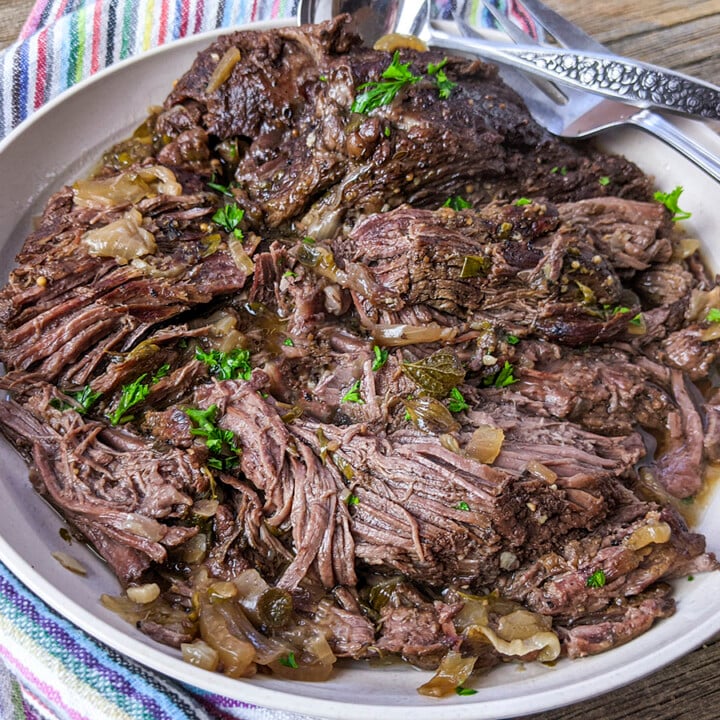 Easy Ninja Foodi Roast Beef
Yield:
3 pound roast beef
Additional Time:
30 minutes
Total Time:
1 hour
45 minutes
The Ninja Foodi pressure cooks this roast beef to absolute perfection. It's succulent and never dry; it turns even the toughest cut of beef into an unbelievable tender cut of meat.
Ingredients
1 x 3 pound beef roast (tough cut)
1 large onion, sliced thin
2 tablespoon of butter
¼ cup of red wine (optional)
1 cup beef broth/stock
2 teaspoon thyme (fresh) or 1 teaspoon dry
as desired, Montreal Steak Spice (see notes)
1 tablespoon oil for searing
Instructions
1 Pat dry the roast and remove any butchers twine if there is any present.
2 Season with Montreal Steak Seasoning, or see below for alternative spices to use.
3 Press "sear/saute" on the Foodi and add the oil.
4 Add the roast and sear on both sides for approximately 2-3 minutes or until there is some caramelization (color) present on the meat.
5 Remove the roast and add ¼ cup of the broth. With a spatula, scrape the brown bits off the bottom of the pot. Careful not to scratch the coating on the pot.
6 Add the red wine now if you're using it. Give it a mix and then add the remaining beef broth.
7 Add the roast back to the pot and top with the butter, thyme, and onions.
8 Turn the machine off and place the lid on, then lock it into place.
9 Put the toggle switch into the "sealing" position.
10 Turn the machine back on, select the pressure cooking button.
11 Cook on Hi for 60 minutes.
12 When the cooking time is complete, allow the Foodi to do a natural release for 30 minutes.
13 When 30 minutes is up, release any remaining pressure in the pot and remove the lid AWAY from your face.
14 Remove the roast carefully and don't forget to use the cooking juices on top of the meat and some mashed potatoes. Enjoy!
Notes
Be sure to pat dry the roast very well so the seasonings will stick.
If you don't want to use the wine, use more beef broth or
For the substitute for the seasoning:
As desired, use a combination of course salt, pepper (black and red), garlic powder, onion powder, paprika, and mustard seed.
Nutrition Information:
Yield:

6
Serving Size:

.5 pound
Amount Per Serving:
Calories:

874
Total Fat:

57g
Saturated Fat:

23g
Trans Fat:

0g
Unsaturated Fat:

27g
Cholesterol:

319mg
Sodium:

221mg
Carbohydrates:

4g
Fiber:

0g
Sugar:

2g
Protein:

79g
All nutritional information is based on third-party calculations and is only an estimate. Each recipe and nutritional value will vary depending on the brands you use, measuring methods, and portion sizes per household.